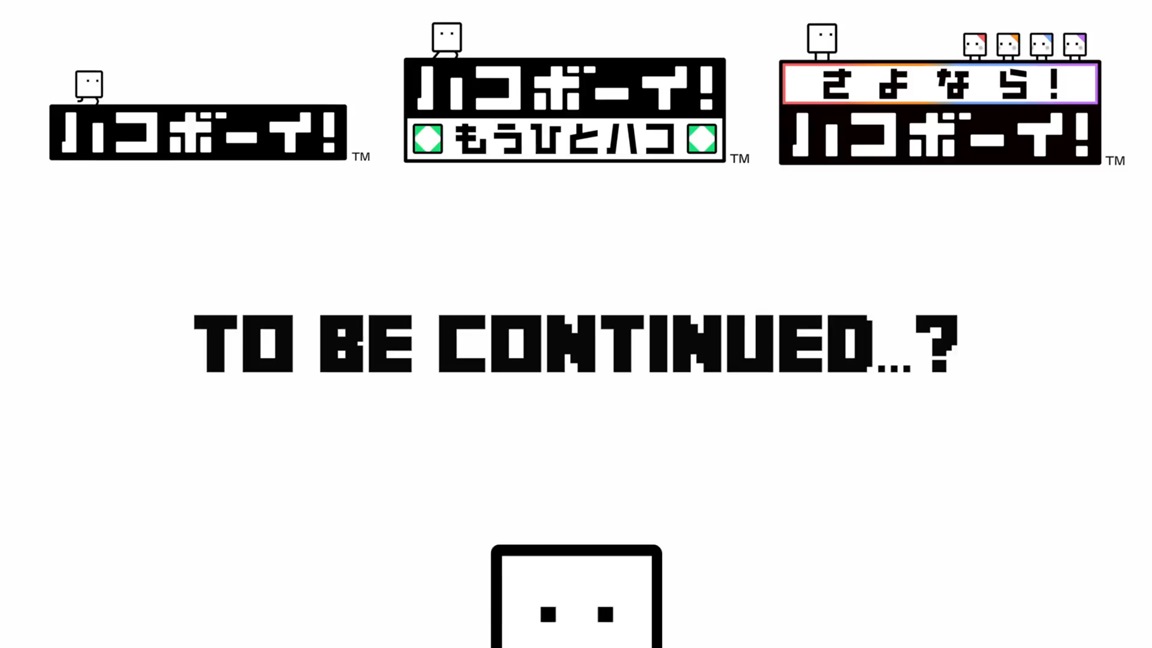 Three different BoxBoy! games were created for 3DS. While some thought that the series could end with the third entry, HAL Laboratory hasn't ruled out a return to the series.
So it's interesting then that what could be a new tease for the game surfaced today. In a new BoxBoy! video posted on the official Japanese YouTube channel, what's pictured above was shown at the very end. It might be a sign of things to come.
HAL's Yasuhiro Mukae was asked about the possibility of BoxBoy! appearing on Switch earlier this year. He noted how multiplayer could work well on the console, but stopped short of actually confirming a new entry for the system. Perhaps a fourth game could be in the works for Switch?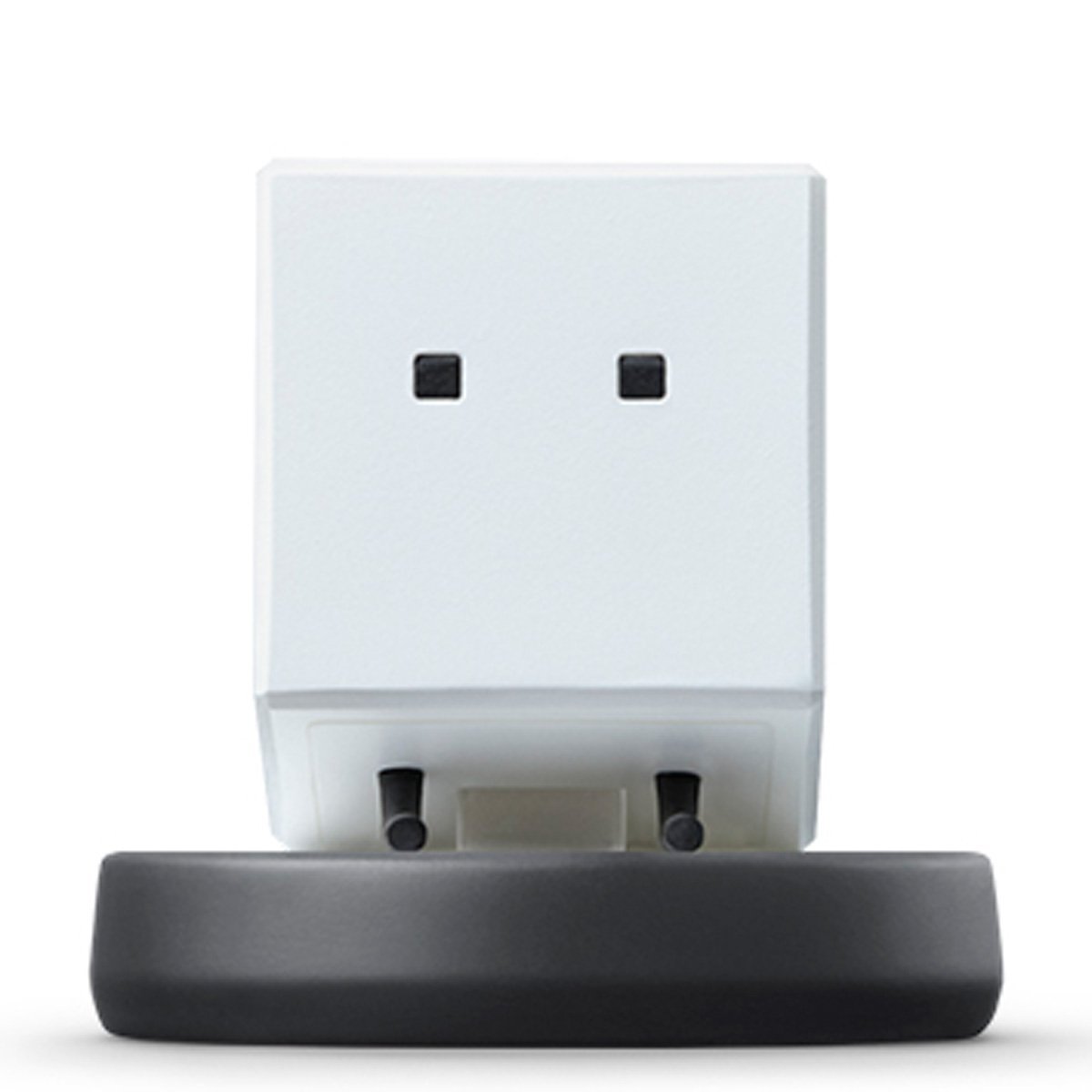 A few days ago, Nintendo released the BoxBoy! Stuffed Box in Japan, which comes with a Qbby amiibo, soundtrack, and physical version of all three BoxBoy! games. We now have a close look at the full set below.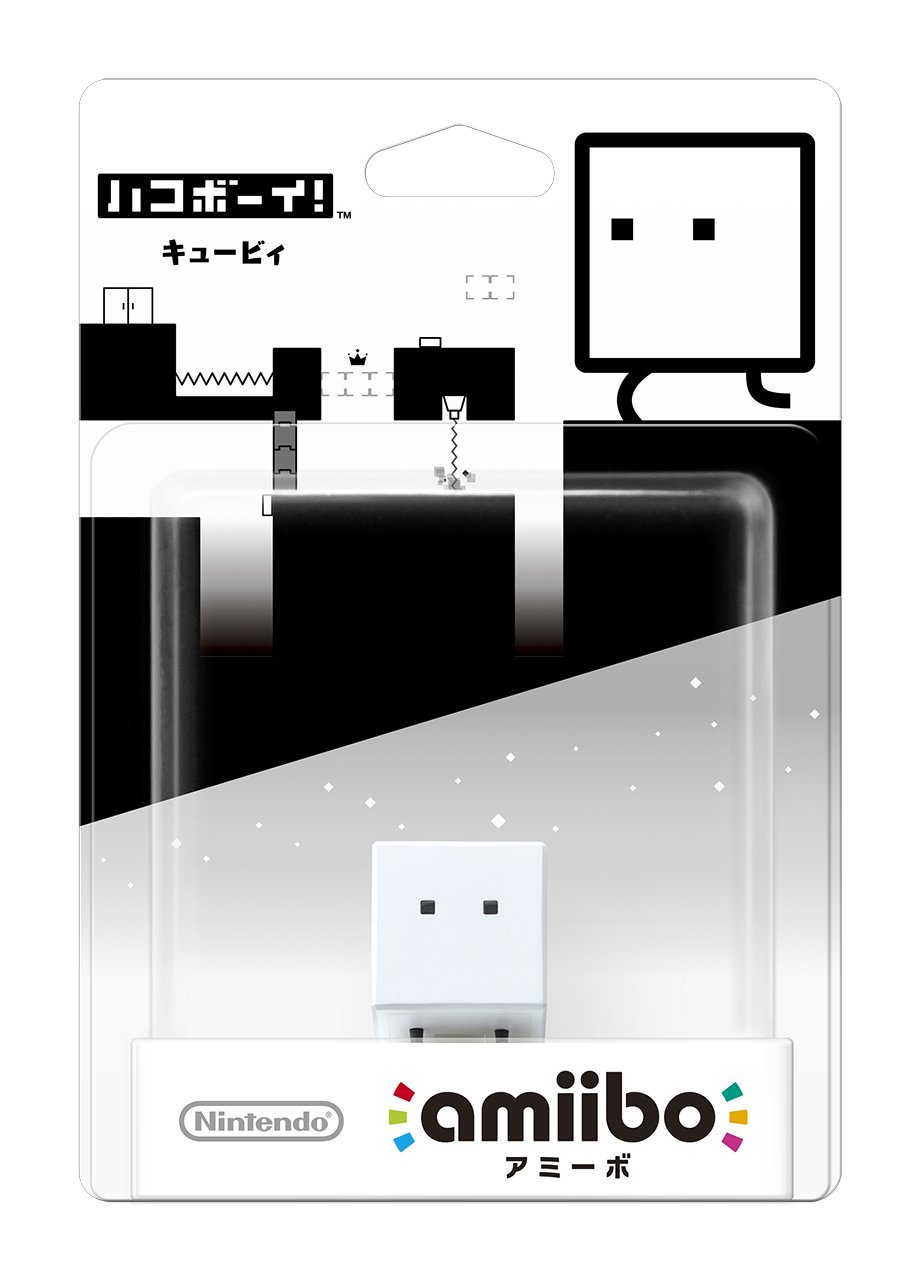 Nintendo announced the Qbby amiibo compatible with Goodbye! BoxBoy! last night, which launches in Japan in February. It will be included in a special retail version with all three games, but it's getting a standalone release as well. We have the packaging image above.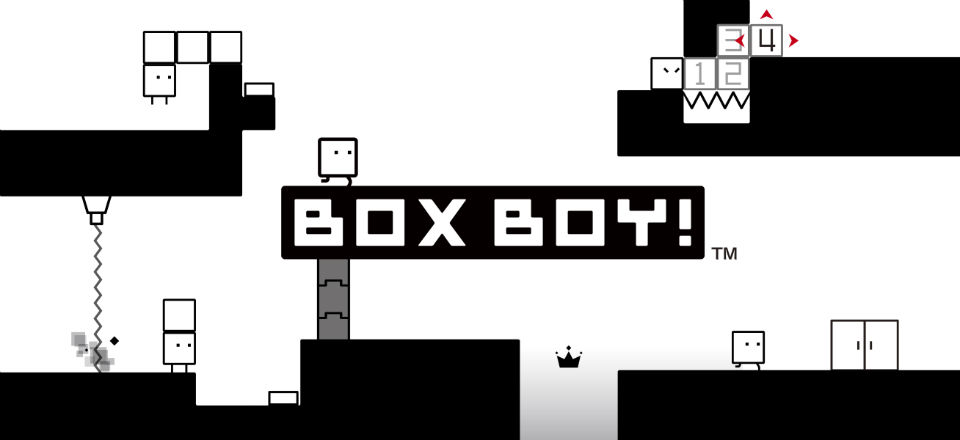 In a recent issue of Famitsu, BoyBoy! director Yasuhiro Mukae, executive producer Satoshi Mitsuhara, and design lead Haruka Ito spoke about the 3DS game. There were some very interesting comments shared by the three developers, so we went ahead and translated a good portion of the interview.
Topics include:
– Different visual styles they experimented with
– Why Kirby wasn't chosen as the main character
– An initial idea to have the obtainable crowns required to beat the game
– Development difficulties
– The story
Head past the break for our full translation!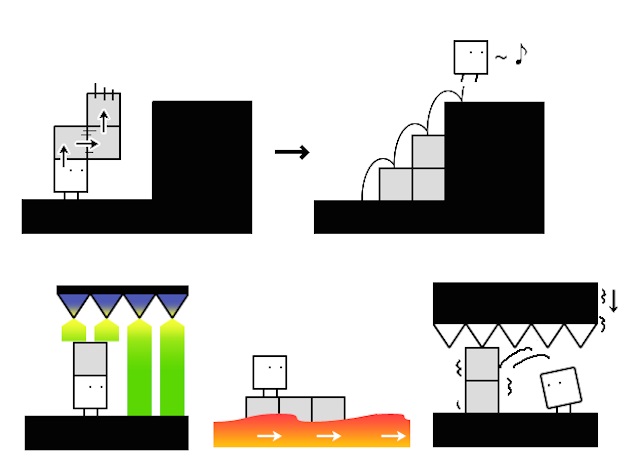 Over the past few generations, HAL Laboratory has primarily worked on Kirby games. We've seen a few non-Kirby titles here and there (most recently with BoxBoy!), but that character is certainly the studio's bread and butter. Interestingly, BoxBoy! director Yasuhiro Mukae recently informed Kotaku that "several" projects are in the works that are unrelated to the character.
Mukae mentioned:
Certainly, as you say, the Kirby series is HAL Laboratory's main development focus, but we actually have several other projects proceeding along in parallel (not that I can give details on them right now, of course). We also have a few experimental projects in the works with smaller teams, so there certainly isn't any rule that we must be involved with Kirby projects. Like I discussed in the first question, BoxBoy got its start as an experimental project along those lines.

I was involved in the development of Kirby: Triple Deluxe, but I was also working on the BoxBoy experiment at the same time. Handling both projects simultaneously presented some big challenges, but creating a game with a new character like Qbby made me feel happier than I've ever felt before.

Once Kirby: Triple Deluxe development wrapped up, I was able to devote myself fully to BoxBoy. This happened right when it went from an experiment to an official development project, and full-on development began at that point. Some of the Kirby: Triple Deluxe team also joined the BoxBoy project right about then.

As I wrote earlier, our development efforts may be chiefly devoted to Kirby, but there's no hard-and-fast rule that everything has to be related to Kirby titles. I'm getting the chance to be involved a lot more often with non-Kirby things, such as this BoxBoy project—though, again, I can't give details quite yet.
Below are some other noteworthy tidbits shared in Kotaku's interview: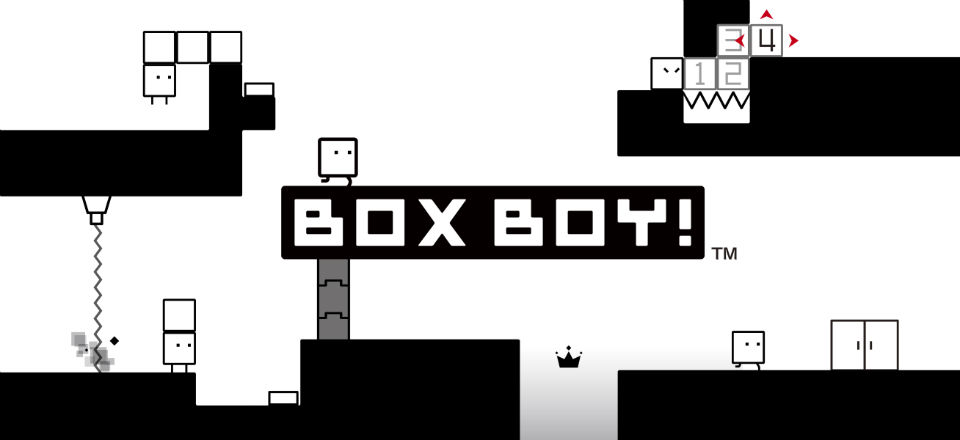 Like most projects, BoxBoy! underwent some changes throughout development. The core idea of "creating boxes in order to make your way through puzzle landscapes" remained the same, according to director Yasuhiro Mukae. But there were a couple of things that changed in the final game.
Originally, HAL Laboratory was planning on creating "large stages that you could really sit down and spend a great deal of time playing." The team also added "story elements in a move to encourage players to enjoy the game all the way through to the end."
Mukae told Engadget: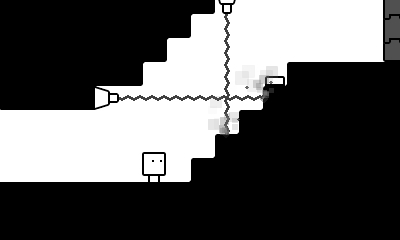 BoxBoy! director Yasuhiro Mukae has elaborated on the game's origins.
Speaking with Siliconera, Mukae said:
First off, let me thank you for mentioning some of HAL Laboratory's past titles. Regarding BOXBOY!'s design process, that got its start when the company began to field new ideas for games and I submitted the BOXBOY! design proposal I had come up with earlier.

After that, a few staffers that saw the potential in the design created a prototype game we could play within the company.

It was officially established and launched as a project once we submitted the project's design document and proposal as a set. That marked the beginning of BOXBOY!'s development.
Mukae also discussed how the idea for BoxBoy! evolved into a full game. In doing so, he revealed that its placeholder visuals became the final visuals after he "drew in the design document and realized that they really had an impact, a uniqueness that differentiated it from other games."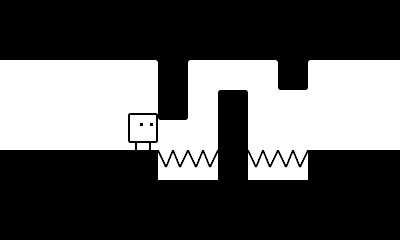 Nintendo Life just put up an interview with BoxBoy! director Yasuhiro Mukae. Among the topics covered include the game's conception, multiplayer, and more.
We've picked out a few excerpts from the interview below. You can read up on the full Q&A here.