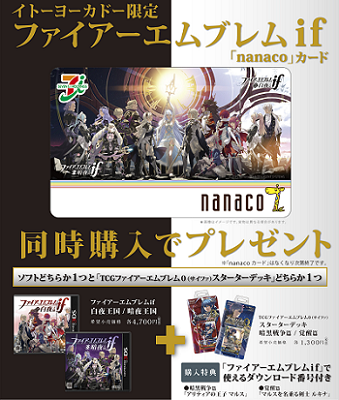 The Fire Emblem If news continues to roll right in. First up, we have a look at a new pre-paid card that can be used at all Seven & I Holdings-owned stores (Ito-Yokado and 7-Eleven) in Japan. The card will be included with the Fire Emblem 0 (Cipher), but will be limited in availability.
Next, we have another round of details about Fire Emblem If from Famitsu and Dengeki. You'll find those below.
– Important note: Gunter's "Great Butler" class was a typo and should be "Great Knight"
– Hidden Weapon can be equipped by both classes
– These sit alongside Lances in the revamped weapon triangle and are good against Swords and Magic, but weak against Axes and Bows
– Hidden Weapons can temporarily decrease enemy stats; are 1~2 range weapons as well
– Felicia (of the Maid class) is shown in one screenshot defeating enemies with an "Iron Hidden-Weapon" or healing with staves
– Butlers can equip Hidden Weapons and Staves too
– Maid (and Butler) seems to be a promoted class
– Ninjas are locked to Hidden Weapons, but they likely have better attacking abilities than Maids and Butlers
– The Ninjas (Suzukaze and apparently a Fuuma Soldier) are equipped with Iron and Steel Shurikens
– Steel Shurikens is the Hoshidan version of Hidden Weapons
– Suzukaze's Iron Shuriken boosts his Speed by 2, while reducing his enemy's Magic by 2, Defense by 3 and Resistance by 3 until the next turn
– The enemy's Steel Shuriken also seems to boost Speed by some unknown amount
– Female Dark Mage called Nyx
– Nyx can equip Fire and Fimbulvetr tomes and can at least promote to a Sorcerer
– Classes apparently have a base stat for Luck
– The spell-casting effect no longer conjures Tellius's ancient text, like it did in Awakening, instead summoning something closer to runes or European symbols
– Sakura is shown holding a "Spring Festival" healing baton in one Dengeki screenshot
– The Avatar seemingly doesn't have access to his/her dragon-transforming ability all of the time
– Hoshido has an eastern-themed version of all of the present weapon types: Katana (Sword), Naginata (Lance), Mace (Axe) and Baton (Staff)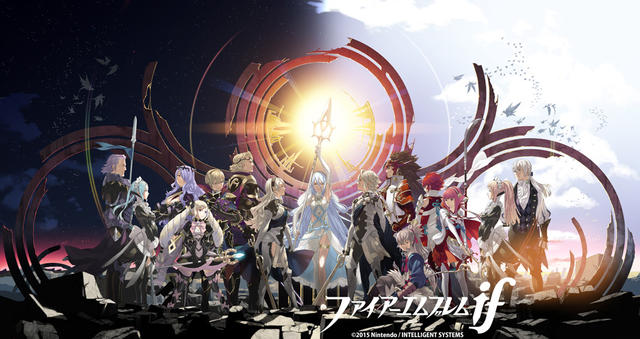 Famitsu is following up on its coverage of Fire Emblem If last week with another update on the 3DS game. It's revealed that the Weapon Triangle is seeing some changes, and we have information about new characters. All of the new details are rounded up below.
– Weapon Triangle has been a mainstay since 1996
– Changed from the standard swords over axes over lances to swords and magic, over axes and bows, over lances and dark weapons
– In other words, swords and magic are stronger than axes and bows; axes and bows are stronger than lances and dark weapons; lances and dark weapons are stronger than swords and magic
– As Fire Emblem If doesn't feature weapon durability, the stronger the weapon, the larger the unit's disadvantage in terms of abilities
– Ex: the Bronze Sword has no chance of landing a Critical hit, but has +10 Critical evasion, while the stronger Steel Sword has -5 evasion and makes it hard to use a Pursuit attack
– Only staffs restrict the amount of times they can be used
– New characters:
Felicia (voiced by Nozomi Sasaki) – A maid.
Joker (voiced by Junichi Suwabe) – A butler.
Gunther (voiced by Rokuro Naya) – A great butler.
Suzukaze (voiced by Daisuke Ono)
Saizou (voiced by Tarusuke Shingaki)
Kagerou (voiced by Rie Murakawa) – A shinobi.
– Felicia, Joker, Gunther, and Suzukaze appear as allies in both the White Night Kingdom and Dark Night Kingdom versions of the game
– Saizou and Kagerou are allies in the White Night Kingdom version
– Maids, butlers, and shinobi use dark weapons
– Dark weapons have weakening effects on enemy abilities when attacked
– Game has different weapons that can be used in each version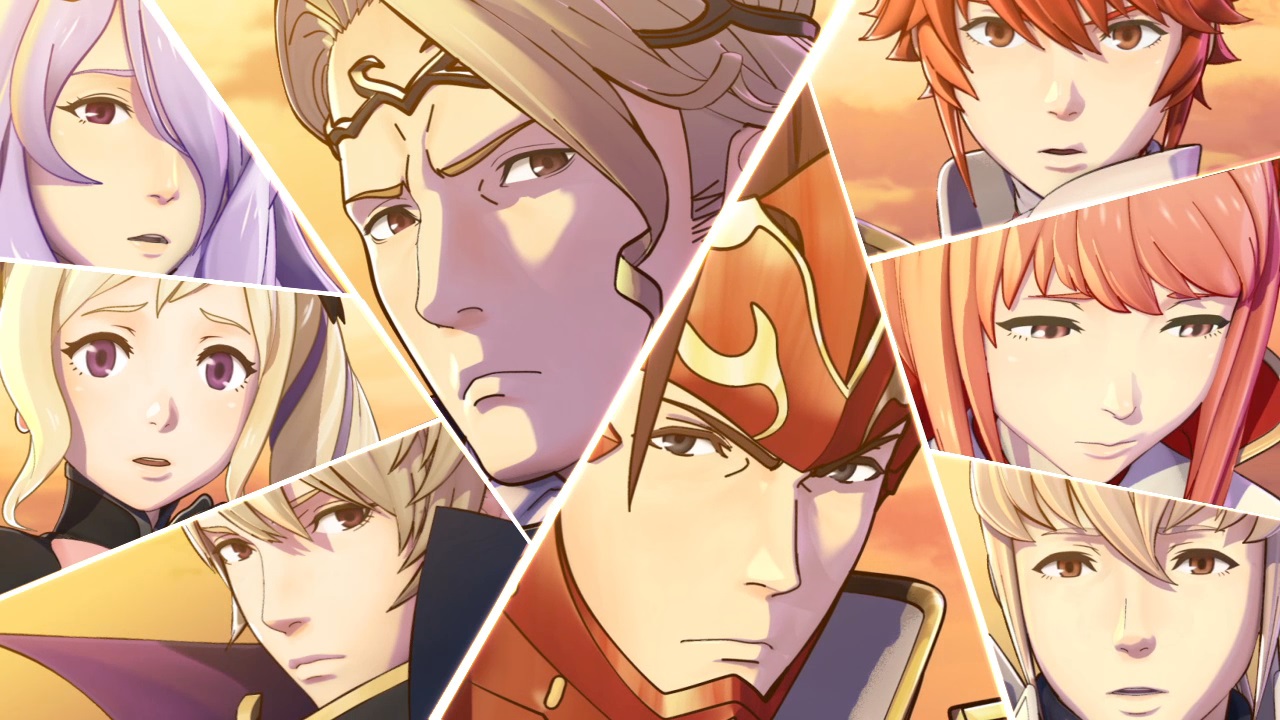 The latest issue of Famitsu contains an interview with the developers behind Fire Emblem If. Yokota Kenki, Maeda Kouhe, and Masahiro Higuchi commented on the game's concept, Phoenix Mode, different sides, gameplay, and a few other topics.
Head past the break for a roundup of the Q&A. All translations come courtesy of kantopia.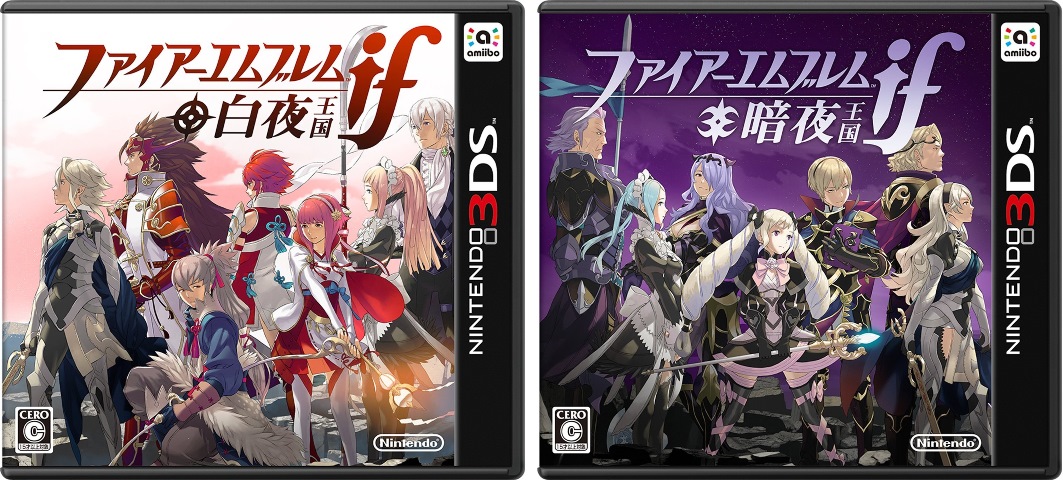 Serenes Forest has translated even more details about Fire Emblem If from this week's issue of Famitsu. We have additional information about Phoenix Mode, plus a few other elements as well. All of the details are rounded up below.
– Again, Phoenix Mode is where fallen allies are resurrected on the next turn
– It sits alongside Casual and Classic Mode and
– Phoenix Mode is independent of your difficulty choice
– The game describes it as a mode where your allies cannot die
– According to the devs, Phoenix Mode was invented to sway players interested in the game, but concerned it was too hard for them
– In the Nohr campaign, you can't train outside of the story
– During these situations, players can lower the mode and difficulty mid-game, rather than starting again from scratch
– Going back up to Classic Mode is not possible
– Playing on Phoenix Mode offers no gameplay disadvantages
– Beating Classic Mode is meant for the feeling of accomplishment
– Although durability is gone, the developers have tried to make players think hard about which of the various weapons they should use in a given situation
– Ex: some weapons may reduce the enemy's critical rate, while others may be extremely powerful, but difficult to attack twice with
– Hoshido and Nohr seem to have their own set of weaponry
– Aqua was originally the princess of Nohr, taken prisoner by Hoshido
– The circumstances of her capture are unknown
– Aqua is Songstress and has the ability to Sing to allow allies to move again (like Dancers in previous games)
– Ryouma is of the Trueblade class
– Other classes include Nohr's Sorcerers, who excel in Magic, and Brave Heroes, renown heroes who wield swords and axes (likely renamed Heroes)
– The Hoshidans have Oni, fierce mace-wielding warriors with high strength and defense and Priestesses, maidens who heal with batons
– Fire Emblem if supports all of the 3DS's communication functions: SpotPass, StreetPass, Local and Internet
– There are other factions in the game besides Hoshi and Nohr
– When initiating an optional battle in the Hoshido route, players can select from a list of locations, such as a suspension bridge, mountainside village, royal capital plaza, grasslands and a fortress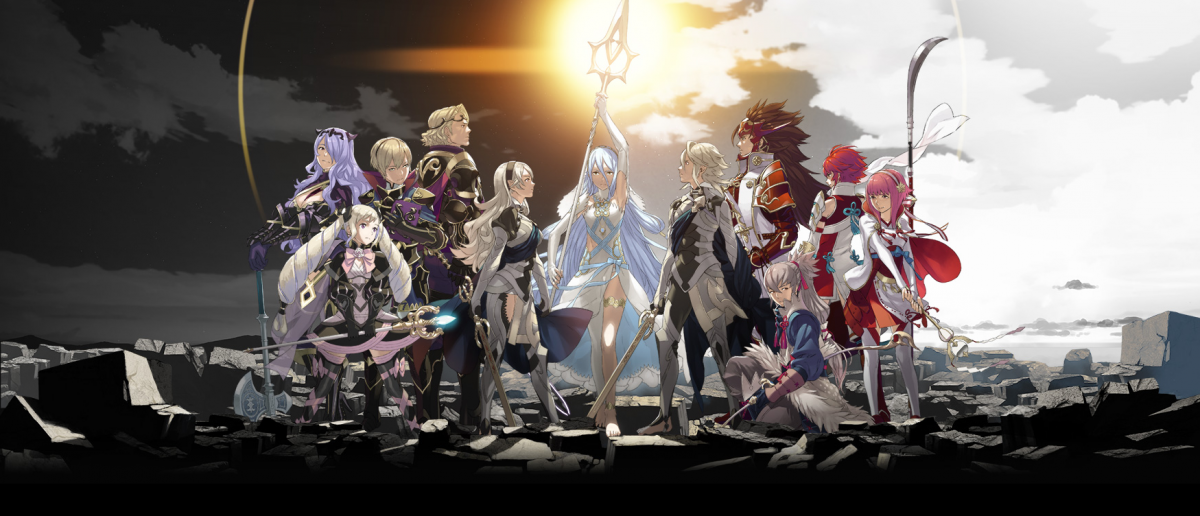 The newest issue of Famitsu has revealed several new Fire Emblem if details:
– The protagonist's class is called "Dark Prince" (male) / "Dark Princess" (female)
– Key characters on the Hoshido side are Ryoma, Hinoka, Takumi and Sakura
– Key characters on the Nohr side are Marx, Camila, Leon and Elise
– Casual mode: like in Fire Emblem Awakening, fallen units will be available again in the next battle
– Phoenix mode: Fallen units are revived on the next turn
– Characters from royal families have an ability called "Dragon Pulse", which allows them to affect the map in various ways, for example building bridges (as seen in the latest trailer), causing earthquakes or flattening mountains
– There are a total of 9 save data slots, and each additional DLC scenario will add 3 more slots
– Weapons no longer have a limited number of uses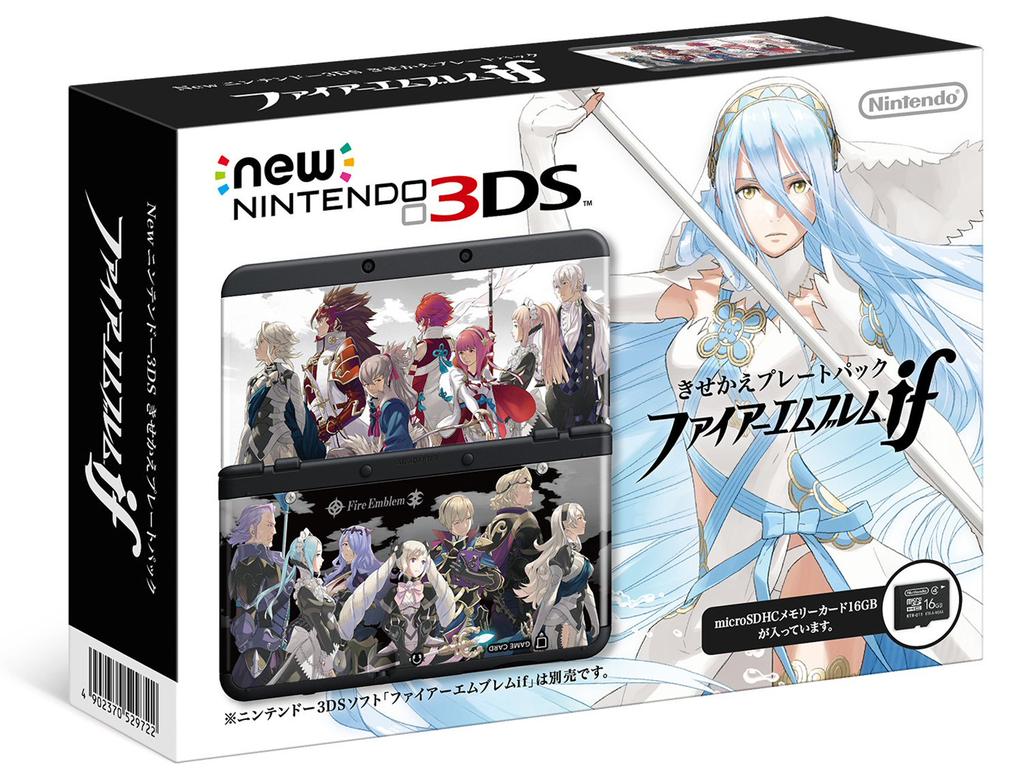 The packaging for the Fire Emblem if New 3DS bundle in Japan has been revealed. As you can see, the mysterious girl call Aqua who appeared in both trailers so far, is prominently featured on the packaging. The bundle will include a New Nintendo 3DS, Fire Emblem if cover plates and a 16 GB micro-SD card. Not included is a copy of either Fire Emblem if: Black Kingdom or Fire Emblem if: White Kingdom. The bundle will cost 18,500 yen.
Both versions of Fire Emblem if will launch in Japan on June 25th. A Western release is set for 2016.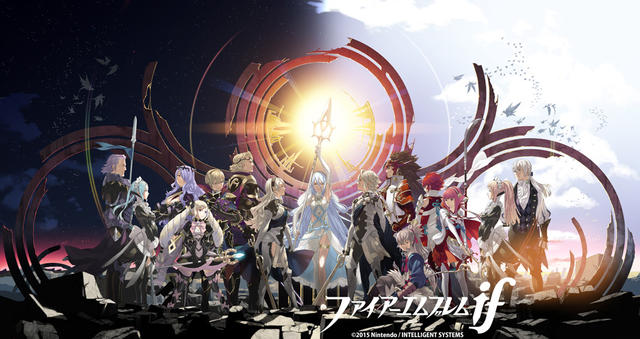 A little bit of additional information has come in pertaining to Fire Emblem If, the series' upcoming concert, and the Fire Emblem Cipher trading card game.
First, it's been announced that "Renka" is the person behind Aqua's song in the Fire Emblem If trailers. Serenes Forest reports that "Aqua's singing voice is unique, possessing a pure and divine quality, with the ability to represent both strength and fragility." The team "knew she was the one" after looking at a number of candidates and hearing Renka sing for the first time.
Fire Emblem If's main theme song is "if ~hitori omou". That roughly translates to "if ~ one's thoughts".
The theme song is due out as a single on July 1. It will be sold both as a CD for 1,296 yen and a limited edition CD/DVD bundle for 1,836 yen. The latter package contains two extra MVs and a reversible cover designed by Yusuke Kozaki.
Promotional displays for Fire Emblem If are already appearing inside a few stores across Japan. Only blurry pictures have been posted online thus far, which show artwork of Marx, Hinoka and Sakura and most notably Leon, Nohr's "Dark Knight" prince. Check them out below.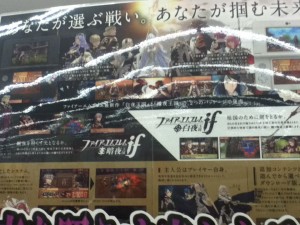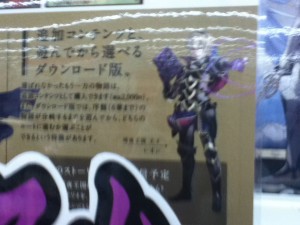 Regarding Fire Emblem Cipher, there will be rare cards signed by the characters' Japanese voice actors. We're also hearing that the Fire Emblem concert will feature at least two parts – specifically the "Hero-King" part and "Light Inheritors" part.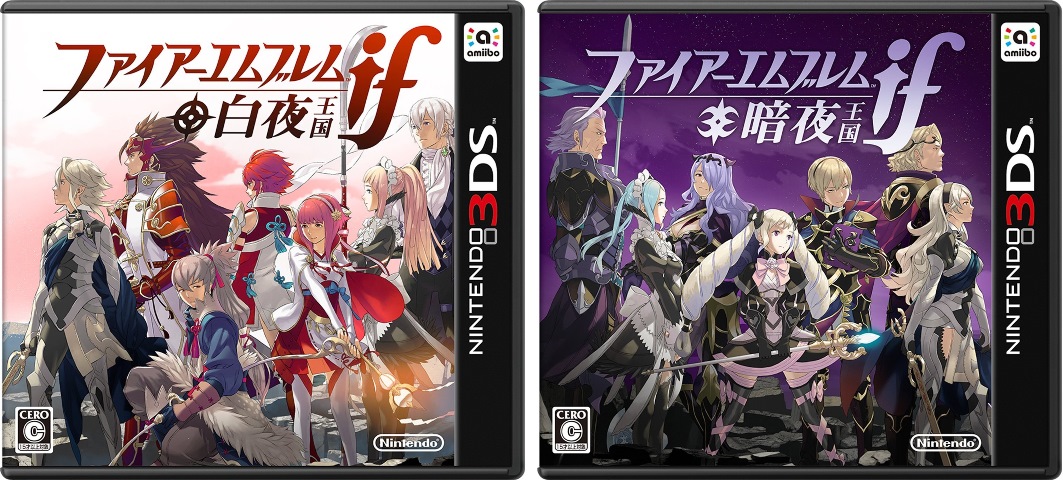 View some screenshots from Fire Emblem If below: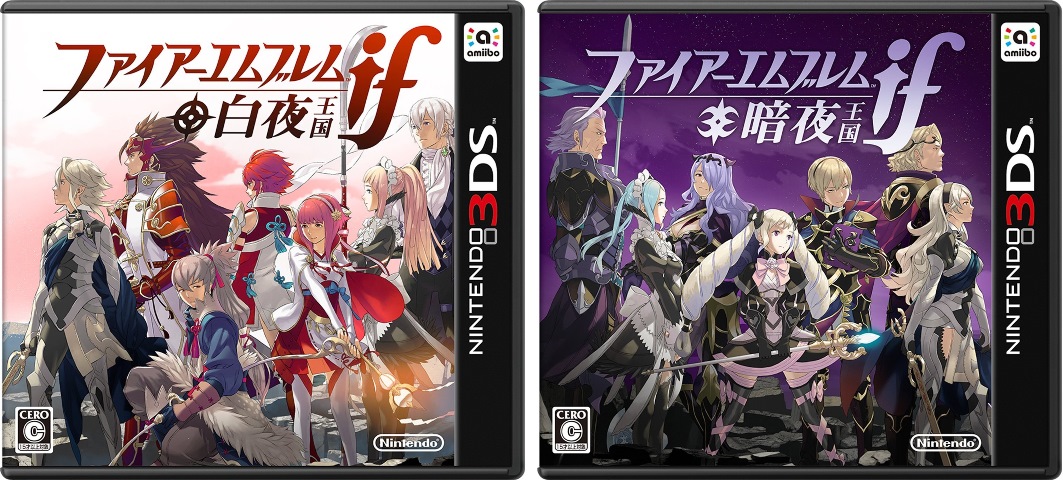 Nintendo has updated the Fire Emblem If boxarts, and they reveal that the game will have some sort of amiibo support. While the functionality has yet to be detailed, you can probably expect figures like Marth, Lucina, and more to come into play somehow.
The boxarts also confirm that Fire Emblem If is rated CERO C. This will be the first entry in the series with such a rating, which indicates that the game is intended for players 15 and up.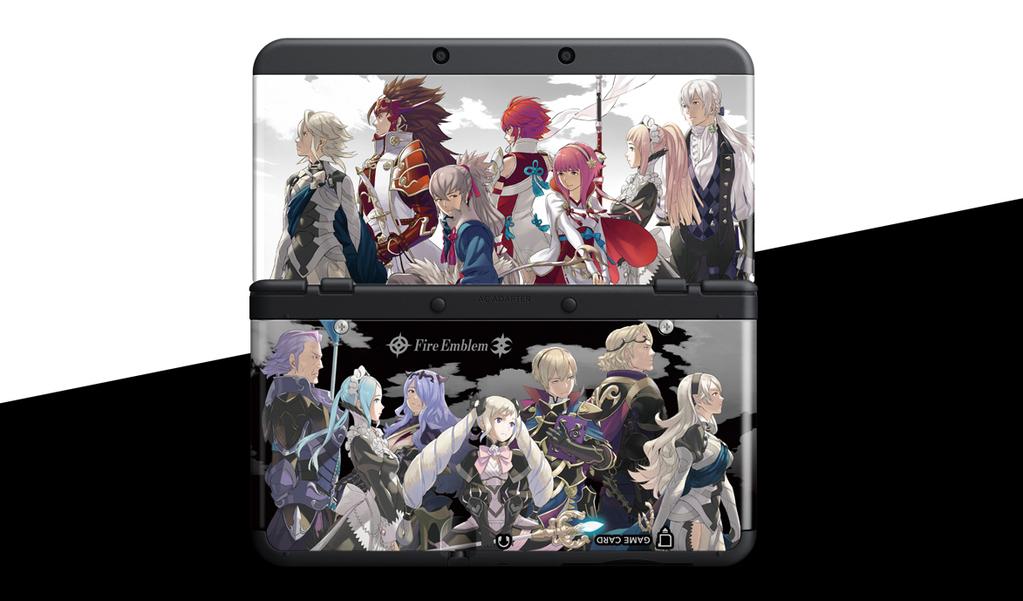 Nintendo will release a special Fire Emblem If cover plate for the New 3DS in Japan. It's due out on June 25, which is the same day that the game launches. Pricing is set at 2,500 yen.
There are also plans to offer the Fire Emblem If cover plate as part of a New 3DS bundle. A 16GB microSD card is set to be included in the package. The bundle will cost 18,500 yen.