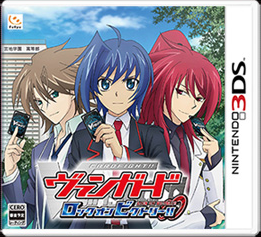 FuRyu has announced a Japanese release date for CardFight!! Vanguard: Lock on Victory. The game will be available on June 5, the publisher has announced.
Those who purchase CardFight!! Vanguard: Lock on Victory at retail will receive four Setting Sun Star-vader Darmstadtium holographic cards (R rarity).
As for the title itself, it'll include local and internet multiplayer modes as well as StreetPass support.
It turns out that Shuuhou Imai's new 3DS game is one that we've heard about before, though we had yet to see any sort of images or details until now.
The game in question is Hamatora: Look at Smoking World. You'll find a commercial from the game above, and a few screenshots/details below.
– Imai working on the game with FuRyu
– Hamatora won't take place in a parallel world from Hamatora: The Animation or the manga version
– Takes place in the same world, but has a different story
– The game will be enjoyable to those who've yet to see the anime or read the manga
– Imai was inspired by the shared universe concept often seen in American comics, where works of different titles (ex: DC and Marvel Universe can take place in the same world)
– Tokyo Majin Gakuen characters could still appear
– For now, the only thing we know that's shared is the world between Hamatora's anime and manga
– Game takes place in a port town of Kobe, Japan
– The transfer student protagonist suddenly has his special powers awakened
– He participates in fights with other high school students
– The characters will all be original to the game
– Imai spoke with people from the Kobe film office and visited other parts of Kobe, which will be included in the game
– Will see certain shopping districts modeled after real-life areas
– Can view them in stereoscopic 3D
– Battle system won't be anything like Tokyo Twilight Ghosthunters
– Will be closer to the Tokyo Majin Gakuen series, which uses a strategy RPG battle system
– Out on July 17 in Japan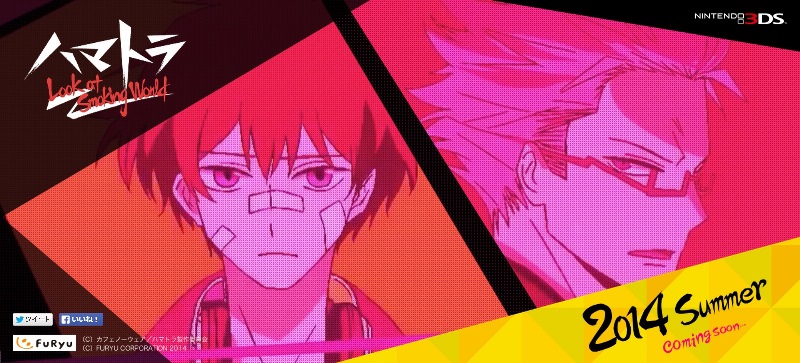 A new game based on the anime Hamatodora is set for the 3DS. FuRyu is developing "Hamatodora: Look at Smoking World" for launch in Japan this summer. A teaser site can be found here.
FuRyu has announced Cardfight!! Vanguard: Lock on Victory, the series' second entry on the 3DS. The game's first screenshots can be found above, and details are posted below.
– Cards that have been used previously will remain
– Addition of the new "Link Joker Guide" Recording Card
– New skills, Break Ride, Curse (Lock), and Curse Removal (Unlock) will support up to Grade 4
– A new, original story to help expand the game, meaning you'll go through the story while enjoying high school life
– As part of the Miyaji Academy, from the midst of Hitsue and Fukuhara High School, the player will aim to dominate the VF Koshien at each high school affiliated
– The original protagonist will make an appearance
– Players can select their desired character and choose their favorite high school to help expand the story
– The game has evolved tremendously, including the likes of the communication mode
– While playing with someone in communication play, competition will be switched to an AI opponent if the connection is interrupted
– Winning against the AI in an interrupted match will still count as a win
– StreetPass support of some kind
A few more Exstetra details are now available for viewing. Head on below for the latest game information.
– Gain and use skills through enchanting
– Limit on how much can be enchanted on items including weapons
– Once there you can freely continue to upgrade the ability by enchanting it further
– Accessories can take a lot more
– Recent video showed Akihabara's ruined dungeons
– Pair Revenge: raised when you raise relationships between characters
– If one or the other character is attacked, a free counterattack goes through from their paired partner
– It doesn't matter who kills a monster
– Ryoma sucks up their EXS energies no matter what
– Battles are completely random encounter types
– Cheer or groan depending on what sort of battle system you prefer