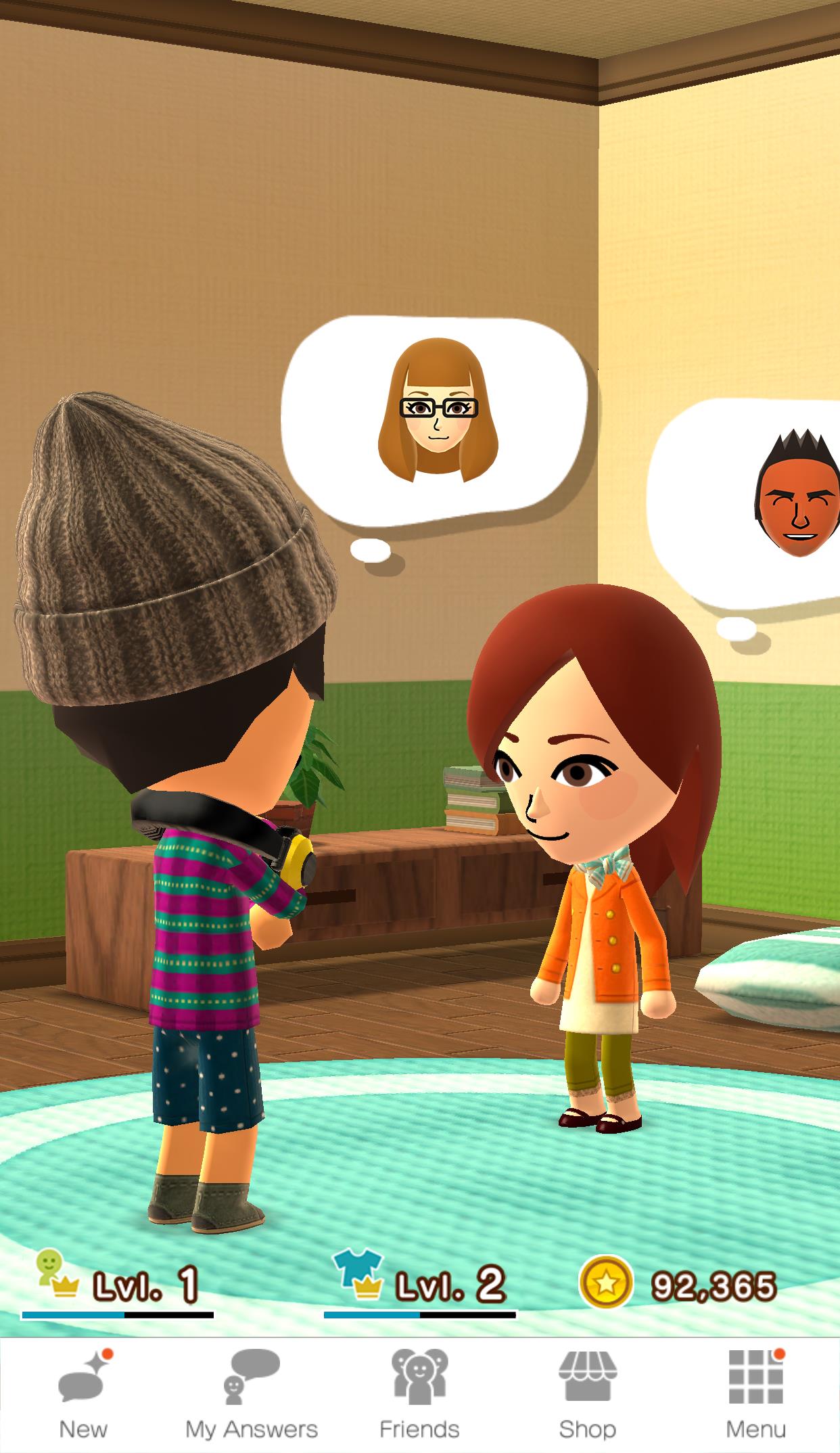 A bunch of screenshots are in for Miitomo, Nintendo's debut mobile app. You can see the various images below. They show making Miis, creating photos, and more.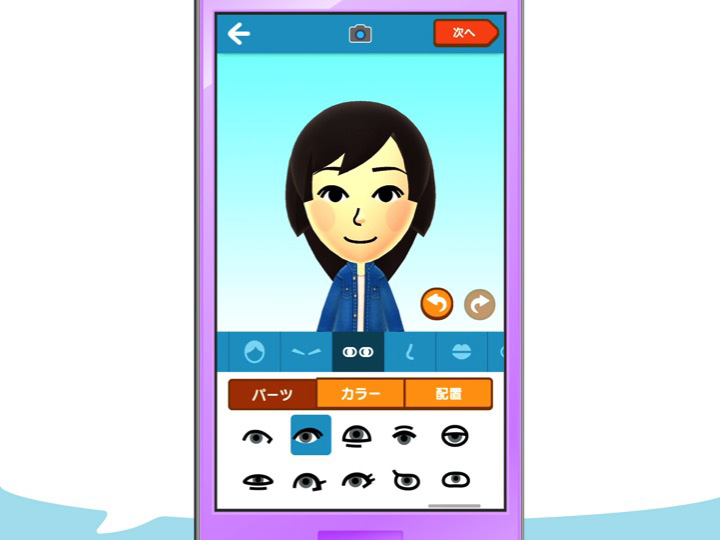 Nintendo has gone live with pre-registration for Miitomo. Get involved by visiting the page here, clicking the "Pre-register" button, and then creating or logging in to your Nintendo Account.
All users who pre-register a Nintendo Account to Miitomo will automatically receive My Nintendo Platinum points. My Nintendo and Miitomo are both launching sometime next month.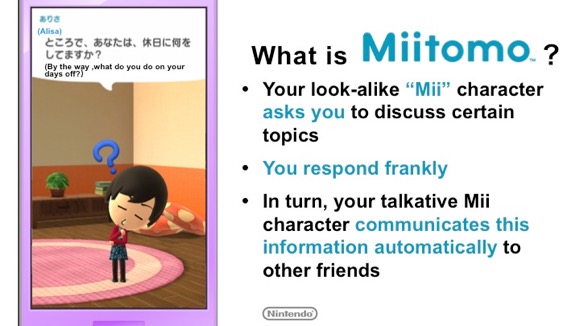 This information comes from Nintendo president Tatsumi Kimishima…
Launching alongside My Nintendo, we will release Miitomo as our first smart device application.

Miitomo is an entertainment application which turns communication among friends into a form of "play." After the release, we hope many will wonder why this sort of app had never existed before.

In Miitomo, your "Mii" look-alike character appears as your "alternate self" within your smart device.
All of you must have had the enjoyable experience of being prompted by a friend to talk about something that you might not normally bring up in the course of your conversation. Mii characters facilitate this kind of social play structure with Miitomo.
Unlike most communication apps, with which you are supposed to proactively dispatch your message, in Miitomo, talkative Mii characters will automatically spark unique conversations and help friends connect on random, fun and light-hearted topics.
I believe you will experience a fresh new feeling with Miitomo.

More than 200 million Mii characters have been created around the world and have been appreciated by many people, regardless of age, gender, country or region.
Miis are unique characters who act in very "Nintendo-like" ways with rich facial expressions.

Also, Miitomo comes with a feature called "Miifoto" with which you can create and share various pictures with Mii characters.
The pictures created with Miifoto can be stored on your smart device and can be shared with various social media networks, so these pictures can be used beyond gaming.
Quite a few consumers have used their Mii in their profile picture of various social networks. We hope more people will enjoy Miitomo to use Mii in such fashions as well.

Miitomo is an application that is highly reliant on language, as it introduces a fun new style of communication. We think there will be a variety of different ways that people in different countries speaking different languages will enjoy this app.
As such, we will start by releasing Miitomo in these 16 countries, and as we receive feedback from our consumers about their experiences and establish customer support structures, we will gradually increase the number of available countries for Miitomo.

Before Miitomo is released in March, Nintendo will start accepting the pre-registration of the app from February 17.
You will need your Nintendo Account to pre-register.
Anyone who pre-registers for Miitomo will receive Platinum Points via My Nintendo, and will be notified on Miitomo's launch day so that they can download immediately.
We will start this pre-registration for Miitomo not just in Japan but in all 16 countries where the app will initially be released.
(Note: Outside Japan, Nintendo Account registration starts simultaneously on February 17, with the start of pre-registration of Miitomo, in all the countries where My Nintendo services will be formally started in March.)

Miitomo will be released on iOS and Android.
We will release Miitomo in Japan in mid-March and in the other 15 countries by the end of March.
The services of My Nintendo that I mentioned earlier today will also be formally started simultaneously along with the release of Miitomo.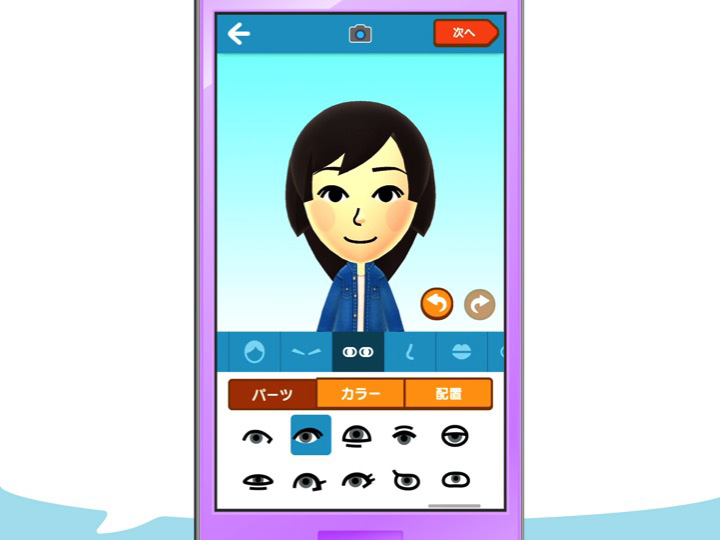 One topic Nintendo addressed during its financial results briefing today is Miitomo.
The early word out of today's event is that the app will launch in mid-March in Japan. This will be followed abroad during the same month on iOS and Android.
Miitomo pre-registration begins on February 17, with plans to launch next month in 16 countries and 8 languages. The latter includes English, French, Italian, German, Spanish, Japanese, Dutch, and Russian.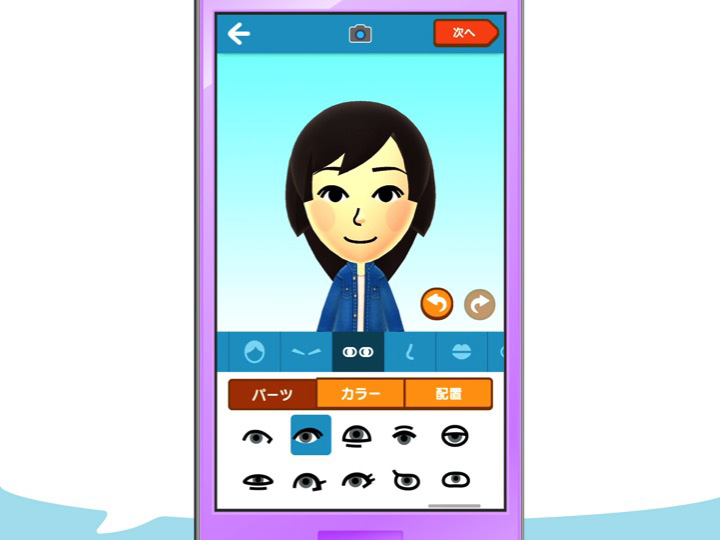 The Wall Street Journal has some new interview quotes up with DeNA president Isao Moriyasu. Much of the discussion pertained to Miitomo. Moriyasu commented on the user experience, how it'll separate itself from other social networking/messaging services, and more.
Head past the break for a roundup of Moriyasu's remarks. You can find a bit more of the interview here.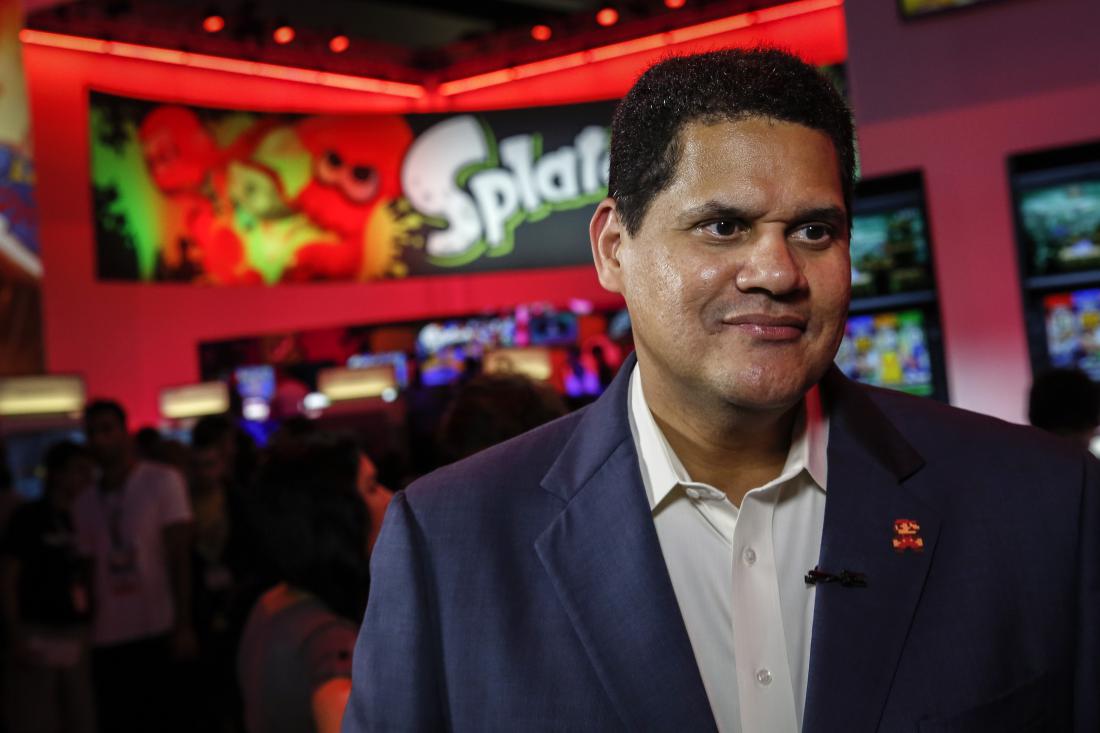 TIME has published a new interview with Nintendo of America president Reggie Fils-Aime. Reggie chatted about mobile (including Miitomo), My Nintendo, plus amiibo's success and how it's reflective of where the company is heading in terms of leveraging IP.
Head past the break for a roundup of the various comments. You can also check out TIME's article here.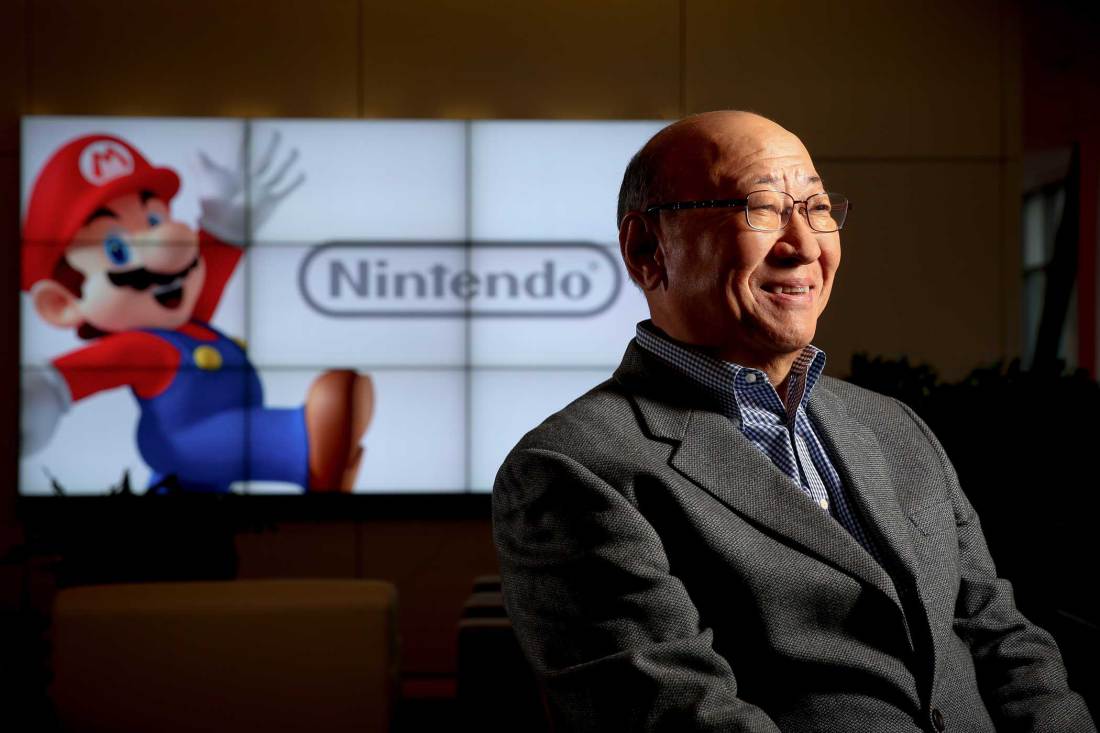 In addition to NX, new Nintendo president Tatsumi Kimishima addressed several other topics pertaining to the company while speaking with TIME. These include mobile, Wii U support in the future and how he didn't say the system would be a failure, amiibo, Shigeru Miyamoto's "fellow" role, Genyo Takeda, Quality of Life, and the length of his presidency.
We've rounded up Kimishima's comments below. You can also find TIME's original piece here.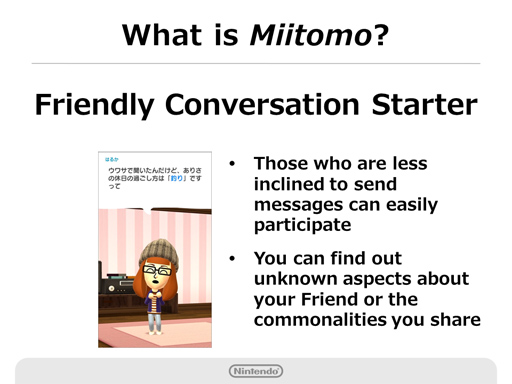 Nintendo introduced its first mobile app, Miitomo, during a financial results briefing earlier today. For the full overview from today's presentation, read on below.
The main character of Miitomo is you. First, you create your own Mii.

The Mii asks you a variety of questions and communicates your answers with your Friends' Mii.

The people you will be able to communicate with are limited to your friends whom you have registered as Friends. We are designing this communication application to enable Friends to share information comfortably and securely.

In this way, instead of the users proactively sending their own messages, Miitomo has a unique characteristic that can be called "friendly communication starters" as your Mii will automatically dispatch the answers you gave to certain questions to your friends.

These "friendly communication starters" have an advantage that even the people who are less willing to send messages can easily participate. Another unique characteristic of Miitomo is that you may be able to find out unknown aspects about your friends or unexpected commonalities you share with your friend because Miitomo may pick up the topics that you usually do not discuss but would be willing to answer if asked.

What we would like to realize is, through such communication, you will be able to deepen friendly relationships and have more people with whom you can play games.

Both My Nintendo and Miitomo will be available in March 2016.

For reference, more than 200 million Mii characters have been created on our platforms, which means that many people around the world understand the appeal of Mii.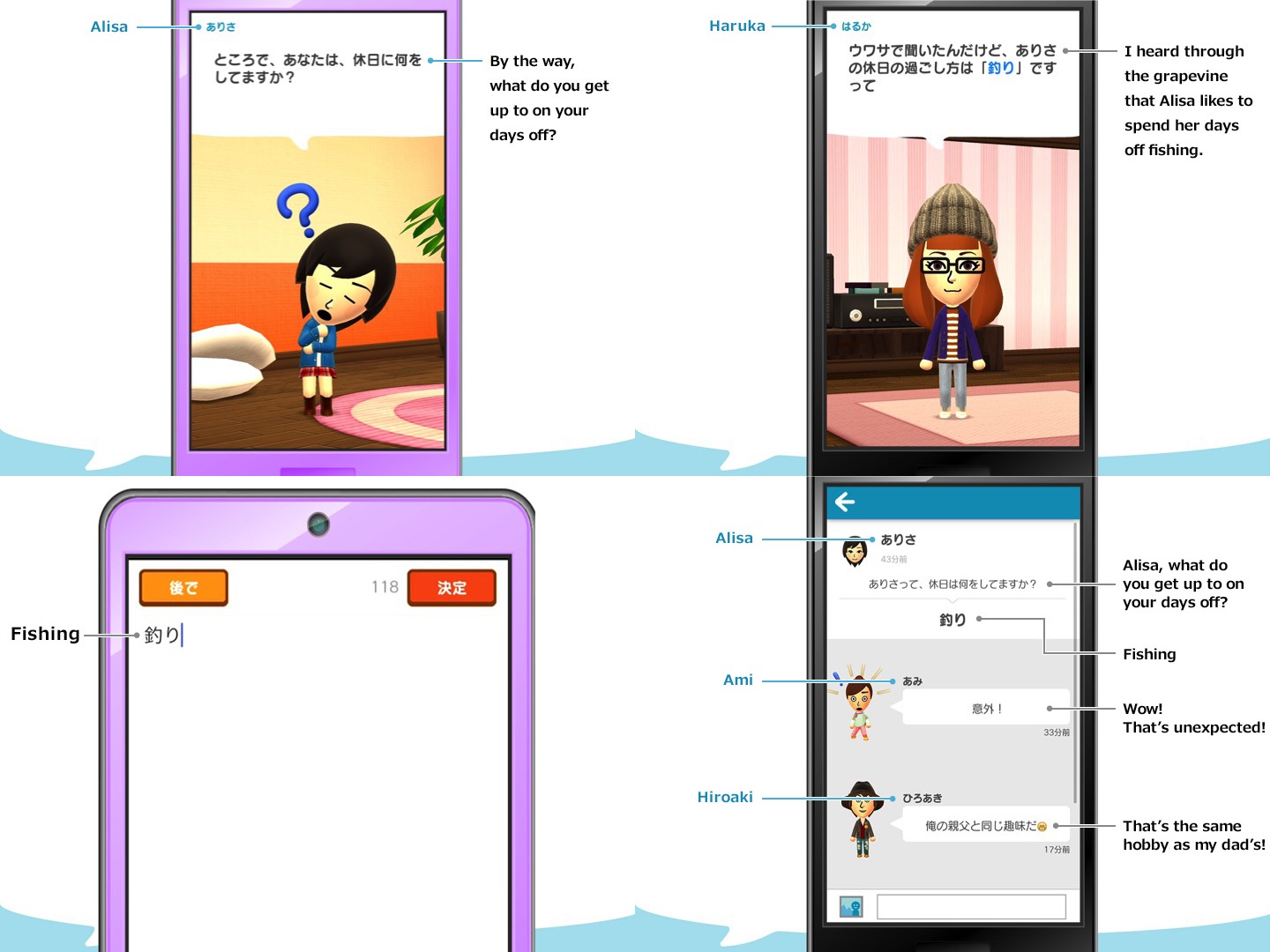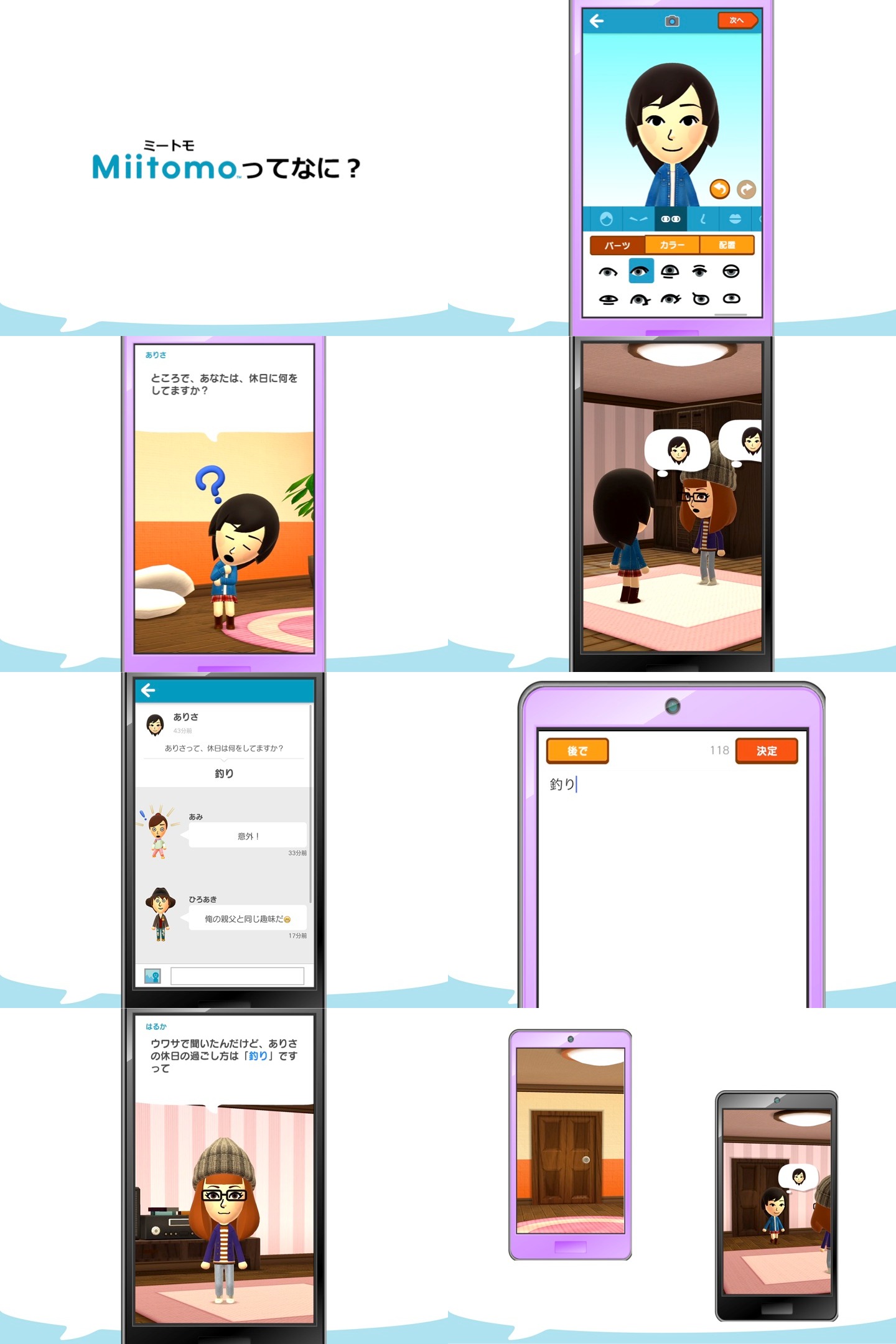 It didn't seem like we'd be hearing about Nintendo's first mobile game after news dropped that it had been delayed to March 2016, but information was revealed after all. Here's what we know thus far about "Miitomo" courtesy of the Wall Street Journal:
The new smartphone game will be "Miitomo". It will be free to play, with attractive add-ons that people can pay for, Mr. Kimishima says. Others will be pay-to-download, he says.

Looks like Miis go ahead and communicate with other Miis without your knowledge. This will help people who are hesitant to talk about themselves to communicate with others, and reveal a side of your friends you never knew, Mr. Kimishima says.

In the new Miitomo game, users will design their own avatars, or "Miis," to communicate with other users. Executive Shinya Takahashi says that Nintendo will find ways to encourage people who are hesitant to talk to share things about themselves.

Senior Managing Director Shigeru Miyamoto says DeNA will help operate the smartphone games, while Nintendo will focus on ways to guide users to its hardware.

The five smartphone apps won't soon comprise half of sales, Mr. Kimishima says. Nintendo's goal is to use smart devices to increase the value of its IP, which will help sales of both software and hardware, he says.

On the reason for the delay of the smartphone app, Mr. Kimishima says, is the need for more lead time to fully promote and explain Miitomo. The company is busy promoting other titles in the pipeline right now, he says. It will start promoting Miitomo after the year-end holiday season. Says this will have little impact on earnings.

Curious about how the DeNA and Nintendo partnership is going. Senior Managing Director Shigeru Miyamoto says DeNA will focus on operation of the games. Which suggests game design is all Nintendo.

On second thought, not clear whether Miitomo should be called a game. It looks more like a communications app with Mii avatars that can be ported to games on Nintendo hardware.