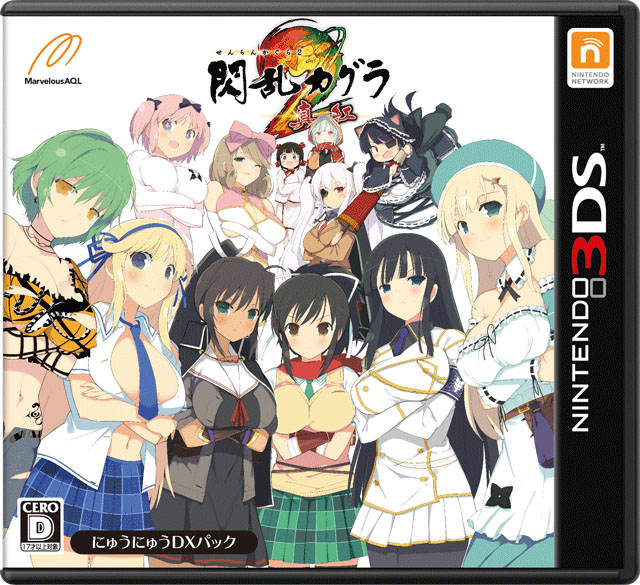 In Japan, Marvelous will be releasing a special "Nyuu Nyuu DX Pack" for Senran Kagura 2.
Here's what's inside:
A special box drawn by Nan Yaegashi
Five figure Toy Works Niitengo set of the Homura Crimson Squad
"That's right! Hibari, take off the swimsuit now!" Drama CD
Opening theme song "Hikari to Yami no Achira" Hanzo Academy solo version and the "Girls Dance in Deep Crimson" arrange soundtrack CD
Limited edition original packaging
Photos of the Nyuu Nyuu DX Pack can be found above.
Several new details are in for Senran Kagura 2: Deep Crimson. You can find them rounded up below.
– Pair Battle: put together a tag-team to fight enemies
– Partner character fights on her own
– Can give the partner character orders
– It's possible to put together tag teams with rivals
– When switching places with the partners, you'll be able to do actions such as combos and counters
– Tag-team move can be done between two characters
– The better the pair fights together, the higher damage output the attack will have
– Depending on the duo you create, there will be different attack scenes
– Switch weapons just for looks
– Can attach special gems to a weapon to give it powers and elemental attributes
– These include "attack up," "auto-health recovery," and "fire invulnerability"
– Special intros for certain character match-ups
– Can destroy the clothing of small-fry enemies
– Once you defeat an enemy, you'll be able to "examine" them in the reference library
– Clothing will also be destroyed in seamless fashion