Senran Kagura 2: Deep Crimson eats up quite a bit of space on an SD card. The game weighs in at 17,100 blocks – larger than the last 3DS entry Senran Kagura Burst. Of course, Senran Kagura 2 can also be purchased as a retail cartridge in stores.
Senran Kagura 2: Deep Crimson will be getting a two-hour live-stream on Friday, Marvelous has announced. The broadcast will be held at 7 AM ET / 4 AM PT / 12 PM UK / 1 PM Europe. Producer Kenichiro Takaki will be in attendance, but aside from that, we don't know what's planned.
Be sure to keep track of this Niconico link for the stream.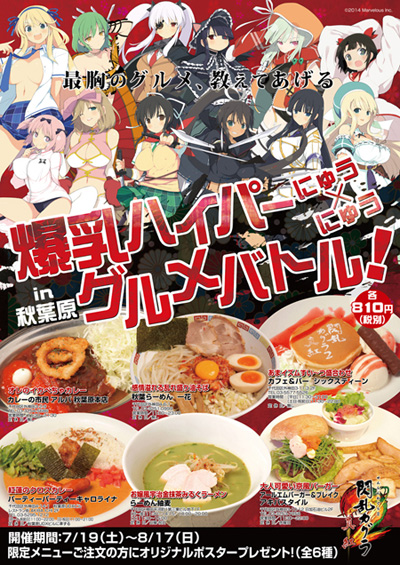 Senran Kagura 2: Deep Crimson is coming to Japan in early August and today publisher Maarvelous AQL released the pre-order bonuses for the game. Up for grabs from Amazon Japan is a digital wall paper, mouse pad, postcard set, cushion cover, OST and a telephone card among others.
In an addition to boost hype around the game, Marvelous have teamed up with a restaurant chain in Akihabara for 6 Senran Kagura 2 themed meals! This is something Capcom became notorious for and it seems Marvelous will be following the trend from July 19th – August 17th.
Check out screenshots of all these announcements below
The latest batch of Senran Kagura 2 screenshots focuses on the characters Rin and Daigouji, to compliment yesterday's trailer.