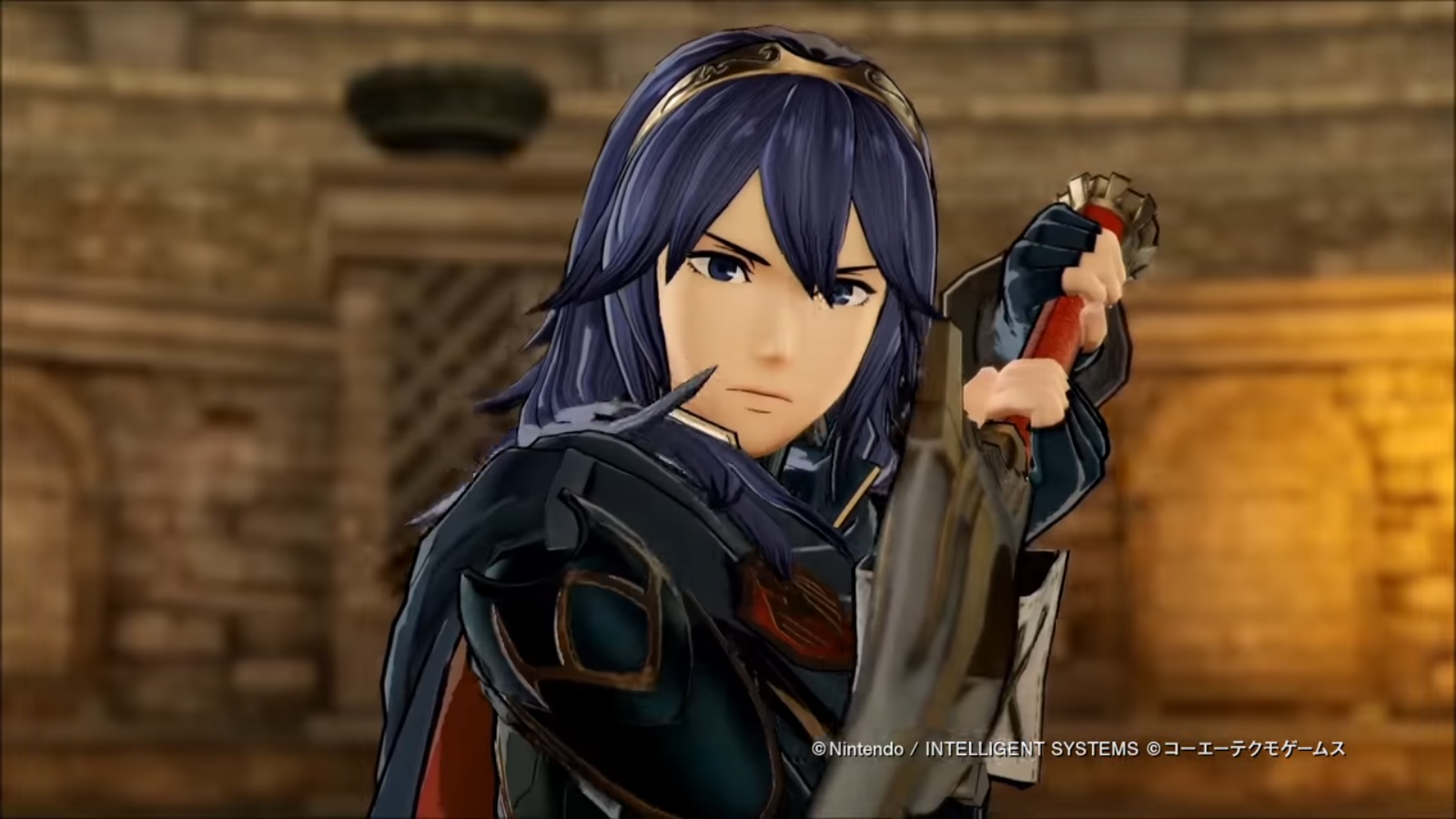 Koei Tecmo has published a new trailer (in Japanese) for Fire Emblem Warriors. The video show off all of the characters from Fire Emblem Awakening that have been revealed so far: Chrom, both male and female Robin, Lucina, Cordelia, Lissa and Frederick. Check it out: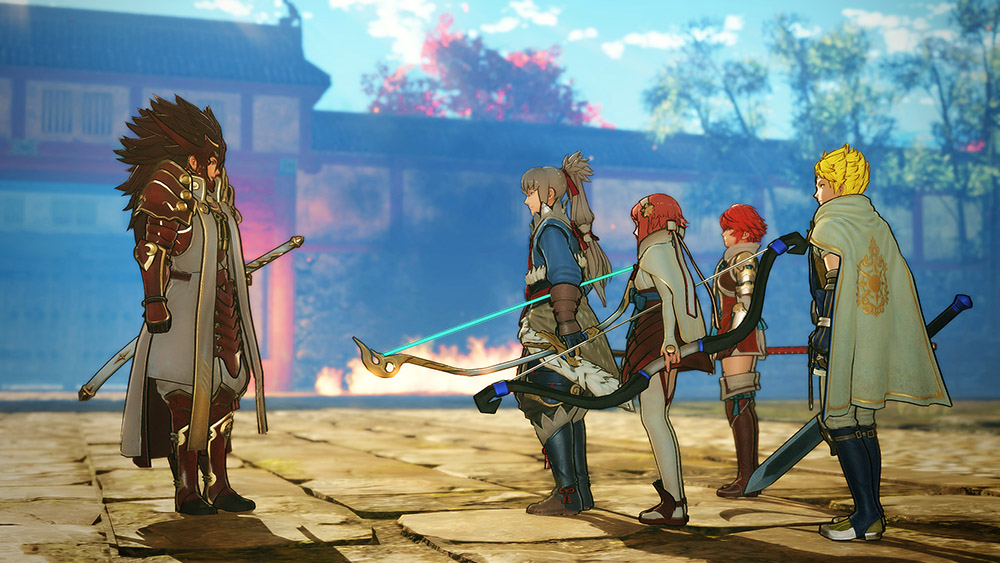 The official Japanese website for Fire Emblem Warriors has been updated again with some new information and screenshots showing off the game's reinforcement systems and the the recently new announced characters Male Corrin, Sakura, and Elise.
Below is the new information for Fire Emblem Warriors translated, courtesy of Gematsu.
■ Characters

Corrin (Male) (voiced by Nobunaga Shimazaki)

A young man who was brought up in Nohr while being of Hoshido blood. He has the power of a dragon hidden within him and fights using a sword called "Yato," as well as possesses the special trait of turning into a dragon to attack. His attack motions and abilities are the same as Corrin (Female) (voiced by Satomi Sato).

Sakura (voiced by Hikiko Kanemoto)

The kind-hearted princess of Hoshido. She was separated from Fire Emblem Fates protagonist Corrin when she was a child. She attacks using a bow and has the ability to recover HP like Elise.

Elise (voiced by Ayaka Suwa)

The youngest of the four Nohrian royal siblings. She has a cheerful and innocent personality that shines brightly upon the gloomy kingdom. She is a Troubadour who fights riding a horse, can heal allies, and uses attack magic.

■ System

Use the materials and items you obtained to strengthen your heroes and weapons.

—Emblems

Use materials to strengthen your heroes. There are various effects depending on the emblems you acquire, including enhanced ability, increased combo count, skill acquisition, and more.

—Forging

Transfer the special characteristics of one weapon to another weapon. Special effects, including specific effects and physical magic reversals, can also be transferred.
Finally, there were also more new images for Male Corrin, Sakura, and Elise posted on the Fire Emblem Warriors website. You can view them below in our gallery.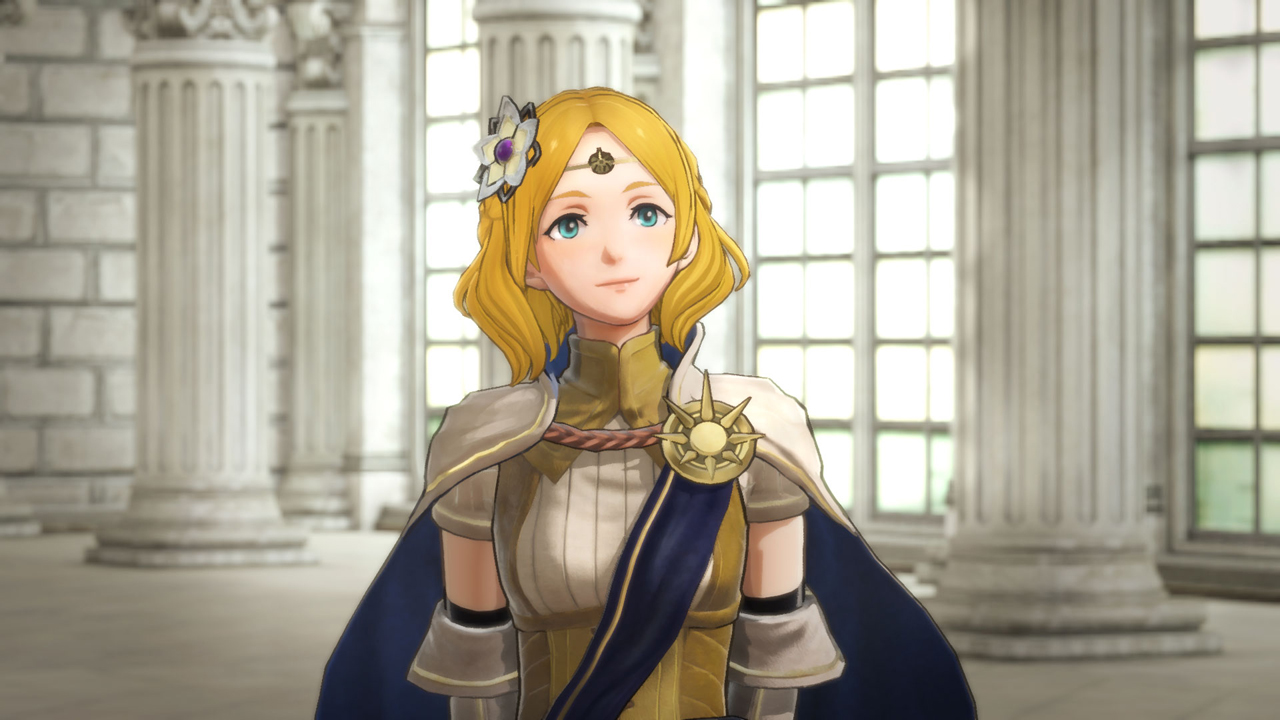 Fire Emblem Warriors was shown off during a Japanese live stream earlier today. Take a look at eight minutes of footage from the recording below.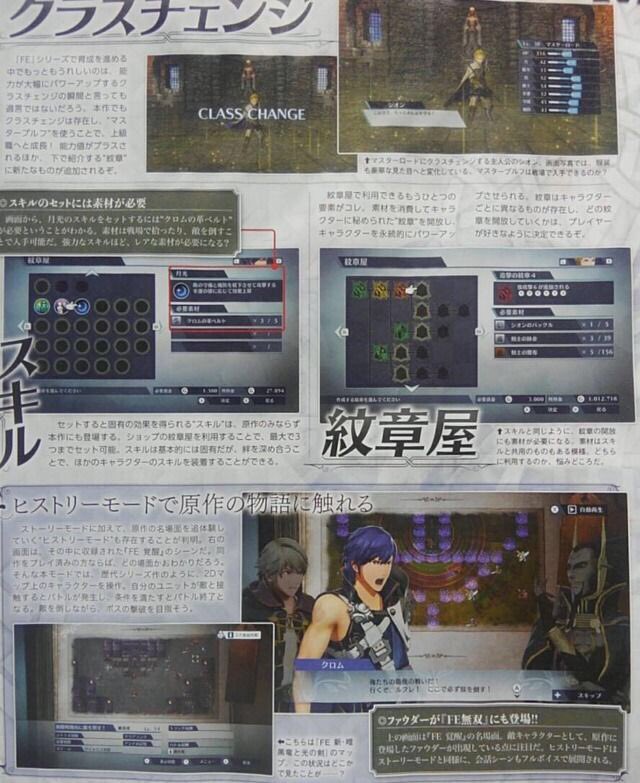 Fresh details about Fire Emblem Warriors have leaked out of Famitsu. We're able to learn about certain features and modes like being able to change classes, a new skill system and Emblem Shop, plus a new History Mode.
Here's the full roundup:
– Class change confirmed
– This can be done by using Master Seal item
– Shion/Rowan (and Lianna) can promote from Lord to Master Lord
– Game will have a skills system
– Can equip up to three skills
– Skills are unlocked by bonding with other characters
– Emblem Shop system in the game
– This apparently involves using materials and permanent stat boosts
– History Mode is separate from Story Mode
– It retells the original story of each Fire Emblem game featured
– In History Mode, move characters on a 2D grid like the original SRPG
– When ally adjacent to enemy, battle will trigger
– Famitsu shows that Validar will appear as an enemy NPC
– Scenes in History Mode will also be fully voiced
– One History Mode map shown in Famitsu is from Shadow Dragon
Famitsu revealed earlier today that Male Corrin and Sakura are in Fire Emblem Warriors. We should have new scans tomorrow.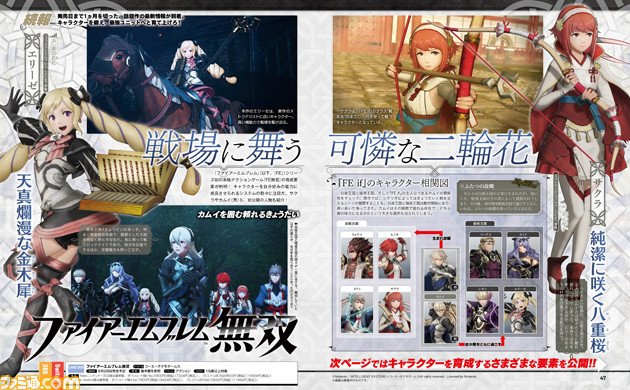 Update: As some of you on Twitter have pointed out, you can also see Male Corrin in the bottom right. Thanks for the heads-up!
---
Original: The next playable character in Fire Emblem Warriors has been revealed via Famitsu, and it's the final one of the royal siblings from Fire Emblem Fates, Sakura. Her main weapon is a bow, which she could use in Fates if she promoted into a Priestess.
We only have a small preview image of the Famitsu article at the moment, so there aren't a whole lot of details. Stay tuned for tomorrow, which is when we'll get our hands on the full issue of Famitsu.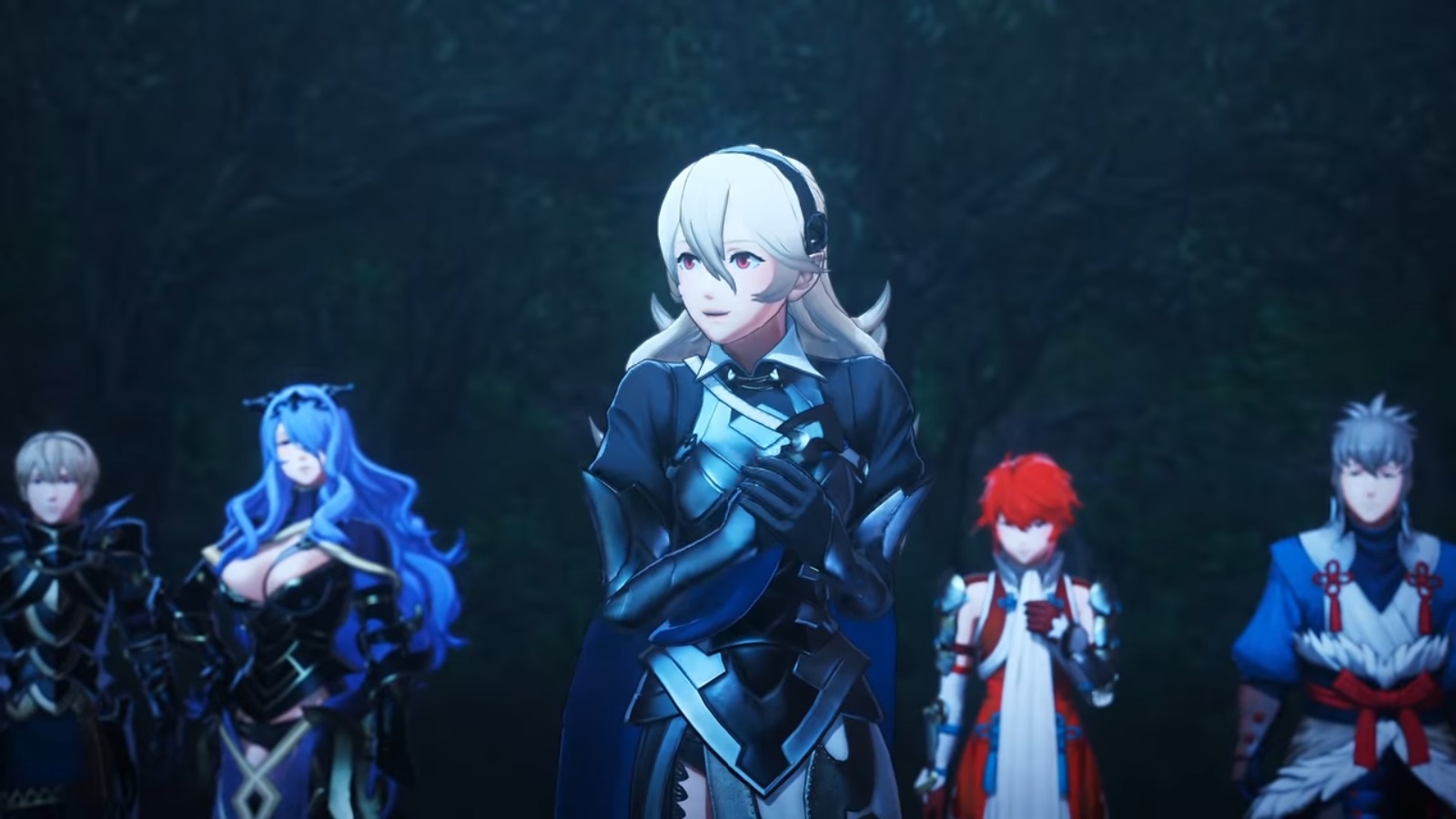 Fire Emblem Warriors is one of many games Nintendo has featured at PAX West this weekend. Get a look at some off-screen footage from the playable demo below.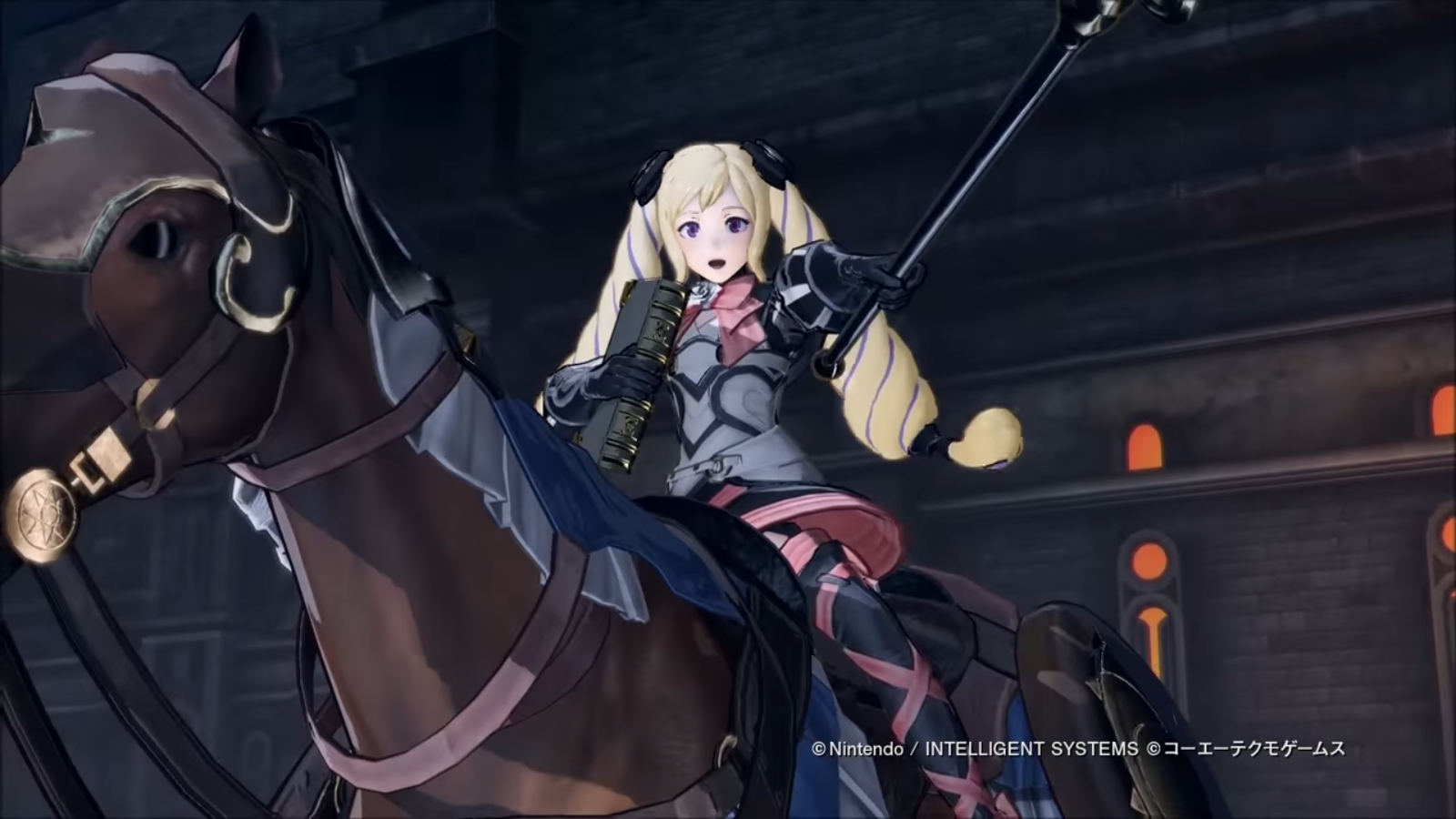 The next character to join the Fire Emblem Warriors roster has been revealed: Elise from Fire Emblem Fates. Check out the trailer below, which shows her in action: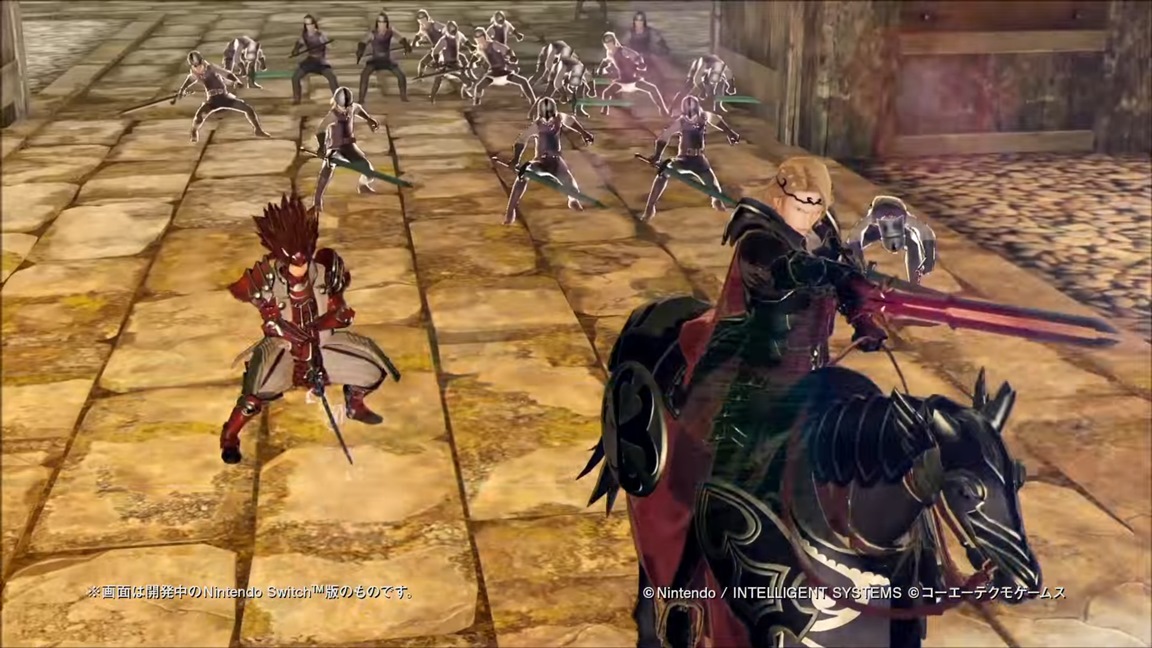 Another new Fire Emblem Warriors clip has gone live. This time around, Koei Tecmo highlights a dual attack between Ryoma and Xander. Check it out below.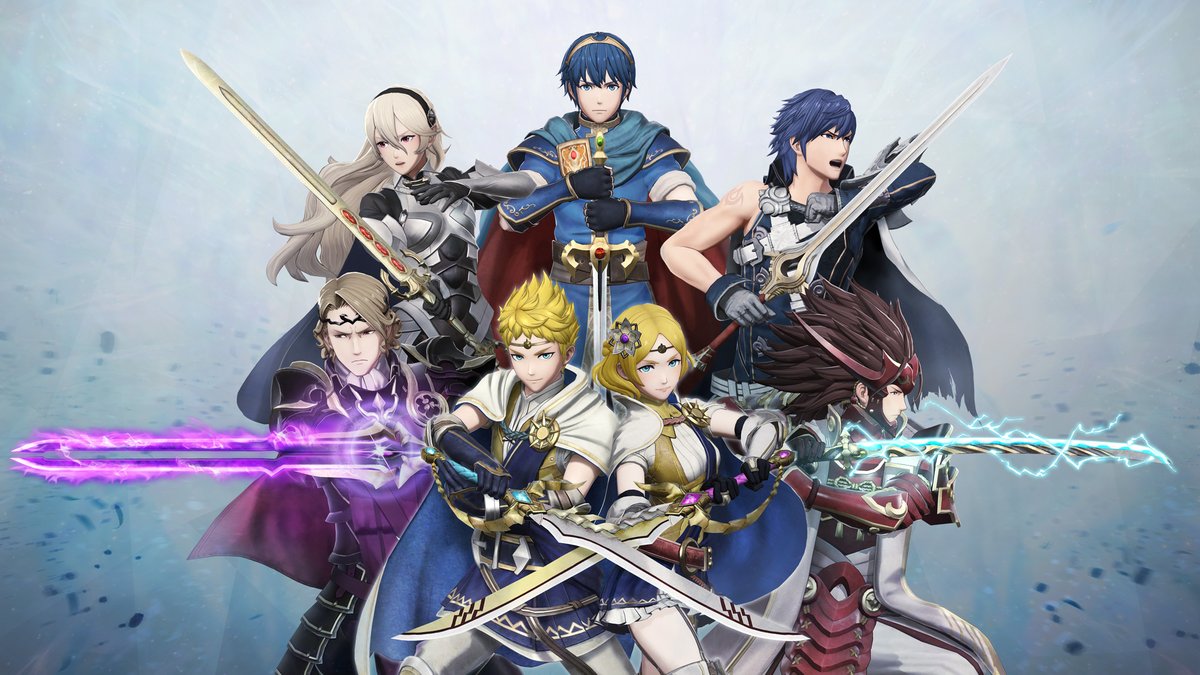 Legendary Japanese gaming magazine Famitsu is holding a 24-hour livestream on Niconico starting this Thursday, August 31st, at 7 PM JST to celebrate its 1,500th issue going on sale. Journalists, developers and voice actors will be present to talk about the magazine's history, play games and more. The livestream will also feature upcoming games – and among those is Fire Emblem Warriors. The game's official Twitter account has revealed that during the stream's opening segment, new information about Fire Emblem Warriors will be revealed.
Despite the game's Japanese release date being only one month away, there's still quite a lot we don't know about it. We still haven't met any of the game's Shadow Dragon characters other than Marth, the amiibo functionality is still unknown and the game's Coliseum mode also hasn't been talked about a whole lot. Either way, there's plenty that could be revealed during the stream. If you have a Niconico account, you'll be able to watch it live here.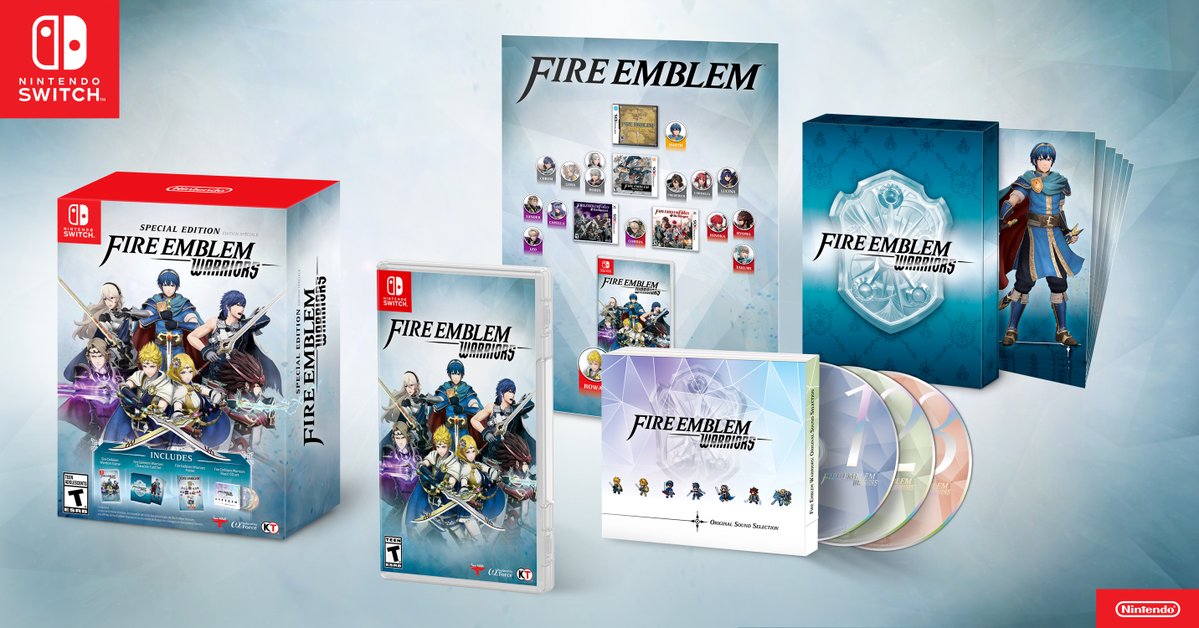 Update: The Fire Emblem Warriors Special Edition costs $79.99. Also, the main game will be out for New 3DS / New 2DS XL on the same day, if you had any doubts.
---
Original: Last week, Nintendo announced an October 20 release date for Fire Emblem Warriors in Europe. We now also know that the game will be out in North America on the same day. Nintendo just confirmed a stateside release of October 20.
In other news, the Fire Emblem Warriors Special Edition has also been announced for North America. It includes a copy of the game, three CDs, a dual-sided poster, and 25 character art cards. Pricing has not yet been announced.