Cambridge, MA – May 5, 2008 – Harmonix, the leading developer of music-based games, and MTV Games, a division of MTV Networks, which is a division of Viacom (NYSE: VIA, VIA.B), along with distribution partner Electronic Arts, Inc. (NASDAQ: ERTS), today announced plans to release Rock Band™ Track Pack Volume 1 for the Wii™ home video game console from Nintendo and PlayStation®2 computer entertainment system. The 20-Track Pack features an electrifying mix of classic hits and current favorites, including songs by Boston, Nine Inch Nails, Stone Temple Pilots, and All American Rejects. The Rock Band™ Track Pack Volume 1 will be available on July 15th, 2008 for a MSRP of $29.99. Complete details are as follows:

Release date: Tuesday, July 15, 2008

Tracks:

30 Seconds to Mars The Kill
All American Rejects Move Along
Blink – 182 All the Small Things
Boston More Than a Feeling
David Bowie Moonage Daydream
Faith No More We Care A Lot
Grateful Dead Truckin'
The Hives Die, All Right!
KISS Calling Dr. Love
Lynyrd Skynyrd Gimme' Three Steps
Nine Inch Nails March of the Pigs
Oasis Live Forever
Paramore Crushcrushcrush
The Police Synchronicity II
Queens of the Stone Age Little Sister
Ramones Teenage Lobotomy
Smashing Pumpkins Siva
Stone Temple Pilots Interstate Love Song
Weezer Buddy Holly
Wolfmother Joker & the Thief

**All 20 tracks utilize original master recordings**
** All tracks are available as DLC on competing platforms**

Price: $29.99 MSRP

Rock Band is the ultimate platform for music fans and gamers to interact with music like never before. The game challenges players to put together a band and tour for fame and fortune – all while learning to master lead/bass guitar, drums and vocals. Featuring the most master recordings of any music game ever by the world's biggest rock artists, Rock Band includes tracks that span every genre of rock ranging from alternative and classic rock, to heavy metal and punk. Rock Band has garnered over 40 awards this year including Game Critics Award: Best of Show E3 2007 and three awards at The 11th Annual Interactive Achievement Awards including Outstanding Innovation in Gaming, Family Game of the Year, and Outstanding Achievement in Soundtrack.

Rock Band is rated "T" for Teen (lyrics, mild suggestive themes) by the ESRB.

Rock Band will be available for the Wii starting June 22, 2008. Rock Band is currently available on the PLAYSTATION®2 computer entertainment system, the PLAYSTATION®3 computer entertainment system, and on the Xbox 360™ video game and entertainment system from Microsoft®.

EA is the exclusive distribution and marketing partner for Rock Band.

For more information on Rock Band and Harmonix Music Systems please visit www.rockband.com and www.harmonixmusic.com.
Source: GamesPress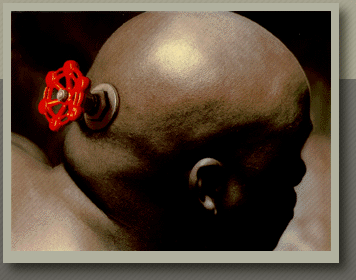 Jeux-France reports that Valve – known for innovative titles such as Portal – is currently expressing interest to develop a game for the Nintendo Wii. On the downside, however, there are no apparent plans to release such a game until 2010 at the earliest. Also, the same report suggests that the game would be intended for children.
Regardless of the intended audience, I'm quite interested as to what Valve could brew up for the Wii. If Portal was any indication, it will be unique.


Wii Fit 4/5
Mario Kart 4/5
Ninja Gaiden Dragon Sword 4/5
The World Ends With You 4.5/5
Emergency Mayhem 1/5


REDMOND, Wash.–(BUSINESS WIRE)– Mario's parent company (8 letters). Letter-based puzzles (10 letters). Dual screen, abbr. (2 letters).

Today's launch of Crosswords DS for the portable Nintendo DS™ video game system puts more than 1,000 crossword puzzles into the palm of your hand. Crosswords DS includes puzzles at multiple skill levels, so anyone from beginners to experts can give it a try. As you progress, the puzzles get bigger and more challenging. Because you write all your answers directly on the touch screen with your stylus, there's no need for erasers – just write your new answer over your old one. Crosswords DS also includes a sophisticated hint system if you get stuck. Just tap the Hint button with your stylus and choose to receive another clue, reveal a hidden letter or solve the whole word.

"Crosswords DS brings crossword puzzles into the 21st century in a way that's accessible to everyone," said Cammie Dunaway, Nintendo of America's executive vice president of Sales & Marketing. "And because Nintendo DS is so light and portable, you can play it anywhere at any time."

Crossword puzzles aren't the only classic word games found in Crosswords DS. There are also more than 200 Wordsearch puzzles that let you hunt for hidden words amid a jumble of letters. For more word fun, you can turn to Anagrams and construct almost endless combinations of words from a handful of letters.

Crosswords DS, with its quick and accessible word challenges, is the latest in the Touch Generations line of Nintendo DS games. Previous games include Brain Age®: Train Your Brain in Minutes a Day, Brain Age® 2: More Training in Minutes a Day and Flash Focus™: Vision Training in Minutes a Day.

For more information about Crosswords DS, visit www.NintendoCrosswords.com.

About Nintendo: The worldwide innovator in the creation of interactive entertainment, Nintendo Co., Ltd., of Kyoto, Japan, manufactures and markets hardware and software for its Wii™, Nintendo DS™, Game Boy® Advance and Nintendo GameCube™ systems. Since 1983, Nintendo has sold nearly 2.5 billion video games and more than 430 million hardware units globally, and has created industry icons like Mario™, Donkey Kong®, Metroid®, Zelda™ and Pokémon®. A wholly owned subsidiary, Nintendo of America Inc., based in Redmond, Wash., serves as headquarters for Nintendo's operations in the Western Hemisphere. For more information about Nintendo, visit the company's Web site at www.nintendo.com.
Source: Nintendo PR email


N64 – Pokémon Puzzle League
NES – Renegade

Which is more important: brains or brawn? Before you answer, check out this week's awesome additions to the Wii™ Shop Channel, which give you ample opportunity to flex both. One game features frantic puzzle action with a Pokémon® twist, while the other invites players to brawl and battle in the name of justice. If you're anxious to test your mental mettle or your action-adventure muscle, these classic titles are just the ticket.Nintendo adds new games to the Wii Shop Channel at 9 a.m. Pacific time every Monday. Wii™ owners with a high-speed Internet connection can redeem Wii Points™ to download the games. Wii Points can be purchased in the Wii Shop Channel or at retail outlets. This week's new games are:

Pokémon Puzzle League (Nintendo 64®, 1-2 players, Rated E for Everyone, 1,000 Wii Points): Get ready for a new kind of Pokémon battle where the power and speed of your brain are just as important as the strength of your Pokémon. Join Ash, Brock, Misty and many more characters from the Pokémon animated series as they gather in Puzzle Village to compete for the title of Pokémon Puzzle Master. Just match three or more blocks of the same color in any direction. Sounds simple, right? But the actual game play is surprisingly addictive and deep (chains and combos anyone?), especially when you're facing off against a human opponent. Choose from six different modes offering a wide range of action, from story or puzzle modes to continuous play or timed play. If that's not enough, take on the challenge in 3-D and get ready for more blocks than ever before. Featuring animated cut scenes combined with bright, fun graphics, there's enough to satisfy any fan of Pokémon or puzzle games.

Renegade™ (NES®, 1-2 players, Rated E10+ for Everyone 10 and Older – Mild Violence, 500 Wii Points): Renegade follows the story of a vigilante who fights his way through countless gangs in order to bring peace back to his city. Battle your way through subways, parks, alleyways and parking lots. For added fun, there's a wild motorcycle ride to challenge you. Use your arsenal of kicks, punches (including the infamous sit-on punch) and jump kicks, as well as a variety of throws to knock your opponents into submission. Along the way, pick up items like a hamburger that restores your life, a heart that increases your lives by one, a power-up to increase your attack strength, and a speed item that gives you a speed burst while on your motorcycle. You'll need all the help you can get to take out your aggression on street punks, thugs, outlaw bikers, killer kung-fu females and an array of bosses standing in your way. Take the law into your own hands to defeat countless scumbags and take your city back like the renegade you are.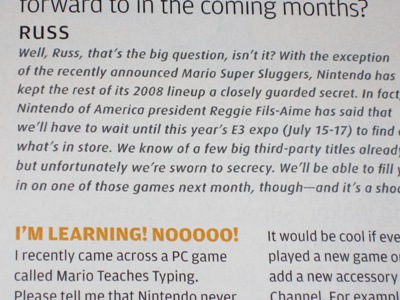 In response to a reader mail question about upcoming games the reader mail editor is interested in, Nintendo Power writes, "…We know of a few big third-party titles already, but unfortunately we're sworn to secrecy. We'll be able to fill you in on one of those games next month, though – and it's a shocker!" If this is to be believed, rumors that the moon features hints of Earthbound, Majora's Mask, and other titles developed by Nintendo can be ruled out. However, on the last page of Nintendo Power, the preview notes did mention that magazine will have "a surprise or two." So, although the main surprise in next month's issue appears to be a third-party title (if it wasn't, why would Nintendo Power be providing hints?), there is still a chance that an additional game may be revealed. Essentially, it all depends on how you interpret the preview notes for the next issue.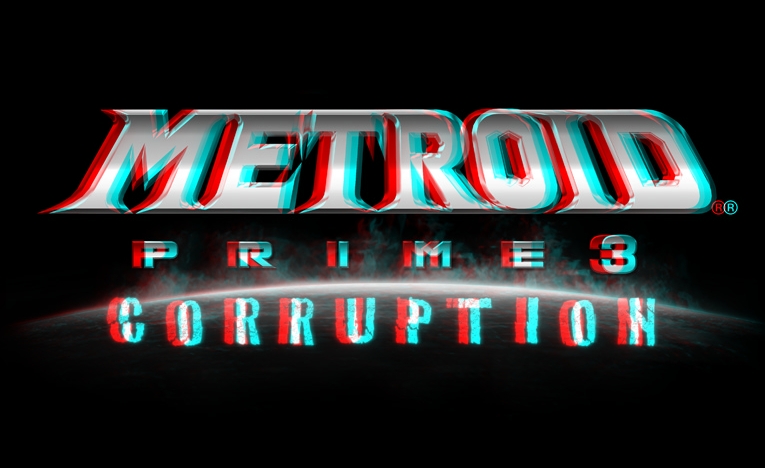 A personal undertaking of mine recently has been taking screenshots of Metroid Prime 3 and translating them into 3D. I began to wonder a few days ago, "What would Metroid Prime look like if Retro Studios developed the Prime so that the experience was similar to virtual reality?" To be honest, I do think that there is a possibility that one day, we will see games in a real 3D environment. How amazing would it be to see a Metroid coming out of the screen and leeching forward at you? Metroid Prime 3 is probably one of the better choices to view in 3D, as it is from the first-person perspective, and the game itself was superb. Of course, you will need 3D glasses to view the images, but they are not very expensive (I'm talking about the Red/Blue glasses) and often come packaged with DVDs and comic books. Also, if anyone has a request for a different series in 3D, or more Metroid Prime 3 images, let me know via the contact form and I'll do my best to put them on Nintendo Everything (possibly a weekly/monthly feature?!) And hey…Perhaps Retro Studios could somehow include real 3D (head-tracking?) if they did decide to make a bundle of the Prime games while reworking the original two.
Notes:
– 3D glasses necessary to view in 3D (Red/blue recommended)
– Give your eyes a minute to adjust to the 3D – I promise, it works!
– Some images work better in 3D than others
– Original images were not taken by myself
– In the future, I may try to investigate a way to make the images 3D without the need of 3D glasses.












Best Buy
Mario & Sonic at the Olympic Games (Wii) – $39.99
Circuit City
Summer Sports (Wii) – Free $10 gift card with purchase
Showtime Championship Boxing (Wii) – $9.99
Cake Mania (DS) – $9.99
Chicken Shoot (DS) – $9.99
Scooby-Doo: Who's Watching Who? (DS) – $9.99
4 Game Pack – Battleship, Connect 4, Sorry!, Trouble (DS) – $9.99
New Super Mario Bros. (DS) – $29.99
Mega Brain Boost (DS) – $14.99
The World Ends With You (DS) – $29.99
M&M's Kart Racing (DS) – $9.99
ALS Mini Purse Carrying Case for DS – $4.99
MAD CATZ Think Pink Tech Pack for DS – $14.99
NAKI G-Pack Carrying Case for DS – $14.99


The game ships on PS3, 360 and PC later this year, but a complementary DS title is also in the works. 'It's connected to the game in a very interesting way, but it's not a port. A complementary experience, shall we say?' And the prospect of a Wii Version? 'We ported Two Thrones to the Wii. It was a quick and dirty port, i can say. With that we saw a lot of potential. The controls were not fully optimised, did not take full advantage of the Wii, but a lot of people saw the POP universe could certainly have a home on Wii. Since then people have been looking into that, but there's no formal announcement. We are investigating it very seriously. You would never see a port of the game we're making however. That'll never, never happen.' – Ben Mattes, Ubisoft