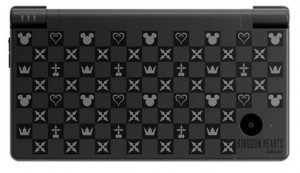 The special DSi will go on sale on May 30 in Japan. Kingdom Hearts 358/2 Days will also launch on the same day.


– "Them Bones" by Alice in Chains
– Queen's "Killer Queen,"
– "Nothin' But A Good Time" by Poison,
– Rage Against The Machine's "Killing in the Name,"
– "I Wanna Rock" by Twisted Sister,
– Joan Jett and The Blackhearts's "I Love Rock N Roll,"
– Heart's "Barracuda"
– Dragonforce's "Through the Fire and Flames"


01. [PS3] Yakuza 3 (SEGA) 372,000 / NEW
02. [PSP] Shin Sangoku Musou MULTI RAID (KOEI) 219,000 / NEW
03. [NDS] Mario & Luigi RPG 3 (Nintendo) 52,000 / 307,000
04. [WII] One Piece Episode 2 (Namco Bandai) 45,000 / NEW
05. [NDS] Game Center CX: Arino no Chousenjou 2 (Namco Bandai) 44,000 / NEW
06. [NDS] Shounen Sunday x Shounen Magazine Nettou! Dream Nine (Konami) 23,000 / NEW
07. [PS2] King of Fighters 2002: Unlimited Match (SNK Playmore) 19,000 / NEW
08. [360] Star Ocean 4: The Last Hope (Square Enix) 17,000 / 179,000
09. [WII] Taiko no Tatsujin Wii (Namco Bandai) 16,000 / 400,000
10. [WII] Wii Fit (Nintendo) 16,000 / 3,277,000


Meet the new Yu-Gi-Oh!™ Gang!
Konami deals new Nintendo DS game featuring the all-new Yu-Gi-Oh! 5Dfs universe
Konami Digital Entertainment GmbH has announced its first Yu-Gi-Oh!™ title for 2009, in the form of Yu-Gi-Oh! 5D's Stardust Accelerator – World Championship 2009 for Nintendo DS scheduled for release in 2nd Quarter 2009.

The first game based on the new Yu-Gi-Oh! 5D's TV show, the DS game allows up to four players to compete within two distinctly different ways. The 'Story Mode' lets single players explore the world of Yu-Gi-Oh! 5D's world and meet its all-new dueling stars in a series of thrilling card games. Secondly, Yu-Gi-Oh! 5D's Stardust Accelerator – World Championship 2009 will act as the basis for 2009's Yu-Gi-Oh! World Championship, and boasts an enhanced dueling system, larger card images and more cards than ever before – with 2500 in total.


– Ideas started after Contra 4 was completed
– Actually not a remake – "inspired by" the original
– Started from a pitch – Majesco wanted to breathe new life into it for a long time
– David Crane not directly involved
– There are "a good mix of blob transformations that should each be useful in their own context" – there are classic and new transformations
– Looks fully 2D but uses 3D for things like effects
– No waggle or IR in the game
– Looking into GameCube controller support
– Game has a lot of unlockables and secrets
– A lot of gameplay variety
– No multiplayer – perhaps for A Boy and His Blob 2
– Runs in 480p, 16:9
– Game is for everyone


Sonic and the Black Knight
– People have been complaining about the review, saying IGN is biased, etc.
– Not so hot – 3.9
– Matt says he gives bad Sonic games bad scores
– Just not a good game
– Can look at it as not a good Sonic game or not a good game in general (both are true)
– Doesn't have any of the trademarks from the Sonic games
– Matt can't remember a single loop in the game
– Always at a dead stop fighting enemies, stopped a lot
– Sword-play is just one move – mapped to waggle
– Basic game is running forward for a second, stopping for 30 seconds, fighting off enemies
– Secret Rings did have its issues but it was still a fun game
– By design they're trying to slow you down
– Actually have to stop, walk up to a townspeople clumbsily to interact with villagers
– Don't really collect rings so much either
– When you stop you realize how bad the controls are
We Ski and Snowboard
– Very mediocre game
– Pretty much the same game as last year, looked like the same game
– Added the ability to snowboard but have the same controls as skiing
– Does support the balance board
– Balance board controls work
– Nothing else to do in the game
– Everything is unlocked from the very beginning
– Nothing to entice you to move forward
– No goal or objective you're working towards
– Visually not too bad
– Framerate chugs in multiplayer






VC
1 (1) – Super Mario Bros. 3
2 (2) – Super Mario Bros.
3 (3) – Super Mario World
4 (4) – Super Mario Bros. 2
5 (7) – Pac-Man
6 (6) – Punch-Out!!
7 (5) – The Legend of Zelda
8 (8) – Mario Kart 64
9 (9) – Super Mario 64
10 (10) – Donkey Kong
11 (11) – Donkey Kong Country
12 (12) – The Legend of Zelda: Ocarina of Time
13 (13) – Super Mario RPG: Legend of the Seven Stars
14 (15) – Excitebike
15 (14) – Sonic the Hedgehog 2
16 (16) – Galaga
17 (17) – Tecmo Bowl
18 (19) – Sonic the Hedgehog
19 (18) – The Legend of Zelda: A Link to the Past
20 (20) – Life Force
WiiWare
1 (1) – Tetris Party
2 (2) – My Aquarium
3 (17) – Onslaught
4 (3) – World of Goo
5 (4) – CueSports – Pool Revolution
6 (5) – Dr. Mario Online Rx
7 (6) – My Pokemon Ranch
8 (9) – Midnight Bowling
9 (8) – Fun! Fun! Minigolf
10 (7) – Brain Challenge
11 (10) – Target Toss Pro: Bags
12 (15) – TV Show King
13 (14) – Defend your Castle
14 (12) – Sandy Beach
15 (16) – Wild West Guns
16 (13) – Snowboard Riot
17 (N/A) – Mega Man 9
18 (18) – Final Fantasy Crystal Chronicles: My Life as a King
19 (19) – Tiki Towers
20 (11) – LIT