Lots of Zelda talk, Breath of the Wild, original planning documents at 30th anniversary concert in Japan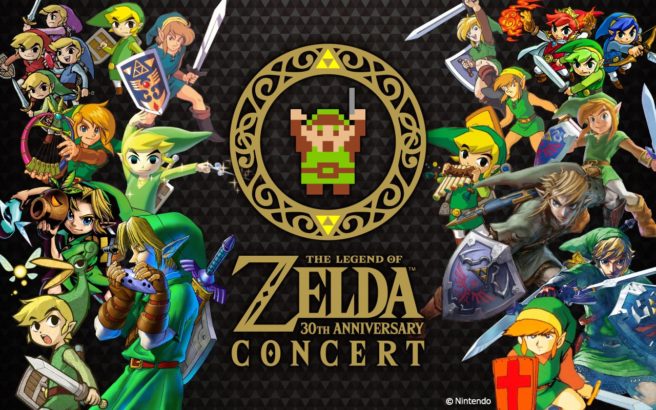 This past weekend, Nintendo hosted a special 30th anniversary Zelda concert in Kyoto, Japan. It was a big event as key staff involved with the series were present – Shigeru Miyamoto, Eiji Aonuma, Takashi Tezuka, and Koji Kondo. Famitsu shared an in-depth report of what occurred and what was said.
Voice actress Ruriko Aoki hosted the concert. She was actually planning on buying a ticket for the event in Nagoya, and even asked her agency to free up her schedule. However, she was eventually told that she got the job for this concert. Series producer Eiji Aonuma also appeared and introduced Aoki. The two showed up together during a Niconico Majora's Mask 3D live stream last year, and since she's a big fan of Zelda, he asked her to be the MC.
Shigeru Miyamoto, creator of the Zelda series, appeared early on and delivered a brief message. He mentioned how each time there's a Super Mario anniversary, Zelda follows after sort of like a younger brother. Miyamoto also noted that Zelda is a game that is deeply related with music and instruments as it uses the likes of the ocarina and baton (Wind Waker). Things like the interactivity of puzzles that players solve, resulting in the famous classic jingle, are important and Miyamoto wants these types of elements to be a continued part of Zelda.
Aonuma later talked about Zelda's 30th anniversary and Breath of the Wild. He started out by saying how a concert was held for the 25th anniversary, and five years have passed since then. Nintendo has released A Link Between Worlds and Tri Force Heroes during that period as new entries in the franchise. Nintendo has been asked when there will be a new main title following Skyward Sword, "but it ended up taking five years…"
Moving on to Zelda: Breath of the Wild specifically, Aonuma mentioned how on the day of the concert, he stopped by Nintendo's offices before heading there. The staff working on the game relinquish their holidays in hopes of giving it their all. Breath of the Wild is being released next year, so development is now at its climax. Nintendo also plans to continue sharing new information about the title.
Nintendo hasn't really explained why Link is wearing blue clothes in Breath of the Wild, but it sounds like they intend to talk about it at some point. Aonuma also seemed to be joking around about the T-shirt he was wearing, which was Link's blue outfit from Wind Waker, and has the same color. That blue color will have a very important meaning in the story, so Aonuma hopes fans look forward to hearing more.
The concert wouldn't have been complete without the involvement of Koji Kondo, who has been composing music since the very first Zelda. He first shared a personal story in reflection of how 30 years have passed, as he's now finally finished paying his house loan. On top of that, his eldest daughter is getting married next month. It really puts into perspective just how much time has passed for Kondo.
When it comes to working on Zelda, Kondo experienced some hardships, especially early on. For instance, the sound you hear when correctly solving puzzles was very short, but the work needed to express that was about the same as an actual background song. Other than that, making in-game sounds wasn't easy, such as the sound of stabbing with the sword.
Takashi Tezuka was the last key staffer to appear during the concert, and also reminisced about the past 30 years. Regarding the original Zelda, he recalled how there were many constraints for early NES games. Tezuka worked on the dungeon maps in the first Zelda, but perhaps because he misunderstood something, he created dungeons in which only half of the allocated space was taken up. Because of this, Miyamoto suggested using the other half on something else. And that's when the "Second Quest" was born.
Tezuka and Miyamoto then talked about Zelda going forward:
Tezuka
Tezuka said he was in charge of Zelda for its first ten years, but then passed it along to Aonuma. He believes that exploring the world is very fun, and that's what has helped made Zelda what it is, so he wanted Aonuma to create lots of worlds that would not forsake those things. And unlike Mario, the plot here is important, so Tezuka is looking forward to more stories being featured that will excite everyone.
Miyamoto
Miyamoto's comments were directed more towards Breath of the Wild. That game, which is made after Skyward Sword, is almost done. It's returning to the roots of the series, where you continue to play alone through trial and error.
It's a game in which you come up with ways of playing by yourself, so they'd like to make these things as a basis for Zelda going forward.
Towards the end of the concert, Miyamoto gave a quick plug about the NES Classic Edition. Both the overseas version and the newly-announced Famicom Mini will include The Legend of Zelda as well as The Adventure of Link. Suspend Points are supported, so Miyamoto hopes players will give them a shot.
Finally, after Koji Kondo performed Kakariko Village from Ocarina of Time, he noted that it was created by about ten Zelda staffers (meaning it wasn't made by him alone). Kondo handles compositions by himself, but thanks to the planners who made the graphics for making the worlds and the designs of very unique characters, he's been able to create songs with plentiful genre variety. Kondo would like to continue making great Zelda titles with those developers.
We've included some photos from the Zelda concert below. The first few images are brand new design documents from the very first game. Unfortunately, Famitsu has now removed those shots from its website, but we did have them saved from our browser cache… so they're a bit on the small side. We've also included the lineup of songs that were performed, which has also strangely been removed from Famitsu's coverage as well.
Part 1
1. Hyrule Castle
2. Princess Zelda's Theme
3. Wind Waker Medley
4. Ocarina of Time Medley
5. Boss Battle Medley
6. Zelda: A Link Between Worlds & Triforce Heroes Medley
7. Skyward Sword Staff Roll
Part 2
8. Zelda 30th Anniversary Symphony
9. Zelda Minor Songs Medley
10. Gerudo Valley
11. Hyrule Field (Ocarina of Time)
12. Great Fairy Theme
13. Twilight Princess Medley
14. The Legend of Zelda Main Theme
Encore
15. Kakariko Village
16. Breath of the Wild Main Theme (from the E3 trailer – was a surprise and caused cheers from the crowd when the song announced)
By the way, as one final note, an interesting moment came about when the Hyrule Field theme was being played. There are essentially three different versions of it that maintain the same melody. There's "normal", a faster "battle mode" when enemies are nearby, and a "calm mode" when the player isn't moving. When attendees entered the venue, they were given a sheet of program paper that has different colors on each sides (white and green). They showed the white side to make the musicians switch to "calm mode", the green side for "battle mode", and not raising the paper to hear "normal mode". This is shown in the third to last picture above.
Leave a Reply