[Nintendo Everything Podcast] – episode #12 – Furukawa Kombat: Test Your Might!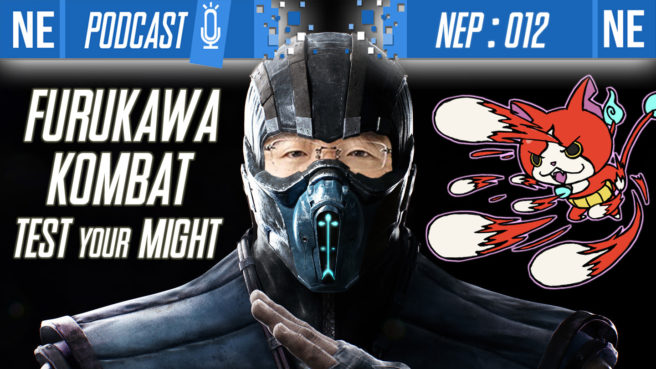 What up, kids and squids?!
This week on NEP, Oni and Galen go off the rails and discuss everything Nintendo under the sun. Plus, Oni's a little bit nicer to Galen this week. At least, he thinks so.
A ton of news and talking points came up this week – that and Oni's jetlag made for a great recipe for wacky thoughts and meandering topics for discussion. Furukawa's comments on Nintendo's future, SNES on Switch, NoR president shenanigans, and Persona's future on Nintendo consoles all get talked about, among other things.
Plus, Oni's kindness breaks under the pressure as he engages in "Kombat" with Galen over OPINIONS on VIDEO GAMES.
We hope you enjoy! Let us know what you want to hear from us! Check out below for topic details and timestamps!
Timestamps:
04:04 – Adventure Log: Galen can't stop murdering innocents in Red Dead.
09:06 – Adventure Log: Vesperian character tropes with Oni.
15:41 – News: SNES on Switch? Super!
21:41 – In Nintendo of Russia, Nintendo warn you.
28:27 – Cattle Call making classic JRPG goodness for the Switch!
31:27 – Dragon's Dogma first Switch footage on NE's YouTube. And Galen and Oni start to fight… because Galen was wrong!
35:46 – Furukawa talks Nintendo missions! The gang talks the translation, Nintendo's sales, why the 3DS is still alive, Labo's future, mobile games, and China!
59:50 – Persona Q2 rated in AUS! It must be coming West, right? What else Persona might be coming to Nintendo platforms in the near future?
And let's just talk about: when is the next time for a Nintendo Direct, and what might be in it!
1:05:36 – Yo-kai Watch 4 is looking like it's "one two watch out four!"
1:06:58 – Mortal Kombat 11 details, characters, fatalities, story and… the episode goes straight to hell. Oni and Galen test their might by engaging in kombat!
1:20:56 – Additional DLC! Listener mail! Favorite Zelda game(s)! And what's new and exclusive on Nintendo Everything.
Additional DLC:
Oni: PeopleMakeGames on YouTube
Galen: Nostalgia Critic on YouTube
Send us an email and we'll discuss it!
NintendoEverythingPod [at] gmail [dot] com
Listener Bonus: Help the show grow and support us by giving us ☆5 STAR☆ iTunes review, likes and comments on YouTube, and share the Spotify playlist with your Nintendo-loving buddies!
Thank you!
YouTube
iTunes
https://itunes.apple.com/podcast/nintendo-everything-podcast/id1441241130?mt=2
Spotify
https://open.spotify.com/show/0zifaLm4st7KtUzDEojWBh
Direct Download
News Discussed
Follow Us, We Tweet!
@NinEverything
@Oni_Dino
@mobius087
A HUGE thank you to Headphones of Listening for NEP's intro music!
Check him out on soundcloud!
This week's background music is the OST for the indie game OPUS –the day we found earth–, by the artist Triodust.
And our outro music this week is a Super Mario World remix by JWKTJE.
Leave a Reply