[Nintendo Everything Podcast] – episode #17 – The Liar Bowser and the Retiring Reggie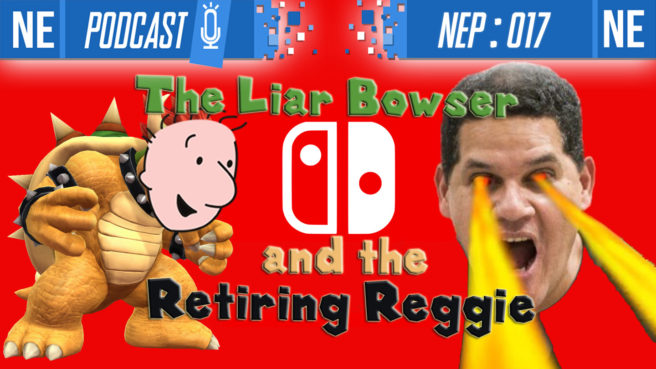 Hey there, my mischievous koopalings!
This week on NEP, we're doing a special feature on just how much we adore Reggie Fils-Aimé: our favorite moments, how he helped define a new era of Nintendo and the games industry, and how he interacted with the fans on an intimate level. Plus, who is Doug Bowser and why are we looking forward to him? Then we go deep, DEEP into the Xbox Game Pass for Switch rumors by having a great discussion on the industry moving forward, how Microsoft is trying to have it evolve with this new tier of streaming and distribution, and the infrastructure they depend on. Plus, so much more! We hope you enjoy our insight.
A big thank you to all of our listeners and to those who share the podcast and contribute to NEP's continued growth! Check below for more details and timestamps.
Timestamps:
02:45 – Adventure Logs: Resident Evil 2 and Hyrule Warriors Definitive Edition
08:59 – Reggie retiring in April. Learn about the impression he left on Galen and the booty shake that he taught Oni. Also, Oni needs to see Doug Bowser in Bowsette cosplay.
29:54 – Xbox Game Pass rumored for Nintendo Switch. What do we know for sure, and what is rumored? Let's clean it up. Then, what does this mean for the future of the gaming industry? We talk about the distribution of games changing and streaming as a method in the coming future.
53:16 – ATLUS Switch ports discussion! Go to their website and take that survey!
57:35 – Square Enix Collection of Mana trademarked in Japan, of all places.
1:00:07 – PSA: TSA:NMH BD DLC 02/28
1:01:01 – Additional DLC
1:03:06 – Listener Mail: Which 3DS games do we have left that we absolutely must play?
Additional DLC:
Send us an email and we'll discuss it!
NintendoEverythingPod [at] gmail [dot] com
Listener Bonus: Help the show grow and support us by giving us ☆5 STAR☆ iTunes review, likes and comments on YouTube, and share the Spotify playlist with your Nintendo-loving buddies!
Thank you!
YouTube
iTunes
https://itunes.apple.com/podcast/nintendo-everything-podcast/id1441241130?mt=2
Spotify
https://open.spotify.com/show/0zifaLm4st7KtUzDEojWBh
Direct Download
News Discussed
Follow us on Twitter & Instagram!
@NinEverything
@Oni_Dino
insta: Oni__Dino
@mobius087
A HUGE thank you to Headphones of Listening for NEP's intro music!
Check him out on soundcloud!
Leave a Reply