[Nintendo Everything Podcast] – episode #30 – Mario Kart Tour VS Team Sonic Racing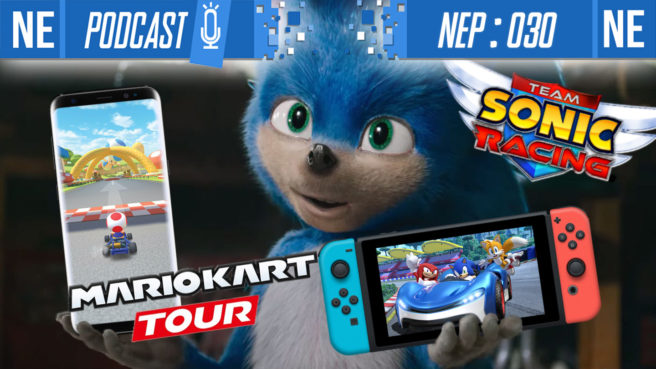 Hello, my green and red shells! In this episode of NEP, we're talkin' kart racing since both Mario and Sonic have games out! We also discuss mobile gaming in general and Nintendo's approach to microtransactions; we then talk the state of the Sonic movie being pushed back to February 2020. Oni and Galen have plenty of opinions, and you sure don't need to agree with them, but feel free to eavesdrop on our conversation anyway!
Thank you for 30 episodes! Help the show grow so we can make 30 more by sharing the podcast with a friend and rating us on your listening platform of choice, such as iTunes.
Thanks for listening!
Timestamps:
04:12 – Adventure Log: Yoshi's Crafted World, Detective Pikachu plans and Galen and Oni try to stay on topic, but fail.
13:49 – Mario Kart Tour, general mobile gaming thoughts and how Nintendo handles microtransactions in their mobile games. Galen's optimistic, Oni's pessimistic. What else?
42:46 – GameFreak prioritizing original projects over Pokemon? Let's work out what's actually being said here. Also, let's talk about Town and Sun & Moon! Oni muses on the romanticized version of next-gen Pokemon games he has in his head.
50:02 – Sonic controversies. Sonic film being pushed back and Team Sonic Racing on Switch is compromised. Oni's skeptical, Galen's apathetic. Galen also starts to read his OG Sonic fanfiction, but Oni quickly shoots him down.
1:03:08 – Team Sonic Racing gives Switch the shaft
1:13:06 – Additional DLC
Additional DLC:
Send us an email and we'll discuss it!
NintendoEverythingPod [at] gmail [dot] com
Listener Bonus: Help the show grow and support us by giving us ☆5 STAR☆ iTunes review, likes and comments on YouTube, and share the Spotify playlist with your Nintendo-loving buddies!
Thank you!
YouTube
iTunes
https://itunes.apple.com/podcast/nintendo-everything-podcast/id1441241130?mt=2
Spotify
https://open.spotify.com/show/0zifaLm4st7KtUzDEojWBh
Direct Download
PocketCasts
Stitcher
https://www.stitcher.com/podcast/nintendo-everything-podcast
PlayerFM
https://player.fm/series/nintendo-everything-podcast
ListenNotes
https://www.listennotes.com/@NintendoEverythingPodcast/
PodTail
https://podtail.com/en/podcast/nintendo-everything-podcast/
Follow us on Twitter and Instagram
@NinEverything
twitter: @Oni_Dino / insta: Oni__Dino
@mobius087
A HUGE thank you to Headphones of Listening for NEP's intro music!
Check him out on soundcloud!
Links
Leave a Reply