[Nintendo Everything Podcast] – episode #42 – Tetsuya Nomura is a bad character designer – Shots Firaga!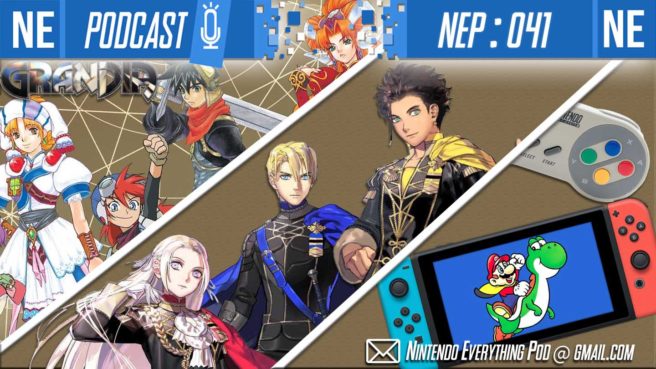 Hello, my beautiful bubbles and bobbles. This week on NEP, we're gushing about Fire Emblem: Three Houses. Oni tries (and fails) to not talk about FE3H the entire episode, while Galen picks arbitrary battles as he defends Cooking Mama. Oni also gives some first impressions with the Grandia HD Collection, and the gang discusses all the game announcements and details we got this week! Could a Nintendo Direct be coming next month?
We finish things off by chatting about games with sequels where one was exponentially better than the other. Both Galen and Oni dive into their pasts to pull up some sore memories of their favorite games…
If you're enjoying NEP, please consider giving us a 5 star review on Apple Podcasts, aka new iTunes. It's incredibly helpful in getting us exposed to new listeners through the algorithms, so we would greatly appreciate your help. Thank you for listening!
Timestamps
04:23 – Adventure Log: Grandia HD Collection (Grandia II), and Fire Emblem: Three Houses!
32:48 – Quick-fire weekly game announcements and details: Game Freak trademarks "Little Town Hero". Announcement sometime soon? Maybe September direct? Shantae 5 is now Shantae and the Seven Sirens, plus screenshots. Gears For Breakfast announce A Hat in Time coming to Switch in October! Doraemon Story of Seasons coming October, too. Oni didn't think this would ever get localized. And then Cooking Mama! Who thought about that one?! Let's discuss the appeal of this game. And Galen gets argumentative for no reason! Then out of nowhere: Bubble Bobble 4 Friends. This is exciting! Coming to EU very soon, but USA much later- why is that? Let's discuss logically.
1:01:22 – SNES games sound like they're coming to Nintendo Switch Online sometime soon. A wireless SNES controller was filed with the FCC recently.
1:06:22 – iQue is transitioning to game development. What does this mean for Nintendo in China? Is this a good growth opportunity for the near future with the Switch's imminent release in mainland China?
1:11:21 – Additional DLC
1:18:41 – Listener Mail: divisive entries in a game series
Additional DLC
Send us an email and we'll discuss it!
NintendoEverythingPod@gmail.com
Listener Bonus: Help the show grow and support us by giving us ☆5 STAR☆ iTunes review! Thank you!
YouTube
Apple Podcasts / iTunes: https://apple.co/2xLl0C5
Spotify: https://spoti.fi/2Gdgoch
Direct Download
PocketCasts: https://pca.st/IQVa
Stitcher: https://bit.ly/30uxOZR
PlayerFM: https://bit.ly/2yfCu9P
ListenNotes: https://bit.ly/2SINTbG
PodTail: https://bit.ly/2yfDgDL
Oni Dino's YouTube "Gayme Married": https://bit.ly/2JK21xd
Nintendo Everything on Twitter: @NinEverything
Oni Dino's Twitter: @Oni_Dino
Oni Dino's Insta: Oni__Dino
Galen's Twitter: @mobius087
Galen's Insta: true_mobius
HUGE thank you to Headphones of Listening for NEP's intro music! Check him out on soundcloud!
News Links:
Leave a Reply