NES – Yoshi's Cookie
NES – Bases Loaded
The arrival of April means springtime fun is officially back in season. To get Wii™ Shop Channel patrons in the spirit, we're pleased to offer a pair of lively NES® favorites. One is a breezy, puzzle-busting fantasy, the other a classic baseball title to keep sports fans fired up for a new season of nine-inning excitement. Whether your tastes run toward cookies or ballpark snacks, you'll find hours of gaming enjoyment right at your fingertips.
Nintendo adds new games to the Wii Shop Channel at 9 a.m. Pacific time every Monday. Wii™ owners with a high-speed Internet connection can redeem Wii Points™ to download the games. Wii Points can be purchased in the Wii Shop Channel or at retail outlets. This week's new games are:

Circuit City
Sega Superstars Tennis (Wii) – $29.99
Mario & Sonic at the Olympic Games (Wii) – $29.99

Mario Kart Wii 6
The World Ends With You 8
FFCC: Ring of Fates 6
Mystery Dungeon: Shiren the Wanderer 6
Destroy all Humans: Big Willy Unleashed 4
Insecticide 3
Eco Creatures: Save the Forest 4
Nanostray 2 7
Dementium: the Ward 5
I'm very surprised at some of those review scores. Although Insecticide wasn't perfect, I don't think it truly deserves a 3. The obvious shocker is Mario Kart. Nintendo Power and Famitsu have received it warmly, but I suppose we all should wait for more reviews to pop up before deciding how critical the Mario Kart Wii review is.

NES
– Yoshi's Cookie
– Bases Loaded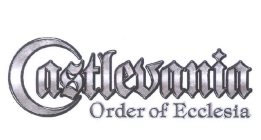 The DS has been the home of two Castlevania games over the past few years. Both games that have been released on the Nintendo DS were received very well by both critics and gamers alike. One would expect to see more Castlevania on the handheld in the future, and perhaps we're one step closer to experiencing yet another title. A logo and subtitle have been discovered for a new Castlevania game – Order of Ecclesia. It may be only a matter of time before more whip-slaying action can be found on the DS.

SAN RAFAEL, CA, April 4, 2008 – As part of a continuing effort to extend episodic gaming to new audiences and platforms, Telltale is officially announcing that Sam & Max Season One will be coming to Wii™. This collection of the first six Sam & Max episodes will introduce a brand new audience to the popular and critically-acclaimed game series. Sam & Max for Wii is expected to ship to retail stores worldwide this fall, thanks to a partnership between Telltale and JoWooD/DreamCatcher.

Sam & Max's journey to the Wii console has been fueled by fan excitement. Just before the episodic series' PC debut, fans launched an email campaign clamoring for a Wii version of the series. Continuous rumors and rampant speculation online led to developer and publisher enthusiasm for the title. With Telltale now focusing on console development in addition to PC, the company can finally bring Sam & Max to Wii in response to this overwhelming demand.

The Sam & Max episodes let players guide the Freelance Police through a series of bizarre—and often sidesplitting—mysteries. Sam & Max Season One has already experienced enormous success, both as an episodic series available for download through Telltale's website and other services, and at retail. Honors include Adventure Game of the Year from GameSpy and IGN, and inclusion on Games for Windows' list of Top 10 Games in 2007.

PSP 129,986
DS Lite 58,916
Wii 48,785
PS3 11,206
PS2 10,296
Xbox 360 1,547
It's very surprising to see the PSP selling so well, but the DS and Wii manage to hold their own.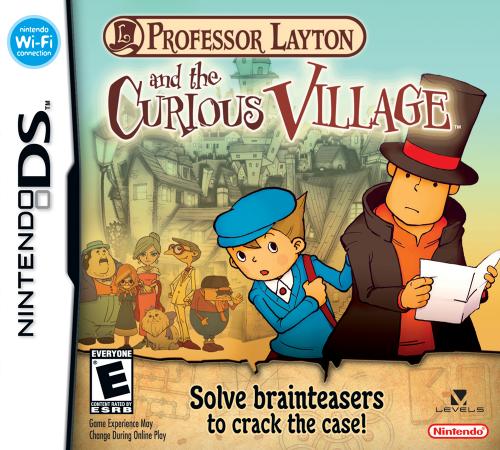 Game Info
System: Nintendo DS
Category: Puzzle Adventure
Players: 1
Release Date: February 10, 2008
Publisher: Nintendo
Over the past few months, gaming enthusiasts have come to understand that casual games are a dominant force in the market and that these types of games have the staying power that is needed in the video gaming industry. The incontrovertible success of casual games – much to the dismay of longtime videogame fans – has caused a heated debate. Will the videogame market eventually become dominated only with games that a player can pick up and play? As Zelda and Mario change from hardcore to "bridge" games, will they eventually be tweaked to the point at which no challenge will be presented to the player at all? And finally, as Japan continues to ignore traditional games such as Metroid, will developers try to cash in on simple titles?
Brain Age, Wii Sports, Wii Fit. These are titles that appear to be more "mainstream" and, therefore, can draw in a significant number of videogame newcomers. Professor Layton is another of these casual games, and, unsurprisingly, it has done remarkably well in the Japanese market. In fact, two games in the series have already been released in The Land of the Rising Sun, and one more is in development. As much as videogame loyalists appreciate hardcore games, Professor Layton deserves an equal chance, as it is a charming puzzle game, which suffers only from a few, but noticeable flaws.
The game begins with Professor Layton and his protégée, Luke, traveling to the village of St. Mystere after receiving a request to investigate a certain situation. Following the death of Baron Augustus Rheinhold, an extremely wealthy man, a mystery erupts. At the reading of Rheinhold's will, a "Golden Apple" is mentioned. The person who discovers its hidden location will reap a huge reward – Rheinhold's entire estate. The Golden Apple is an enigmatic item. No one quite knows exactly what this object is and ultimately, no one is able to find it. Professor Layton, in the meantime, believes that the Golden Apple possesses an underlying connection to a grander mystery. As a result, Professor Layton and Luke head off to St. Mystere, determined to unravel the entire mystery.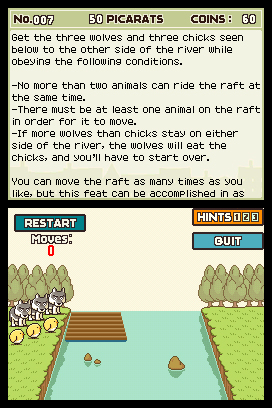 Professor Layton and the Curious Village is best described as a point-and-click puzzle adventure. Most of the time, you will be exploring the many European-like settings on the touch screen in search of hidden puzzles and hint coins that will aid you in your puzzle-solving bouts. The most surprising aspect about the whole game is how well the puzzles are interlaced into the storyline. Most developers usually follow a safe approach, thus it is both a surprise and a delight to see a game not falling victim to conformity. A tap of the stylus is needed to travel from place to place and to converse with the locals of St. Mystere – whom, by the way, always have some puzzle in store for you to attempt to solve. Only in a handful of situations will you be forced to solve certain puzzles in order to progress. This is probably the best approach, as some may find unraveling all of the puzzles in the game to be a bit challenging.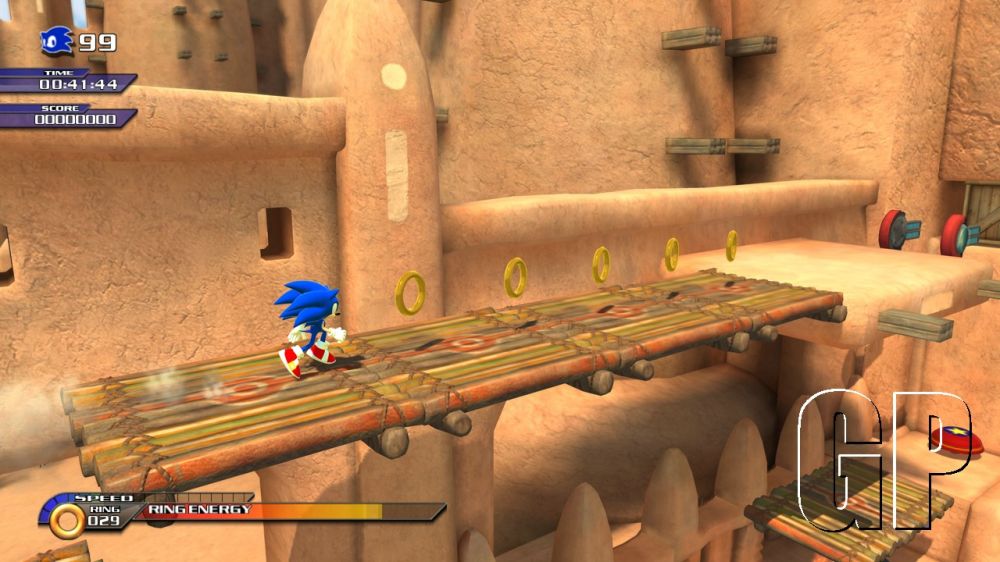 LONDON & SAN FRANCISCO (April 3, 2008) – SEGA® of America and SEGA of Europe Ltd., today announced that everyone's favourite hedgehog will be breaking new ground yet maintaining his roots, in the upcoming title, Sonic Unleashed™. Developed by renowned studio Sonic Team, the latest installment in the multi-million selling franchise, will take players on an unforgettable high-speed journey around the globe in a way never before experienced in the world of Sonic. The game is set for release later this year and will be available for the Xbox 360™ videogame and entertainment system from Microsoft, PLAYSTATION®3 computer entertainment system, Wii™ home video game system from Nintendo and PLAYSTATION®2.

Sonic Unleashed is built on a powerful new "Hedgehog Engine", which introduces seamless 3D to classic 2D camera transitions, whilst delivering a rich and expansive world with multiple paths to choose from. Under development for three years, the Hedgehog Engine produces a visually rich next generation look and feel with elements of classic Sonic gameplay mechanics. The Hedgehog engine will help re-define the gameplay experience for Sonic fans and newcomers to the franchise alike.

"By combining rich and vibrant scenery with dynamic viewpoints Sonic Unleashed will provide an immersive 3D experience whilst keeping alive the 2D gameplay elements and fantastic worlds that Sonic fans know and love" commented Gary Knight, European Marketing Director for SEGA Europe. "In addition to this classic Sonic gaming experience, when darkness sets in Sonic Unleashed players will be able to experience a completely new way to play as Sonic… making this his most exciting adventure yet!"