Animal Crossing: Let's Go to the City (Wii) – 80%
Guitar Hero World Tour (Wii) – 83%
Tomb Raider: Underworld (Wii) – 85%
Spider-Man: Web of Shadows (Wii) – 51%
Call Of Duty: World At War (Wii) – 85%
Star Wars: The Clone Wars – Lightsaber Duels (Wii) – 58%
Need for Speed: Undercover (Wii) – 50%
James Bond 007: Quantum of Solace (Wii) – 50%
Harvest Moon: Tree of Tranquility (Wii) – 72%
SNK Arcade Classics: Volume 1 (Wii) – 70%
Golden Balls (Wii) – 8%
Sky Crawlers: Innocent Aces (Wii import) – 88%
Tom Clancy's EndWar (DS) – 74%
Ninjatown (DS) – 80%
Prince of Persia: The Fallen King (DS) – 50%
Guitar Rock Tour (DS) – 58%
Tomb Raider: Underworld (DS) – 68%
Castlevania: Order of Ecclesia (DS) – 75%
Thanks to Joclo for the news tip!
The Wii Speak Channel download situation hasn't changed – If a ticket is used on a Wii system, it cannot be used again. However, those who purchase used gaming products need not worry about obtaining the channel, even if it were to not be bought without a code. Nintendo has clearly stated that "Any consumer who requires a Wii Download Ticket after purchasing a pre-owned Wii Speak Accessory may contact their local Nintendo Customer Services department, where they can request a Wii Download Ticket for the Wii Speak Channel for free."
Nintendo also points out that a code will not be handed out if a third-party microphone is purchased. In a way, this is understandable, as Nintendo surely will want Wii owners to buy their product over a third-party peripheral.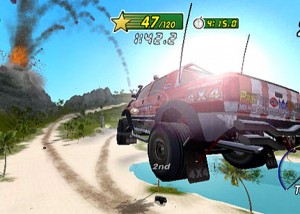 Monster Games, creator of the niche Wii game Excite Truck, released the game way back in 2006. Since then, the company has been on the down-low. It has been confirmed today, however, that Monster Games is definitely hard at work on a new title. More specifically, this game is being made for Nintendo and has been in development for two years. Apparently, this game is so secret that "the designers must darken their monitors when the bottled-water deliveryman enters the office."
As of now, most believe that Monster Games' secret game could be an Excite Truck sequel, or even a new entry of the F-Zero franchise. News about the project should be revealed soon considering the game has been in development for a considerably long time.
NES:
Atlantis no Nazo
Life Force
Ninja-Kun: Majou no Bouken
SNES:
Nobunaga's Ambition
SMS:
Wonderboy in Monster Land
GEN/MD:
Earthworm Jim
TG16/PCE:
Space Invaders: Fukkatsu no Hi
SCI Special Criminal Investigation
Jigoku Meguri
Fire Pro Wrestling 3: Legend Bout
NEW First Person Engine Features Video Footage Released

Poland, Warsaw, 28th November 2008. No Way Studios are pleased to unveil the latest video from their forthcoming debut game entitled C.O.R.E. focusing on the unique features that are contained within game and the engine.

"We wanted to show gamers the diverse yet classic features that C.O.R.E. contains, including the number of enemies, weapons and environments, and the many interactive objects that really add to the immersive experience" comments Krzysztof Murzyn Marketing Manager, NoWay Studio. "The C.O.R.E. engine really pushes the boundaries of what is possible on the Nintendo DS handset, and we believe that gamers will fully appreciate and enjoy the efforts that have been invested."
First football management game launched on the Nintendo DSTM

London, UK – 28 November 2008 – Football Director DS, the first football management game for the hugely popular Nintendo DS™, is now available in all major high street retail outlets. Released by the leading UK distributor Pinnacle Entertainment, and officially licensed by the Football League, Football Director DS was designed by football management guru Roger Womack.

Football Director DS allows users to take total control over each of the 92 English & Welsh Football League and Premier League teams. The game has an intuitive, stylus-driven interface, packed with plenty of tactical and strategic depth but is still easy to pick up and play. It's a terrific game for commuters as it can be played on the move, in five-minute chunks and over longer, season conquering sessions. Football Director DS is ideal for any football fan and will make a great gift or Christmas stocking filler.
DSi 88,843
PSP 61,226
Wii 35,298
DS Lite 18,580
PS3 17,436
Xbox 360 15,474
PS2 5,281
"(On Bionic Commando Rearmed for WiiWare)…It would never fit in the Wiiware filesize so it would have to be disc based and you'd basically have to redo everything for Wii. It would not be an inexpensive process and I'm not sure the result would be completely satisfactory. I think you underestimate how technically advanced BCR is. It's built on the same engine as the big BC is.
Part of the reason HD Remix and BCR are digital is because we don't believe they're the right content for the retail channel (at least, not as stand alone experiences). The economics would be highly unfavorable as compared to their digital counterparts. And Wiiware, we're finding, only works for titles built from the ground up for Wiiware as the lead SKU given the filesize restrictions." – Christian Svensson, Corporate Officer/VP of Strategic Planning & Business Development
"(On Street Fighter 2 HD for WiiWare) It couldn't ever be Wiiware, even at 480p. File size is just too large given the storage restrictions for Wiiware. Theoretically it could be disc based but there are no plans at the moment. We'll see how it does on its current platforms and then maybe we'll see." – Christian Svensson, Corporate Officer/VP of Strategic Planning & Business Development
"(On Street Fighter IV for Wii) In theory, with reasonable downgrades in visual quality including resolution reduction, yes [game could be possible on Wii]. I will still raise the question: what's the input mechanism for a Wiimote + nunchuck (which is what 100% of the installed base has) on a Street Fighter title?" – Christian Svensson, Corporate Officer/VP of Strategic Planning & Business Development