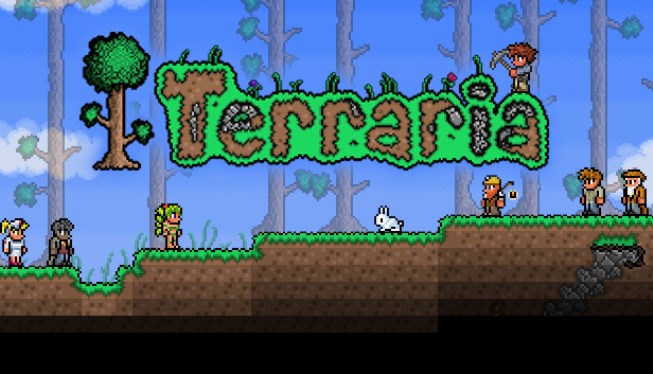 More off-screen footage of Terraria on 3DS is in from Gamescom. This time around, direct-feed sound is available. Watch the video below.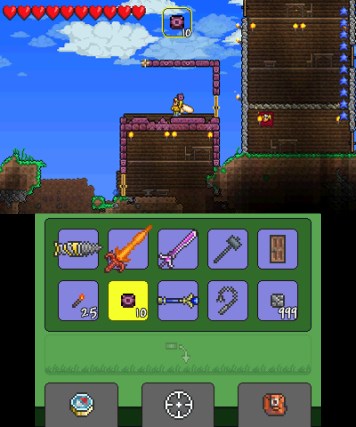 Another round of footage from the 3DS version of Terraria has come in from Gamescom. Check it out below.
Thanks to Jorden1506 for the tip.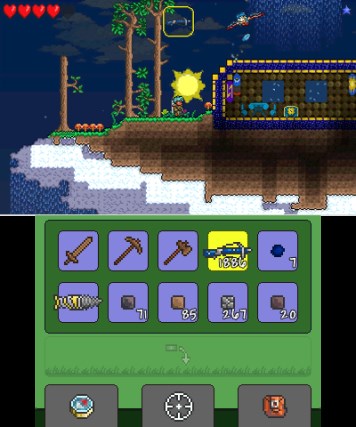 Terraria is playable at Gamescom 2015, and someone managed to record footage from the 3DS version. Check out the video below.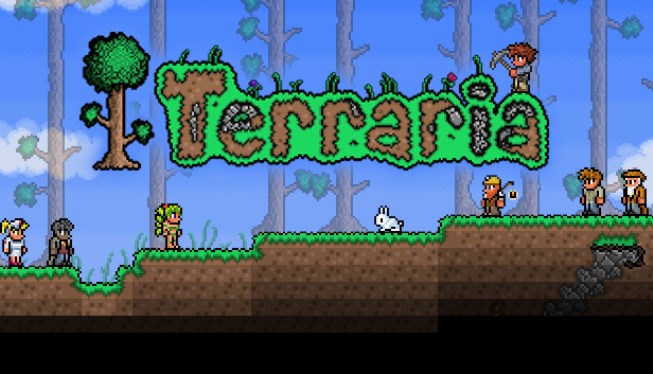 Lots of details about the Wii U and 3DS versions of Terraria have been shared on the game's official forum. We've rounded up the various tidbits below.
– Additional control options on New 3DS to take advantage of the extra buttons
– The team is trying to include as much content as possible
– Dual screen setup will be used to its fullest
– So far everything up to version 1.2 is in
– Not all of the 1.3 content will be ready for launch
– The game will be receiving future updates
– Won't have stereoscopic 3D
– Touching to build and dig isn't compulsory
– "Wii U will take its cues from the existing console versions, but obviously takes full advantage of touch and the second screen"
– No Download Play; each player needs a copy of the game
– Wii U version has Miiverse, but no voice chat currently
– For multiplayer on Wii U, you can split the displays, meaning the first player has all of the GamePad screen and the other players split the TV screen
– 3DS is four-player ad hoc
– Use the second screen for inventory and accessory management, housing management, map usage, etc.
– CodeGlue is handling the 3DS version
– Engine Software is on the Wii U version
– Looking into what will happen with the Plumber and Hero Outfits in terms of coloring
– There will be constant updates like the other version
– "first post launch updates are already specced out"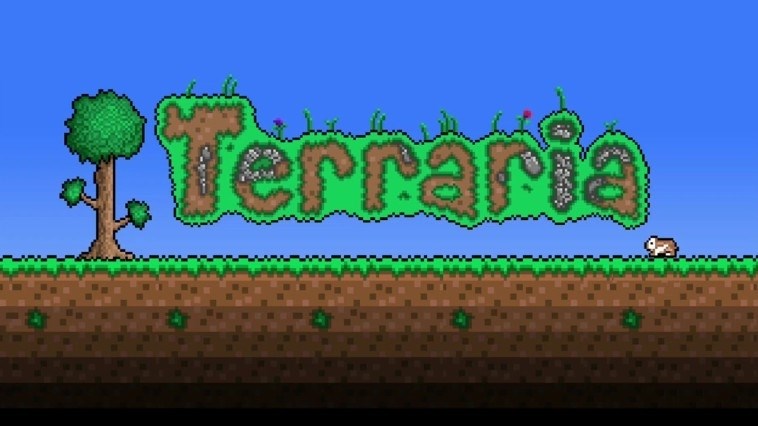 Yesterday, 505 Games officially confirmed that Terraria will be coming to Wii U and 3DS. We now have the first screenshots of both versions. All of the images are in the gallery below.
Terraria will launch for Wii U and 3DS in early 2016.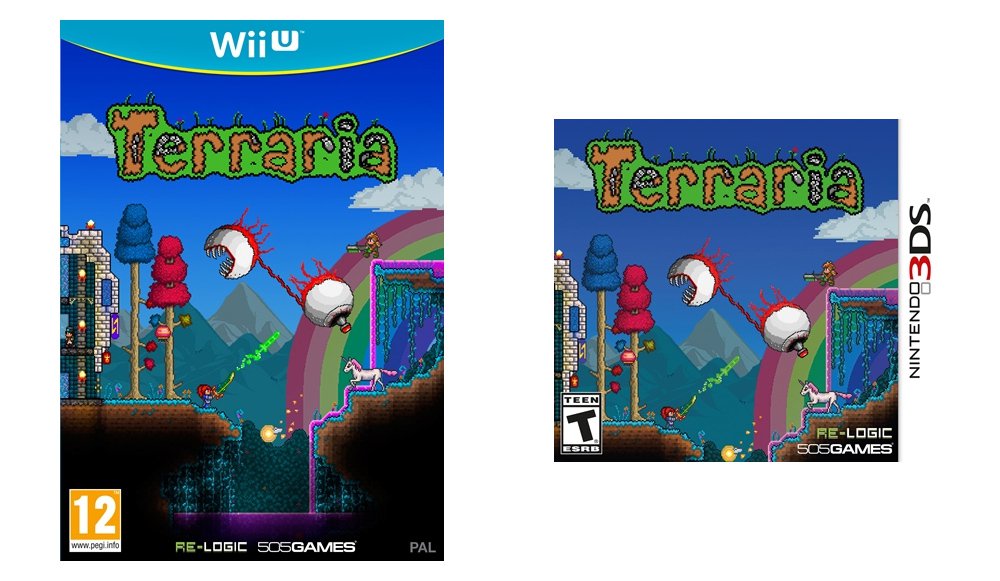 505 Games has shared the boxart for Terraria on Wii U and 3DS, which was officially confirmed for both platforms earlier today. Take a look at the packaging above.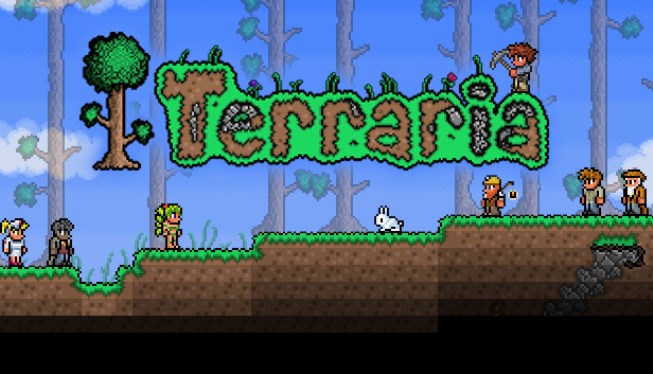 505 Games has finally made Terraria official for Wii U and 3DS. The title will be hitting both platforms in early 2016.
On 3DS, Terraria supports local multiplayer with up to 4 friends. The Wii U version features 8-player online multiplayer and 4-player split-screen using the Wii Remote. Both releases also make use of touchscreen controls.
Terraria will be making its playable debut on Nintendo platforms at Gamescom next week. Read on below for the announcement.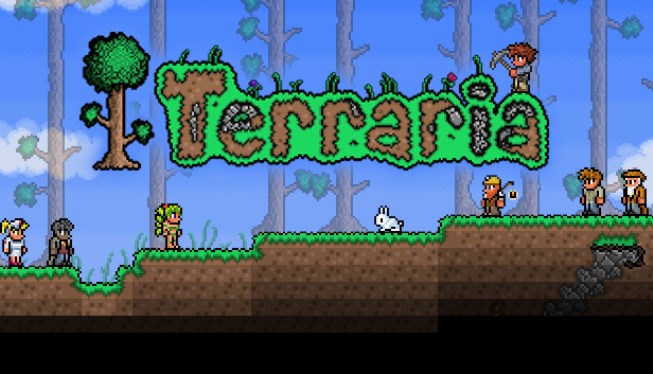 We finally have a confirmation that Terraria is in the works for Wii U and 3DS. Ratings for both versions have been listed on various retailers and ratings boards, but publisher 505 Games never made an official announcement. While that still hasn't changed, developer Re-Logic stepped forward with a confirmation of their own.
"Terraria is indeed coming to Wii U and 3DS," lead developer Whitney Baird noted on the game's forum.
We don't have any information beyond this, but at least we can finally say that Terraria is bound for both of Nintendo's platforms. I imagine we'll be hearing more soon enough!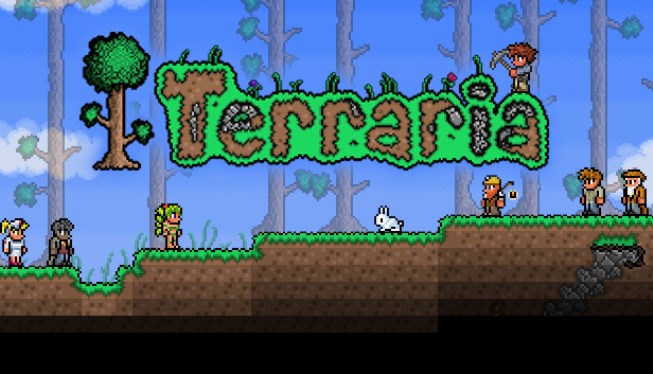 Terraria was first presumed to be coming to Wii U and 3DS after listings popped up on GameFly and Amazon. Then in April, both versions were rated in Germany. Now we can add another piece of evidence to the pile, as the Wii U version has been rated by PEGI (no 3DS version yet for whatever reason).
It's pretty bizarre that we first heard about Terraria for Wii U and 3DS around half a year ago, yet 505 Games still hasn't made an announcement. If we don't hear anything at E3, I'd be curious as to why the publisher is continuing on with radio silence.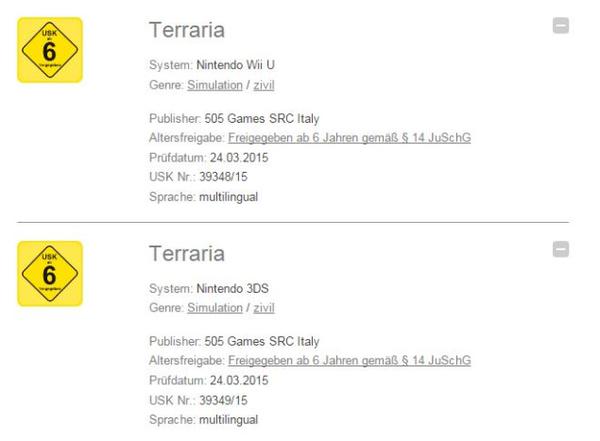 Terraria is pretty much a sure thing for Wii U and 3DS at this point. The game was listed by GameFly, and Nintendo versions appeared on Amazon soon after. Now we have yet another indication of Wii U and 3DS versions.
The USK – a ratings board in Germany – rated Terraria for both Wii U and 3DS. As expected, 505 Games is listed as the publisher.
There still has yet to be an official announcement for Terraria on Nintendo systems. It will happen soon, hopefully.
Thanks to Shinun for the tip.