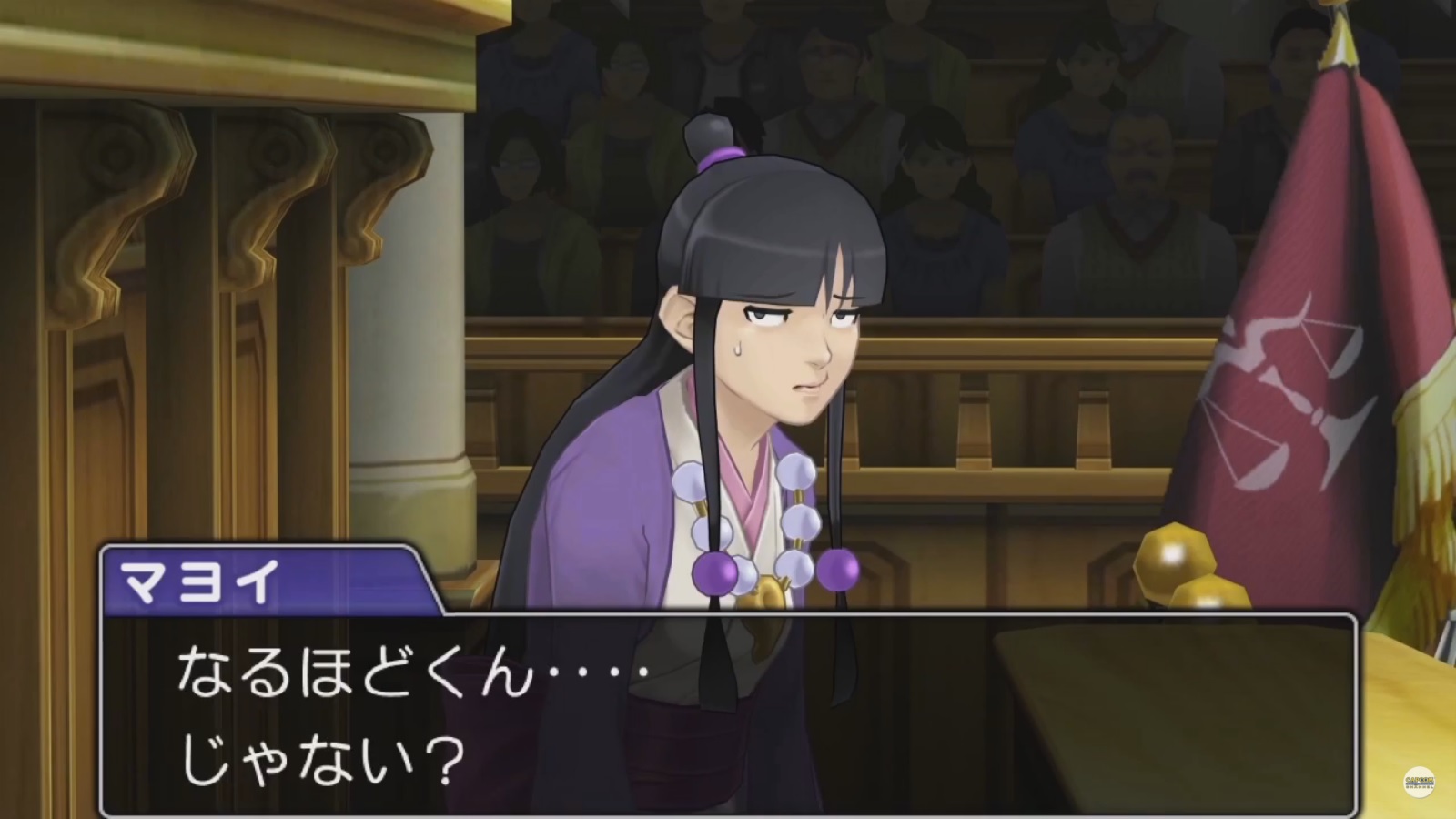 Ace Attorney 6's soundtrack will be getting released as a 2 CD set in Japan on July 13th. The CDs will feature 62 tracks from composer Noriyuki Iwadare.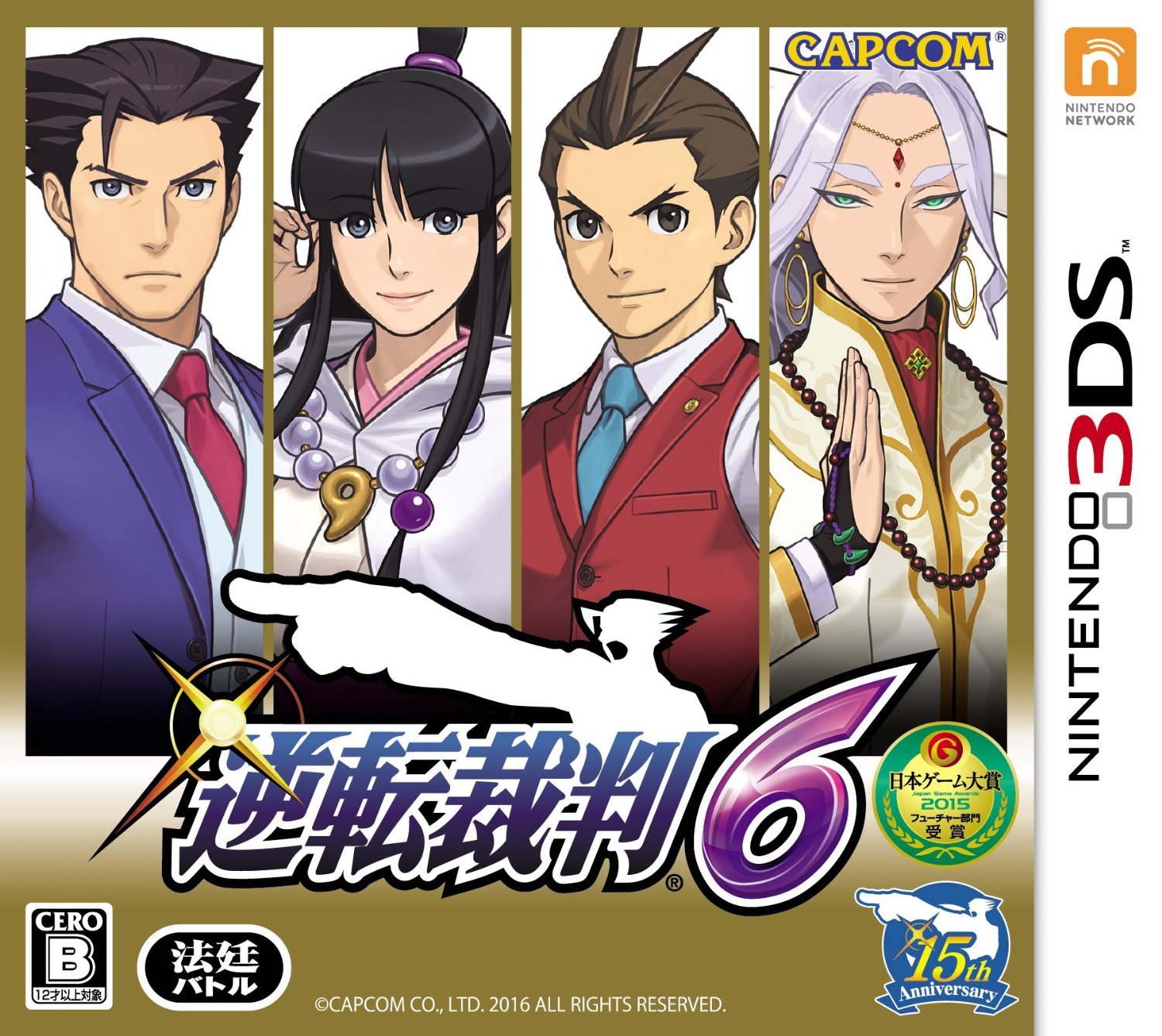 Capcom has prepared a new weekly update for Ace Attorney 6. Today, information and screenshots were sent out for Multi-Angle Video Identification.
Here's the rundown:
– New type of scientific investigation system
– Two videos showcasing camera footage of two different perspectives of the same scene are displayed
– There's something out of place
– Compare the two videos of the same scene and try and find an inconsistency.
– Fast forward, rewind, and pause controls on the bottom screen
– Also a button to switch between videos on the touch screen
– Can advance by frames
– Check the same areas in each video to locate an inconsistency
Here are some screenshots of Multi-Angle Video Identification: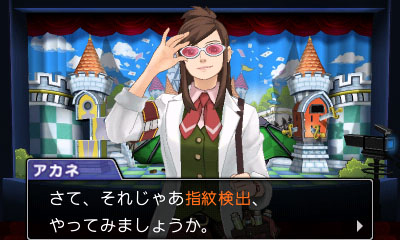 Update: Added some specific details as translated by Gematsu:
– Different forensic sciences in Ace Attorney 6
– This is what Ema Skye specializes in
– "3D Fingerprint Detection" is one of these
– This adds a new element to the "Fingerprint Detection" introduced in past entries
– In order to collect fingerprints, you'll need to apply a special powder to the place where fingerprints might be located
– Next, blow it away for the fingerprints to appear
– Repeat this several times to get a clear fingerprint
– Can rotate the evidence 360 degrees in every directio
– Focus and apply powder to the locations likely touched by the culprit's hands
– Each person has a unique fingerprint
– Find the same fingerprint as the one you identified from a list of characters to identify its owner
– Once the fingerprint you applied powder to becomes clear, you'll first choose the fingerprint to be compared
– This will be displayed on the left side of the upper screen
– You'll then compare the detected fingerprint with similar fingerprints from a list of characters, which are displayed to the right of the detected fingerprint
– If you can recognize the fingerprint, various new facts will come to light
---
Capcom has shared a heap of new screenshots from Ace Attorney 6 which furthers shows Famitsu's recent coverage. Take a look at the gallery below for a closer look at fingerprint searching and 3D evidence examination.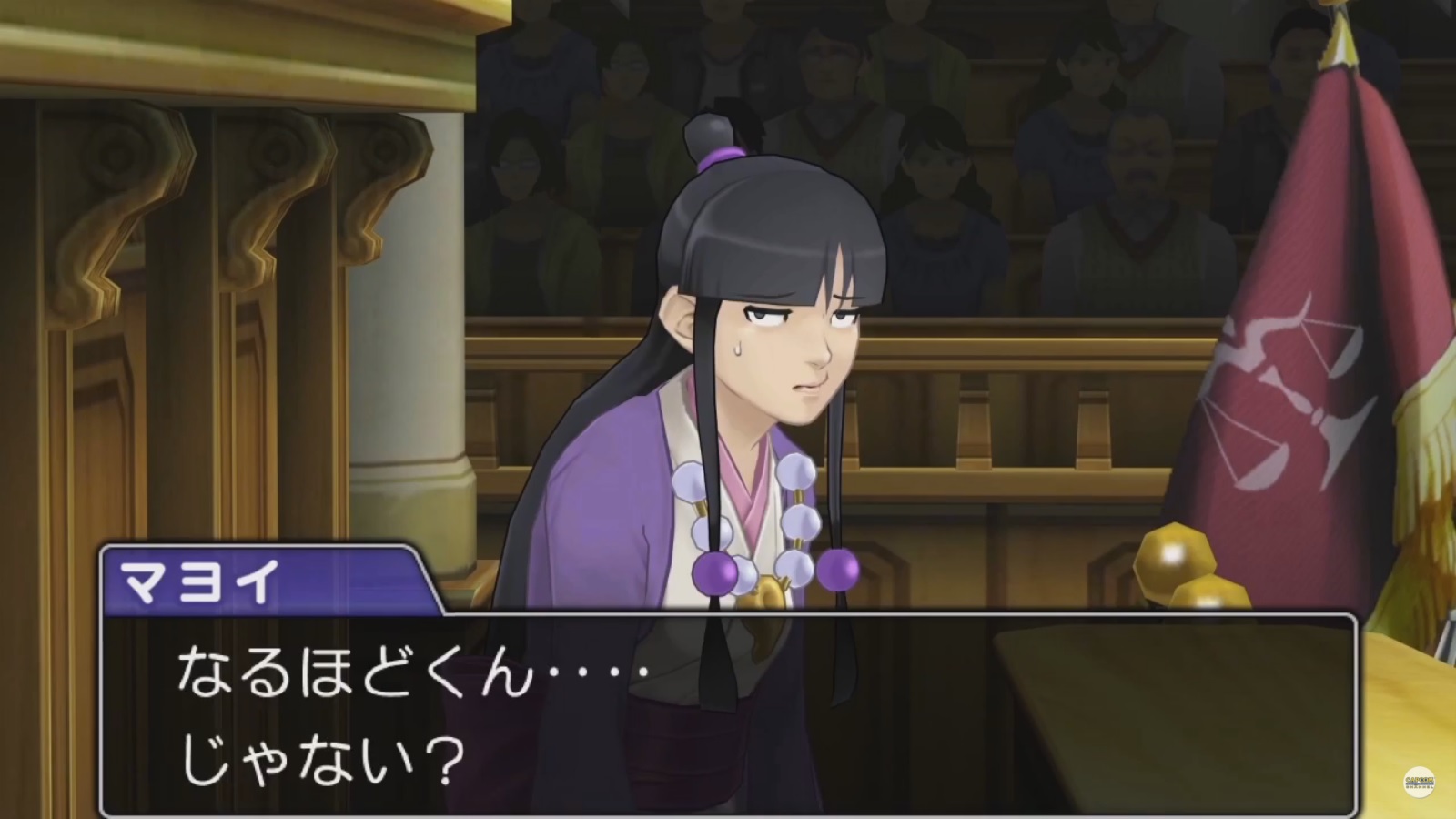 Capcom uploaded another Japanese commercial today for Ace Attorney 6. Take a look at the video below.
If you missed the previous Ace Attorney 6 commercials, you can find them here.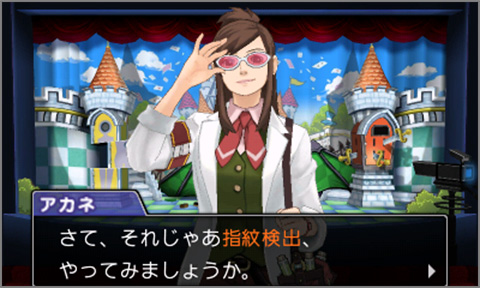 Capcom has updated the Ace Attorney 6 website with information on the game, following its article in Famitsu. While the information on the website covers already known details, it does include some footage of the new characters, Ema Skye, Trucy Wright, Mimi Nanano, and Kanenari Shinoyama. The site also confirms that A1-Pictures, the studio that produced the Ace Attorney anime series, is producing the game's cutscenes.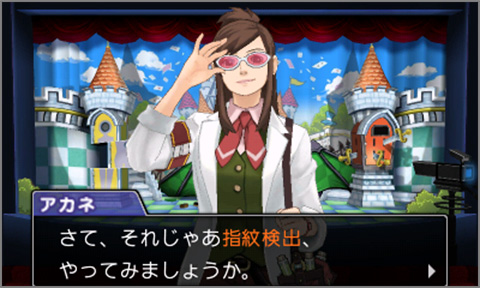 Capcom updated the Japanese Ace Attorney 6 website with screenshots from Famitsu's coverage this week. That includes images of Ema, Trucy, episode 2, and gameplay systems. View all of the new images below.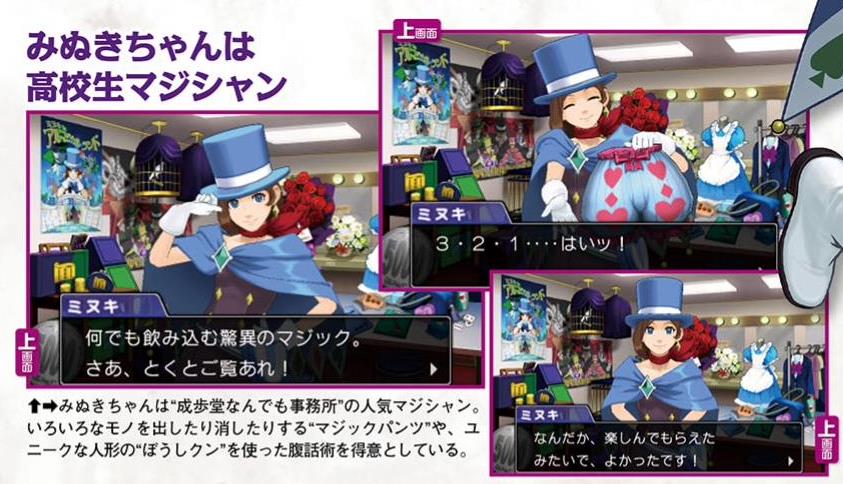 New details about Ace Attorney 6 have popped up from this week's issue. In the magazine, episode 2 and some characters are detailed.
Here's the full roundup, courtesy of Court-Records:
– Episode two begins during a rehearsal for one of Trucy's shows
– This is "Trucy in Gramaryeland"
– While the rehearsal is happening, things take a turn for the worst
– The body of one of her co-performers, "Mr. Menyo", appears mid-way through
– Moments later, part of the stage collapses
– Trucy's arrested and held responsible for the accidents
– Apollo leaps into action to save her
– Kanenari Shinoyama (self-styled as "Jack Yamashino"): famous producer of Nidomi Terebi (Look Twice TV)
– He's putting on the special broadcast Trucy's magic show is part of
– Mimi Nanano: Trucy's assistant
– Mimi is the "rabbit girl"
– She seems to be hiding something that requires Apollo to use his Perceive ability on her (in investigation)
– Ema has achieved her dream of becoming a forensic scientist
– She's quite a bit happier now
– She still warns in one screenshot that Apollo'd better not touch anything if he doesn't want to see her angry
– Forensic investigations are back
– Two shown in Famitsu are fingerprint searching and the ability to compare multi-angle videos of the crime scene to look for contradictions
– Fingerprint searching is now combined with 3D evidence examination
– Investigation memo is back
Japanese Voice cast:
Phoenix Wright: Takayuki KOND?
Apollo Justice: KENN
Athena Cykes: Megumi HAN
Maya Fey: Satomi HANAMURA
Nayuta: Daisuke NAMIKAWA
Leifa: Saori HAYAMI
Bokto: Emiri KAT?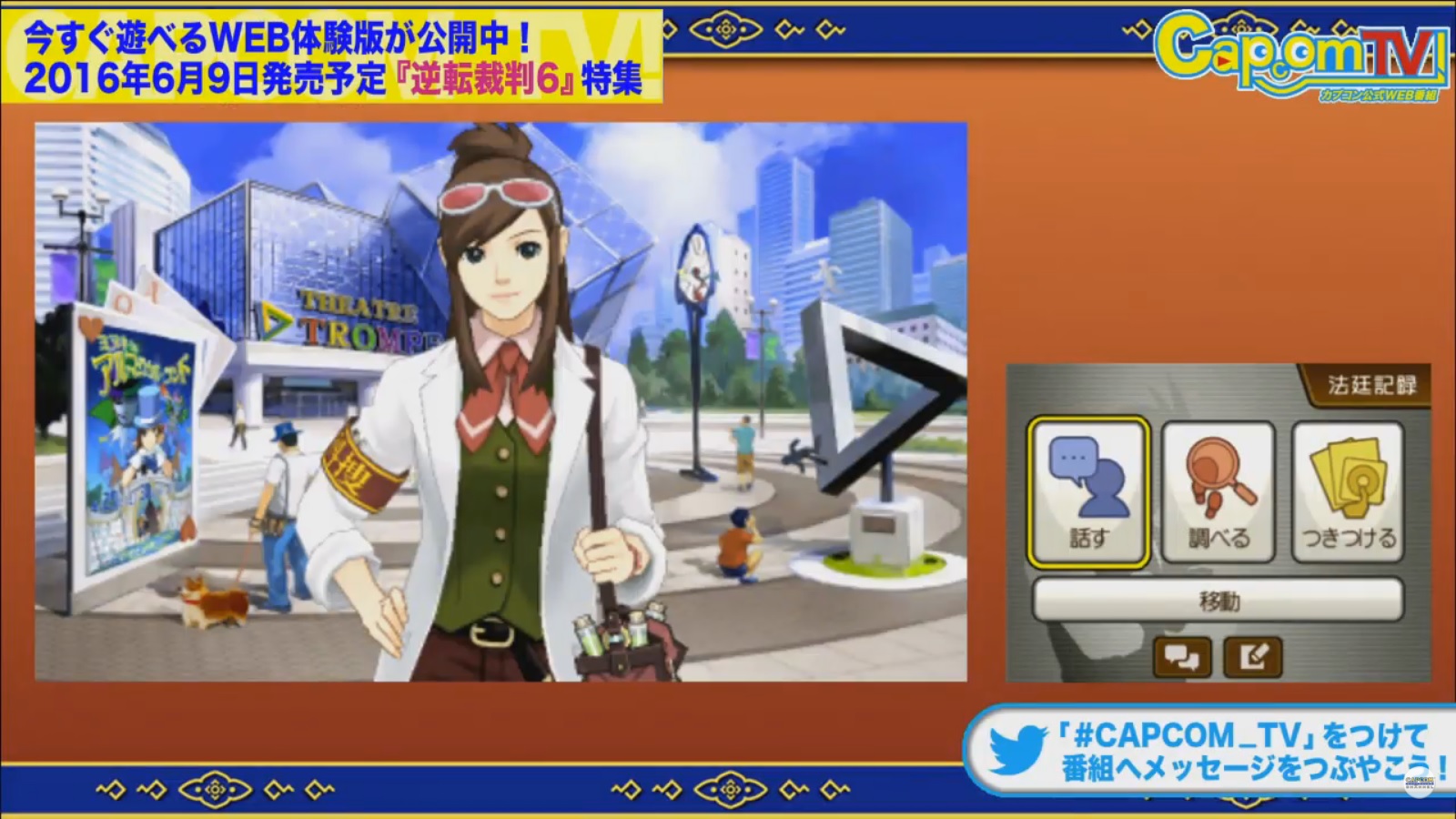 A new episode of Capcom TV just wrapped up a short while ago. During the stream, quite a bit of footage from the game was shown, including a look at Ema Skye and more. We've embedded the start point of the gameplay below.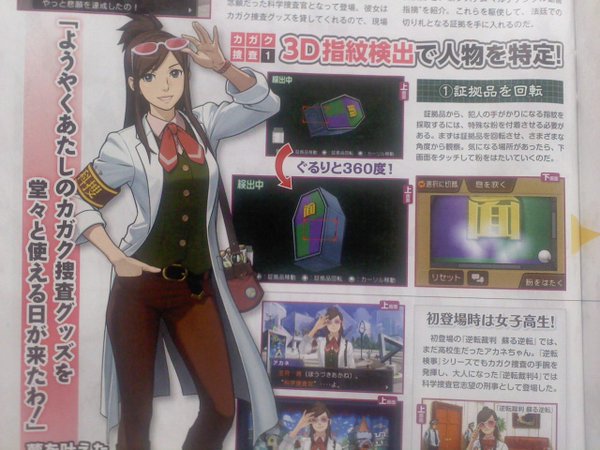 Update: Bumped to the top with two more scans. Everything has now been collected in the following gallery:
Note: Mimi's full name is Mimi Nanano, and the Perceive feature returns.
---
Earlier today, Famitsu revealed that Trucy Wright and Ema Skye will both be returning in Ace Attorney 6. A new scan of the latter character has now leaked from the magazine. You'll find it above.
On the page, it's written: "The day I can openly use my scientific investigation goods has finally arrived!". Her armband also has an abbreviation of Forensic Investigation.
Trucy Wright will be voiced by Chieko Higuchi in Ace Attorney 6. Marina Inoue is behind Ema's voice.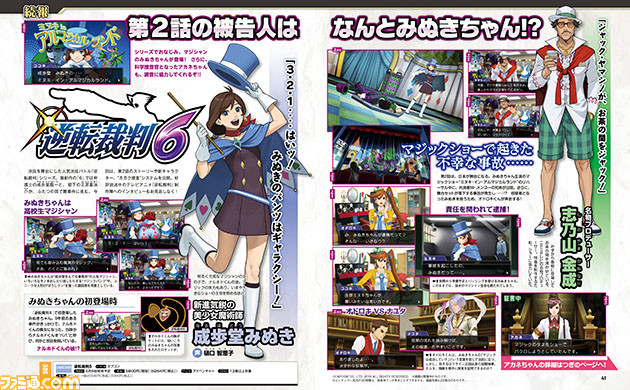 It was already hinted at via the Limited Edition, but preview images of the latest issue of Famitsu magazine confirm that both Trucy Wright and Ema Skye will return in Ace Attorney 6. Both of them played only minor roles in Dual Destinies, so it's nice to see that they will get a bigger focus in Ace Attorney 6.