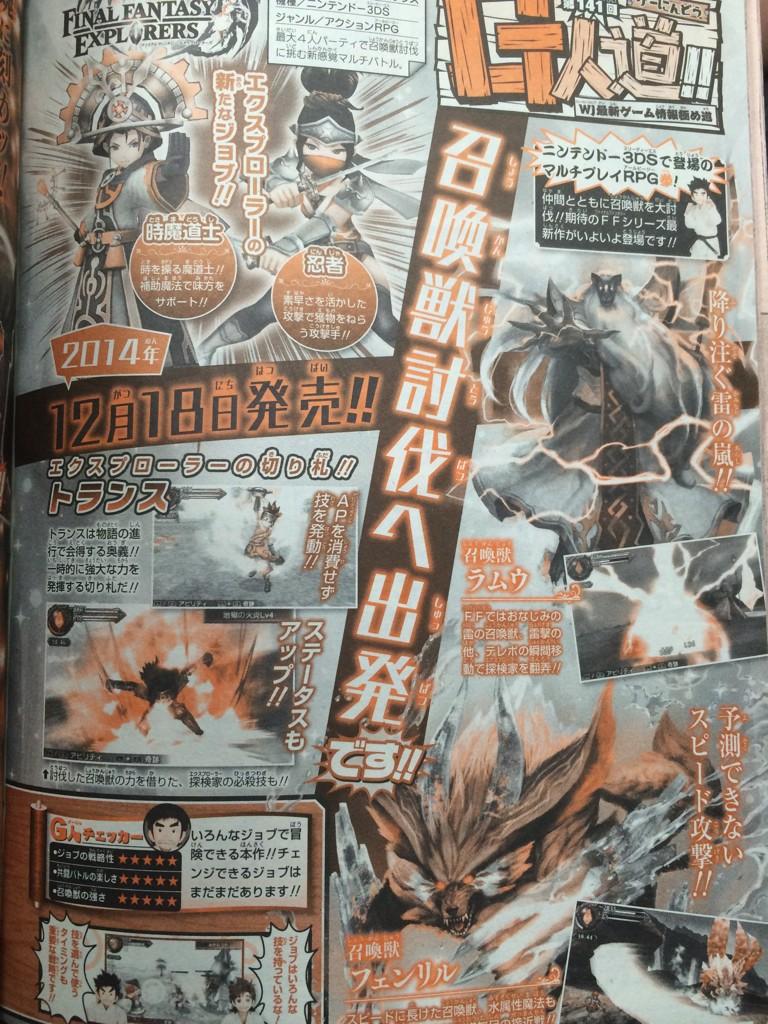 The latest issue of Jump dates Final Fantasy Explorers for Japan. The game will be available on December 18 according to the magazine.
Jump also shares the following details:
– Time Mage can use support magic to help allies
– Ninjas use speed to their advantage
– New summons in Jump
– Ramuh: uses electric attacks and teleporting abilities to give players a hard time
– Fenrir: its speed is second to none, and it will use water-based magic to damage players
– "Trance" system: powerful ability that lets you do things like temporarily pull off special attacks without using AP or temporarily gain increased parameters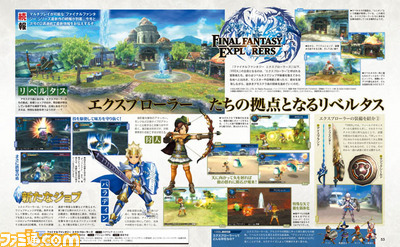 Coming from the latest Famitsu previews, Square-Enix have confirmed that Archer and Paladin will be jobs in the upcoming 3DS title. Little else is known outside of the class names, but expect news to surface with the next issue of Famitsu and TGS later next month (though we can probably infer a little what the classes will play like from previous titles).
Square Enix has provided a first look at the Freelancers in Final Fantasy Explorers. This starting job allows players to create equipment for their characters by defeating enemies or summoned monsters to obtain raw materials. Getting rare materials is needed in order to receive improved gear.
In related Final Fantasy Explorers news, swords, gloves, staves, rods, axes, spears, and bells are confirmed weapons thus far. The game also features a simple chat system with preset text phrases when playing online with others.
Square Enix debuted the first footage from Final Fantasy Explorers during today's Japanese Nintendo Direct. You can find the gameplay below:
Final Fantasy Explorers is coming to Japan this winter.
In the latest issue of Famitsu, Final Fantasy Explorers director Atsuhi Hashimoto and project manager Takahiro Abe spoke more about befriending monsters, the game's difficulty, and the game's world. You can find their comments below, courtesy of Siliconera's translation.