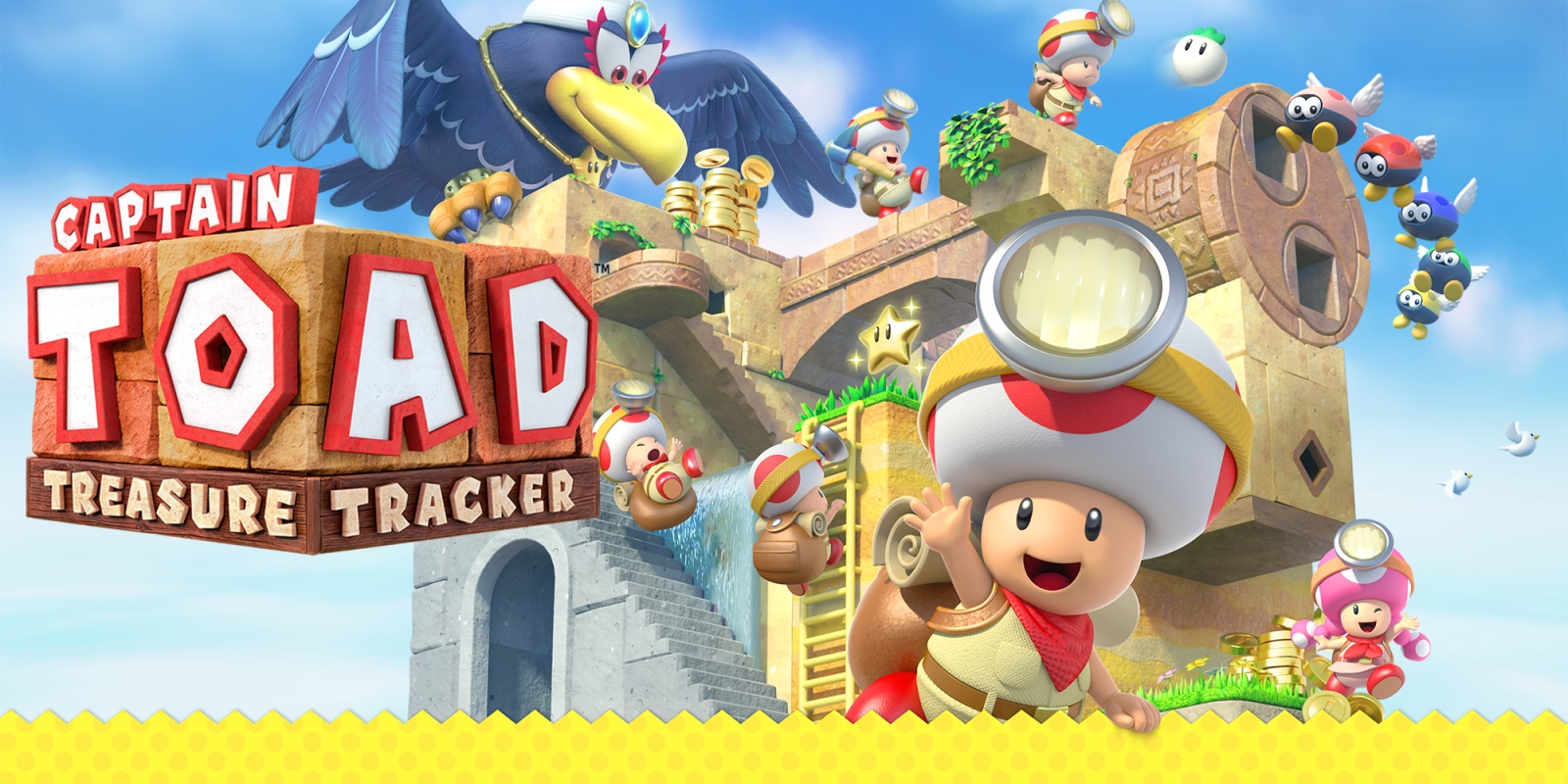 Polygon has published some new comments from Captain Toad game director Shinya Hiratake and producer Koichi Hayashida. The two discussed a variety of topics, including why it was brought back for Switch and 3DS, its future, and more.
Here's a roundup of what was shared: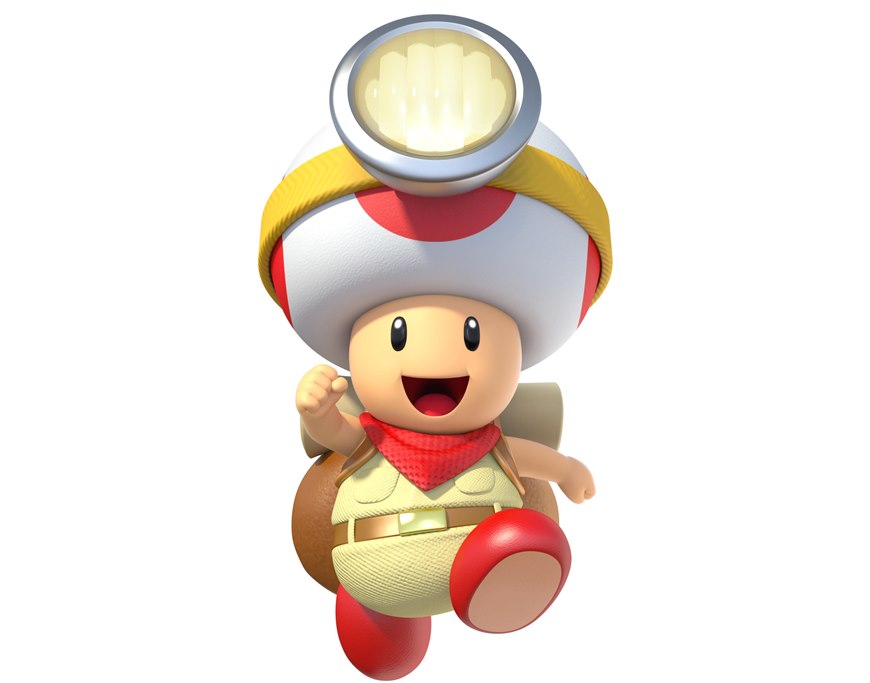 Nintendo's Koichi Hayashida wants to see Captain Toad "featured in a variety of games". It also seems as though Hayashida would be interested in having the character end up in Mario Kart. That information comes from the latest issue of GamesMaster, which contains a short interview with the Captain Toad: Treasure Tracker producer.
When asked what he foresees in the future for Captain Toad, Hayashida said:
At this stage we don't know. I personally want to see him featured in a variety of games. I've even 'secretly' emailed the director of Mario Kart to see if he'd consider including Captain Toad, but I haven't heard back from him yet!
Director Shinya Hiratake also answered the same question. His thoughts are as follows:
Through the development of this game I've grown even fonder of Captain Toad. he can't jump, and struggles to defeat his opponents, but it's precisely that he is not a powerful character that he can show us his unique take on all these situations. as a developer of his game, and one of his fans, I look forward to seeing where he goes next.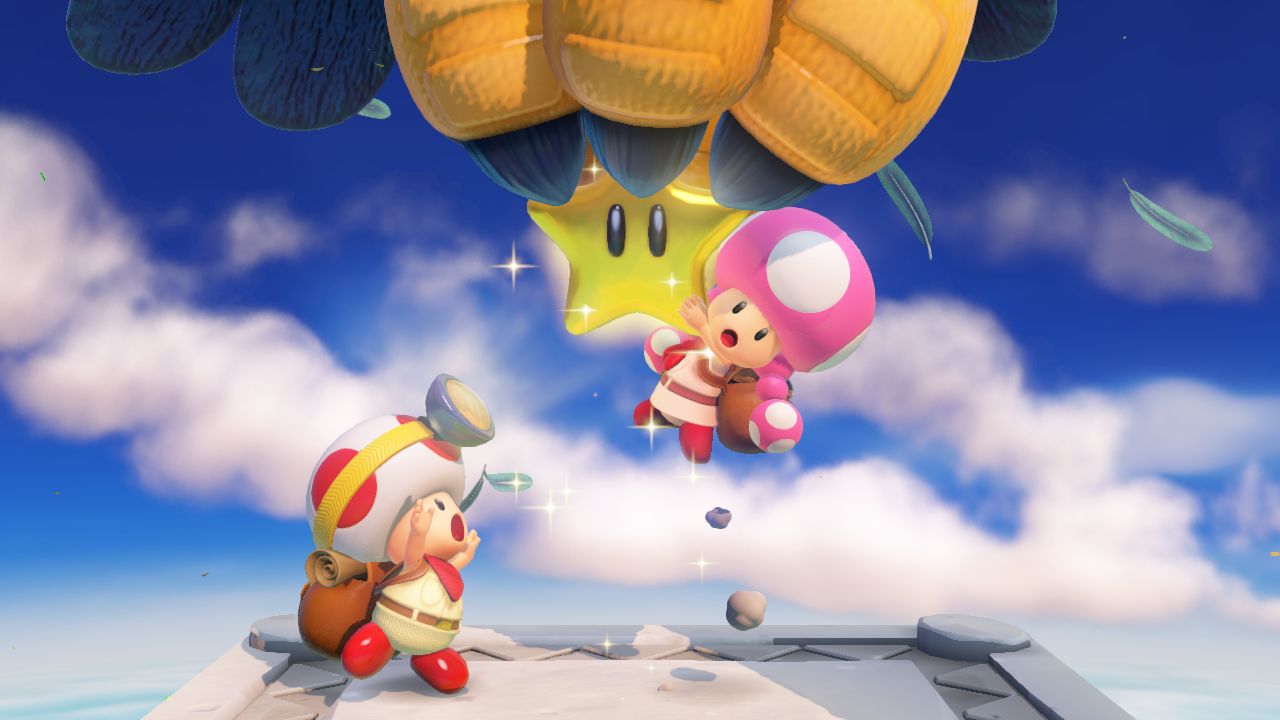 Nintendo Life recently caught up with Captain Toad: Treasure Tracker director Shinya Hiratake and producer Koichi Hayashida. Among the topics discussed include potential interest in having Captain Toad, Toadette and the other Toads appear in more of their own games down the road.
Regarding this, Hayashida commented:
Here in the development team we've really come to love Captain Toad and the Toad Brigade from Super Mario Galaxy! We're really happy to have been able to make a game where they are the main stars. I hope we'll be seeing them pop up in all sorts of other places in future.
Hiratake also shared an interesting comment when asked if there are any other franchises or Nintendo settings he feels would suit the diorama puzzle mechanics:
In Captain Toad: Treasure Tracker, it feels like we managed to recreate the fun of the games we used to play on the NES, but with a modern twist. I worked on this project in parallel to the NES REMIX series [titles available on the Wii U eShop and 3DS] where we pick up some of the best bits from games on NES. I was thinking it might be interesting to turn some of the games there into box worlds like this too. Those of you who enjoyed the Time Attack mode in Captain Toad: Treasure tracker might also like the Time Attack challenges in NES REMIX. I hope you try them out and enjoy!
And lastly, it sounds like we won't be learning what Captain Toad has tucked away inside his backpack anytime soon. Hiratake said, "I think we'll keep the contents of Captain Toad's backpack the biggest secret of this game."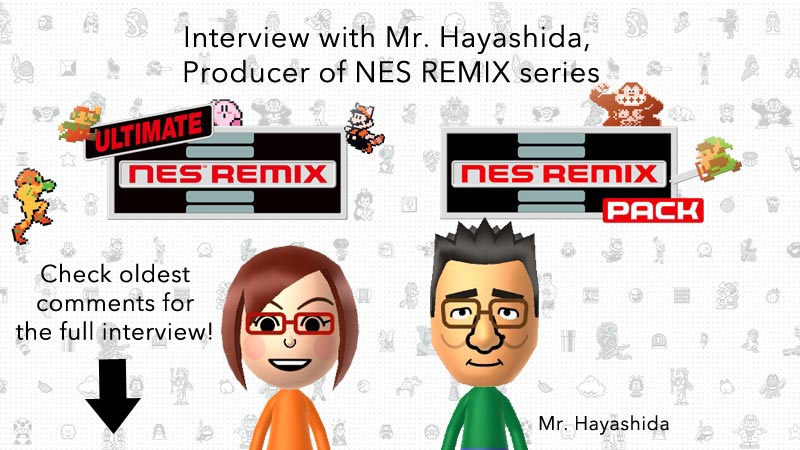 A couple of days ago, a Miiverse interview was conducted with Koichi Hayashida about Ultimate NES Remix. Hayashida explained how the 3DS compilation came to be, revealed that the team wasn't sure it it could be released until roughly a month before it was completed, and more.
You'll find all of Hayashida's comments below.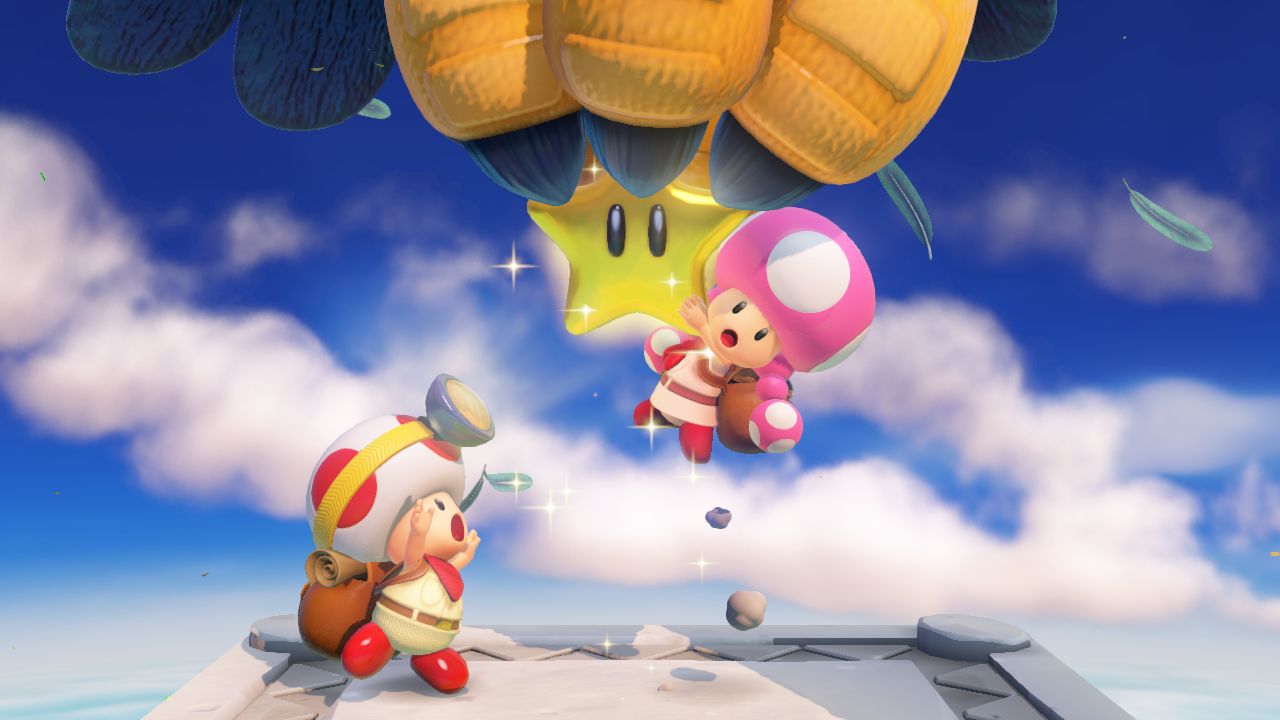 IGN published a new interview with Captain Toad: Treasure Tracker producer Koichi Hayashida and director Shinya Hiratake. The two commented on various topics, such as Shigeru Miyamoto's influence on the game's development, how Toadette was made playable, and plenty more.
Head past the break for a few noteworthy interview excerpts. Be sure to check out IGN's full piece here as well.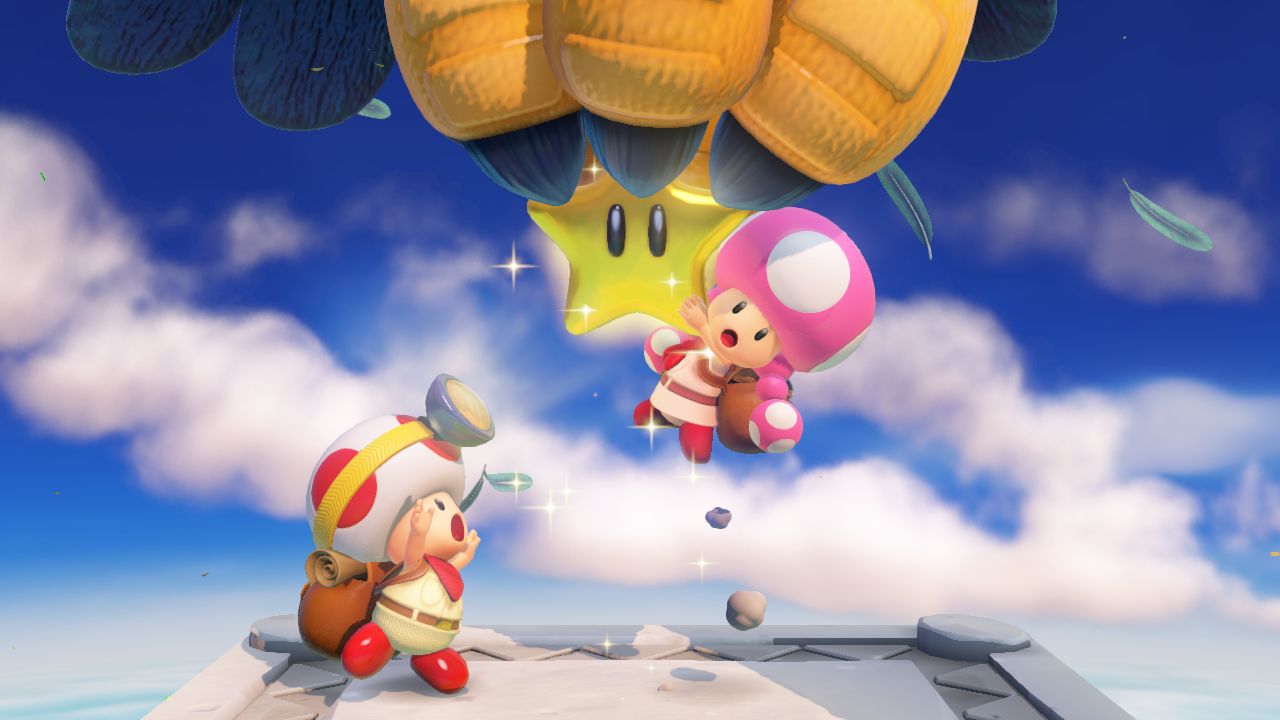 Interestingly enough, Nintendo did not truly settle on a specific gender for its Toad characters from the Mario universe. That's despite the fact that Toad takes on the appearance of a male and Toadette has female characteristics.
Captain Toad: Treasure Tracker producer Koichi Hayashida told GameSpot in a recent interview:
"This is maybe a little bit of a strange story, but we never really went out of our way to decide on the sex of these characters, even though they have somewhat gendered appearances. But I think what I can say is that Toadette and Toad are not siblings — perhaps it would be more accurate to say they are adventure pals. And that's certainly true here [in Captain Toad]."
Hayashida also went on to clarify that Toads are not mushrooms. When GameSpot brought up the resemblance and nomenclature, Hayashida noted:
"This particular riddle might stay unsolved. That's one of the great mysteries of the Mario universe."
Polygon recently caught up with Captain Toad: Treasure Tracker director Koichi Hayashida and producer Shinya Hiratake. The two spoke about how the game came to be, and shared plenty of development information.
Read on below for a summary of the interview. Also be sure to check out Polygon's full piece here.
Hayashida on how Captain Toad came about…
"We began with Super Mario 64. While Super Mario 64 was quite an interesting game, we heard that roughly 20 percent of gamers found it too difficult," he said, brandishing a copy of the Nintendo 64 game. We kept that comment that the game was too challenging and made games like Super Mario 3D Land and Super Mario 3D World with that in mind."
– In making 3D Land and 3D World, the team felt it was getting away from a fundamental design principle that made Mario 64 so special
– This was the idea that the levels were a sort of "diorama" or a "garden in a box"
– The studio was able to get back to that idea with the Captain Toad stages in 3D World
Hayashida on how Miyamoto suggested making Captain Toad into its own game…
"At the completion of 3D World, Mr. Miyamoto said, 'That worked well; I think we should create a single spin-off title just featuring Captain Toad.' The start of the conversation was, 'Let's take a lot of the elements that we have in 3D World and incorporate them' into what eventually became Captain Toad: Treasure Tracker."
– The team started out by making 100 stages
– Two issues: Toad couldn't jump, and they were still basically making Mario stages
– Action felt limited without being able to jump
– Since Toad can't jump, this also means enemies are overpowered
– The team addressed this with the plucking action, and by implementing some stealth
– The process of making a level begins with what mechanics/gimmick they're interested in
– Stage set in the haunted house was originally a puzzle stage
– The two devs wouldn't confirm/deny a similar approach of making more Nintendo spin-offs with other franchises
"When we were doing 3D World and creating these diorama-style worlds… we tested them using Mario as playable character. Because Mario has ability to jump, the types of stages we came up with became impossibly large. Mario made those stages too big, which broke our whole goal, so… it worked out that we had this character there." – Hayashida
EDGE has published its full Super Mario 3D World interview/article with directors Koichi Hayashida and Kenta Motokura as well as producer Yoshiaki Koizumi. New concept art from the game is now available as well.
You can find some quotes from the three Super Mario 3D World devs below (with even more on EDGE). The concept art is posted above.
Thus far, there have been two NES Remix games. Both, obviously, only include titles from the NES era.
But how about something like SNES Remix? Or GBA Remix? This is actually something that director Koichi Hayashida is open to.
Hayashida told IGN in a recent interview:
"Well personally I'm a fan of those games, and I like them a lot. If there's a big enough outpouring of support for these titles, it's something I'd like to take a look at."

"Well, personally, I have a large desire to explore that very idea (Super Nintendo/Game Boy Advance in future Remix games). But it really harkens back to the answer I just gave. Does the marketplace want it or need it?"

"If we get a big enough cry for that, with a lot of people saying, 'Hey, we'd love to see more of these perhaps for the SNES, Game Boy or Game Boy Advance,' then it would be something we can take a look at."
Both NES Remix games are on Wii U, and only Wii U. They aren't available on 3DS despite the fact that many of the classes releases represented are available on both of Nintendo platforms.
So why are the NES Remix titles on Wii U only and not 3DS? Director Koichi Hayashida explained to IGN:
"One of the easiest ways to answer that is to say, 'I was working on 3D World, which was developed on Wii U. So I was already familiar with the system's architecture and developing for that platform lent itself to the early stages of the project. But, if you step into the shadows a bit more, in order to accomplish what we wanted with NES Remix, and get the effect we wanted out of it and the value that we wanted it to have, we needed some more machine power."

"I think the Wii U offered that up for us pretty easily, and it just would have been more difficult to do it for the 3DS. I think that's really the answer. It's just that the Wii U had the machine power we were looking for in order for us to build the software we envisioned from the get go.'