Below are the latest details available for Mario Kart 8:
– Once again, Baby Rosalina and Pink Gold Peach are in
– Crazy 8 item is the spiritual successor to Mario Kart 7's Lucky 7
– Super Horn: emits a sonic blast around your kart
– This pulse can knock out other racers or ward off Green, Red, and Blue Shells
– Super Horn is a rare item
– Acts as a counter measure to the Blue Shell
– Voice chat in lobbies for games with friends only
– Tournaments are one of the bigger features in the game
– Choose an icon and input name for it when they Create-A-Tournament
– Select rules next
– Can change the speed of the race (50cc, 100cc, 150cc) whether you want to allow racing as teams or even multiple rounds to decide a winner
– Can also set if a tournament is public or restricted to friends
– Other tweaks: restrict control schemes used in a race, whether computer players can fill in empty slots, and vehicle types (kart, bike, or ATVs) allowed in the race
– Takes player ratings into account
– You can set up a race so only players who achieved a certain online rank can join
– Once a tournament is created, you have a number code to share with your friends, or it can be discovered publically via search
– Daily/weekly/monthly recurring tournaments supports
– Can set start/end times
– Ex: a player could host a race for friends that occurs every Sunday night between 7:00 p.m. – 8:00 p.m. PT
– Can set a tournament that has a specific start and end date, or even a number of races allowed within a set time
– Whenever you create a tournament, you can choose which item sets are allowed in a race
– Players can choose between: all items, shells only, bananas only, mushrooms only, bob-ombs only, no items, and Frantic Mode
– Frantic Mode: higher frequency of powerful items like Lightning Bolts, Bullet Bills, and possibly Blue Shells
– Game records all races you participate in
– Game retains the events of the last 12 you competed in on the Wii U itself
– These replays save everything that happened in the match, so you can use simple editing tools to tweak certain parameters
– Replays aren't finalized video, but gameplay footage you can quickly edit in Mario Kart TV
– Not a complex editing system
– By tweaking certain parameters, you can focus on specific drivers and moments
– Video focuses on action, big hits, items, or drifting
– Clips are 30, 45, or 60 seconds
– You can also render a highlight reel to display the full race
– Once a highlight film is edited, you can output a video to Miiverse or YouTube in HD
– Unclear if 720p or 1080p
– Players sign up with a Google Account and, while it's uploading, you can edit a Miiverse post with stamps
– Battle Mode features new and existing courses re-engineered for this mode
– Battle mode replays can also be edited and shared by Mario Kart TV.
– In multiplayer, the GamePad mirrors the same four-player split-screen that was on the television
This is included in the press release already posted on the site, but I figured the below news deserves some attention of its own. Nintendo has officially confirmed both voice and text chat (the latter coming in the form of certain phrases) for Mario Kart 8, though the feature will only be available if playing with friends and in lobbies.
Nintendo's official notice about Mario Kart 8's chat functionality states:
Like to trash-talk your friends while you're preparing for a race? You're in luck! Mario Kart 8 lets players chat with one another in the lobby area using the Wii U GamePad microphone or text phrases as they wait for their friends to join.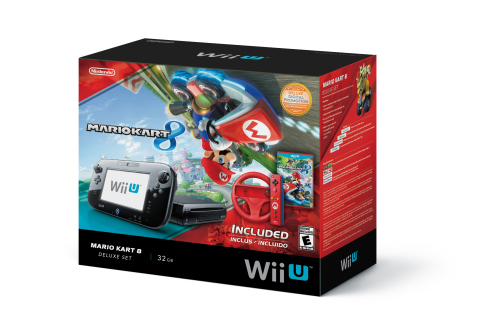 REDMOND, Wash.–(BUSINESS WIRE)–One month from today, Mario Kart 8 will be driving players wild with anti-gravity racing action. To get people revved up for the Wii U game, Nintendo released a new Nintendo Direct video that announced some additional news nuggets, including a Mario Kart 8 Wii U bundle, a free downloadable game offer for Wii U owners who buy Mario Kart 8, details about online features, cool new characters and devastating new items.

"Everyone loves Mario Kart," said Scott Moffitt, Nintendo of America's executive vice president of Sales & Marketing. "It's a franchise that brings people together for fun at a family gathering, a frenzied race against friends or just an afternoon break at the office. The numerous new features of Mario Kart 8 make this the most ambitious version yet, and one that will have players of all skill levels racing for the checkered flag."

To view the Nintendo Direct in its entirety, visit http://www.nintendo.com/nintendo-direct. Some of the new information announced today included:
Mario Kart 8 will include some sort of "game chat" feature, according to a listing on the Wii U eShop. This term is a bit unclear, though some believe it relates to voice chat.
Originally, it was thought that Mario Kart 8 wouldn't allow players to chat online. The discovery above, however, may prove otherwise.
Note that Nintendo has not announced voice chat for Mario Kart 8 at this time.
The images above come from the Mario Kart 8 video we posted earlier today. If you don't want to sift through an hour's worth of gameplay and are only interested in the menus, check out the gallery above.
We also have the following translations of the menus:
Customization Items
Mario Kart 8 Karts – Standard Kart, Airship, Classical Cat, Bad Wagon, G-Force, Para-Bidybud, Pipe Frame, Princess Coach, Sneaker, Steel Diver, Superstar, Tri-Smash, Turbo One.
Mario Kart 8 Bikes – Standard Bike, Broad Bean, Burning Bowl, Jet Rider, Mach GP, Maximum, Motor Dozer, Super Comet, Yoshi Bike.
Mario Kart 8 ATVs – Standard ATV, Bean Rider, Wild Wiggler.
Mario Kart 8 Tires – Standard Tires, Normal Blue, Ring Tires, Spicy Rings, Roller, Sky Rollers, Monster, Wild Hot, Sponge, Slick, Cyber Slick, Block Tires, Cream Blocks, Metal Tires, Wood Rings, Button Tires, Cushion Tires.
Mario Kart 8 Gliders – Super Glider, Cloud Balloons, Flower Glider, Koopa Kite, MKTV Parafoil, Parachute, Para-glider, Peach Parasol, Sail Plane, Waddlewing Kite, Wario Glider.
Options menu screen
Team, Item, Class, CPU, CPU Machine, Course, and Race Count options
Characters (previously reported)
1st Row: Mario, Luigi, Princess Peach, Daisy, Rosalina, Metal Mario.
2nd Row: Yoshi, Toad, Koopa Troopa, Shy Guy, Lakitu, Toadette.
3rd Row: Baby Mario, Baby Luigi, Baby Peach, Baby Daisy, ??, ??.
4th Row: Bowser, Donkey Kong, Wario, Waluigi, Iggy Koopa, Roy Koopa
5th Row: Lemmy Koopa, Larry Koopa, Wendy O. Koopa, Ludwig von Koopa, Morton Koopa Jr., ??.