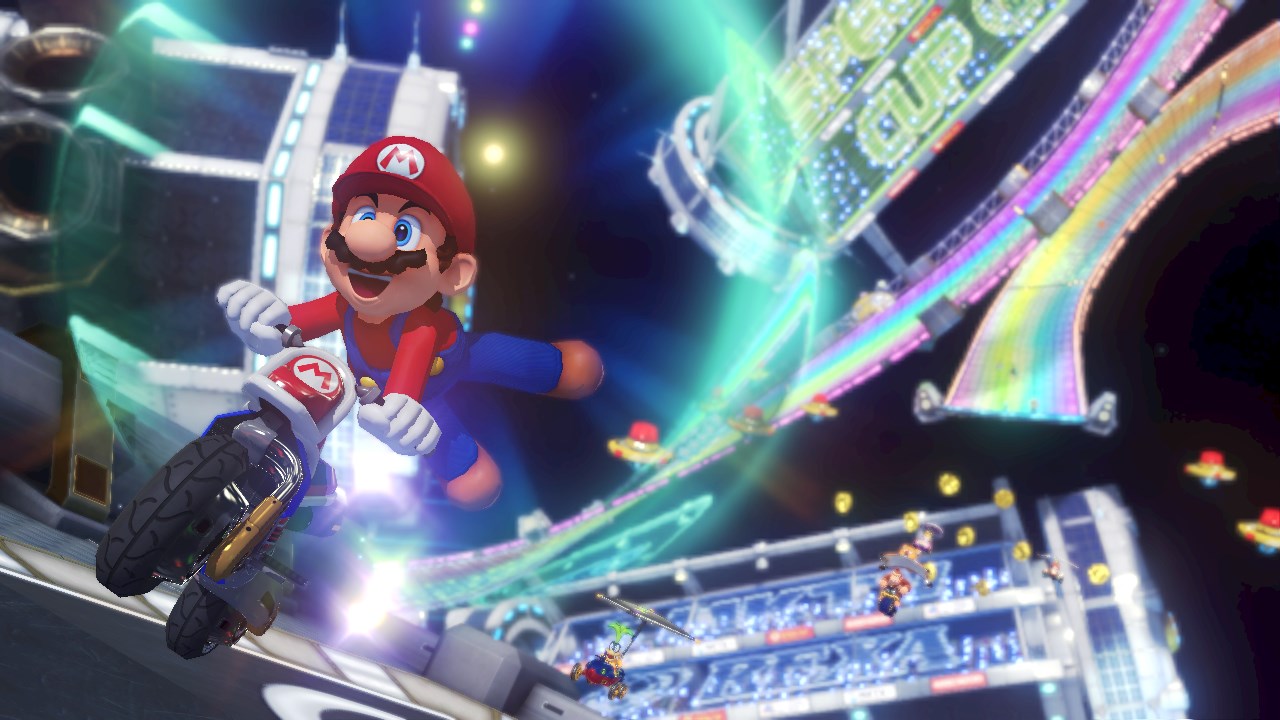 Mario Kart 8's items "are the most balanced in the history of the series", according to developers Hideki Konno and Kosuke Yabuki.
While speaking with GamesMaster about the Blue Shells, the two developers said:
Blue Shells provide a certain level of tension that helps maintain the excitement right up until the very end of a race. Of course we pay particular attention to balance. Through literally thousands of races, we've made numerous adjustments to get it just right. In our opinion, the items in Mario Kart 8 are the most balanced in the history of the series.
I'd have to agree with Konno and Yabuki here. With the amount of time I've put into Mario Kart 8 thus far, I definitely get the impression that the items are very balanced this time around, especially compared to some of the series' previous entries.
Thanks to joclo for the tip.
Mario Kart 8 is finally available around the world. How are you all enjoying the game thus far? We want to know!
Austin and I plan on putting up a little feature about Mario Kart 8 in the near future, and we'd love to receive some feedback from you guys. Simply fill out our little form here and you'll be good to go! If you have any additional comments, you can send them in via email or in the comments section below.
Thanks all!
Thanks to Jake for the tip.
EDGE has put up its full interview with Mario Kart 8 director Kosuke Yabuki. We've already covered the most important bits, but additional comments regarding the game's anti-gravity feature, updates for classic courses, and d-pad controls are now in as well. Head past the break for Yabuki's words.
It was nearly a couple of months ago that Nintendo's Hideki Konno commented on why Mario Kart 8 lacks a track editor. Now the game's director has weighed in as well.
While speaking with STACK, Kosuke Yabuki said:
You are referring to the tool that users can design the course freely, right? If so, we have decided to give it a pass this time. There are so many elements and features in Mario Kart 8 – in addition to ground, water and sky sections, there is now anti-gravity and it is required to design the tracks to utilise three dimensions. If we added a simple course editor, it wouldn't be a very user friendly tool. When we develop a tool like this, we want to make sure it is easy to use for everyone, but in order to do so for a project like this, we would need many more innovations. It may come one day in the future.
IGN has put up some new comments from Nintendo producer Hideki Konno and Mario Kart 8 director Kosuke Yabuki. The two ended up sharing interesting bits about Mario Kart's origins, the difficulty in implementing anti-gravity for Mario Kart 8, and how the racer's Sunshine Airport course came about from a previous entry's development.
Continue on below for a roundup of what's included in IGN's report, which you can find in full here.