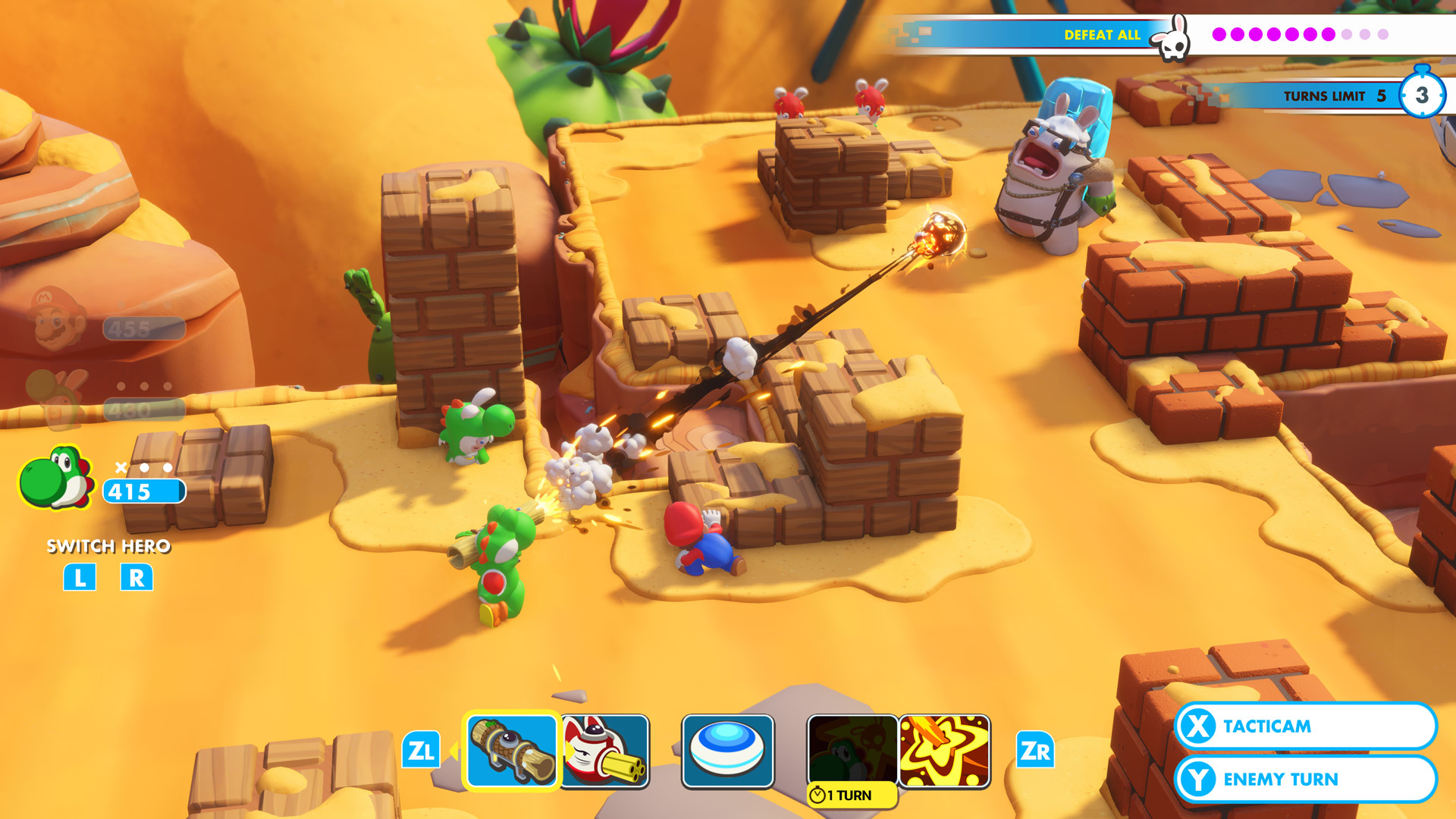 It's been a busy day for Mario + Rabbids Kingdom Battle interviews, and another one has surfaced from ntower. The site spoke with Andrea Babich, lead narrative designer at Ubisoft Milan.
Mario + Rabbids Kingdom Battle will be the first Switch game to make use of Ubisoft's Snowdrop engine. Despite that, there were no issues along the way.
When asked if the team encountered any problems while developing for Switch, Babich noted:
"Actually we were really surprised about how easy the development for this system is. I don't want to sound like a Ubisoft or Nintendo fan, but when we got the Dev-Kit and put the Snowdrop-Engine onto the Switch, these two perfectly fit together. The Snowdrop-Engine, which is our engine for almost everything and which we used for the last South Park game is so versatile that we quickly lost our worries about the development."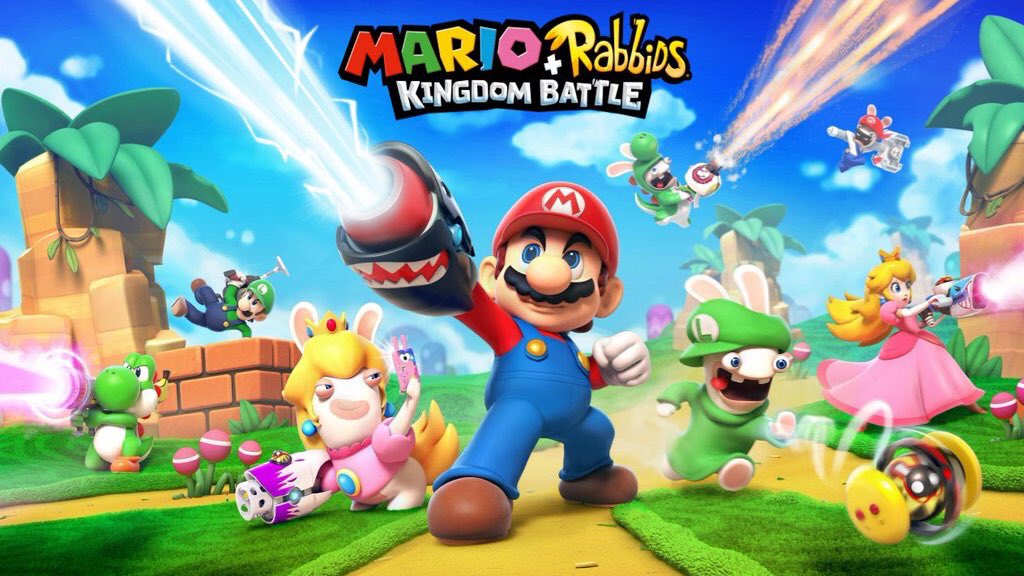 Not every idea developers come up with makes it into the final game. With Mario + Rabbids Kingdom Battle, this was the case as well.
One mechanic Ubisoft scrapped early on was "Fumble". This would have players missing attacks. Rather than successfully shooting an enemy, the gun would explore in your face as well.
Ubisoft talked with Nintendo about the idea, and the feature was ultimately cut. Nintendo felt it was a bit too chaotic and random for it to be accessible.
Mario + Rabbids Kingdom Battle lead producer Xavier Manzanares told USgamer:
"We thought it was like Rabbids. Even if it sounded cool on paper, when you play it you say, 'awww man I was about to defeat the enemy but I got this fumble.' It's funny one time, but not funny the second time."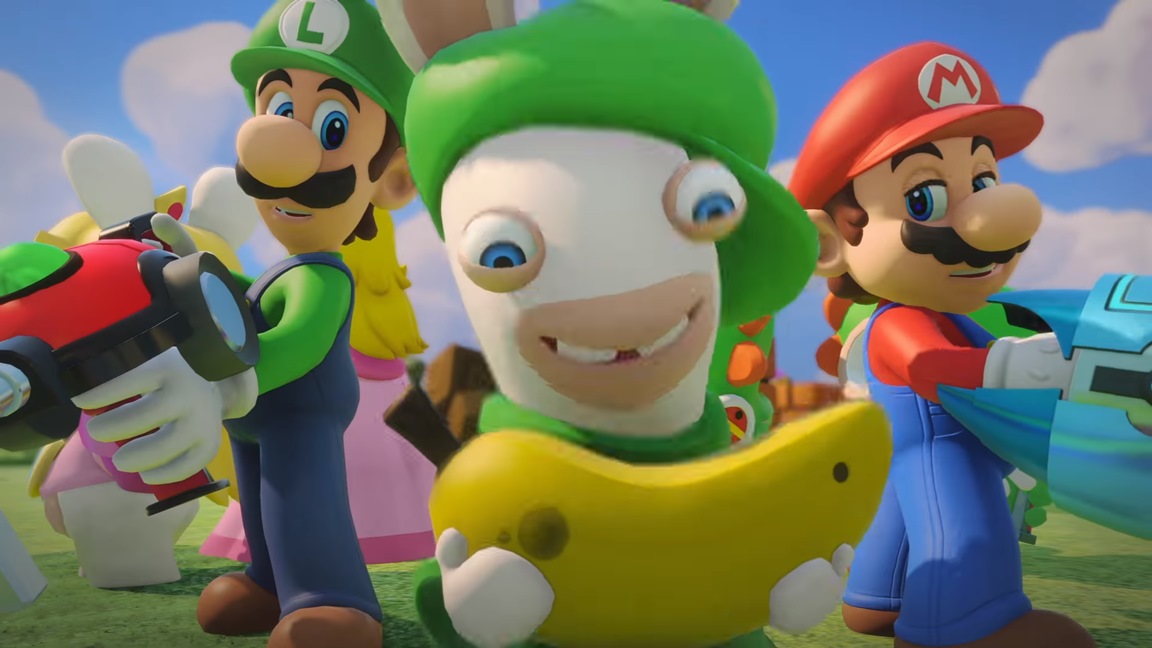 Mario + Rabbids Kingdom Battle takes inspiration from all sorts of games and sources. Among these was actually Mario Kart. Although the two are in completely different genres, creative director Davide Soliani mentioned to Game Informer that the team wanted to translate that action into the Switch game.
Davide said the following when asked how Mario + Rabbids sets itself apart from other strategy titles:
"Since the very beginning, when we started to brainstorm this game, we wanted to come up with something that was totally new. If we were going to propose to Nintendo, we knew we had to have something that they were not used to or that they weren't already doing. So, we started with the intention of saying we should renew the genre a little bit. We thought that tactical games are known to be slow paced and they tend to be a little niche, so why not try to have something very dynamic and colorful and fast paced. That's why our first reference was Mario Kart. How cool would it be to try to translate that kind of action into the combat of our game? Compared to a lot of other tactical games, you see enemies taking cover and the heroes are doing the same, and they're both shooting at each other, but they're not moving much. In our game, the A.I. is coming towards you, so you must react to the situation, and the action is focused on moving around the battlefield."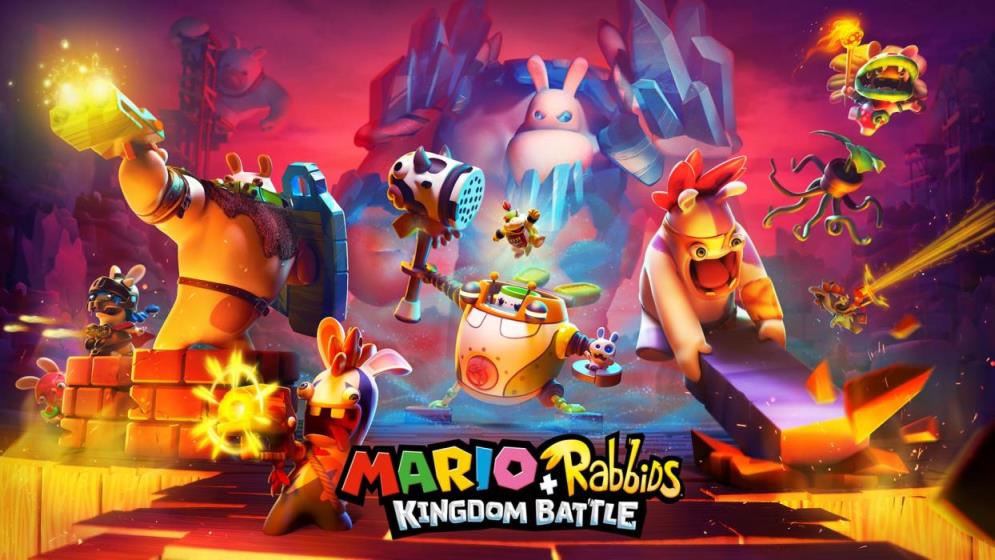 Along with today's new trailer, Ubisoft published a second video for Mario + Rabbids Kingdom Battle. It features some talk with the developers about the hidden secrets and loot in the Spooky Trails area. Watch the video below.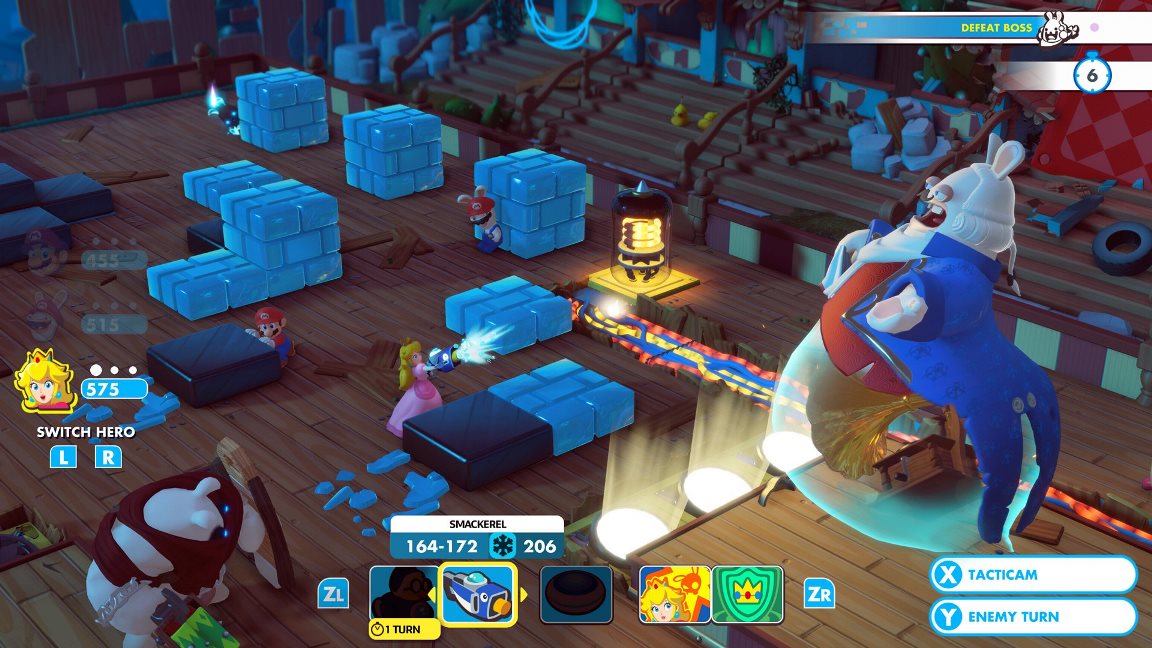 With Mario + Rabbids Kingdom Battle launching in about a month, a new set of previews have now been published online with details and footage. We've rounded up everything below.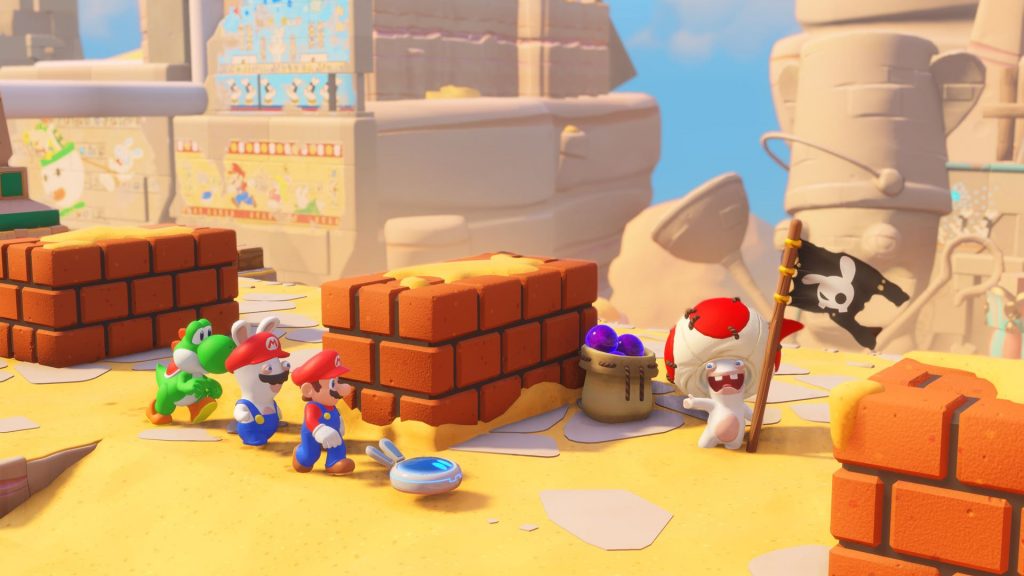 Ubisoft has just gone live with a brand new trailer for Mario + Rabbids Kingdom Battle. We've included it below.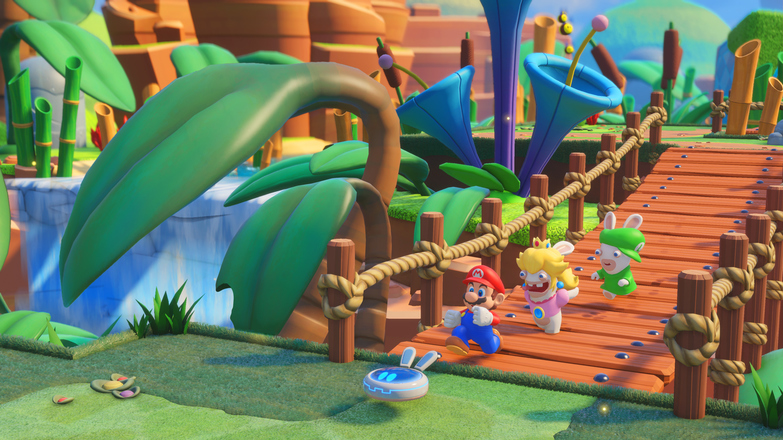 IGN featured Mario + Rabbids Kingdom Battle during its Comic-Con live stream yesterday with associate producer Cristina Nava. Watch some footage below, along with commentary from Nava.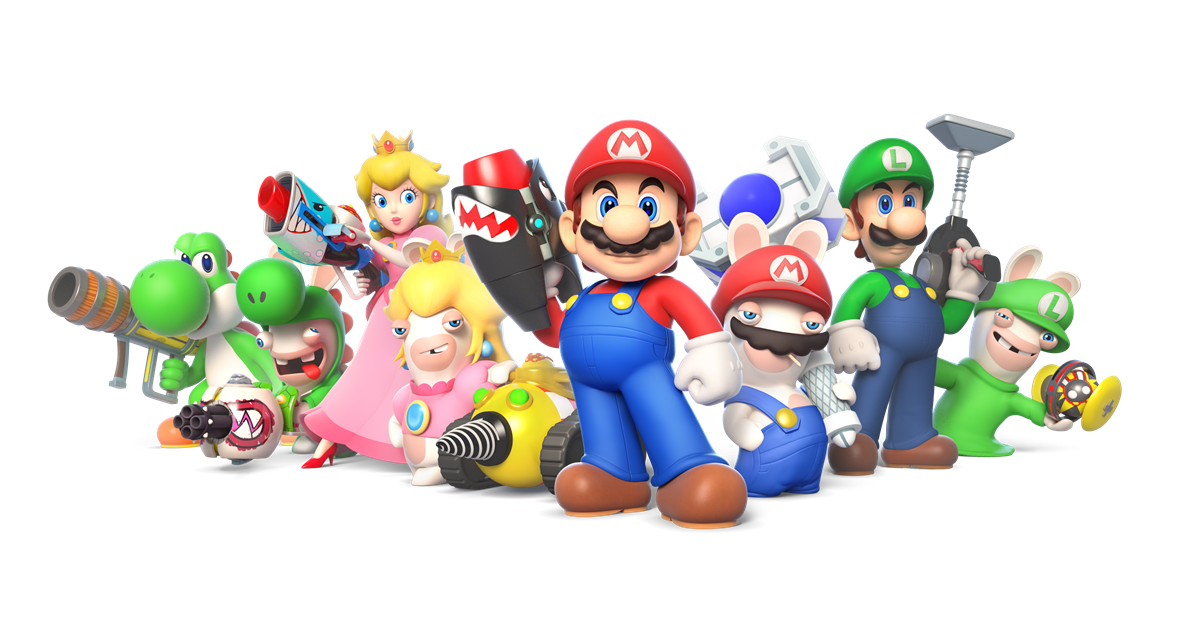 We've been wondering how amiibo will function in Mario + Rabbids Kingdom Battle. Thanks to the game's official Twitter account, we've got an answer.
Mario, Luigi, Yoshi, and Peach amiibo are supported. When you scan amiibo for any of these characters, you'll unlock weapons in the game.
Here's the official word straight from the Rabbids Twitter account:
It supports the Nin Char Amiibo: Mario, Luigi, Yoshi & Peach. Each unlocks a weap for the Nin char & its Rabbid counterpart

— Rabbids (@rabbidsofficial) July 20, 2017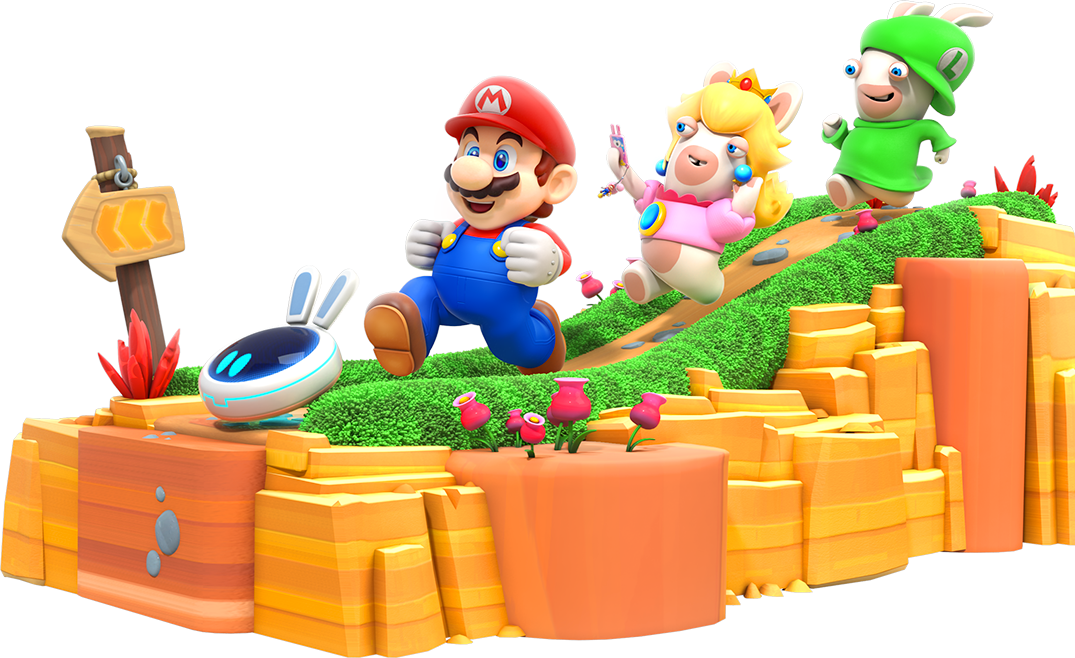 Today, GamesIndustry published a new interview with a couple of people involved with Mario + Rabbids Kingdom Battle. Director Davide Soliani and composer Grant Kirkhope participated in the discussion.
During the interview, Kirkhope talked about first finding out about the game, also shared an… interesting story about an encounter with Shigeru Miyamoto from his time at Rare. Soliani also talked about being starstruck with Kirkhpoe, worries stemming from the initial leaks, and the game's inspirations.
You can find that and a bit more below. You can read up on GamesIndustry's full piece here for additional comments.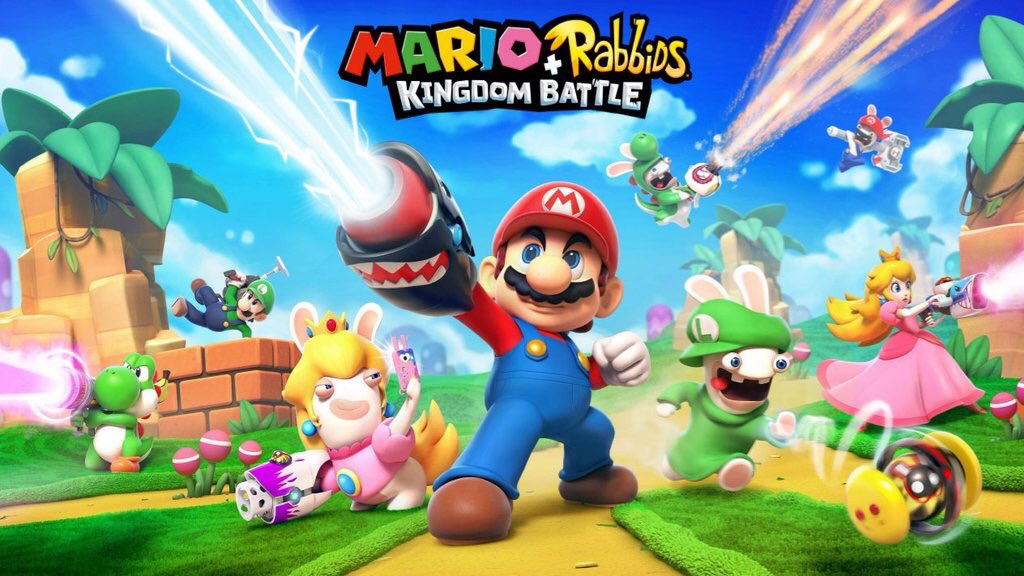 Ubisoft published a new video for Mario + Rabbids Kingdom Battle. Creative director Davide Soliani talks about the E3 announcement and his emotions at the time, and those who tried the game at E3 share their opinions about the demo. Watch the video below.