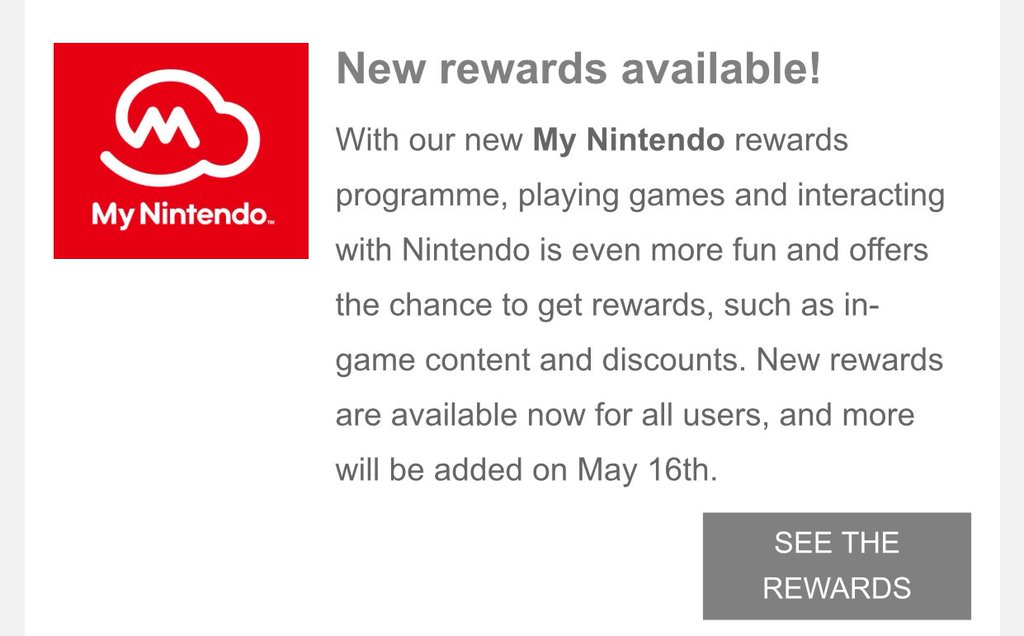 My Nintendo will soon be updated with a new round of rewards. In a newsletter sent out by Nintendo of Europe, there's a mention of an additional selection is coming on May 16. We'll let you know what those are on Monday.

Two new missions, i.e. new ways to earn points have been added to My Nintendo today. To complete the missions, your Nintendo Account need to be set to receive promotional e-mails from Nintendo. Doing so gets you a one-time reward of 30 Platinum Points. Keeping the setting gets you an additional 10 Platinum Points each month.
Source Via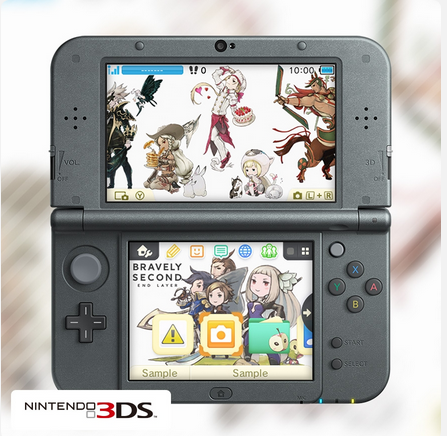 Update: The theme is now available and trying to redeem points for it no longer produces an error.
A new reward is about to be added for users of My Nintendo in Europe: a Bravely Second Nintendo 3DS home menu theme titled "New Faces". The theme costs 100 Platinum Points – quite a bit cheaper than the Mario and Donkey Kong 3DS home menu themes, which cost 200 Platinum Points.
However, it seems like the reward may have been added to the rewards catalogue prematurely – you can only reach it via the notifications tab in the top right; it doesn't actually show up in the regular rewards tab at the moment. Trying to redeem your Platinum Points for the Bravely Second theme produces an error at the moment. The theme will apparently be available until June 30th, so it likely won't be too long until it can be properly redeemed.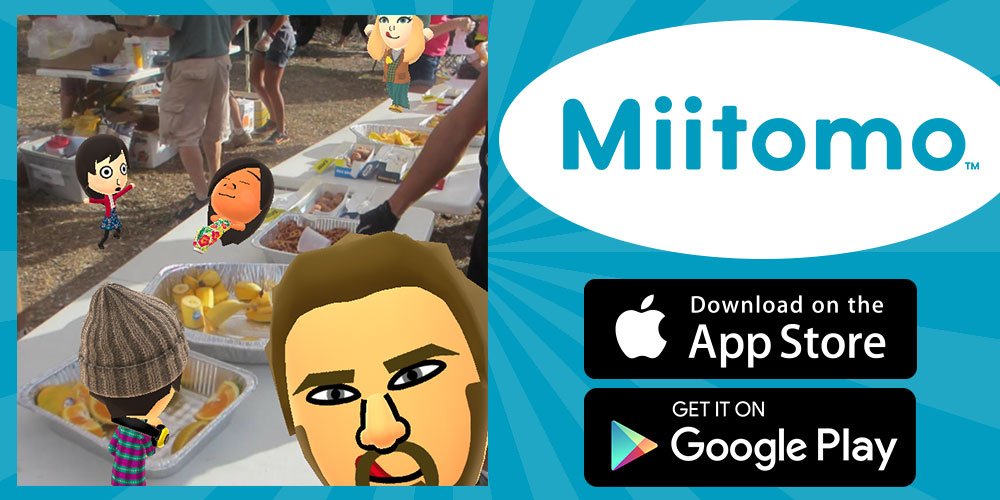 Nintendo president Tatsumi Kimishima was hesitant to share stats pertaining to Miitomo during the company's investors briefing last week. However, he did reveal that the app had "a slightly higher ratio of women at the beginning," and noted that the revenue impact "is negligible for the fiscal year ended 2016" since it's just starting out. He expects that in-app revenue is in line with expectations.
Kimishima went on to talk about in-app purchases on mobile as well as Nintendo Accounts (plus My Nintendo). You can read up on his full comments below.
I heard that there are over 10 million Miitomo users worldwide. I would like to know the attributes of those users, the number of DAUs (daily active users), as well as how much Miitomo is contributing to earnings. Have there already been positive effects on existing business from its connection with the Nintendo Account system? For applications to be released in the future, are you going to increase the game element and seek to increase revenue from in-app purchases?

The over 10 million users are very balanced in terms of gender. There was a slightly higher ratio of women at the beginning. We will not be releasing statistical data such as DAU numbers. As you are well aware, all kinds of ranking information exists for smart device applications, so I will refer you to those. If you look at them and estimate the in-app purchase revenue, I think it will not be too far off from reality.

The revenue impact of Miitomo is negligible for the fiscal year ended 2016, as we have only just started. The Miitomo download numbers are growing right now, so I think the in-app purchase revenue is also growing more or less as expected.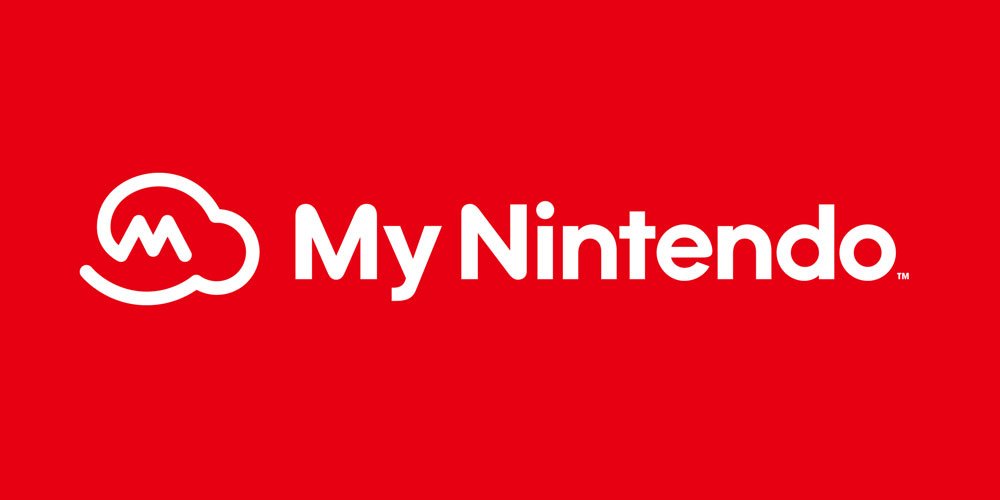 A new set of My Nintendo rewards are now available in both North America and Europe. They're all discounts, spread across platinum and gold.
Here's the full lineup:
North America
– 15% off Luigi's Mansion: Dark Moon (600 platinum)
– 15% off Super Mario Galaxy 2 (300 platinum)
– 15% off Pikmin 3 (300 platinum)
– 15% off Dr. Luigi (230 platinum)
– 15% off Mini Mario: Minis on the Move (150 platinum)
– 30% off Triforce Heroes (100 gold)
– 30% off Tomodachi Life (80 gold)
– 30% off Wonderful 101 (70 gold)
– 30% off DKC Tropical Freeze (50 gold)
– 30% off Metroid Prime Trilogy (50 gold)
Europe
– 10% off Fire Emblem Fates (20 gold)
– 20% off Captain Toad (600 Platinum)
– 40% off Captain Toad (100 gold)
– 20% off Animal Crossing: New Leaf (600 Platinum)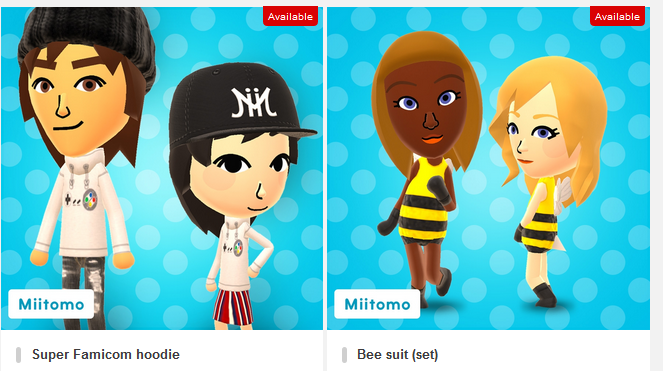 Three new Miitomo rewards were added to the My Nintendo rewards program today. The Super Famicom hoodie, Bee suit and Viking helmet set cost 200 Platinum Points each. These rewards are available until June 1st this year.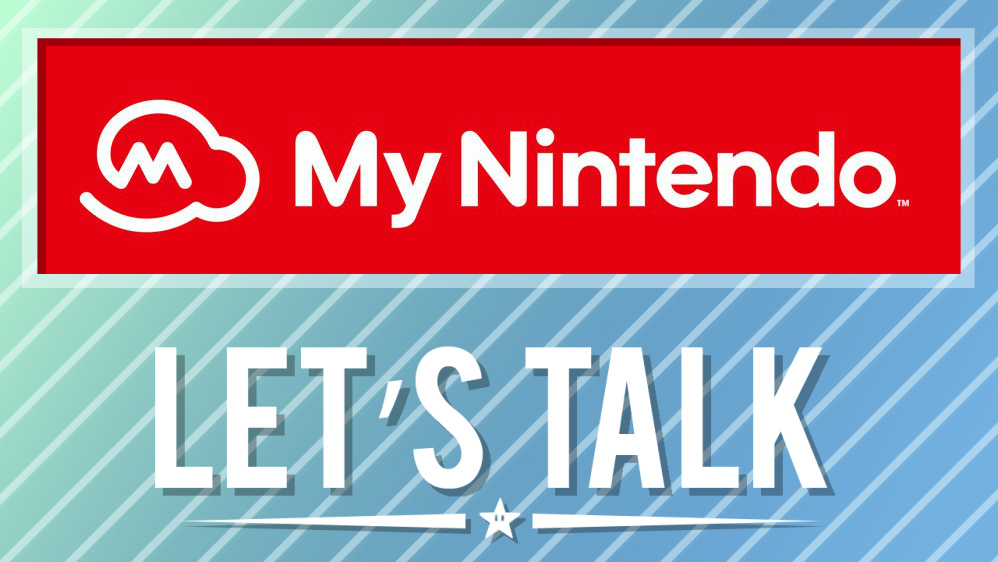 Let's Talk #44: Early Miitomo and My Nintendo thoughts
Nintendo launched two important things outside of Japan this week: Miitomo and My Nintendo. For the uninitiated, Miitomo is Nintendo's very first mobile app while My Nintendo is the company's brand new rewards service.
Both of these have been out for a few days now. Have you had a chance to try either of them out? If so, what are your thoughts thus far? No matter how you feel, let us know in the comments below!
Highlights from last week's topic: What do you think of Pokemon GO?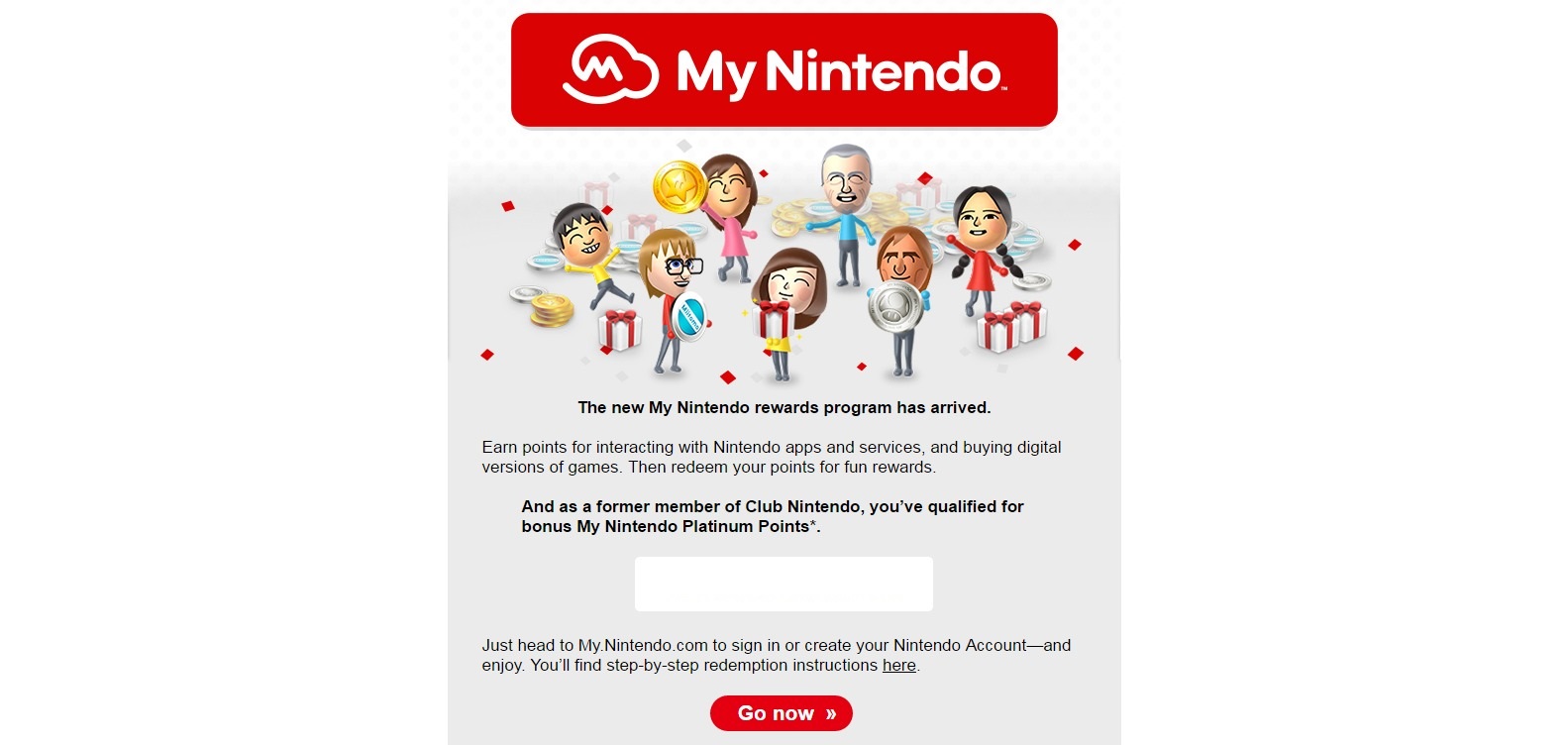 Nintendo is sending out a new email to customers in North America about Miitomo, My Nintendo, and the new web shop. If you were a former Club Nintendo member in North America, you may find a little bonus inside.
In the section about My Nintendo, you should see a code to redeem My Nintendo Platinum Points as someone who used the old rewards program. This will net you 200 bonus points. Just make sure to redeem the code here by May 31 at 11:59 PM PT / June 1 at 2:59 AM ET.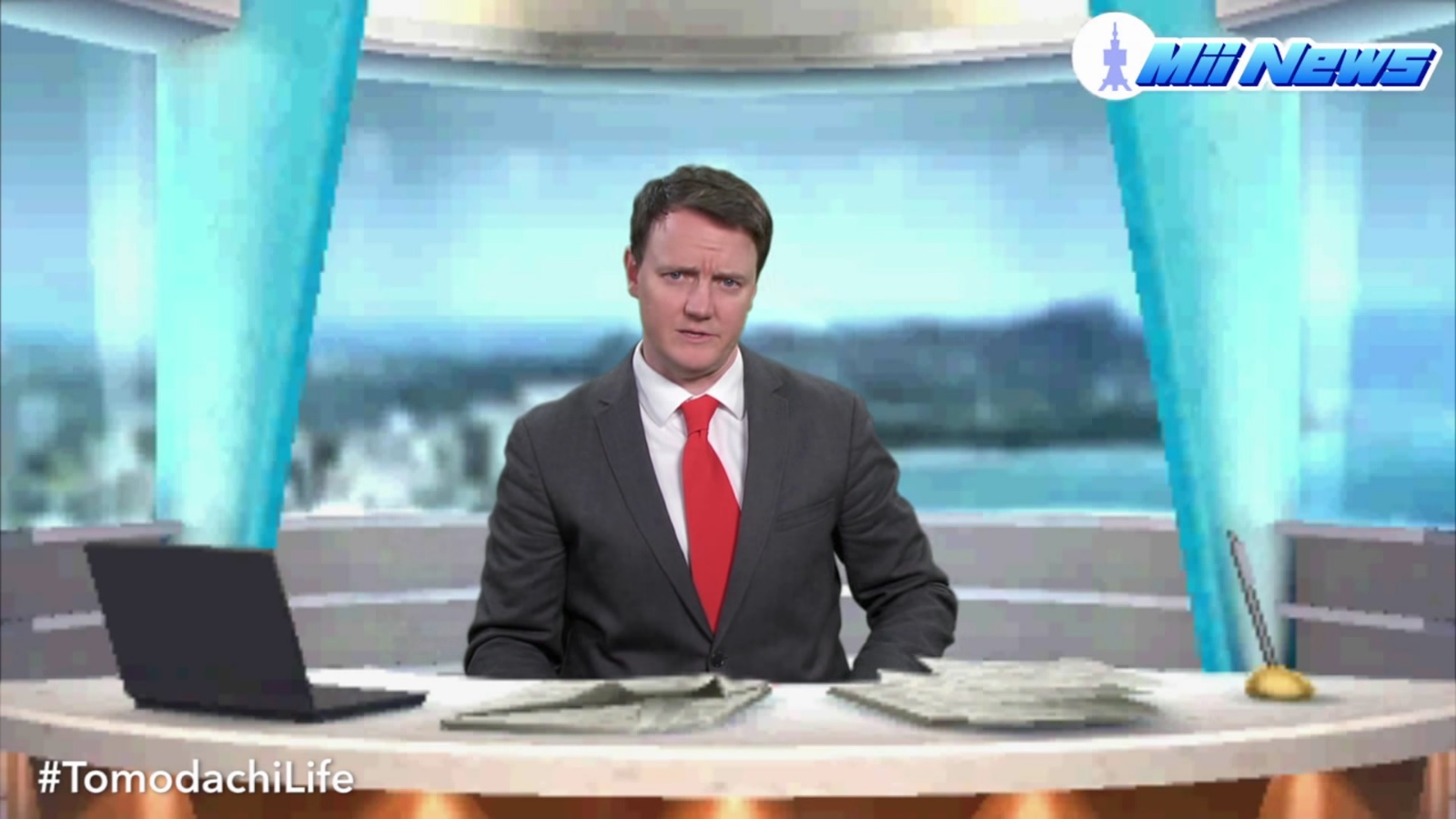 IGN recently had the opportunity to speak with Nintendo's Bill Trinen about Miitomo, Nintendo's future on mobile, and My Nintendo.
First, here's what Trinen had to say about Miitomo and keeping the app updated going forward:
"Our development team is looking at it very much as just the initial release. They do have plans to continue to update. They'll probably start by looking at how people are playing with Miitomo and how they're interacting with it. But I think they're looking at a couple of different ways that Miitomo will grow over time."

"Certainly some of the updates are the addition of new outfits or new versions of the Miitomo drop mini-game, which you play using game tickets. You can even see, on the simpler side, updates to the questions you're asked. But I also think they're going to be looking longer term at the opportunity to do bigger updates that might add in new features and expand the experience."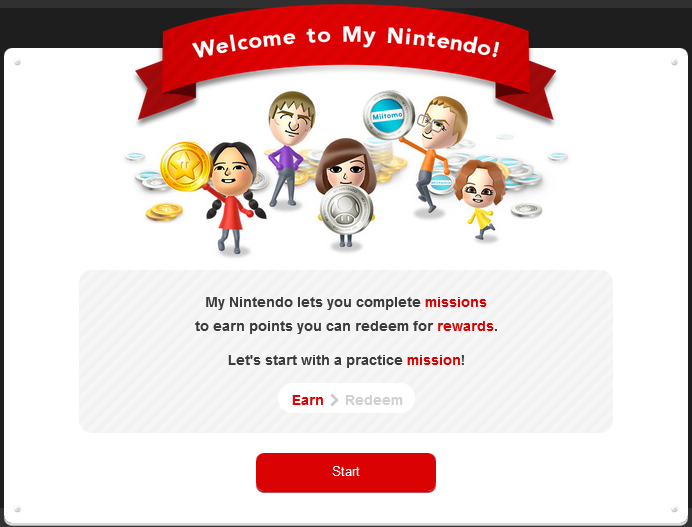 My Nintendo has a variety of ways to earn Platinum Points – playing Miitomo especially can earn you some points pretty quickly. Still, there's a way to get 10 Platinum Points on the website itself – scroll down to the bottom of the site and click on the block in the bottom right corner. Then just keep clicking on your Mii to earn 10 Platinum Points! It's pretty much just a drop in the bucket in the grand scheme of things, but it's a cute little easter egg nonetheless.
Credit goes to NeoGAF user Gaspard for finding this out.