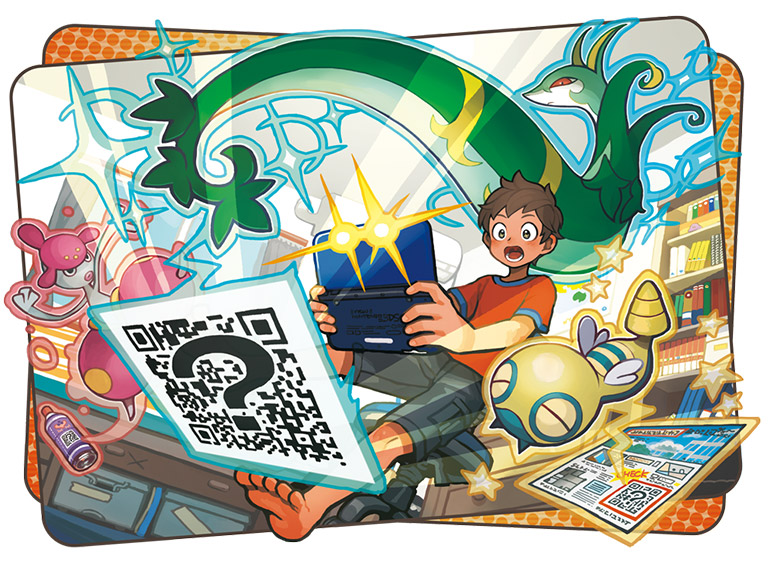 This may have been expected, but we now know that QR code event distributions for Pokemon Sun/Moon will be region locked. That information comes from the official site about the Magearna distribution in Japan. It states that the Magearna QR code received from Pokemon Ga-Olé, usable with Sun/Moon, can only be scanned into Japanese versions of the games.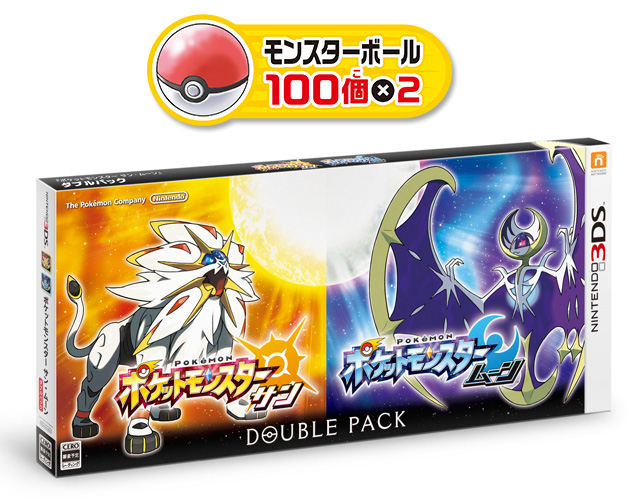 A Pokemon Sun/Moon double pack will be coming to Japan, The Pokemon Company announced today. It includes a copy of both games as well as two sets of 100 PokeBalls. Pricing is set at 9,960 yen.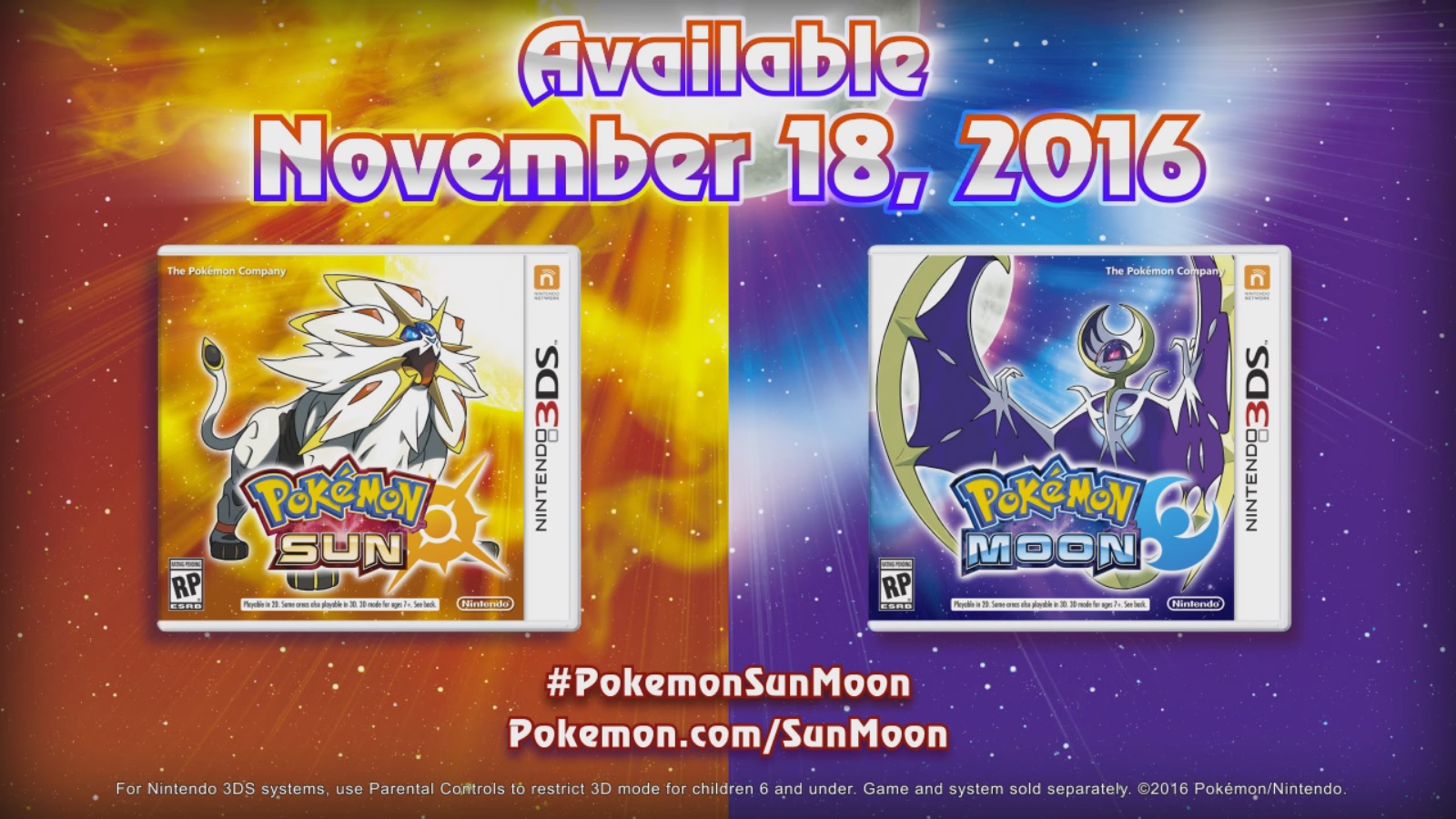 The first actual gameplay for Pokemon Sun/Moon debuted during Nintendo Treehouse: Live @ E3 2016 live stream. Check out a recording of the footage below.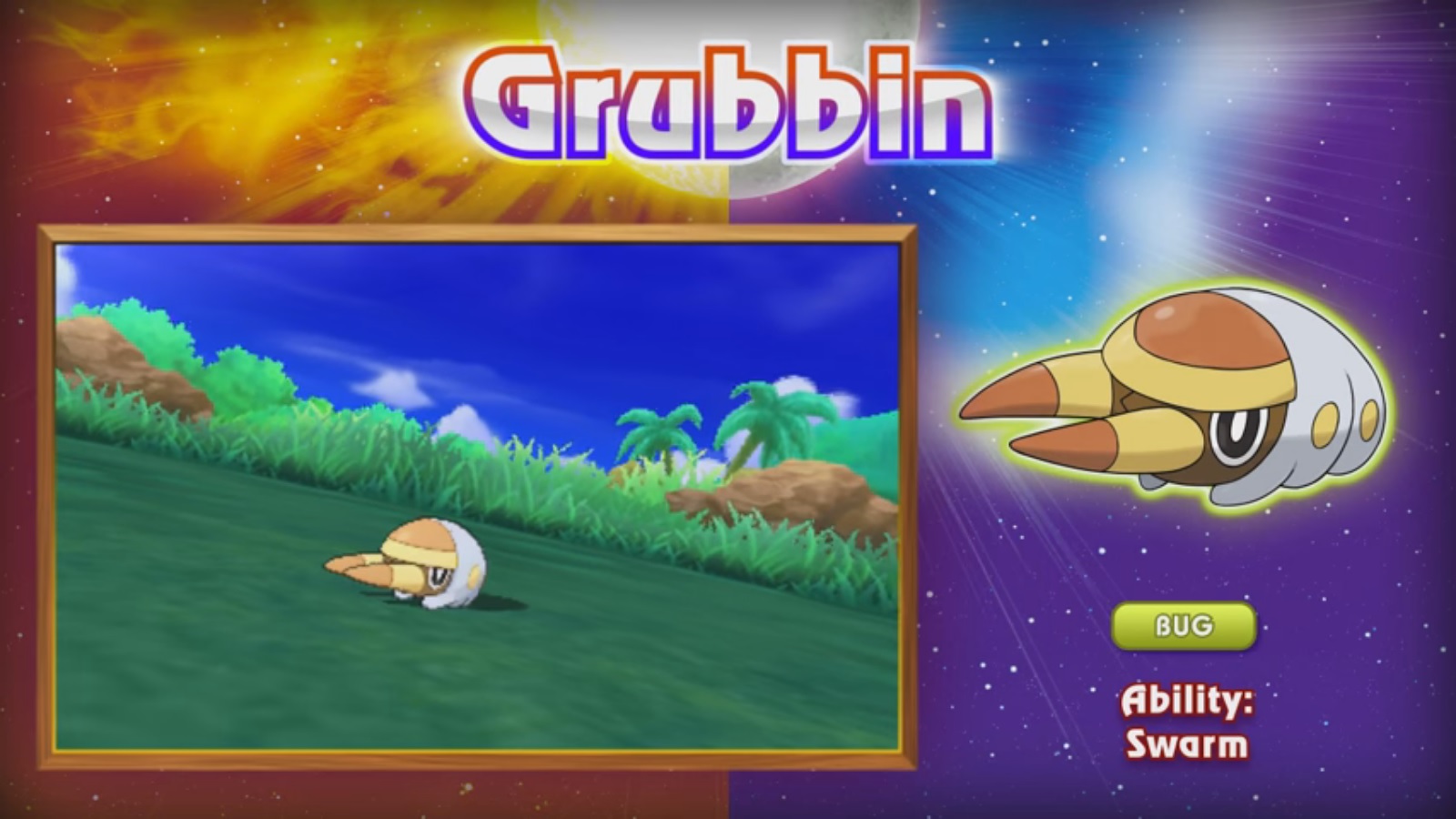 Pokemon Sun and Pokemon Sun have received a new trailer for E3 showing off the latest Pokemon and Battle Royal. See it below.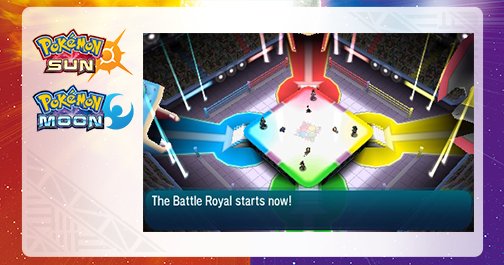 A new Pokemon Sun/Moon mode just debuted during Nintendo's E3 Treehouse stream. Through what was shown, we were given a first look at "Battle Royal".
Battle Royal is a new multiplayer mode. In it, four players compete in a free-for-all with three Pokemon that are sent out one-by-one. As soon as someone loses all of their Pokemon, it ends and players are tallied by defeated Pokemon and remaining Pokemon. This determines who wins.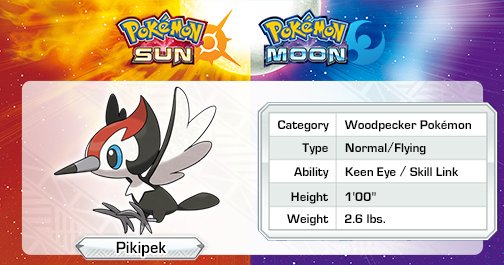 A second new Pokemon has been shown today through the Nintendo Treehouse live stream at E3. We now have a look at Pikipek, a Normal/Flying type. It has the abilities Keen Eye and Skill Link.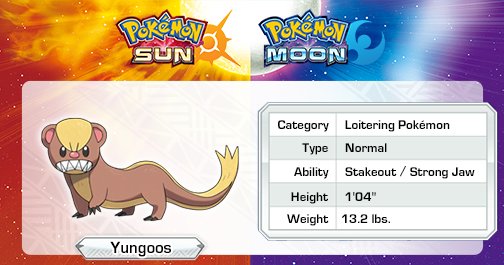 Yungoos has been revealed as the latest Pokemon in Sun/Moon. It's Normal type, with abililities including Stakeout and Strong Jaw. You can get a look at Yungoos above.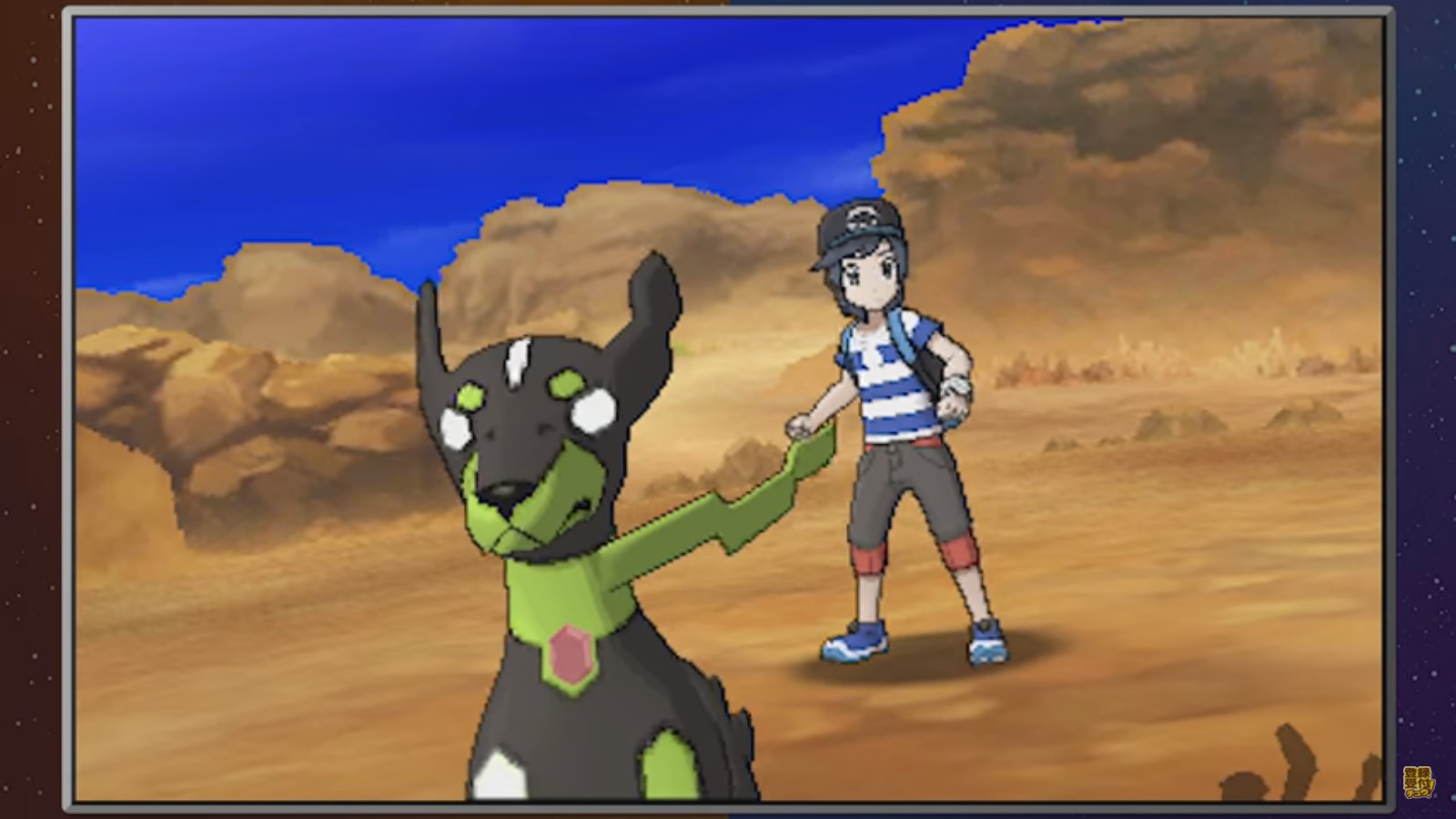 Update: Bumped to the top. Here's an English trailer for Zygarde 10% Forme and Zygarde Complete Forme:
---
At the Taiwan National Championships today, two brand new trailers debuted for Pokemon Sun/Moon. The videos give us a first look at Zygarde 10% Forme and Zygarde Complete Forme in the games.
Here's a look at the two trailers: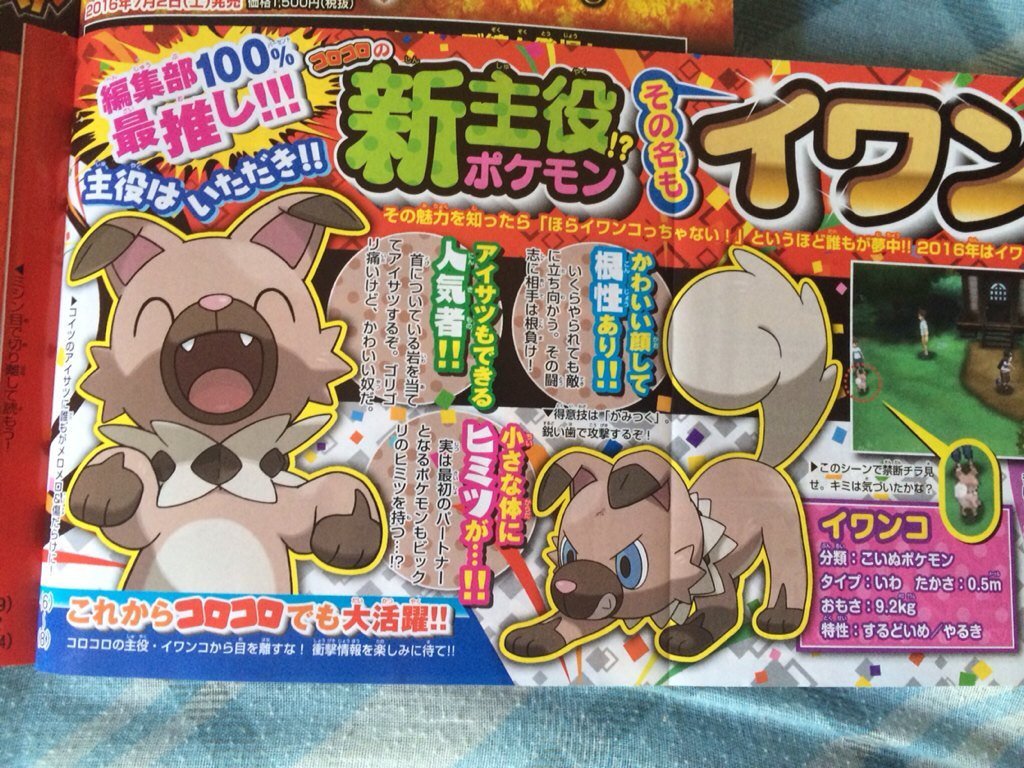 New Pokemon have been revealed in this month's issue of CoroCoro. First images are starting to leak from the magazine, giving us a look at the creatures.
The first one we're able to see is Nekkoala, the Contagious Dream Pokemon. It's a Normal-type with the ability Definite Sleep which prevents it being afflicted with a status other than sleep. We also see the Deep Eye dog Pokemon named Iwanko, who is Rock-type and carries the ability Keen Eye or Vital Spirit.
Here's a look at the new Pokemon (plus the upcoming movie) via CoroCoro scans:
CoroCoro also says that the Greninja event at the movie based on the Pokemon Election has the ability Protean and the moves Hydro Pump, Gunk Shot, Mat Block and Happy Hour. Those who attend the film will be given a Pokémon Ga-Olé disc featuring a QR Code that can be scanned to obtain Magearna in Pokemon Sun and Moon. Magearna comes with the Soul Heart Ability and a new move known as Furuuru Cannon. Additionally, it will be at level 50.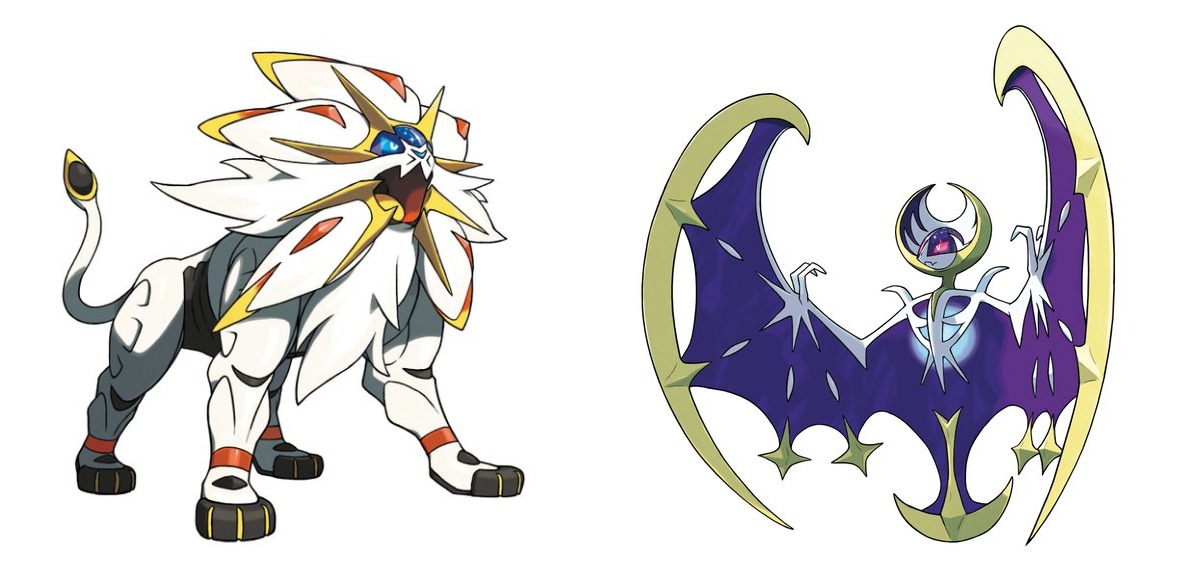 Update: Bumped to the top. We have a few more details about the Pokemon plans for E3.
On Tuesday, Pokemon Sun/Moon will be introduced (June 14). Pokemon GO will be featured on Wednesday (June 15). Guests such as developers will stop by, and there will also be new information and trivia about development that can only be heard here. With Pokemon GO, it will be a developer Q&A.
Also, as a bit of an aside, a local Niconico stream in Japan will be held on Thursday. This will summarize the contents of Pokemon's presence at E3.
---
Nintendo Treehouse: Live @ E3 2016 will heavily feature Zelda Wii U later this month. However, as it turns out, that won't be the only game on the broadcast.
The official Japanese Twitter account for Pokemon confirms that Pokemon Sun/Moon and Pokemon GO will be included in the Nintendo Treehouse: Live @ E3 2016 live stream. We don't know what exactly will be shown, but this is rather interesting news!