Playtonic Games shared a first look at Project Ukulele's minion in celebration of reaching 30,000 followers on Twitter. Take a look below:
Your reward for helping us reach 30k: the first look at our in-engine #ProjectUkulele minion! He's as excited as us. https://t.co/J96nC6PEwN

— Playtonic (@PlaytonicGames) April 14, 2015
Playtonic Games shared the first couple of images from Project Ukulele yesterday. Soon after they were posted online, fans picked them apart and found at least one hidden character.
Can you see the character in the bottom left corner of the below shot?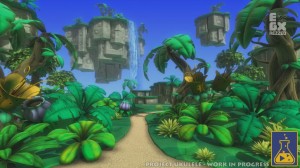 Here's another look that should help: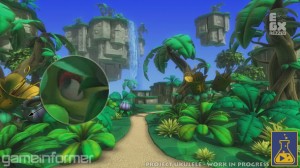 There's also an eye right above the hidden character. It's thought that it belongs to another character in Project Ukulele. You can't see too much though!
Playtonic Games has shared the first couple of screenshots from Project Ukulele. You can find them below.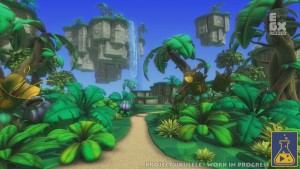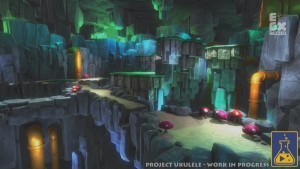 As shared at EGX, there will be plenty of collectibles, secrets to discover, and special moves for the different characters. By collecting pages, the world scope increases.
We'll be seeing a Kickstarter for Project Ukulele in May. The game will still happen even if the campaign fails, though funding will allow it to grow. amiibo was name-dropped as well, so that sounds like something the team would be open to!
Playtonic has just kicked off a presentation at EGX to talk more about Project Ukulele, the new platformer from former RARE staffers. We've posted it after the break due to auto-play.