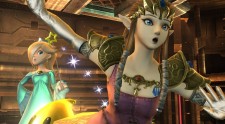 3 days ago
By
Austin
(
@NE_Austin)
2 Comments
ON THIS EPISODE: Plenty of games are touched upon in the opening segment of this episode, including Rusty's Real Deal Baseball, Banjo Kazooie, Guild Wars 2, and The Wind Waker HD. Find out why Rusty is a weirder character than you thought he was, and why Banjo Kazooie may not really be all that fun.
PLUS: As you'd expect, a discussion of Super Smash Bros. for Wii U and 3DS fills out the middle segment where we discuss our thoughts on the game's staggered release, the separation of dual-characters, an apparent focus on game balance, and how cool Sakurai is. Where does he find such cool sweaters!?
AND: We end the show with listener mail about Tomadachi Life, what kind of Zelda over-worlds we like, and how to review games! Plus we laugh a lot. That's good.
This Week's Podcast Crew: Austin, Jack, and Laura
---
Download this episode (click this link)
Subscribe via iTunes by clicking this thing!
Subscribe with Google by clicking this thing!
Subscribe with Yahoo something-or-other by clicking this thing!