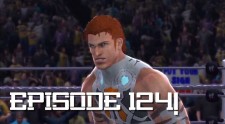 1 month ago
By
Austin
(
@NE_Austin
)
3 Comments
A late, late episode of Here's a Podcast as a weary Austin tries to find the time to edit this dang thing. He didn't really succeed this week, but the episode is here anyway, without chapters, but still with all the gaming goodness that your grandma grabbed from McGrady's Grape Gastle.
Games discussed this week: Kid Icarus: Of Myths and Monsters, Castlevania: Order of Ecclesia, Axiom Verge, Xenoblade Chronicles, Fantasy Life.
Listener Questions Mail Topics: Favorite game soundtracks, the future of the Mother franchise, Guitar Hero and Rock Band, and more.
---
Download this episode (click this link)
Subscribe via iTunes by clicking this thing!
Subscribe with Google by clicking this thing!
Subscribe with Yahoo something-or-other by clicking this thing!