Mega Man 9 was just released on Monday, yet the game has already shot up to the number one spot on the top WiiWare sales list of the week. Full list for both VC and WiiWare can be seen below:

Virtual Console
1 (1) – Super Mario RPG: Legend of the Seven Stars
2 (2) – Super Mario Bros. 3
3 (6) – Mega Man 2
4 (3) – Super Mario Bros.
5 (5) – Super Mario World
6 (4) – Mega Man
7 (7) – Super Mario Bros. 2
8 (11) – Punch-Out!!
9 (8) – The Legend of Zelda
10 (10) – Super Mario 64
11 (9) – Sonic the Hedgehog
12 (12) – The Legend of Zelda: Ocarina of Time
13 (13) – Mario Kart 64
14 (14) – Donkey Kong Country
15 (15) – Pac-Man
16 (17) – The Legend of Zelda: A Link to the Past
17 (20) – Kirby's Adventure
18 (16) – Donkey Kong
19 (18) – Paper Mario
20 (19) – Double Dragon
WiiWare

1 (N) – Mega Man 9
2 (1) – My Aquarium
3 (5) – Strong Bad Episode 2
4 (2) – My Pokemon Ranch
5 (6) – Dr. Mario Online Rx
6 (3) – Strong Bad Episode 1: Homestar Ruiner
7 (4) – Defend your Castle
8 (7) – Wild West Guns
9 (8) – Pong Toss – Frat Party Games
10 (9) – TV Show King
11 (10) – Final Fantasy Crystal Chronicles: My Life as a King
12 (11) – Groovin' Blocks
13 (14) – LostWinds
14 (12) – Midnight Pool
15 (15) – Family Table Tennis
16 (13) – Helix
17 (16) – V.I.P. Casino: Blackjack
18 (18) – Gyrostarr
19 (17) – Cocoto Fishing Master
20 (20) – Block Breaker Deluxe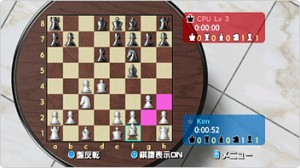 Wii Chess launched as a Wii retail title in Europe and Australia earlier this year, but Nintendo has decided to release the game on Japanese WiiWare. The game supports use of the Nintendo Wi-Fi Connection and both the Wii remote and classic controller functionality. For the Japanese Wii owners (and chess lovers) out there, the game will set you back 1000 Wii points when it becomes available September 30th.


The Official Nintendo Magazine (UK) has gotten their hands on a few new House of the Dead: Overkill screenshots. You can check them out below.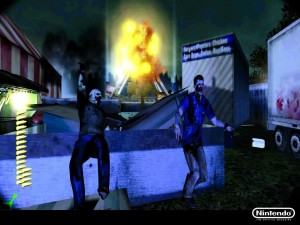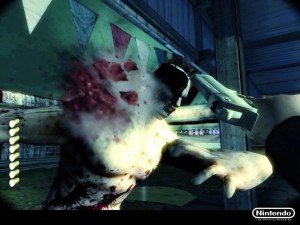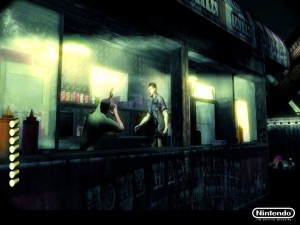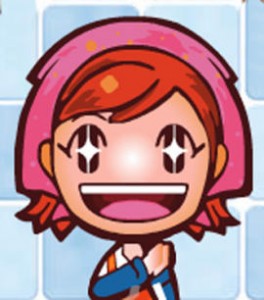 Cooking Mama has seen huge success on the Wii and DS, but it looks like Mama is ready to temporarily retire her chef hat and move on to the outside world – more specifically, the garden. The latest issue of Famitsu has an article up on Gardening Mama. This game will be heading back to the DS and will be releasing in Japan this Winter. Unfortunately, there is no news on North American or European dates as of yet.


"No one disagreed with Sam [Houser, Rockstar president and Dan's brother]'s very clear edict that GTA has to be an M rating. It can't be softened to make it family-friendly – that's not the game we're making. We've never not done well by sticking to our guns. Nintendo wanted us to make GTA, and we wanted to make a game on their platform. They didn't want us to make a GTA for kids, and we weren't interested in making a game we wouldn't normally make." – Dan Houser
Personally, I can't see any GTA game as family-friendly since the subject matter is much too mature for children. How could Rockstar possibly make Chinatown Wars for kids, even if they wanted to? I'd imagine that'd be a difficult task in itself.


High Voltage Software stated a few weeks back that friend codes will be a probable inclusion in The Conduit's online set up. After all, as the company has mentioned, it is ultimately up to Nintendo to decide which companies can develop and include a homemade online system, much like EA did with Medal of Honor: Heroes 2 on Wii. There is some light at the end of the tunnel, however. High Voltage Software has yet again noted that "If there is any possible way for us to get around this [friend code] system, we will." Better yet, it was also added that "A system similar to MoH2's would be ideal." High Voltage is hoping that Nintendo will offer "the same exceptions they granted EA." Gamers might end up with friend codes in the final product, but at least it can be said that High Voltage is doing everything in their power to make the online experience as good as it can possibly be.


7th Dragon (DS/Sega/Spring 09)
– New game from Niinou, the director of EO
– Command based battles
– 4 characters in a party at one time
– Simple game concept: kill all the dragons
– There are 7 classes in the game (Rogue, Mage, Fighter, Princess, Knight, Samurai, Healer)
– For each class there are 4 different appearances
– There are skill trees for each of the classes
– The stats include LIFE, MANA, ATK, POW, DEF, INT, SPD
– While moving around, the top screen is a top-down map view, while the bottom screen is a conquest map
Resident Evil Wiimake
– port of Cube remake
– supports Cube controller
– waggle Wiimote to draw gun
– Dec. 25th in Japan
Arc Rise Fantasia (Wii/MMV/Winter)
– A party consist of 3 characters, the longer the same characters stay in the party and battle, the stronger their bond grows. As this intimacy bond increases, there will be visible effects.
– A single character can pull off a combination of attacks with "single connect", while multiple characters can pull off a combination attack on an enemy with "party connect".
– If all 3 party members use a special "Excel act" attack on the same enemy, it turns into a super attack callde "trinity act" that does huge damage.


Disaster: Day of Crisis (Wii, Nintendo): 8 / 8 / 8 / 7 – (31/40)
Unknown Soldier: Mokuba no Houkou (NDS, D3): 5 / 6 / 4 / 5 – (20/40)
Jikkyou Powerful Major League 3 (Wii/PS2, Konami): 8 / 8 / 8 / 7 – (31/40)
So it looks as though Disaster received a 34/40 from the Nintendo Famitsu and a 31/40 from the overall Famitsu.


San Francisco, Calif. – September 22, 2008 – Mastiff, a worldwide publisher of videogames and Renegade Kid, developer of innovative interactive software, announced today the availability of GameStop-exclusive preorder items with the reservation of Moon, a sci-fi, action-adventure FPS for Nintendo DSTM.

Customers who preorder Moon at GameStop stores and through GameStop.com will receive an exclusive telescoping Moon stylus and game case. Quantities are limited so act fast!

Moon is currently scheduled for release on November 18.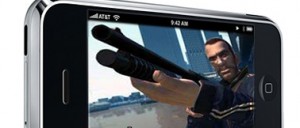 "We expect GTA will likely be ported to Apple's iPhone platform, leveraging the device's touch screen technology and accelerometer. Apple's determination to layer gaming applications into the device's consumer value proposition and growing installed base is likely sufficient motivation for a deal." – Janco Partners analyst Mike Hickey
Knowing that the iPhone would be more than capable of handling Chinatown Wars, the possibility certainly seems likely. Rockstar, however, has noted that the DS suits the game very well and have specifically mentioned the two screens.