[Nintendo Everything Podcast] – episode #32 – E3 Wishlists, Pokemon Sword Shield Direct Discussion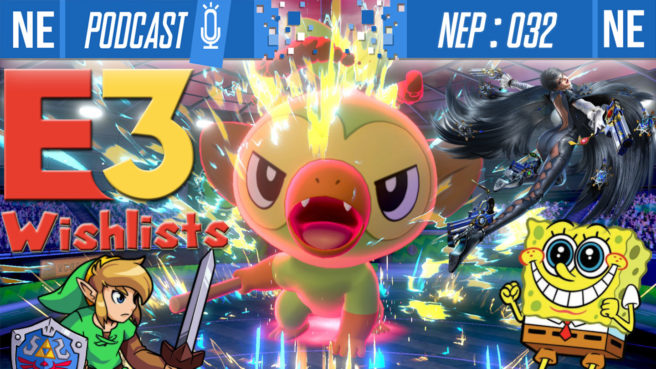 Hello my beautiful Sobbles, Grookeys and Scorbunnies! More bonus time on NEP with another double length episode! E3 got us lit up, so we talk about the recent game leaks and announcements all over the place. Particularly, we dive real deep on the Pokemon Sword and Shield details we got from the Direct. The tea is particularly good this week.
Following that, we have a fun chat about E3 wishlists, both realistic and idealistic, and then answer some awesome listener mail we got this week. You all really pulled through on this one!
To celebrate E3, we're doing double content all month long… probably! We hope you're enjoying! The best way to support our show is to recommend the podcast to others, and rate us 5 stars on iTunes!
Thank you so much for listening!
Timestamps:
03:54 – Adventure Log: Detective Pikachu and Godzilla and X-men Dark Phoenix talk. More Nights of Azure 2 and an impromptu discussion of LGBTQ representation in video games.
18:11 – A collection of new game announcements! Darksiders Genesis leaked, Spongebob Squarepants Battle for Bikini Bottom Rehydrated, Grandia HD Collection! And XSEED's E3 lineup announced: Sakuna of Rice and Ruin, WORK X WORK coming to the West as Heroland, Burger Time Party!, Rune Factory 4 Special, Senran Kagura Peach Ball
34:36 – Pokemon Sword & Shield Direct Discussion! Oni's got issues, Galen's got questions. Dynamaxing? No thanks, bro, we're callin' em Pokaiju! Oni's excited for the environments and exploring, Galen wonders about all them pokeballs on those hips. Legendary Zacian and Zamazenta
1:02:10 – E3 Wishlists and Galen's predictions! Oni and Galen have big disagreements on what's likely. Fire Emblem, Astral Chain, Pokemon, Daemon X Machina? Bayonetta?, Metroid Prime? And the pre-recording sugar rush finally kicks in about here. Galen and Oni reveal their dream projects. Oni's very passionate about his.
1:33:17 – Additional DLC
1:36:51 – Listener Mail. Fan Request: Cadence of Hyrule Rap. Super embarrassing. Super cringey. Then a cascade of pre-E3 questions and Galen and Oni start fighting. Which of them is the crazy one?
Additional DLC:
Send us an email and we'll discuss it!
NintendoEverythingPod [at] gmail [dot] com
Listener Bonus: Help the show grow and support us by giving us ☆5 STAR☆ iTunes review, likes and comments on YouTube, and share the Spotify playlist with your Nintendo-loving buddies!
Thank you!
YouTube
iTunes
https://itunes.apple.com/podcast/nintendo-everything-podcast/id1441241130?mt=2
Spotify
https://open.spotify.com/show/0zifaLm4st7KtUzDEojWBh
Direct Download
PocketCasts
Stitcher
https://www.stitcher.com/podcast/nintendo-everything-podcast
PlayerFM
https://player.fm/series/nintendo-everything-podcast
ListenNotes
https://www.listennotes.com/@NintendoEverythingPodcast/
PodTail
https://podtail.com/en/podcast/nintendo-everything-podcast/
Follow us on Twitter and Instagram
@NinEverything
twitter: @Oni_Dino / insta: Oni__Dino
@mobius087
A HUGE thank you to Headphones of Listening for NEP's intro music!
Check him out on soundcloud!
Links
Leave a Reply