[Nintendo Everything Podcast] – episode #40 – DQ Hero's Thwack attack and FOMO in your Shlooters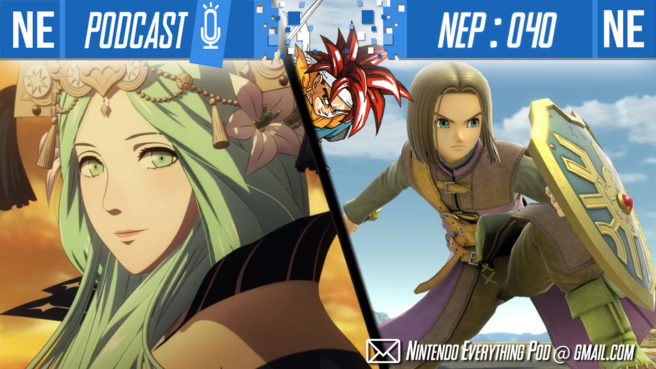 Hello my beautiful Black Eagles, Blue Lions and Golden Deer! In this episode of NEP, we put on the boxing gloves and discuss microtransactions in gaming, why Fire Emblem: Three Houses is so damn good, and the wild mechanics with Dragon Quest Hero as he debuts in Super Smash Bros. Ultimate. We also have a chat about the new additions to Nintendo Switch Online and if they save the service or not, Ubisoft's Chinese Rabbids game and the meager announcements from Nintendo and Tencent at ChinaJoy. Finally in our Listener Mail segment, we recommend JRPGs and give our brutally honest feelings about the Final Fantasy series and Kingdom Hearts series.
We hope you enjoy!
If you like what you're hearing, you can support us by giving NEP a 5 star review on Apple Podcasts, aka new iTunes. We would greatly appreciate if you could help us out! We're very thankful for your support, and we thank you for listening.
Timestamps
03:33 – Adventure Log: Marvel Ultimate Alliance 3 has camera and menu foibles, but Oni Dino is enjoying playing it with his husband on his fresh YouTube channel, Gayme Married.
11:17 – Adventure Log: Galen loves his Shlooter, Destiny 2. Oni is a big bully who picks on poor Galen with talks of microtransactions and predatory game mechanics.
24:47 – Breaking down why Fire Emblem: Three Houses is so damn good. Impressions on the dodgy visuals, and explaining why the gameplay loop is so satisfying. Plus, what's going on with that Byleth voice actor abusive controversy. And more Destiny chatter because we can't get away from it.
45:04 – Dragon Quest HERO in Super Smash Bros. Ultimate! And how Sakurai approaches creating new fighters' mechanics for the DLC.
55:35 – Nintendo Switch Online offering some new perks. Spirit Board Challenge Packs and Game Trials. Does this improve the system? What can be done to improve Switch Online? Galen has an idea for an incredible peripheral for new gaming experiences using old games on the Switch… it's so crazy, Nintendo would totally do it.
1:06:39 – Tencent and Nintendo hold a press conference at ChinaJoy to announce… almost nothing. Eh. Whattaya expect. Switch will release in China at some point. Then info that Ubisoft is making a Chinese Rabbids game, "Fengkuang Tuzi: Qiyu Paidui" aka "Crazy Bunnies: Adventure Party". And Oni does a little language and localization talk. And a brief chat about why people hate Rabbids so much.
1:12:36 – Additional DLC. Talk with your grandparents.
1:18:38 – Listener Mail: Our suggestions on the Final Fantasy series, Kingdom Hearts series, and getting into JRPGs. Where does someone start?
Additional DLC
Send us an email and we'll discuss it!
NintendoEverythingPod@gmail.com
#nintendopodcast #gamingpodcast #podcast
Oni Dino's YouTube "Gayme Married": https://bit.ly/2JK21xd
Listener Bonus: Help the show grow and support us by giving us ☆5 STAR☆ iTunes review! Thank you!
YouTube
Apple Podcasts / iTunes: https://apple.co/2xLl0C5
Spotify: https://spoti.fi/2Gdgoch
Direct Download
PocketCasts: https://pca.st/IQVa
Stitcher: https://bit.ly/30uxOZR
PlayerFM: https://bit.ly/2yfCu9P
ListenNotes: https://bit.ly/2SINTbG
PodTail: https://bit.ly/2yfDgDL
Nintendo Everything on Twitter: @NinEverything
Oni Dino's Twitter: @Oni_Dino
Oni Dino's Insta: Oni__Dino
Galen's Twitter: @mobius087
Galen's Insta: true_mobius
HUGE thank you to Headphones of Listening for NEP's intro music! Check him out on soundcloud!
News Links:
Leave a Reply