– gameplay in the style of a 2D Castlevania
– 8 different open-ended worlds
– 'Victorian Disney style'
– lots of pugs in the game (?)
– 2D animator that has worked on feature-length films (Space Jam, Balto) is on-board
– looking for a publisher
Unfortunately, Luc Bernard has confirmed that Eternity's Child on the DS has been canceled. On the bright side, the WiiWare version is still planned.

NDS Luminous Arc 2 – 20,000 (60k shipment)
WII Totsugeki!! Famicom Wars VS – 12,000 (BWii)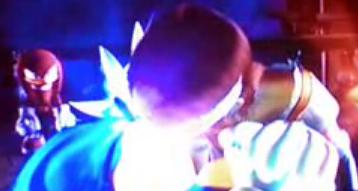 Some who unfortunately played through the Xbox 360 and PlayStation 3 versions of Sonic the Hedgehog not only sat through awful gameplay, but disturbing scenes as well. Oddly enough, one of these scenes actually involved Sonic kissing a human woman. Yeah, odd indeed. However, Sega promises that with Sonic Unleashed, Sonic will not be making out with any humans. Thank God.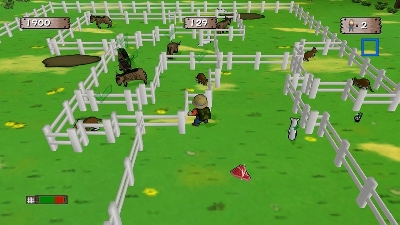 – Critter Round-Up
– Star Soldier R.
More games might be planned, but these two seem based on information from Konami and Hudson.

"We feel that games aren't something to be used as educational tools and from that respect they wanted to create something that was fun to play that was exciting. As far as [we're] concerned it's not really a risk because [we're] creating a fun game."
It's great to know that the developers of MadWorld are completely committed to the gaming experience. On the other hand, I do think games can be used for educational purposes if done correctly. Many people have caught on to the Brain Age (and brain games in general) craze, which is a good thing – Gaming needs all the support it can get!

Nintendo News

Celebrities Have Fun with Metallic Rose Nintendo DS

Nintendo is making Metallic Rose a regular part of the Nintendo DS™ color palette with the help of some celebrity spokespeople. Starting Monday, May 19, America Ferrera and Carrie Underwood will be featured in commercials for the Metallic Rose version of Nintendo DS. Metallic Rose debuted in late 2007 as part of a Nintendogs® bundle and will be available as a standalone hardware system at retailers nationwide late this month. Liv Tyler also will appear in Nintendo DS commercials that feature the two-toned Crimson/Black version.

Nintendo DS continues to add new games and applications that make it the system of choice for moms on the go, longtime gamers, kids and travelers. The newly launched Crosswords DS, for instance, offers a fun, pick up and play experience for everyone.

According to information from the independent NPD Group, in the United States Nintendo DS:

topped sales of 414,000 in April.
has sold more than 19.6 million since the system launched on Nov. 21, 2004.
has a library of more than 560 games.
has 18 games that have sold more than 1 million units in the United States, including New Super Mario Bros.

®

that has sold more than 3.9 million copies.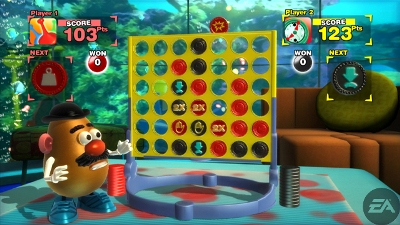 Guildford, UK. – May 16, 2008 – Join your host MR. POTATO HEAD for fun and games with family and friends like never before. From the Casual Entertainment Label of Electronic Arts Inc. (NASDAQ: ERTS) comes the fun-filled video game HASBRO FAMILY GAME NIGHT, launching Autumn 2008 on Wii™ and the PlayStation®2 computer entertainment system. Featuring six games including: BATTLESHIP, YAHTZEE, BOGGLE, CONNECT FOUR, SORRY! and the all new, SORRY! Sliders, HASBRO FAMILY GAME NIGHT is sure to become a valuable family favorite.

With the HASBRO FAMILY GAME NIGHT digital experience, families can enjoy familiar classic Hasbro board games or throw in a fun spin with new versions like CONNECT FOUR Power Chips, BOGGLE Portal Cubes, Reverse YAHTZEE and BATTLESHIP Barrage – which add fresh dimensions and challenges to these legendary favorites. Play with up to four people in YAHTZEE, BOGGLE, SORRY! and SORRY! Sliders or up to two players in CONNECT FOUR and BATTLESHIP.

Players can deck out their very own distinctive digital game room in HASBRO FAMILY GAME NIGHT by choosing a setting and adding earned trophies, cool furniture and decorations all themed to their favorite games. Not only can players customize where they play, but also how they play. HASBRO FAMILY GAME NIGHT features a party mode that gives players the option to build a custom party game by choosing their desired game(s), number of players and setting a time limit. Party mode mini-game challenges include Match the Pattern, Shake for Words and Bomb Run.

"We're giving families a new way to bond and play together," said Chip Lange, Vice President and General Manager of EA's Casual Entertainment Label. "HASBRO FAMILY GAME NIGHT offers parents and their children a digital party experience full of classic brands they know and love. Between original and new rule settings, an easy-to-play party mode and a customizable game room feature, the variety and choice promise hours of fun family play."

"HASBRO FAMILY GAME NIGHT is designed to bring family and friends of all ages together in the digital living room for an evening of 'anything goes' fun," said Mark Blecher, General Manager of Digital Media and Gaming at Hasbro. "Hasbro has been providing families with the best in game play for decades, and now they can enjoy some of our most beloved brands with an all-new digital twist."

"At the moment, we of course know that some people are strug… well, it's not that they're struggling, it's just that they don't like the system as it's set up at the moment. But at the end of the day, the system is manageable. I realize that some people would like to store everything in one place, for easy accessibility, which is understandable. For them, it would be more convenient to have more space. But having said that, I don't think that's the general feeling of most of the people. Most of the people are happy with what they have. Of course, we could increase our technology and add a hard drive, but then what we lose is simplicity and accessibility, which is one of the important things for us. We want our consoles to be easy to access and not cause headaches." – Laurent Fischer, NOE senior marketing director
Honestly, I don't see how anyone can say this. The only people who I can imagine would be happy with the lack of a hard drive are the people who do not buy many Virtual Console/WiiWare titles. With WiiWare, though, people are going to use up their flash memory – and fast. Even if adding a hard drive would mean the Wii would lose SOME accessibility, it is worth it, especially for Nintendo. Do they not realize how many peole are dying for a hard drive?!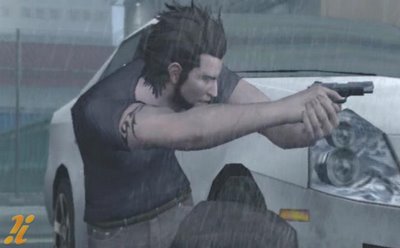 Disaster: Day of Crisis, one of the more "mature" titles heading to the Wii, has been pushed back in Japan. The game was originally scheduled to release in Japan July 3. Nintendo is extending the development period of Disaster so that the quality of the game can be improved. Of course, with this delay, Disaster no longer has a firm release date.
I'm just hoping that Disaster will be able to launch this year unlike countless other Nintendo titles that have met the same fate. If the game is planned to launch in the near future, however, it will probably be shown off at this year's E3.