Last week, Nintendo president Satoru Iwata stated that the next Zelda title for Wii will be released this year. While that still may be the case, don't expect the title to ship until it's perfect. That's what Reggie Fils-Aime, President and COO of Nintendo of America, had to say about Zelda Wii when he was asked about it on the latest episode of Nintendo Week. You can watch the entire interview on the Nintendo Channel, but we've posted Fils-Aime's remarks concerning Zelda Wii below.
"Right now, it's still in development, but the key message that Mr. Miyamoto and Mr. Aonuma is telling us is that it really has to be perfect when it launches. That really is what the Zelda fan is expecting. So for all those Zelda fans out there right now, what I would say is, enjoy Spirit Tracks and know that the Zelda title for Wii will come out when it's perfect."
Jan 11, 2010 – Nintendo UK announces a breakthrough partnership with Change4Life, the national campaign run by the Department of Health, to support and encourage families in changing to a healthier, more active lifestyle.

Creators of the smash hit home and handheld consoles, Wii and Nintendo DS, Nintendo has led the way in creating a brand new genre of active video games, a phenomenon frequently termed 'exer-gaming', making them an ideal partner to talk to families across the UK and promote Change4Life's 'Up and About' and '60 Active Minutes' messages.
Update: Strangely, the picture was replaced with the cover art for the upcoming issue. It's possible that the image was not supposed to be seen yet, or it's not an actual representation of the game. If need be, we may have to take down the shot included in this post.
In the upcoming issue of Nintendo Power, the magazine features an exclusive first look at NBA Jam for Wii, which was officially announced today. While much of the game is still shrouded in mystery, the eight-page article present in issue 251 will have some of the first gameplay details. The magazine should hit newsstands and mailboxes soon, but until then, you can take a look at the title's logo and get a first look at how the game will look above.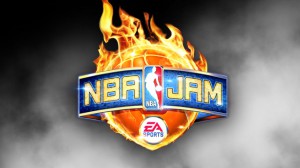 Available Same Week as the Highly Anticipated Film from 20th Century Fox

MINNEAPOLIS, Jan 11, 2010 – Activision Publishing, Inc. (Nasdaq: ATVI) announced today the February 9, 2010 release of Percy Jackson & The Olympians: The Lightning Thief, the Nintendo DSTM video game based on Disney-Hyperion Books' best-selling fantasy novel and highly anticipated film from 20th Century Fox. The video game is a tactical role playing game for Nintendo DSTM that puts players in command of Percy Jackson and his fellow demigods as they battle for survival in a world ruled by vengeful Greek gods.

Percy Jackson is the son of Poseidon, god of the sea, who is in great danger because of jealousy and fear of his powers and heritage. Players in Percy Jackson & The Olympians: The Lightning Thief will adventure across America in search of Zeus' master lightning bolt while assembling their best fighting team to go head-to-head against ruthless enemies. Joining Percy are his friends Annabeth and Grover, and plenty more allies each with his or her own "godly" abilities and battle advantages. Planning which team member to take into battle is key to survival – lots of opportunities exist in the game for different characters' abilities to interact with one another, and for characters to boost each other's effectiveness.
New Take on Classic Game to Appear on the Wii in 2010
GUILDFORD, UK,. – 11th Jan, 2010 – Electronic Arts Inc. (Nasdaq: ERTS) announced today that EA SPORTS™ is developing one of the most popular and culturally influential arcade basketball games ever made — NBA JAM — for the Nintendo Wii™. EA SPORTS NBA JAM revives the classic franchise with vintage NBA JAM gameplay, and all-new features that deliver a fresh new take on the game. Featuring the sights and sounds that fans of the franchise will instantly recognize, EA SPORTS NBA JAM mixes the old school with the new, to deliver a one-of-a-kind sports presentation on the Wii.

"NBA JAM is one of the most recognizable franchises in videogame history," said Peter Moore, President, EA SPORTS. "Diehard fans of the original game have been asking for a remake for more than a decade. We're very excited to give them their wish this year with the return of this iconic franchise."
This information comes from the latest issue of the Official Nintendo Magazine…
"I think MadWorld was very well received and was acknowledged for its innovative graphical style and gameplay. We would definitely be interested in making a sequel in the future." – Shigenori Nishikawa, director of MadWorld
Nishikawa also had some kind words for the Wii in general, noting that it is "a very well-balanced piece of hardware." It definitely seems like Platinum Games would like to continue working with the Wii in the future. How many of you would like to see a MadWorld sequel?
For more than a decade, millions of Pokémon™ fans around the world have enjoyed training their Pokémon within their video games. The March 14 release of the Pokémon™ HeartGold Version and Pokémon SoulSilver Version games lets players continue to enjoy the world of Pokémon away from their Nintendo DS™ or Nintendo DSi™ systems, taking their favorite Pokémon with them wherever they go with the new Pokéwalker™ accessory. This new accessory will come included with each copy of these games.

In Pokémon HeartGold and SoulSilver Versions, players can wirelessly transfer any one of their Pokémon from one of the two games to the Pokéwalker and walk them through virtual routes as the player walks around in real life. By walking, players earn Watts, which are used within the Pokéwalker to encounter and catch wild Pokémon or search for hidden items, and can be transferred into Pokémon HeartGold and SoulSilver Versions to unlock new routes. There are even special versions of certain Pokémon that can only be found within routes on the Pokéwalker, giving players added incentive to keep their Pokémon with them wherever they go. The Pokémon in the Pokéwalker will gain experience points as the player walks, and can even go up one level when they are transferred back into the game. Players also can wirelessly connect two Pokéwalkers to trade items.