Note: This is just a summary. Naturally, there have been some parts of the podcast that have not been included and there may be minor errors. Listen to the podcast here for all that was said.
DS rumors
– Nikkei spilled the beans on the potential of a future Nintendo DS
– Rumors have always been out there, but Nikkei is like the Wall Street Journal of Japan, so when they say something, you kind of listen.
– Updated version of Nintendo DS, adding a second touch screen, bigger screens SD card and mp3 support. Suggested faster Wi-Fi and alluded that Nintendo wants to have more connectivity like Safeco Field
– Also saying there's a camera, Craig says the camera could also be used at the Wii's i-Toy.
– Another theory from Craig: Save files off the Wii to the DS -> Wii's storage solution. Bozon also thinks they'll open up the SD card, like what Vicarious has been doing.
– Backward compatibility could be a problem with bigger screens
ORBIENT
– Orbient – grow big enough to attract the sun of each solar system, use bigger plannets to sling-shot yourself around
– Control with A + B buttons – Attract and repel
– Figure out how to use the momentum + gravity of the planets
– Can see where the repel and attract is coming from (gravity) – Can orient yourself better
– Based around the same levels, more hazards in the way
– Craig's going to give it an editor's choice, Matt's enjoying the game
– Simple and cheap
– Matt was surprised to see a WiiWare game published by Nintendo

Bomberman Blast
– Daemon thinks it's good, it's a lot like Bomberman Live on XBLA
– Bozon wishes there was a completely top-down mode or more top-down
– Online is really fun, runs smoothly
– Get docked like a 1000 points for disconnecting online
– No costumes from 360 versions, can use your Mii locally when you play through the 11 maps
Sonic Chronicles
– Bozon isn't a fan of the game
– A lot of fetch-quests
– Environments relatively small and you're locked into them for a long time
– Walking around and retracing areas, enemies low-level but will still attack aggressively
– Not a crap-game but Bozon thinks only the hardcore Sonic fans will look past the fact that it isn't a good core RPG game
– Visually looks good
SimCity Creator
– Had all of the parts in place but the control scheme wasn't great
– Sim designs from MySims used to try to give the game personality but Daemon thinks it's actually obnoxious
– Controls really hurt the game, nunchuck isn't used
– Developers nailed the game from a technical standpoint
– Brothers in Arms – Matt says make sure you don't buy that game. Bozon says Far Cry even has better controls than the game.
– Line Rider 2: Unbound basically like the DS + PC games. The things that are good + bad about those games apply to Unbound
Reader Questions
– Video games don't have long shelf-life, especially compared to DVDs. If a game is worth reprinting again, it'll happen.
– Chances of Sega putting 32X and Sega CD games on the VC – Matt wouldn't rule it out, there's a possibility that it can be done.
– No one on the Nintendo Team isn't sure what Nintendo's event is going to be about. Matt thinks maybe we'll hear some DS news, Disaster and Fatal Frame for North America. Wii Music and Animal Crossing pretty much guaranteed. Matt thinks it'll be good but not epic. Under embargo until next week, will be able to live-blog the first hour or so of the presentation.
– When you plug in MotionPlus you DO NOT lose the option to use the nunchuck
– Craig is hoping that Nintendo will bring all the Bit-Generation games to WiiWare, Nintendo Puzzle collection and Doshun the giant
– Not a high chance that third-party games will use WiiSpeak in 2008
– Nintendo Team is getting new playable levels of The Conduit tomorrow
– Maybe about a thousand or so of the Twilight Princess trailer carts from previous E3 out there
– IGN Wii playground will start happening again
– de Blob DS game probably won't launch until next year
– Bozon isn't sure where he died the most in Mega Man 9
– Everyone agrees that achievements on Wii would be a good thing
– Excitebike 64, Pilotwings would both be good choices for the 300th VC game
– IGN Nintendo Team isn't getting motion sickness from de Blob
– Reason why Nintendo Team doesn't like simple button controls being replaced with waggle: it's unnecessary, doesn't make it fun

"The Wii version is running late production wise and it will not ship at the end of next month with the other SKUs. There are some improvements from the PS2, in particular the control mechanisms with the Wiimote, but It is true that there is no online play." – Christian Svensson, Corporate Officer/VP of Strategic Planning & Business Development
I don't really see how the lack of online play in the Wii version can be defended here. Both the PS3 and 360 versions of MotoGP 08 obviously have the feature included, with the only other console joining the no-online party is the PS2. To add insult to injury, MotoGP 08 for Wii isn't even shipping in line with the other versions of the game. What's a Wii owner to do?!


Is it time you made a few new additions to your music library? With so many top tracks out there that are worthy of a place on your personal playlist, it's essential to have easy access to the songs you want, when you want them.

From today, there's a new way to download music that lets you trade in your Club Nintendo Stars for songs. Nintendo has teamed up with EMI to offer music downloads in exchange for your Stars through the Music Voucher Shop.

By using Stars to purchase vouchers for a single track, two tracks or a whole album, you can convert your Club Nintendo credit into the music you love and download it to enjoy whenever you like.

Click here to visit the Music Voucher Shop and start swapping your Stars for songs!


"The Nikkei newspaper wrote a recent story about a DS solely based upon their own research and speculation, without interviewing Nintendo. While Nintendo is always working on new hardware, we have not made any announcement about a DS and we cannot comment on the Nikkei story." – Nintendo of America statement
"Nintendo has made no such announcement and will not comment on rumour and speculation." – Nintendo UK statement
Statements from three different territories have come to light as of now, with Nintendo of Japan's comments earlier this morning. The general idea that Nintendo seems to be trying to provide is that they simple won't comment because no announcement has been made. The Nikkei portion of the NOA statement is interesting, however. How reliable is Nekkei's source considering Nintendo was never approached?

Feel Like You're Really Farming With the Nintendo Wii Remote!

Burlingame, Calif., September 29, 2008 – Natsume, a worldwide developer and publisher of family-oriented video games, announced today that Harvest Moon: Tree of Tranquility for the Nintendo Wii has officially shipped to retail for an MSRP of $49.99. The launch continues the ten-year anniversary celebration of the popular Harvest Moon franchise. The ten-year commemoration includes special anniversary packaging, various retail promotions with special collectible pre-order plush toys, an exclusive 10th anniversary DS Lite Kit, strategy guides, and many more specialty items.

"We are proud to release Harvest Moon for the first time on the Nintendo Wii platform," said Hiro Maekawa, President and CEO of Natsume. "With the new setting, characters, motion-sensitive controls, and the most refined gameplay yet, we're sure that both Harvest Moon fans and new players alike will be delighted with Harvest Moon: Tree of Tranquility."

Long-time Harvest Moon fans as well as new players will find an exciting, involving storyline and plenty of activities to experience, including cultivating crops, caring for animals, and participating in festivals.

Players Can Now Bomb It Up Against 8 Players With Online Multiplayer Combat And Mii Support

REDWOOD CITY, CA – September 29, 2008 – Hudson Entertainment, the North American publishing arm for HUDSON SOFT, today announced the official launch of Bomberman Blast, an all-new Bomberman available for digital download on WiiWare for the Wii. Retaining many of the classic features that fans of the award-winning series have come to love, such as online multiplayer battles and numerous arenas, Bomberman Blast also incorporates exciting new gameplay elements like Mii support and 8-person online play.

"We are thrilled to deliver Bomberman Blast to the WiiWare gamers,"
said Sabine Duvall, Vice President of Product Development at Hudson Entertainment. "Hardcore fans and casual gamers alike will enjoy this new rendition of classic Bomberman created specifically for play on the Wii with three new Wii-specific items and Miis."

Bomberman Blast features 3 new shake-it-up items specifically created for play on the Wii. Each of these new items can be used by shaking the Wii Remote to add an entirely new aspect of play to multiplayer Bomberman battles. Players can use the Bomb Change to disguise themselves as a bomb, the Rocket to jump up high in the air to avoid bomb blasts and the Shield to block bomb blasts as long as they keep shaking the Wii Remote.

Director/Story: Keiichi Ono
Lead Design: Koh Kojima
Lead Level Design: Koji Hayashi
Lead Battle Design: Takaaki Kodera
Lead Car Action Design: Hiroshi Yoshida
Cinematics Director: Norihiro Takumi
Character Design/Production Design: Yohei Kikuchi
Composer: Yoshihiro Ike
Executive Producer: Hirohide Sugiura
Now, here's the interesting part: Disaster also seems to be running on nFactor2, which iNiS was showing off at one point for the Xbox 360.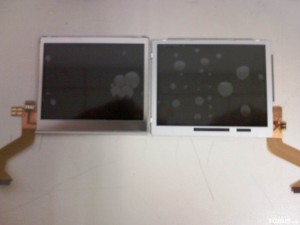 Update: The image posted before was actually a picture of the DS Lite's screens. I've edited in a new picture, and supposedly the image above is what the screens will look like.
Obviously, this picture doesn't look to be the whole DS pieced together…Just part of how it looks, meaning the screens. I'm still slightly skeptical that Nintendo even has a new DS in store. Would they really be willing to release a new product despite successful sales with the DS Lite?