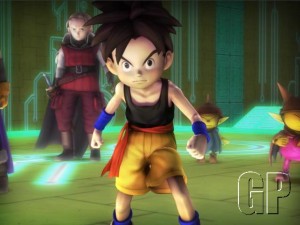 Glendale, CA – September 16, 2008 – Ignition Entertainment Ltd., a UTV Enterprise, a worldwide publisher and developer of videogames, in conjunction with AQ Interactive invite gamers around the world to "Awaken the Power Within" when Blue Dragon Plus for Nintendo DS™ breathes fire across North America and Europe in March 2009.

Directed by Hironobu Sakaguchi, Blue Dragon Plus features character designs by Akira Toriyama, and a soundtrack by Nobuo Uematsu.

Currently a top-rated show on Cartoon Network in the U.S., the story of Blue Dragon centers on a young boy named Shu and several of his friends who possess the ability to control phantom shadows that mirror the actions of their masters. In Blue Dragon Plus, one year has passed since Shu and his companions defeated the tyrannical remnant of the Ancients, Nene. In the midst of the battle, the world split in two and now consists of a myriad of "cubes" that exploded from its depths. King Jibral notices a mysterious cube in the distance suddenly start to move violently, and from it he sees the Shadow of a Balaur, a three-headed dragon, emerge. The enormous and sinister Shadow is just the beginning of the new turmoil and devastation to come.
Castlevania: Order of Ecclesia
– Release date: October 21, 2008
– Platform: Nintendo DS
Castlevania: Judgment
– Release date: Fall 2008
– Platform: Wii
Pro Evolution Soccer 2009
– Release date: November 11, 2008 (Wii™ Coming in 2009)
– Platform: Xbox 360/PLAYSTATION3/PlayStation2/ PSP(PlayStationPortable)/PC
DanceDanceRevolution Hottest Party 2
– Release date: September 16, 2008
– Platform: Wii™
DanceDanceRevolution® Universe 3
– Release date: October 2008
– Platform: Xbox 360®
DanceDanceRevolution® X
– Release date: September 16, 2008
– Platform: PlayStation®2
Rock Revolution™
– Release date: Fall 2008
– Platform: Xbox 360®/PLAYSTATION®3/Wii™/Nintendo DS™
Karaoke Revolution® Presents: American Idol® Encore 2
– Release date: Winter 2008
– Platform: Wii™/PLAYSTATION®3/Xbox 360®
Winx Club™: Mission Enchantix
– Release date: November 4, 2008
– Platform: Nintendo DS™
Lost in Blue Shipwrecked
– Release date: September 23, 2008
– Platform: Wii™
Silent Hill®: Homecoming
– Release date: September 30, 2008
– Platform: Xbox 360®/PLAYSTATION®3
Elebits: Adventures of Kai and Zero
– Release date: Q1 2009
– Platform: Nintendo DS™
Disaster: Day of Crisis has been given official release dates in Japan and Europe, but strangely, the gamers of North America have been left clueless when Monolith's title will launch. However, rumor has it that Disaster will be available in North America this November. The gossip comes from Nintendo Power's 20th anniversary event, in which one partygoer was approached by a staff member of newsarama.com. If this story is to be believed, the newsarama staff member told the person attending Nintendo Power's event that, although Nintendo has yet to announce a release date for North America, he can "guarantee" that Disaster will launch this November.
I honestly don't think that anyone should take this rumor seriously. First off, the story easily could have been fabricated, hence why you should take this rumor with a huge grain of salt. Also, I question (if the story is even true) what sources are available to newsarama to back the claim up. But remember: This is a rumor, so you never you know what will happen! I'd be completely satisfied with a November release date if it were true.

DERBY, ENGLAND, September 16th 2008 – Following on from its debut on Xbox Live Arcade, Pinnacle Software are excited to announce that it has teamed up with the game's original developer, Derby based Strawdog Studios, to bring an all new definitive version of arcade action game Geon to Wii™ in February 2009.

Developed specifically for the Wii with a plethora of brand new gameplay features and enhancements, Geon is a fast paced arcade action game played in an energised geometric grid environment. Playing as a 'Geon' cube, players frantically race against up to three other opponents to collect pellets and deposit them in the opponent's goal to score. At the same time players fight desperately to prevent their opponents from scoring by the tactical use of eight different powerballs including 'Rage' which lays down a layer of spikes that can block an opponent or trap them, and 'Greed' which sucks up pellets enabling the scoring of a fast goal. All of the powerballs significantly alters the ebb and flow of each game and allows each player to develop their own unique strategies in their quest to be the first to score five goals and win the game!

Geon features a variety of single player and multiplayer modes including Duel Career Mode where your aim is to progress to the top of the four Geon leagues, or Duel and Time Attack modes which features 16 and 32 unique grids respectively and where mini games can be unlocked along the way. Alternatively take on your friends in two or four person split screen multi-player battles to become the undisputed Geon master!
Spectacular, Star-Filled Display Will Be Visible From Earth at Select Locations
WHAT:
Authorities at Nintendo are forecasting an extraordinary celestial event this season. Expected to be visible on Sept. 18, this eye-popping occurrence will be best viewed from a handful of specific U.S. locations (see below). Experts are still deliberating over the scientific significance of this rare phenomenon, but evidence points clearly to the reemergence of a luminous entity that citizens from all walks of life will appreciate.
WHO:
Fun-seeking families and anyone who loves a spectacular event
WHEN:
Thursday, Sept. 18, 2008
Peak Viewing Hours:
8:30 a.m. – 12:30 p.m. C.D.T.
9:30 a.m. – 1:30 p.m. E.D.T.
WHERE:
Optimum viewing locations are as follows and within a one-mile radius:
— Kirby Middle School – 1328 28th Street, Birmingham, AL 35234
— Kirby Historical Mill – 275 Church Road, Medford, NJ 08055
— Kirby Park – 301 Northampton Street, Kingston, PA 18704
— Kirby Gate Shopping Center – 6548 Quince, Memphis, TN 38119
VISUALS:
— A luminous spectacle that onlookers from coast to coast will be talking about
INTERVIEW OPPORTUNITIES:
— A Nintendo authority will be available for interviews at Kirby Middle School in Birmingham, AL
Theme Parks' Guests to Experience Wario Land: Shake It!'s Game-Play Features and Compete for Prizes

REDMOND, Wash.–(BUSINESS WIRE)– Nintendo and its favorite antagonist, Wario™, have teamed up with Six Flags to take over 10 theme parks throughout the country this September. In celebration of the release of Wario Land™: Shake It!, the new game for the Wii™ console, Nintendo will be giving park guests the opportunity to check out the game and win prizes.

Wario Land: Shake It! plays like a classic side-scroller, but incorporates motion-controlled elements: Players shake the Wii Remote™ controller to help Wario shake down enemies for coins or tilt it to help him decide where to toss them. The game launches exclusively for Wii on Sept. 22.

"Wario Land: Shake It! is a game that everyone from veterans to newcomers can enjoy," said Cammie Dunaway, Nintendo of America's executive vice president of Sales & Marketing. "Partnering with Six Flags to bring the title to theme parks nationwide is a great opportunity for consumers to experience the game and rediscover the franchise at a place that is designed for fun."
1. Final Fantasy XIII (PS3, Square Enix)
2. Dragon Quest IX (NDS, Square Enix)
3. Biohazard 5 / Resident Evil 5 (PS3, Capcom)
4. Dragon Quest VI (NDS, Square Enix)
5. Super Robot Tais Z (PS2, Namco Bandai)
6. Monster Hunter 3 (Wii, Capcom)
7. Chrono Trigger (NDS, Square Enix)
8. The Last Remnant (PS3, Square Enix)
9. Final Fantasy Versus XIII (PS3, Square Enix)
10. Pokemon Platinum (NDS, Pokemon)
11. Animal Forest (Wii, Nintendo)
12. Dissidia Final Fantasy (PSP, Square Enix)
13. Grand Theft Auto IV (PS3, Capcom)
14. Star Ocean: The Last Hope (X360, Square Enix)
15. Tales of Hearts (NDS, Bandai Namco)