Fans of Nintendo's Animal Crossing™ franchise are some of the most loyal in the world. To reward them for their devotion to these community-building games and to get players fired up for the Nov. 16 release of Animal Crossing™: City Folk for Nintendo's Wii™ console, Nintendo is hosting an outrageous animal costume contest.

Critter lovers can show their creativity by submitting the most original images of animals dressed in costumes or even as characters from the hit video game franchise Animal Crossing. The entrants of the top 50 photos in the "Animal Crossing Welcome Waggin' Costume Contest" will win membership to the exclusive Welcome Waggin' Committee. All committee members will receive a Wii video game system, a copy of Animal Crossing: City Folk, a Wii Speak™ microphone, access to exclusive information about the game and more.
It's a rockin' week at the Wii™ Shop Channel, featuring fresh additions to two hot WiiWare™ game series, plus a character-driven classic for the Virtual Console™. Fans of Strong Bad's Cool Game for Attractive People will find an awesome new installment, while those who've discovered Nintendo's extraordinary Art Style™ series will discover an elegant new puzzle title to enjoy. And if you've got room in your game library for a heroic earthworm, don't miss the Wii debut of the legendary Earthworm Jim™.

Nintendo adds new and classic games to the Wii Shop Channel at 9 a.m. Pacific time every Monday. Wii owners with a high-speed Internet connection can redeem Wii Points™ to download the games. Wii Points can be purchased in the Wii Shop Channel or at retail outlets. This week's new games are:
Monster Jam Urban Assault will be out next week for the Wii, DS, PSP and PS2. We've compiled the info on the various gameplay modes and listed them below. With trucks like King Krunch, Grave Digger, Backwards Bob and El Toro Loco tearing through various cities.

The latest Monster Jam promise? UTTER CHAOS!!!

Championship Mode:
Level – Smasher
• Objective: Cause as much destruction as possible. The more expensive your demolition becomes the higher your score!
• Number of tracks: ten – three Air Strike, seven Devastator events
• Typical layout of tracks: Each track has a wide range of different destructible objects. Players can destroy statues, cars, construction equipment, and may more objects. The outdoor event centers have a set number of three attempts and are not timed. Players can choose from five different ramps, each with varying heights giving players the chance to rack up some serious airtime. The points earned during each of the three tries are added together and make up the total score for the course.
– World Destruction (NDS, Sega): 80,377 units sold
Release: 09/25/08
– Wii Sports (Wii, Nintendo): 3,151,793 units sold
Release: 12/02/06
– Mario Kart DS (NDS, Nintendo): 3,220,432 units sold
Release: 12/08/05
– Disaster Day of Crisis (Wii, Nintendo): 21,464 units sold
Release: 09/25/08
– New Super Mario Bros. (NDS, Nintendo): 5,291,737 units sold
Release: 05/25/06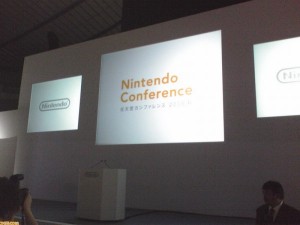 The future is anything but bleak as far as Nintendo gaming goes. Wii and DS owners can look forward to The Conduit, Punch-Out, Sin and Punishment 2, Fire Emblem: Shadow Dragon, and a few dozen other titles over the next few months. After E3, however, the months ahead did not look so bright. Even though E3 was no longer the beast it used to be, and in spite of the fact that the summit has lost much of the glory and flare that it's been known for, hardcore gamers had very high expectations in terms of Nintendo's conference. Regrettably, the company's entire event was, more or less, a big letdown. It wasn't until this October, with two separate conferences in Japan and North America that Nintendo was redeemed in the eyes of their fans. The company had a complete turnaround and more than made up for their mistakes at E3. Below are just a few of the reasons that Nintendo's October conferences, well, to put it bluntly, kicked the crap out of E3.
Game montages/trailers
Video montages/trailers of Wii and DS titles were pretty much absent from Nintendo's E3 media briefing this year. It is unfortunate that the company largely ignored video content, as visual representation of games could have definitely complimented some of Nintendo's scarce announcements by adding some actual substance to their media presentation. In Japan this month, new trailers of highly anticipated titles such as Monster Hunter 3 and Dragon Quest IX were shown (although in private), while montages of DS and Wii games were on hand as well – both of which included fresh footage of titles. Visual pizzazz is more than appreciated by gamers at conferences to help break up sales-talk monotony and to give fans something to drool over and analyze for a few months while they wait for new products. Please Nintendo: At your next E3 conference, show us game montages or trailers in order to temporarily satiate our gaming appetites.
One aspect that I pointed out I wish to improve upon over the next few months/years of the website is to increase the amount of original content that goes up on the site. It's been awhile since I've done 3D images, let alone an article. So that will be changing, starting today. Over the next few weeks, on the weekends, I'll be posting original content that isn't news related. It might be an article, it might be a review, or it might be something else. You'll just have to check back in and see!
Anyway, I'll have the first non-news post up later today. Please be sure to check out our anniversary post in case you missed it and read up on the new site redesign.
Circuit City
My Sims Kingdom (Wii) – 10 free character trading cards with purchase
New Super Mario Bros. (DS) – $24.99
Save $10 plus free headphones with purchase of Guitar Hero: On Tour for DS
1. Final Fantasy XIII (PS3, Square Enix)
2. Dragon Quest IX (NDS, Square Enix)
3. Biohazard 5 / Resident Evil 5 (PS3, Capcom)
4. Dragon Quest VI (NDS, Square Enix)
5. Monster Hunter 3 (Wii, Capcom)
6. Chrono Trigger (NDS, Square Enix)
7. The Last Remnant (PS3, Square Enix)
8. Final Fantasy Versus XIII (PS3, Square Enix)
9. Animal Forest (Wii, Nintendo)
10. Dissidia Final Fantasy (PSP, Square Enix)
11. Star Ocean: The Last Hope (X360, Square Enix)
12. Ryuga Gotoku 3 [Yakuza 3] (PS3, Sega)
13. Layton Kyouju to Saigo no Jikan Ryukou (NDS, Level 5)
14. The Last Remnant (X360, Square Enix)
15. White Knight Chronicles: Inishie no Kodou (PS3, Sony)
The official word regarding the latest Wii system update and the Homebrew Channel is in. Those interested in adding the channel to their Wii might want to think twice before updating their system, as the latest update causes installation processes to fail. Although the newest firmware apparently has no effect on existing homebrew data, it will be impossible for new users to install the channel with the latest update. Unfortunately, the update is mandatory in order to access the Wii Shop Channel.
On the bright side of all of this, faster loading times with the Wii Shop Channel have been reported and the creators of the homebrew channel will undoubtedly discover or invent a workaround as they have done previously.