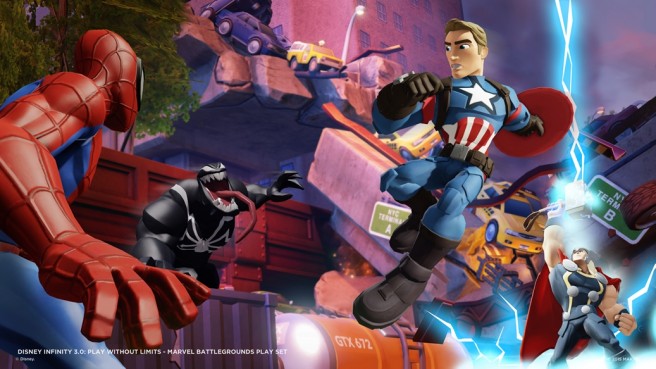 During a panel at the New York Comic-Con this weekend, the first actual gameplay from Disney Infinity 3.0's upcoming Marvel Battlegrounds Play Set was shown. We recorded the footage and have it below.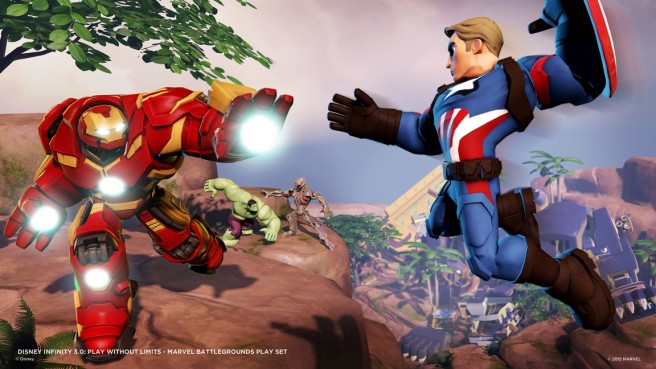 Today, Disney Interactive shared the first details about the new Marvel Battlegrounds Play Set for Disney Infinity 3.0.
The Play Set will offer a new four-player, arcade brawler style of gameplay plus an original Marvel storyline. All Disney Infinity Marvel characters will be compatible.
Marvel Battlegrounds features Hulkbuster, Ultron and Captain America – The First Avenger, a new version of Captain America with a new pose, costume and enhanced abilities. Characters in the Play Set will make use of udapted abilities and skills to complement the new style of gameplay of Marvel Battlegrounds. We'll also be hearing about more Marvel Battlegrounds figures "in the coming months."
Here's an overview of the plot:
"In the original storyline, Ultron teams up with Loki in an effort to steal Asgard's immensely powerful Infinity Stone. To accomplish this, Ultron and Loki create robotic replicas of the famed Marvel Super Heroes and turn them against each other in an effort to distract them while they commit their crime. The Marvel Super Heroes duplicates battle each other in iconic environments such as a wrecked Brooklyn train yard, Wakanda and S.H.I.E.L.D's Lunar Base, culminating in a universe-shaking battle against Ultron."
Disney Infinity 3.0's Marvel Battlegrounds Play Set will launch in March 2016. Watch an official trailer below.
Source: Disney Interactive PR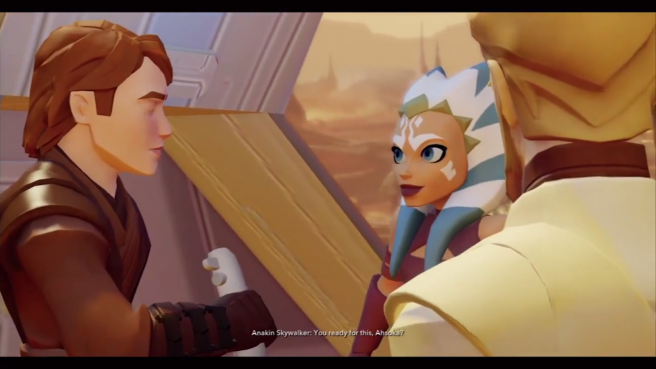 NintenDaan has taken another look at Disney Infinity 3.0 – the Star Wars "Twilight of the Republic" play set specifically. Check out the video below: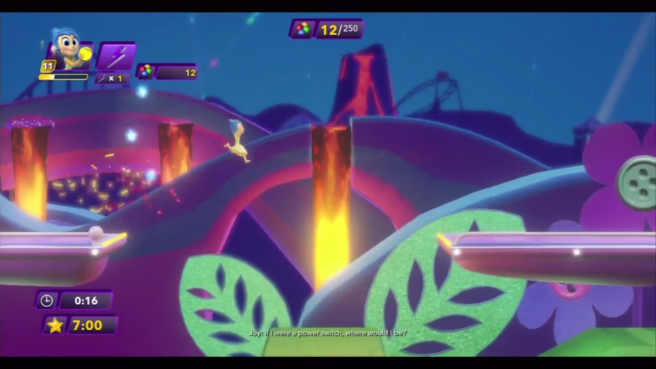 Check out some footage from the Inside Out section of the latest Disney Infinity game, courtesy of NintenDaan: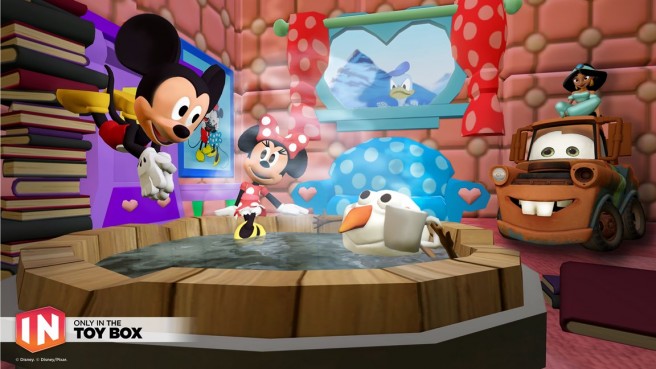 Game Informer posted a video containing 24 minutes of footage from Disney Infinity 3.0. Take a look at it below.