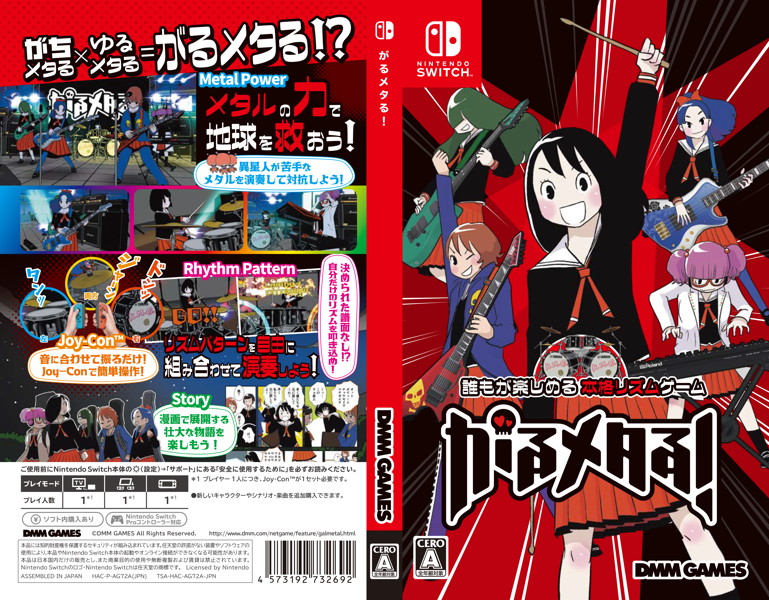 DMM Games has posted the official boxart for Gal Metal. Have a look at the packaging image above.
Publisher DMM Games has announced that Gal Metal will launch on the Switch in Japan on February 8 next year. The drum-focused rhythm game, which was revealed at TGS in September, is only getting a Japanese release at this point, but since the Switch is region-free, anyone who's interested in the game can just access the Japanese eShop to buy the game once it's out. Gal Metal will cost 4,980 Yen.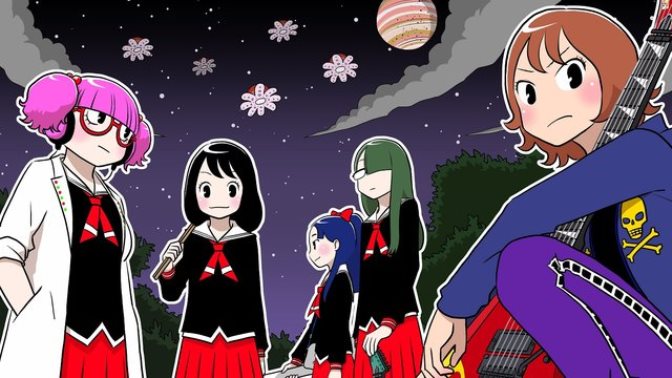 The official website for Switch's new rhythm game Gal Metal opened today. Gematsu translated details about the characters and gameplay from the site, which we rounded up below.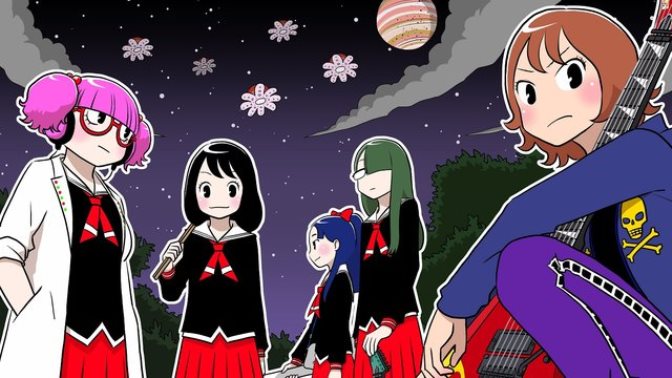 At TGS, The Famicast got a look at Gal Metal with some off-screen footage and also spoke with developer Tak Fujii. Take a look at the video below.
Following its recent reveal in Famitsu, Gal Metal is being properly shown at the Tokyo Game Show this week. Famitsu has a report on the game, including fresh details.
Here's the latest information: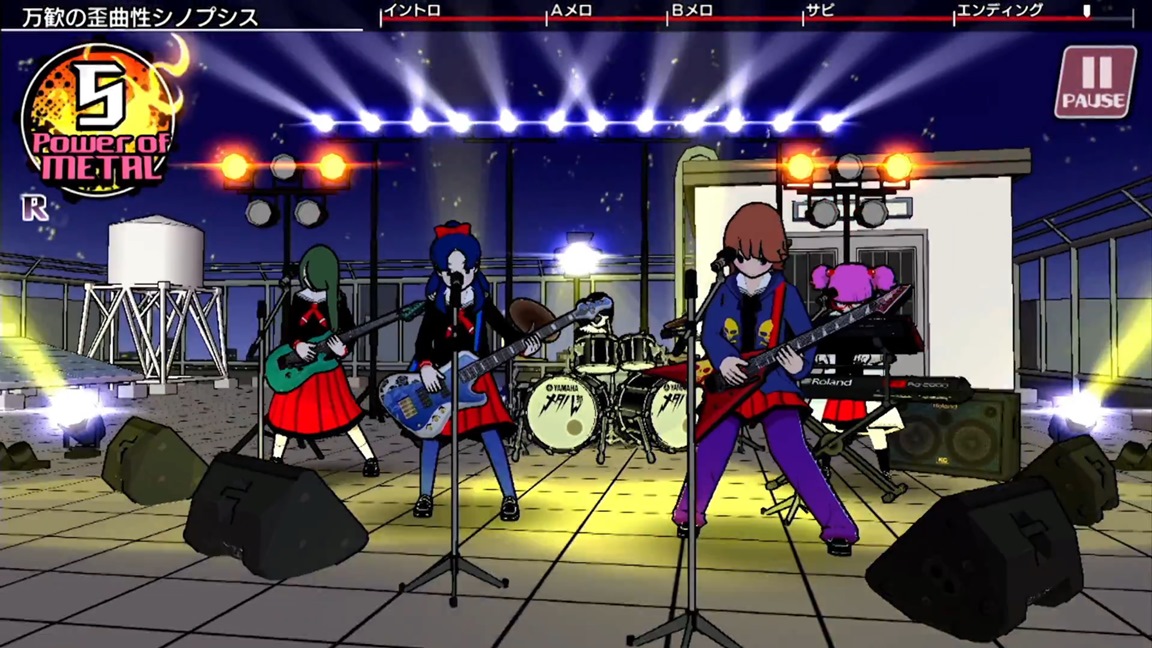 DMM Games released the first trailer for Gal Metal, the new rhythm game for Switch from developer Shuuhou Imai. View it below.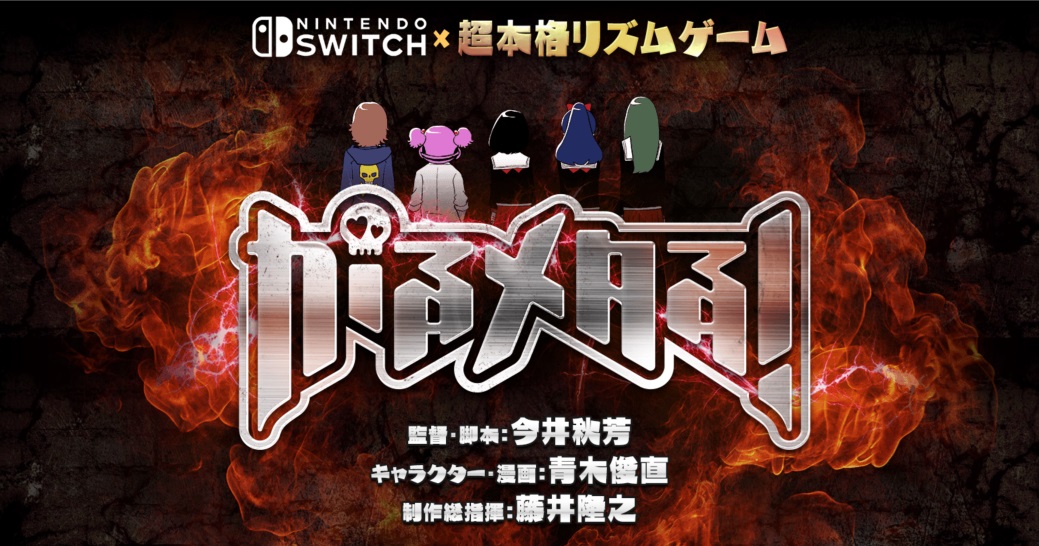 First announced in Famitsu this week, Gal Metal has received its first teaser, posted below. The new teaser website is also open here.
Gal Metal, an upcoming rhythm game for Switch, will be featured at Tokyo Game Show later this month. DMM Games will have an update on September 21 at 11:30 JST.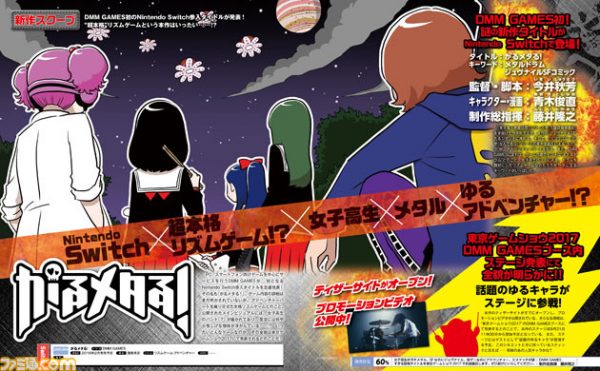 The latest issue of Famitsu has announced a new rhythm game coming to Switch: Garu Metal. Combining elements of both music and adventure games, it's described as "sci-fi, yet juveline" and features "hardcore metal" high school girls".
Further details are sparse at the moment, but the staff involved in this are worth mentioning. The game's scenario and supervision comes from Shuuhou Inai, who previously worked on the Tokyo Majin Gakuen series and Mato Kurenai Yuugekitai. The character design is being done by Toshinao Aoki, who has worked on some anime projects like the recent Kimi no Koe wa Todoketai and also did illustrations for some Pokemon TCG cards in the past. The game's executive producer is the legendary Tak Fujii, who we haven't heard a whole lot from ever since he left Konami in 2014.
The game will be on display at Tokyo Game Show this year, so expect further details then.