IGN published a new article about IronFall: Invasion, and it contains a few details about the game. Find the information rounded up below.
– Has Gears of War's sticky cover and active reload
– Enemies will pop in and out of cover while trying to flank you
– Campaign and wave-based co-op mode has only shown one enemy thus far
– It's a rifle-wielding enemy
– Uses the New 3DS' c-stick for aiming
– Can adjust speed settings for aiming
– Cut-scenes show two separate characters' POVs during cutscenes on the top and bottom screens
– Flickering hallway lights affect the hero character Jim in real time
– Early in the single-player story, Jim gets too close to a bomb detonation, causing disorientation in the form of a wobbling camera and frantic blinking during his recovery
– 60 frames per second with 3D off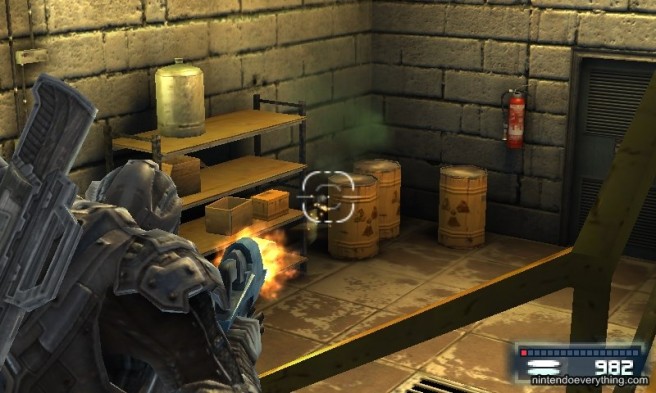 VD-Dev has been keeping quiet about IronFall over the past few months, but that should be changing within a matter of weeks. The studio confirmed to us that a gameplay video will be released before April arrives.
VD-Dev also spoke with us about the extensive work it has been implementing in IronFall's AI system. The team restarted its code from scratch because it wasn't satisfied with the original version.
According to VD-Dev's Fernando Velez, as a general rule, code is redone until they are completely satisfied "no matter how long it takes". The second version of IronFall's code should bring "AAA AI to the 3DS".