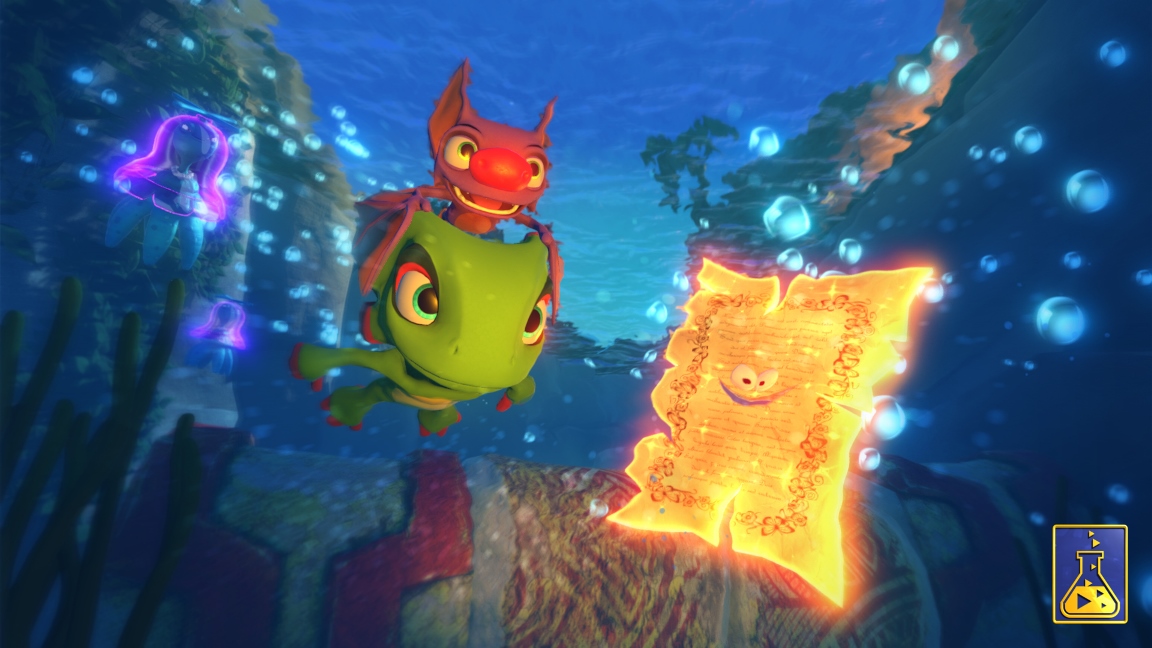 Playtonic has come out with the very first trailer for Yooka-Laylee, which you can watch below. The video confirms a new launch timing of Q1 2017. The game was originally planned for release this October.
Playtonic shared the following regarding the delay:
While we felt confident we could ship the game in October as originally projected in our Kickstarter, the Playtonic team has decided that it would prefer to add a few extra months' polish to the game schedule.

Ultimately, this will allow us to deliver a better game to the tens-of-thousands of you who've supported us throughout development. And that's what we all want, right?

We're sure some will be disappointed by the prospect of a few extra months' wait, however the team is confident that we've made the right decision for the game and that you'll be pleased with the results when Yooka-Laylee arrives early next year.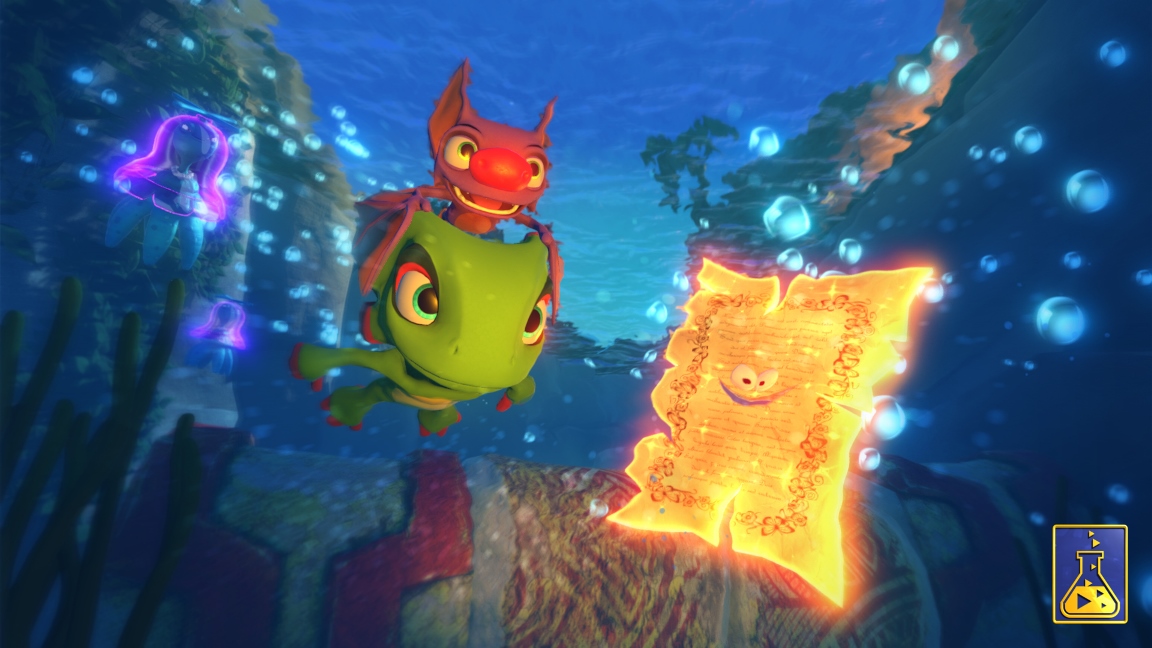 EDGE has a lengthy feature on Yooka-Laylee this month. There's talk about developer Playtonic, and plenty on the game itself.
One point brought up early on is that Yooka-Laylee felt "almost unrecognizable from the footage that convinced so many to part with their money." The two main characters are essentially the same. However, EDGE says that "their world is a very pleasant surprise – significantly more substantial than we'd anticipated, with a scale and a level of detail belying the size of the team making it."
Yooka-Laylee takes plenty of cues from the 3D platformers of old on the N64. Just like with Rare's classic games, this one will feature spoken gibberish for the characters. It took director Chris Sutherland and composer Grant Kirkhope some time to remember how to come up with these sounds, with Sutherland noting that the team "spent a lot of time trying to figure out the timing and iterating regularly until it sounded just right."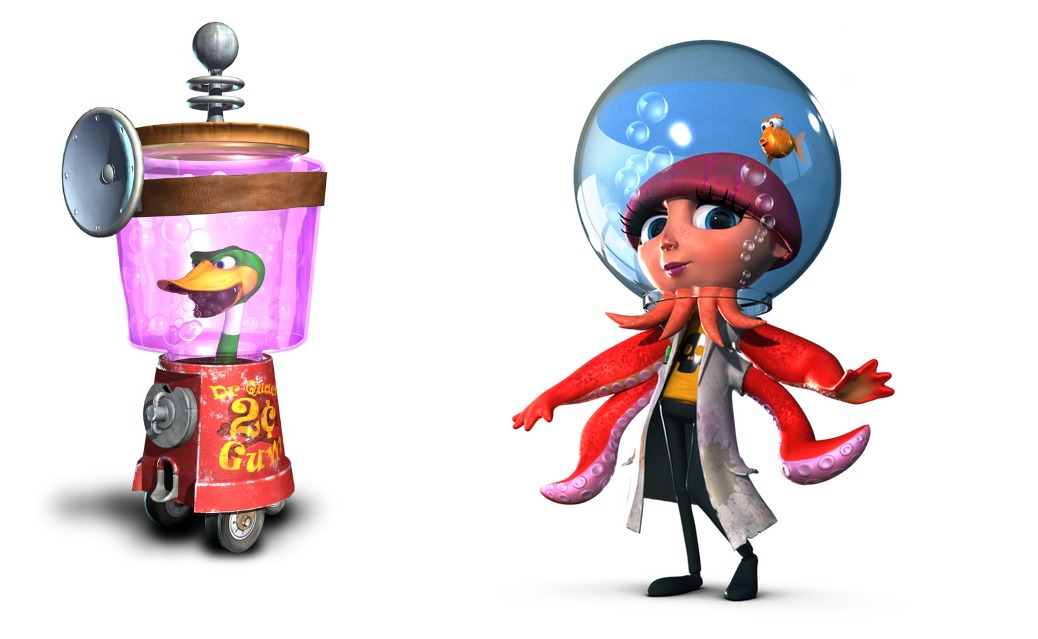 A pair of characters have been introduced for Yooka-Laylee over on the project's Kickstarter page. This time around, we're able to see "the hapless, multi-limbed scientist Dr. Puzz and her traitorous former colleague Dr. Quack".
We have the character art above. You can read about both of them below.
In Yooka-Laylee, Dr. Quack is a ruthless, exosuit-wearing fowl, who's making the best of a bad situation under the corporate rule of Capital B. The good doctor wasn't always this unpleasant, but the ruthless takeover of his Quack Corp organisation has persuaded Quack to concoct all manner of crude inventions to satisfy the demands of his new boss – and the shareholders, of course.

Quack's sweet, naive prodigy, Dr. Puzz proved far more morally rigid than her former colleague, breaking ties with Quack Corp as soon as the exosuits started stirring – and taking her own inventions with her. The tentacled technician – designed by Ed 'Mumbo Jumbo' Bryan – is the gateway to all of Yooka-Laylee's wild and wonderful transformations, which we'll be revealing in the near future.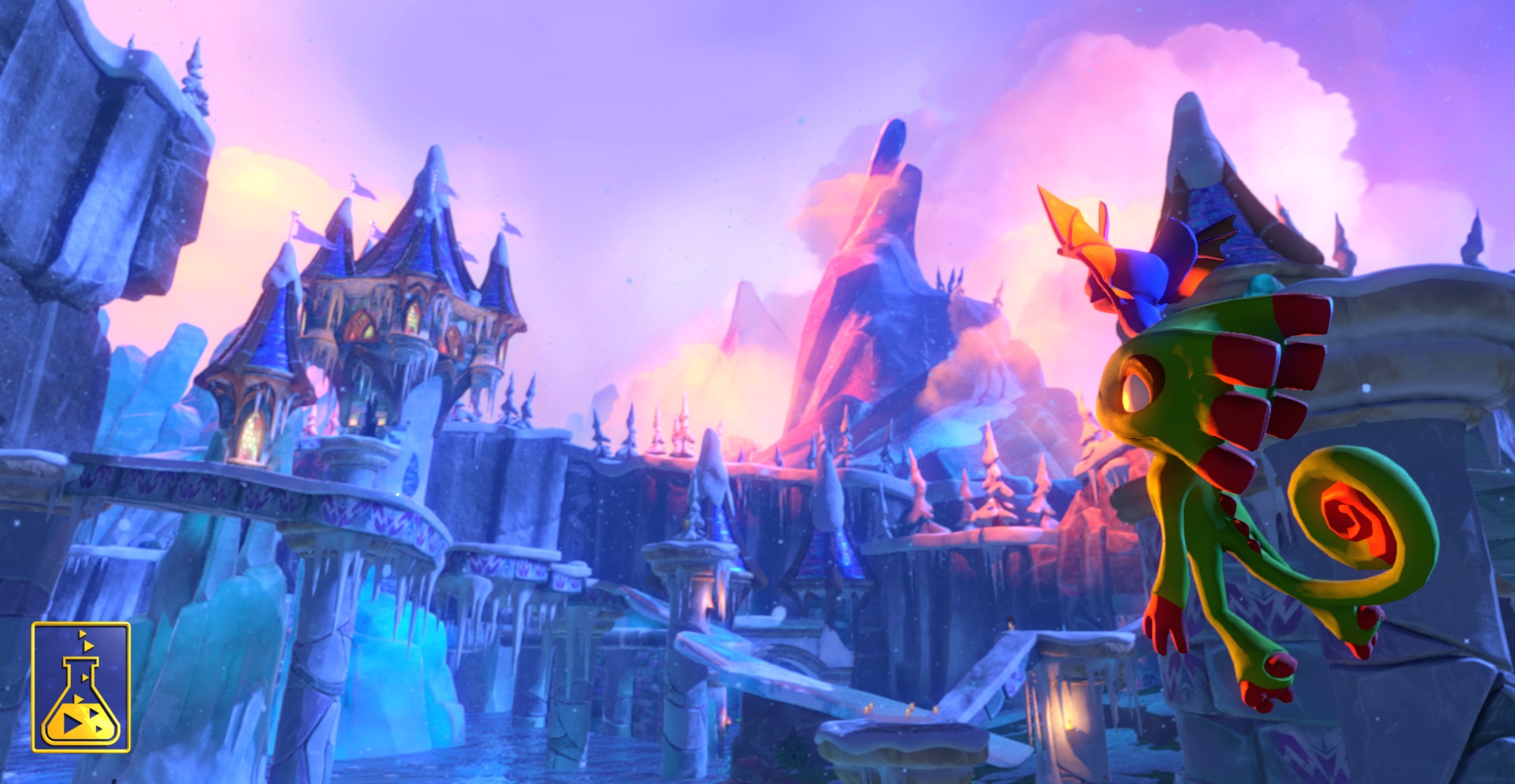 Playtonic has started its big blowout of Yooka-Laylee today. New content about the game is being unveiled, and even more updates will be shared over the next few weeks. The team is also "getting close" to settling on some launch news.
Read on below for today's update covering topics like the story, collectibles, and a Toybox demo for Kickstarter backers due out in July. There are new images sprinkled throughout as well.
Over the past year the Playtonic team has tripled in size, moved office and quietly slaved away on what would become the final form of Yooka-Laylee. You can see some of the results of our work below and over on the Yooka-Laylee game page.

There's lots to talk about – and today is just the preliminary act. Over the next few weeks we'll hope to wow you with increasingly dazzling dance numbers, first clicking our heels in the new Edge Magazine on May 26, which will be packed full of details and purchasable in both print and digital flavours.

Soon after you'll see eyes-on reports of the final Yooka-Laylee appear on your favourite online channels and video platforms, quickly followed by the hijinks of the Electronic Entertainment Expo. We will of course ensure that Kickstarter backers are kept fully up to date with everything we reveal going forward.

One thing we're not quite ready to reveal yet is the game's final, day-and-date release plan, but we're getting close. The Playtonic team is working towards the same release window penned last year, but as fans of some of our past work will attest, we're a group committed to releasing games only when they're polished, complete and at the quality level you expect. As soon as we're confident we've ticked all of those boxes, we'll inform our backers directly of when to mark their calendars.

So without further ado, this is what Yooka-Laylee looks like today.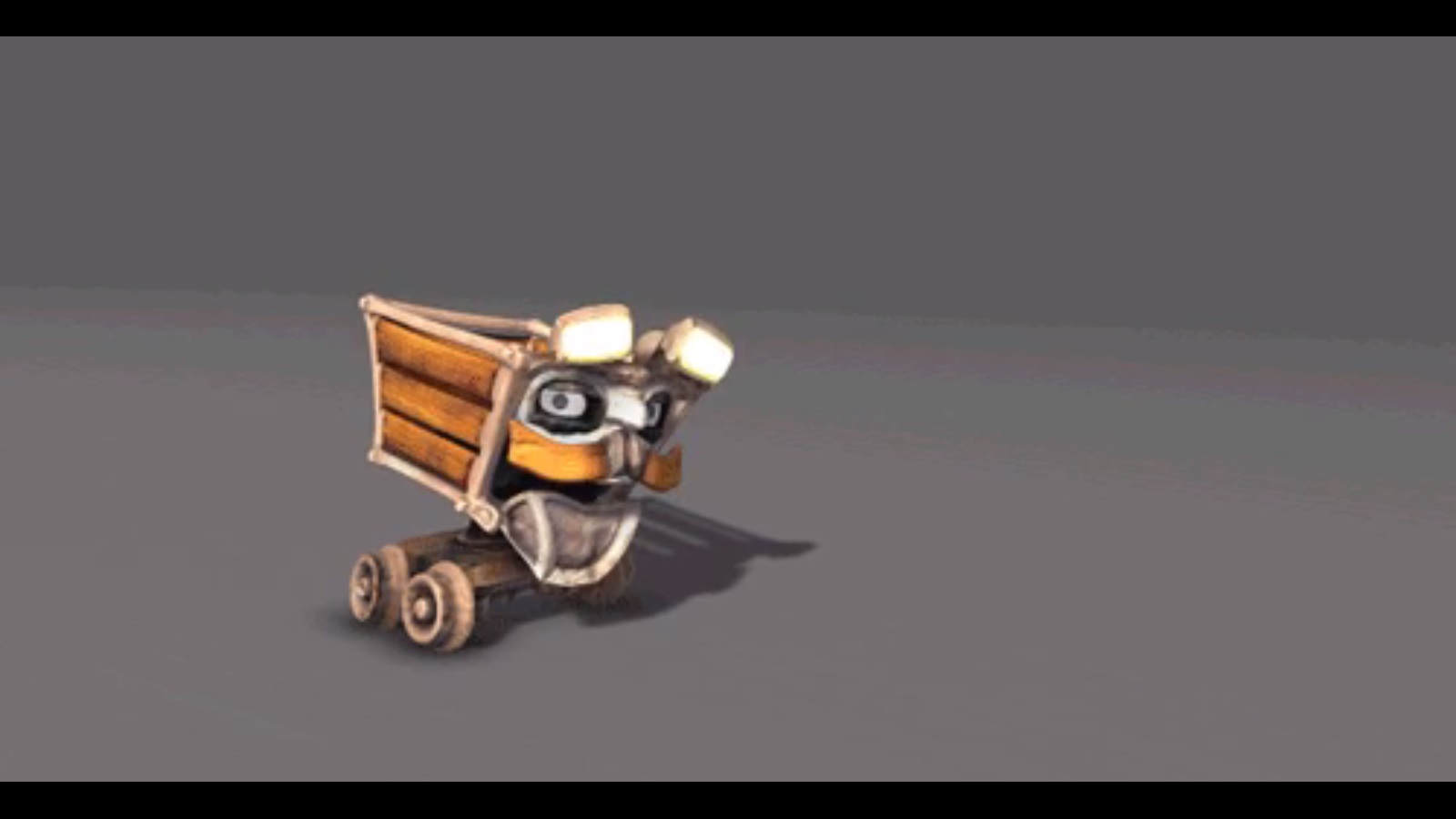 Playtonic published a pair of new updates for Yooka-Laylee today. We have some new music as well as the reveal of a new character.
First, have a listen to a challenge tune composed by David Wise below.
Players will hear the above tune during a section of the game which features Kartos. Yooka and Laylee will come across the minecart character several times, "and together they'll hit the tracks in search of paper-shaped golden nuggets."
Designer Kev Bayliss says of Kartos:
"In true Playtonic fashion, we wanted to make this character as fun as possible. He's old school, so we wanted him to look old fashioned, rather than modern. He actually looks like a bad DIY project by myself, and I'm sure I've seen some of his body parts lying around in my shed at home! Yooka will be taking advantage of Kartos and his services, as he is for 'hire' at various stages in the game. And why not? After all, his slogan is 'Mein Kart ist Ihre Kart' after all!"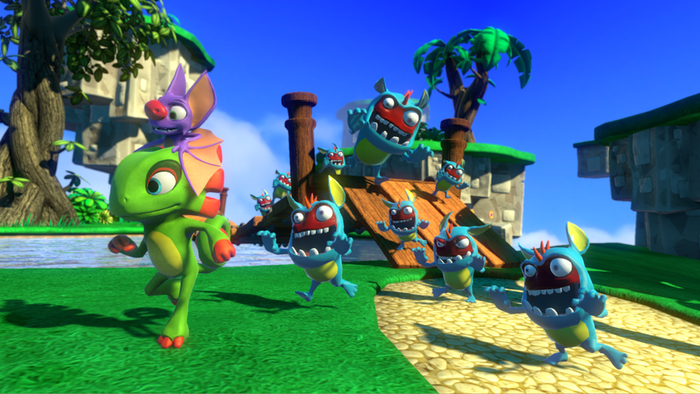 Genei Ibun Roku #FE is one game we just spoke about not having off-TV play. On the other side of the spectrum, however, Yooka-Laylee should support the feature.
Playtonic told one fan on Twitter last week:
@skatcat743 Yes, that's the plan!

— Playtonic (@PlaytonicGames) December 3, 2015
Off-TV play is one of the Wii U's better features, so it's always nice when it can be included!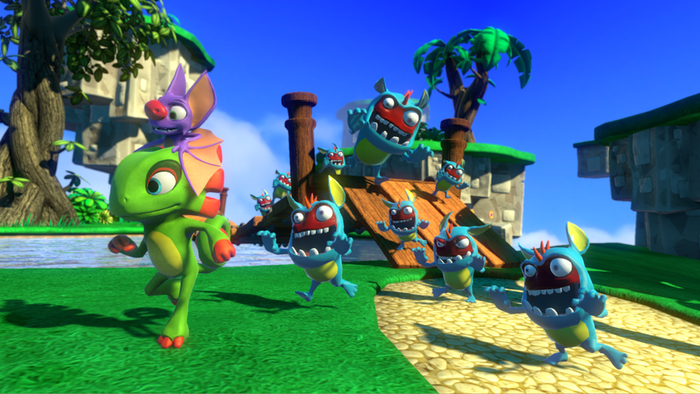 IGN is continuing its coverage of Yooka-Laylee. In the latest video, Playtonic's Gav Murphy talks voice acting. Check it out below.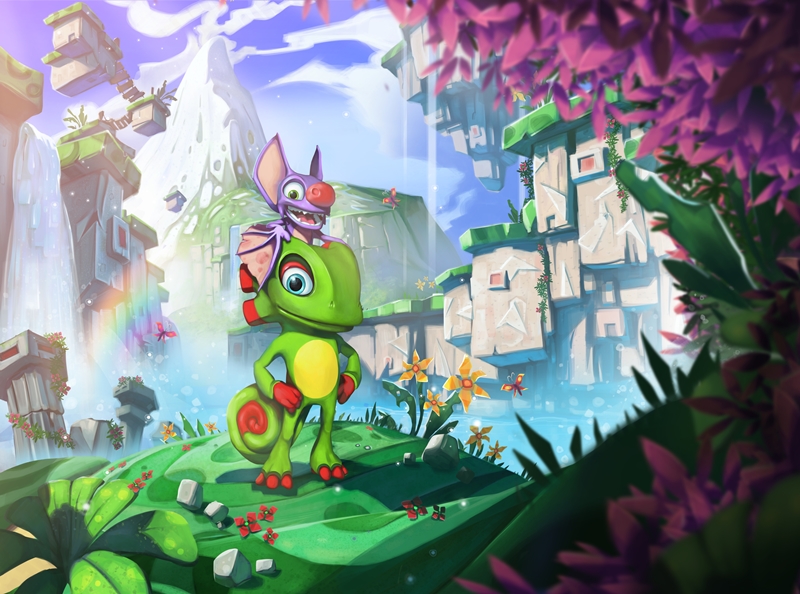 IGN has posted a soundtrack sample from Yooka-Laylee, which you can listen to below. The music is from World 1.
Grant Kirkhope, the composer of Yooka-Laylee, also shared the following words:
"Erm…it's only the first bit that sounds that way maybe, the rest of the music is skewed towards each area that it fades to like in the original Banjo-Kazooie, and I think that Caribbean feel that you're hearing might be because I'm using the marimba for the main melody at the start. I used the marimba because it features so heavily in both the BK games."

"Honestly I don't mind what people hear when they listen as long as they like it! I think once people know what the different variations of the music were written for it'll all fall into place (at least that's my story and I'm sticking to it!)."

"I asked Gavin (Price) for a brief description of the different areas that I needed to write the variations for, but that was about it. Obviously Steve Mayles complains most of the time when it comes to the music – some things never change even after 17 years, I'm used to it by now."

"I think any composer worth their salt can get a pretty good idea in their head before they even start writing music when they get a description of the thing they're writing for. For example if someone says it's a frozen ice mountain I'd be thinking about pizzicato strings, celeste and glockenspiel before I'd even written a note. Or if it was a lush green forest I'd be thinking about using nice warm winds like bassoons and clarinets. Writing music is all about using your imagination, the images tell the story but it's the music that lets you know how to feel."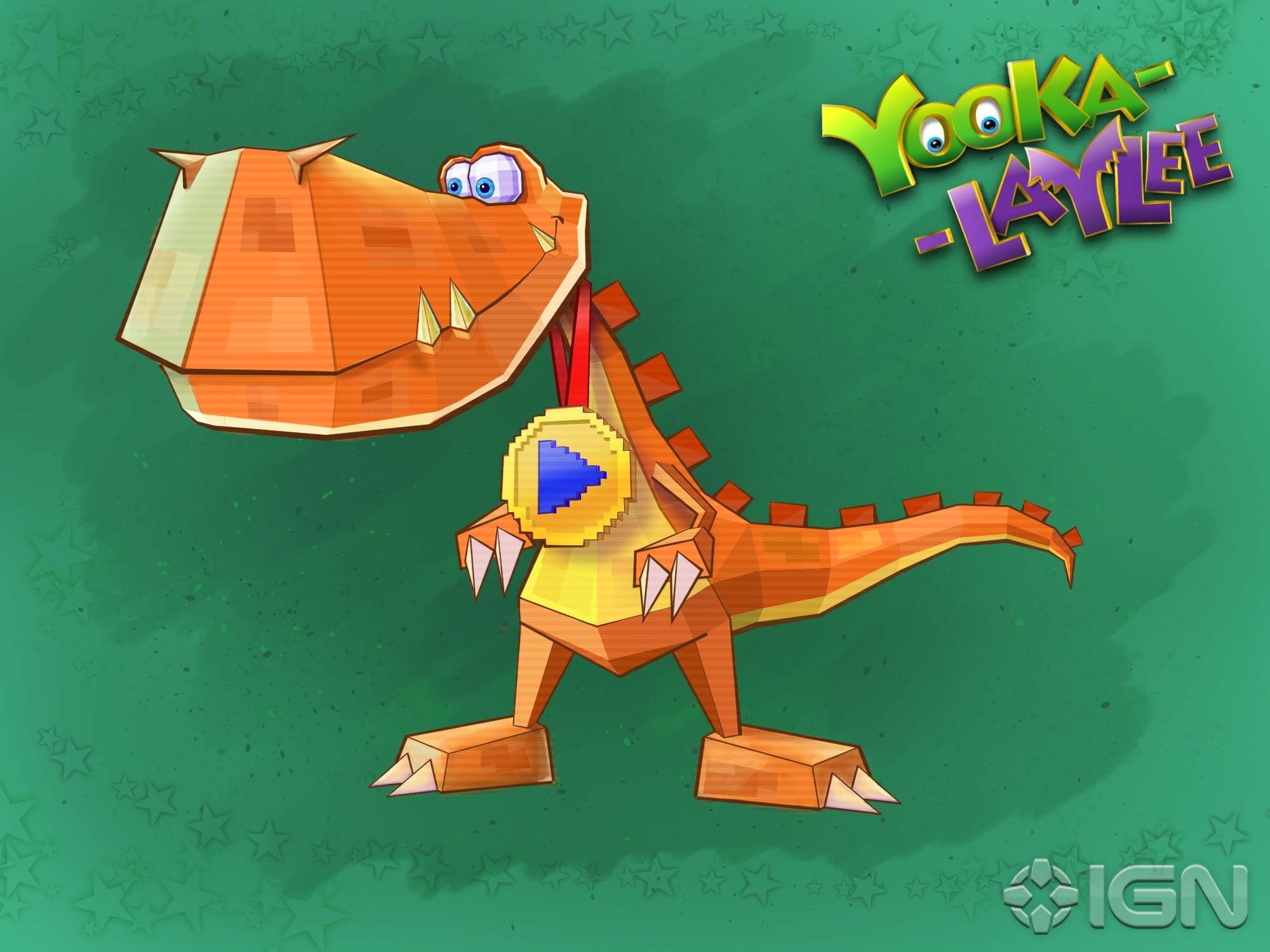 Playtonic has revealed a brand new character for Yooka-Laylee as part of a feature on IGN. Above is a look at Rextro Sixtyfourus, an old-school dinosaur character who acts as guardian of the arcade machines hidden on each level. Players will find at least one secret arcade game in each world, which provides a Pagie when completed.
Mark Stevenson, who previously worked on the Donkey Kong Country series, Donkey Kong 64, and Kameo, designed Rextro Sixtyfourus. Here's what he had to say about the character:
"We decided on using a dinosaur pretty early on as this is a creature that naturally associates with a past era. Then I think mostly my inspiration came from work I'd done previously on characters for the Donkey Kong 64 game. From this work I knew the kind of forms we had to create due to low polygon counts, so this inspired the shapes used to create Rextro's blocky feet and hands that are virtually cubes. All the polygons in Rexto have hard edges as well: this affects how the light shines on him meaning you can basically see all the polygon faces as individual facets.

"I wanted Rex to to feel like he captured the era of games from my early career which also included work on the Donkey Kong games on the Super Nintendo. Finally just to reinforce the retro aspect some more, I created a custom shader that creates a scanline effect on Rextro to make him look like he's being viewed on an old school CRT TV."

"He evolved quite naturally really, the only part of him that we really took some time to settle on was his accessory around his neck which started out as a red tie very much like Donkey Kong before we settled on a medallion made from one of the game's Play Tokens to reference his crucially important task."
Check out the video below for a look at Rextro Sixtyfourus.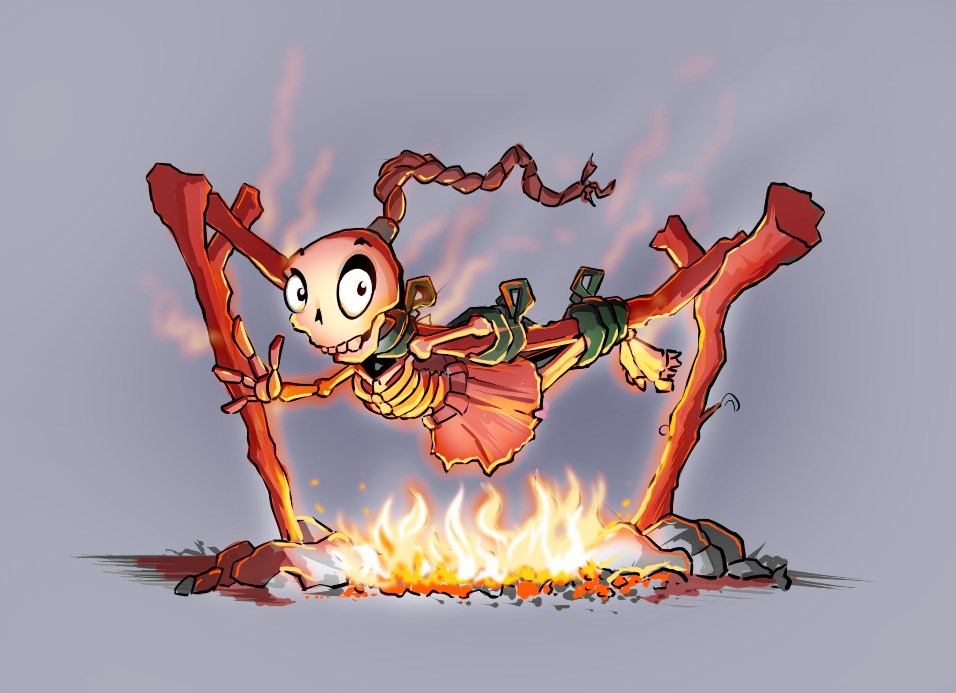 Playtonic posted a new Yooka-Laylee update on its website today. You can find it in its entirety here.
One of the notable excerpts from the update is a look at a new NPC, pictured above. Playtonic describes here as follows:
"One new character you may have spied in a recent issue of Edge is the slender lass below. Crayoned by our own Kev Bayliss, this yet-to-be-named NPC will require Yooka and Laylee's assistance on the very first world of the game. Obviously she's forgot to turn the iron off or something and they'll need to go and get the spare keys off her landlord."
Playtonic also unveiled a new piece of art at EGX last week, which was made by Dean Wilson. We've attached it below.