In case you missed the news that European Pokemon X/Y owners will get a special Poke Ball Pattern Vivillion, here is a tweet just for you.
Can't make it to gamescom? Poké Ball Pattern Vivillon will be available to all European #PokemonXY Trainers very soon. More info next week!

— Pokémon (@Pokemon) August 14, 2014
Official release date has been announced for UK. Wii U and 3DS versions will be availible on 21/11!
Meet the newest Mega Evolution Pokemon!
In a recent interview with gamestm, Masahiro Sakurai speaks to his passion for his upcoming title Super Smash Bro's for Wii U and 3DS.
"It really is a miracle," beams an ebullient Sakurai to the gathered room of journalists. "[We have] four of the most famous characters in the video game industry on the same screen battling each other. The only game that makes this possible is Super Smash Bros."

"And, just between you and me," he adds, leaning towards the crowd as if to whisper in the ear of each participant, "I'm aiming to make this the number one character game in the world."
Club Nintendo members have only twenty-four hours left to pick their Elite Reward for 2014!
Deadline is August 15, so if you haven't already take a moment and don't loose out on a chance to get your hard earned reward!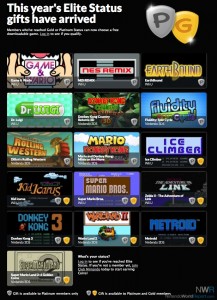 Update: This may be inaccurate…
There's a RUMOR in the www that #PES2015 is coming on #WiiU. I just called #Konami & they told me that this News is incorrect. NO WiiU ver.

— NiNTENDOMiNATiON (@TiLMEN) August 12, 2014
---
It's looking like all hope is not lost for soccer fans missing FIFA 15 on the Wii U, as it's looking possible that another big name soccer title is heading to Nintendo's home console. A couple of French websites have made mention of Nintendo's platform and though the translation is a little rough, both sites clearly make mention of the Wii U as one of the platforms getting Konami's FIFA rival, Pro Evolution Soccer 2015.
The first source comes by way of Jeuxvideo which has the following listed:
It took time, but PES 2015 is now officially announced by Konami. An episode which will be a first step towards the eighth generation of consoles, an eagerly awaited by many fans of the series forward. 's first news however, is that owners of PS3 and 360 will not be forgotten since PES 2015 will also be released on these media (therefore giving PS3, 360, PS4 , One and Wii U ). The bad news is that for now, the PC does not seem concerned.
Friend of the site Nintendo-town had this to say:
Pro Evolution Soccer 2015 arrives on Wii U

Konami takes advantage of the opportunity of this lack of competition and confirmed that Pro Evolution Soccer 2015 arrives on Wii U at the same time as the PS3 versions, PS4, Xbox 360 and Xbox One. A very good news for the players of the Nintendo console. The editor also probably finding his account leaving the game on Wii U in Japan,
Though nothing concrete, definitely worth keeping an eye on for sports fans.