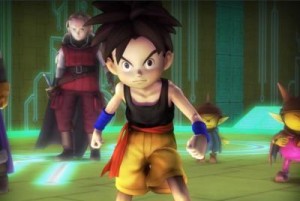 Blue Dragon Plus has yet to be released in North America, but that isn't stopping Namco Bandai from making a sequel to the original. The latest rumor is that the new game will be released next year in Japan. Toriyama and Sakaguchi will be heading the project. Blue Dragon Plus 2 apparently features 3D battles with RPG gameplay and the face of the character can be customized to your liking. More details are expected next week.




London (11th December 2008) � Square Enix Ltd., the publisher of Square Enix� interactive entertainment products in Europe and other PAL territories, today announces that CHRONO TRIGGER� will be released across PAL territories on 6th of February, 2009 exclusively on the Nintendo DS� system.

They say that "time is money" but for our hero, Crono it is much more than that! Get ready to travel through time to avoid the destruction of the world as we know it. With CHRONO TRIGGER, your notion of time will be turned upside down as you race against it like you've never done before, while all the decisions you make along the way will affect past, present and future!


-Atari ships The Tale of Despereaux: The Game, featuring the voice of

Emma Watson and other cast members, to retailers to tie in with big screen release from Universal Pictures –

NEW YORK, NY – December 11, 2008 –Atari, Inc. announced today the release of The Tale of Despereaux: The Game, adapted from the beloved Newbery Medal-winning novel by Kate DiCamillo and the Universal Pictures animated adventure, which debuts in theaters December 19. Emma Watson, Robbie Coltrane, Tony Hale and other voice talent from the film reprise their roles for this engaging adventure game. The game will be available on PlayStation®2 computer entertainment system, Wii™, and PC, with an originally designed game also available for Nintendo DS™.


01. [NDS] Professor Leyton and the Last Time Travel – 87,100 / 434,400
02. [PS2] Dragon Ball Z: Infinite World – 76,500 / 76,500
03. [WII] Animal Crossing: City Folk – 75,600 / 489,300
04. [NDS] Kirby Super Star Ultra – 60,200 / 535,000
05. [PS3] Pro Evolution Soccer 2009 – 42,400 / 210,800
06. [NDS] Wagamama Fashion: Girl's Mode – 37,900 / 278,600
07. [NDS] Pokemon Platinum – 37,300 / 2,008,800
08. [WII] 428: Fuusa Sareta Shibuya de – 34,000 / 34,000
09. [360] Fallout 3 – 30,600 / 30,600
10. [NDS] Rhythm Heaven – 29,600 / 1,244,100


SEGA ANNOUNCES UPCOMING U.S. RELEASE OF SANDS OF DESTRUCTION ON NINTENDO DS

Splendid visuals, fascinating characters and a high-powered battle system to be featured in the next epic Japanese RPG experience

SAN FRANCISCO (December 4, 2008) – SEGA® of America, Inc. announced today that the exclusive Nintendo DS™ title, Sands of Destruction™, will be releasing in North America. Critically acclaimed in Japan and gaining recognition through the television anime World Destruction: Sekai Bokumetsu no Rokuni™, gamers will experience an action-packed story featuring a unique range of characters, a gorgeous artistic atmosphere and an intense RPG battle system.

"We are very excited to bring this original RPG to the U.S.," states Yoichi Shimosato, producer of Sands of Destruction. "Our very talented team is eager to showcase the unique world and gameplay experience of Sands of Destruction and they firmly believe we have created an RPG world that can be enjoyed by everyone."


Mind Your Language poised to revolutionise language tuition on the go

PlayV, the UK-based publishing venture co-funded by V2.Play and Playlogic, has announced that its suite of language tuition titles for Nintendo DS will be released in February 2009. On the shelves from 13th February and with full accreditation from international language school Inlingua, Mind Your Language revolutionises language tuition by constructing a detailed and fun-filled adventure in which the player learns interactively through exploration and mini-games.

Mind Your Language puts players in the shoes of a user-customisable schoolchild at a language school. With versions for Spanish, French, German and Japanese, the game is arranged into four levels of increasing difficulty, with each language taught from the bottom-up. This elemental approach provides a full and complete understanding of written and vocal language to a standard beyond that possible with 'parrot-fashion' learning aids. As the player progresses, they amass a huge dictionary covering every facet of each language, and with each word represented in text and spoken aloud, Mind Your Language provides a remarkably accessible means of learning without resorting to phrase books or rote learning. Targeted predominantly at young learners, the inclusive and accessible nature of Mind Your Language's approach makes it the ideal learning aid for students of any age, as well as providing an excellent method for parent/child co-operative learning.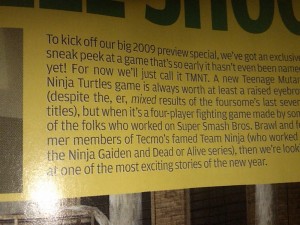 Double update: Even more details on the game…
-official development started Jan. 2008
-concept started Oct. 2007
-2.5D Fighter
-Interactive Stages
-4 player versus
-Story Mode
-Battle Royal
-Tournament
-Winner Stays
-Loser Stays
-Practice
-Unlockable Characters
-Unlockable Stages
-Online aspects said to be better than Brawl implementation
-Each character is color coded with glowing effect to make 4-player battles easy to follow
"While this is a licensed game, it's not tied to any movie or TV show…for this game to succeed on its own it needs to be a great game." – Ubisoft producer
Update: More details about the game have been confirmed: Online play, confirmed to be for Wii, will be published by Ubisoft, set for a September 2009 release date.
A sneak peak in a gaming magazine has the first information on a new Teenage Mutant Ninja Turtles game. Although only a few details were shared, the blurb explains that the title will focus on fighting. Also, members of the Super Smash Bros. Brawl dev. team and former Team Ninja developers have been confirmed to be working on the project. The teaser doesn't mention which system the game is being made for, though I am pretty sure they are referencing the Wii.
"To kick off our big 2009 preview special, we've got an exclusive sneak peak at a game that's so early it hasn't even been named yet! For now we'll just call if TMNT. A new Teenage Mutant Ninja Turtles game is always worth at least a raised eyebrow (despite the, er, mixed results of the foursome's last several titles), but when it's a four-player fighting game made by some of the folks who worked on Super Smash Bros. Brawl and former members of Tecmo's famed Team Ninja (who worked on the Ninja Gaiden and Dead of Alive series), then we're looking at one of the most exciting stories of the new year."




All Categories
1. nintendo wii
2. wii fit
3. ipod touch
4. xbox 360
5. nintendo ds
6. ipod nano
7. uggs
8. nikon d90
9. zune
10. digital picture frame
Video Games and Toys
1. bakugan
2. guitar hero world tour
3. webkinz
4. gears of war 2
5. call of duty world at war
6. rock band 2
7. elmo live
8. wii music
9. fallout 3
10. littlebigplanet