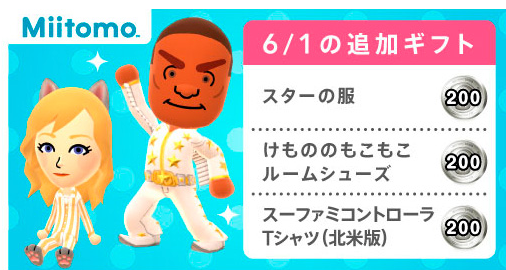 Update (6/1): The rewards are now live! You can check them out below, or redeem your coins for them at https://my.nintendo.com/rewards
---
Three new Miitomo rewards will be added to My Nintendo tomorrow. According to a Japanese newsletter, these items will be available:
Star Outfit: 200 Platinum Coins
Animal Slippers: 200 Platinum Coins
SNES T-Shirt: 200 Platinum Coins
Although this news originated from Nintendo's Japanese newsletter, the rewards should be going up in North America and Europe tomorrow based on precedent. We'll let you know if we hear otherwise.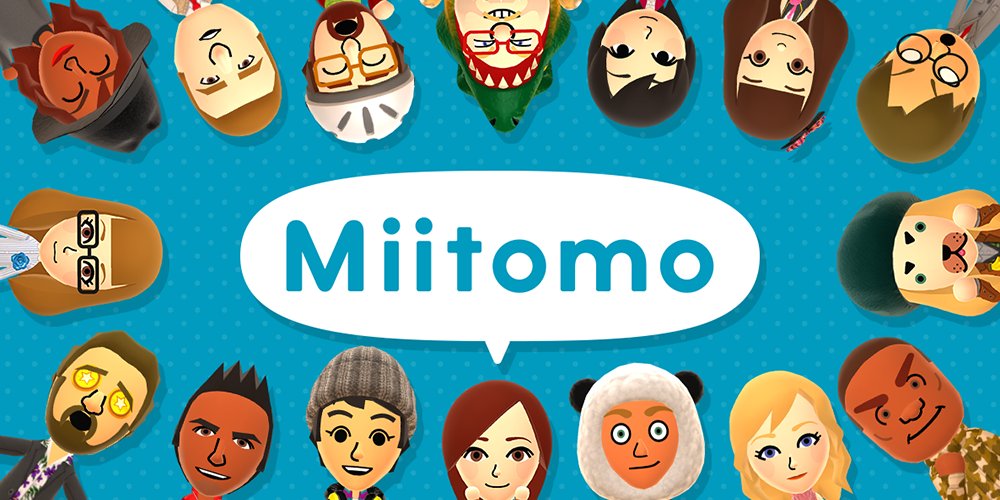 Both the iOS and Android versions of Miitomo have been updated to a new version, 1.2.3. The app pages note that this version "implemented feature improvements," so it is most likely a stability patch.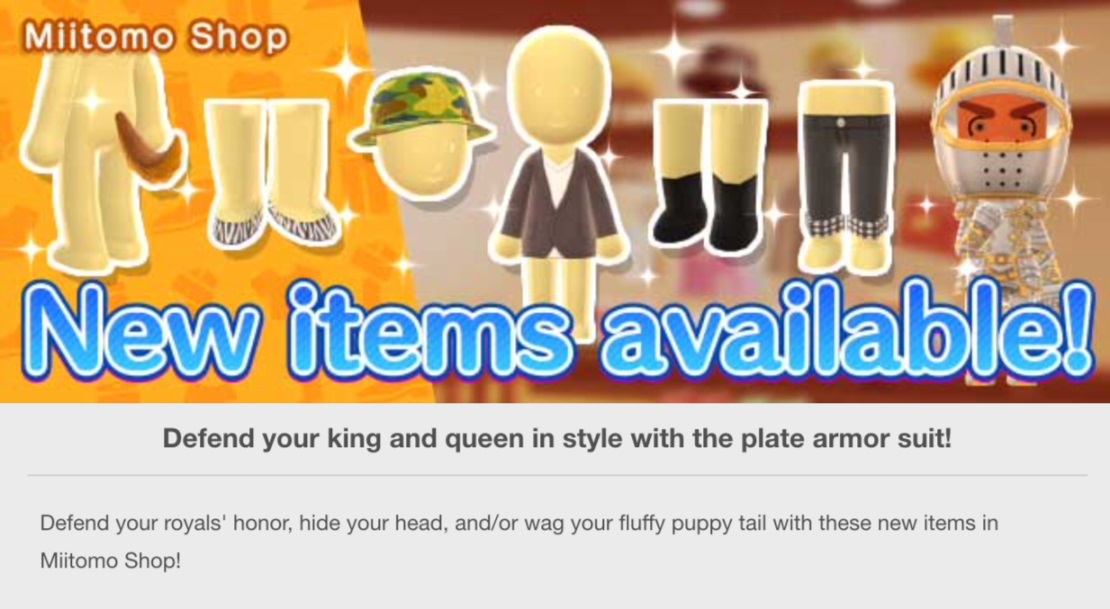 Miitomo has added a new round of clothing, including armor and more. Here's the full lineup:
– Camo bucket hat
– Duster cardigan
– Pants w/ checkered hem
– Basic mid-length socks
– Zebra-print pumps
– Fluffy puppy tail
– Plate armor helmet (set)
– Plate armor suit (set)
All of these items can be redeemed in Miitomo Shop in exchange for coins.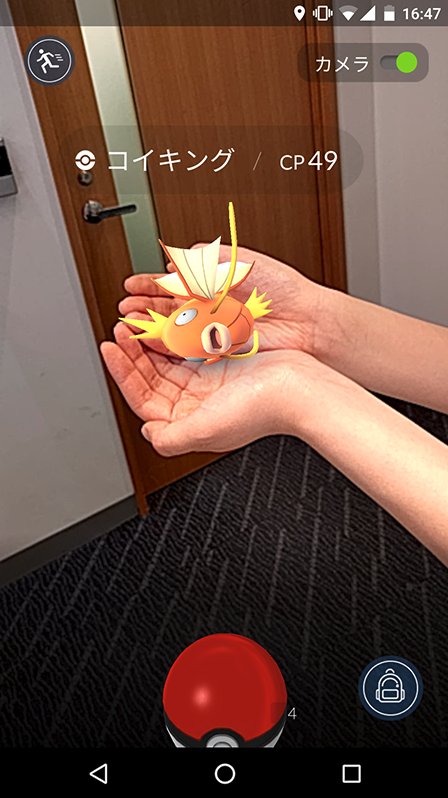 More screenshots for Pokemon GO have released, showing off some of the game's AR, eggs, and trainer customization. Check them out below!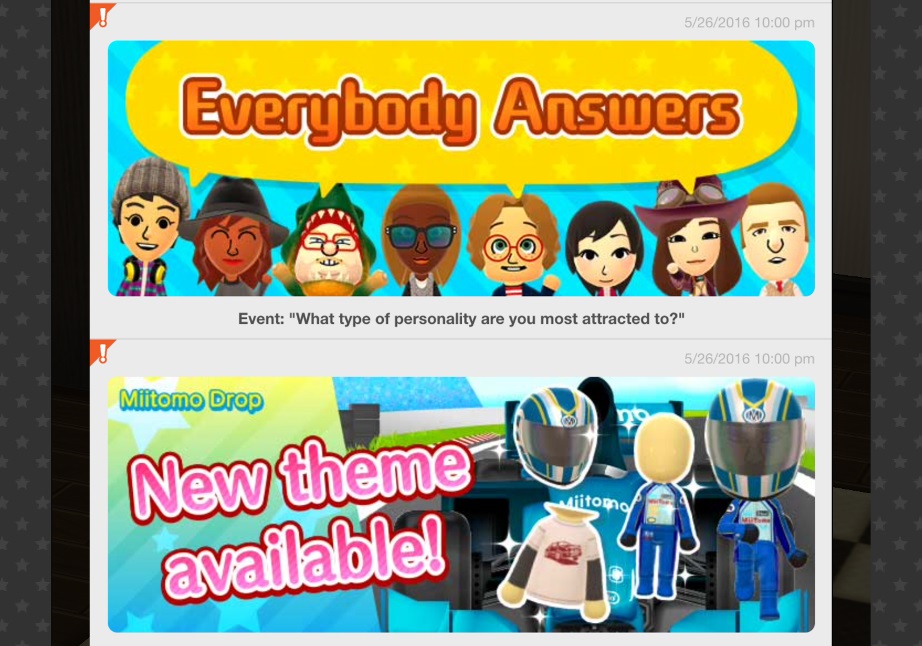 Nintendo updated its Miitomo app a short while ago with some new content. There's new clothing to be had via Miitomo Drop, plus a new "Everybody Answers" topic as well.
The new Miitomo Drop theme is "Drivin' me crazy! Vehicle Vogue". You can nab a bunch of racing-related gear, which is as follows:
– Lowrider layered tee
– Tire tread pants
– Auto-racing helmet (set)
– Auto-racing suit (set)
– Checkered flag shirt
– Checkered flag pants
– Checkered flag necktie
– Race car suit
– Car shoes
– Retro-car pin
– Pit crew headset (set)
– Pit crew suit (set)
With Everybody Answers, the new question is: "What type of personality are you most attracted to?" The event runs until June 3 at 4:59 PM PT / 7:59 PM PT. If you answer the question while it's active, you'll be provided with Miitomo Platinum Points on My Nintendo.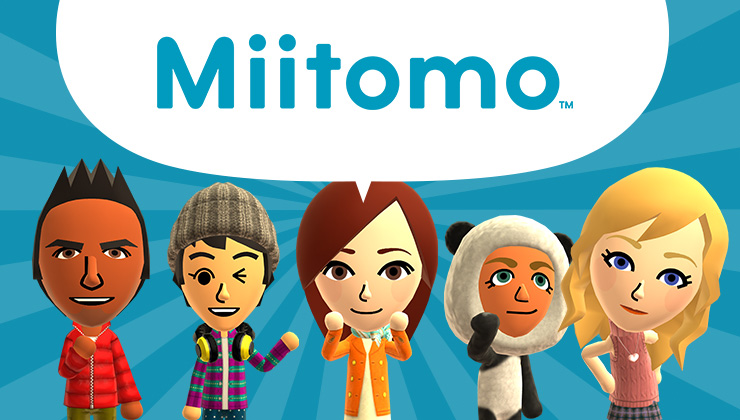 Miitomo's success in terms of downloads has been well documented at this point. However, when it comes to its staying power, the app has been on a decline. That might have been at least somewhat expected, but SurveyMonkey has taken a deeper look at the situation.
SurveyMonkey compared Miitomo to Candy Crush Jelly Saga and Clash Royale, two titles from giant mobile developers King and Supercell respectively. Miitomo stacks up favorably when it came to download performance, but the app "struggled to keep users interested."
SurveyMonkey writes in its report:
In Miitomo's case, this lower-than-peers engagement translates into higher churn. The game's weekly churn more than 50% means that over half of the users of Miitomo on a given week won't come back and play it again the following week. For some apps that don't need frequent use this isnt a problem, but for games like Miitomo that are designed for frequent use, churn at this level foreshadows a quick decline.

Low engagement and high churn cause a steady decline in active users for Miitomo. When comparing to the other games it's not necessarily the lower peak weekly-active users (WAU) that's of concern, but the fact that Miitomo drops off much more rapidly. Clash Royale's lowest value is just 22% from its peak, Candy Crush Jelly's is 32% from its peak, but Miitomo WAU is 74% lower than its peak value in a much shorter timespan.
What has your experience been like with Miitomo? Are you still using the app? Or are you pretty much done with it at this point?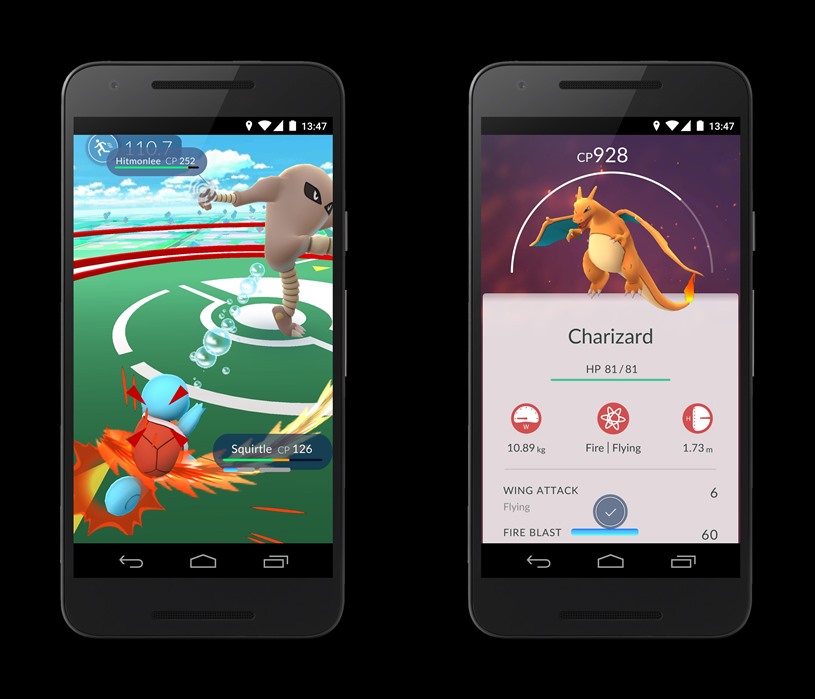 The Pokemon Company and Niantic have revealed new details about Pokemon GO. Today's news comes as an early user test begins in the United States today. Tests are already underway in Japan, Australia, and New Zealand as well.
Find all of today's information below. You can also look at some new screenshots in the attached gallery.
Pokémon GO will allow players to find and catch more than a hundred different Pokémon as they explore the world around them. When players approach a Pokémon in the wild, their phones will notify them and give them the opportunity to engage and catch the Pokémon using the phone's touch screen to throw a Poké Ball. Poké Balls and other special items can be found at PokéStops, which are located at interesting places such as public art installations, historical markers, and monuments. During gameplay, Pokémon GO players will be encouraged to join one of three teams and engage in Gym battles with other teams. After joining a team, players will gain the ability to assign their Pokémon to Gyms. Like PokéStops, Gyms can be found at real locations in the world.

Battling is essential to any Pokémon game, and Pokémon GO is no different. Players can battle using the Pokémon they've caught to gain control of a Gym. By using their own Pokémon's attacks and dodging incoming attacks by swiping left and right on the screen, Pokémon GO players can defeat the defending Pokémon to reduce the Gym's Prestige. Once the Gym's Prestige reaches zero, the defending team loses control of the Gym, and the victor's Pokémon can be assigned to defend the Gym. When a team has control of a Gym, team members can increase its Prestige and level by training their Pokémon with other defending Pokémon. As the Gym gets to a higher level, the defending team gains the ability to assign more Pokémon to defend it. They can also team up with friends and battle together at a rival Gym to take down stronger Gyms faster.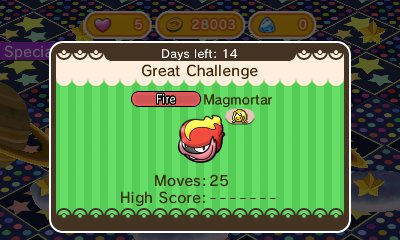 The usual Pokémon Shuffle update is upon us, and while there's only one new stage, the repeat runs are still notable. Four stages have been added to both the mobile and 3DS versions, all of which run until June 7th.
First up is the Magmortar stage, which is new and lets you catch Magmortar. The Ash-Greninja stage makes a return, as well, where players will face off against Ash's special Greninja from the anime. The legendary Kyogre also makes a return. Both of these stages let players earn Skill Boosters for their respective Pokémon once the Pokémon is captured. Finally, the Carnivine stage is returning. This stage is a Try 'em Items stage, which lets players try items out without using coins.
Good luck out there, champ in the making!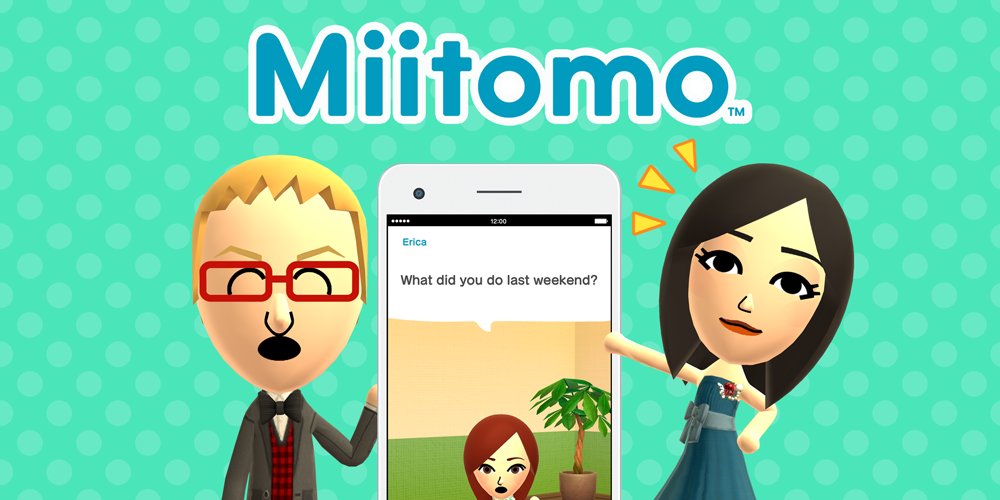 Miitomo has managed to reach a new milestone on Android. As stated through the app's page on the Google Play store, it's now surpassed 5 million downloads on the platform. It currently sits somewhere between 5 million and 10 million installs.
Miitomo topped 1 million installs at the start of April. It seems that the app is still going strong!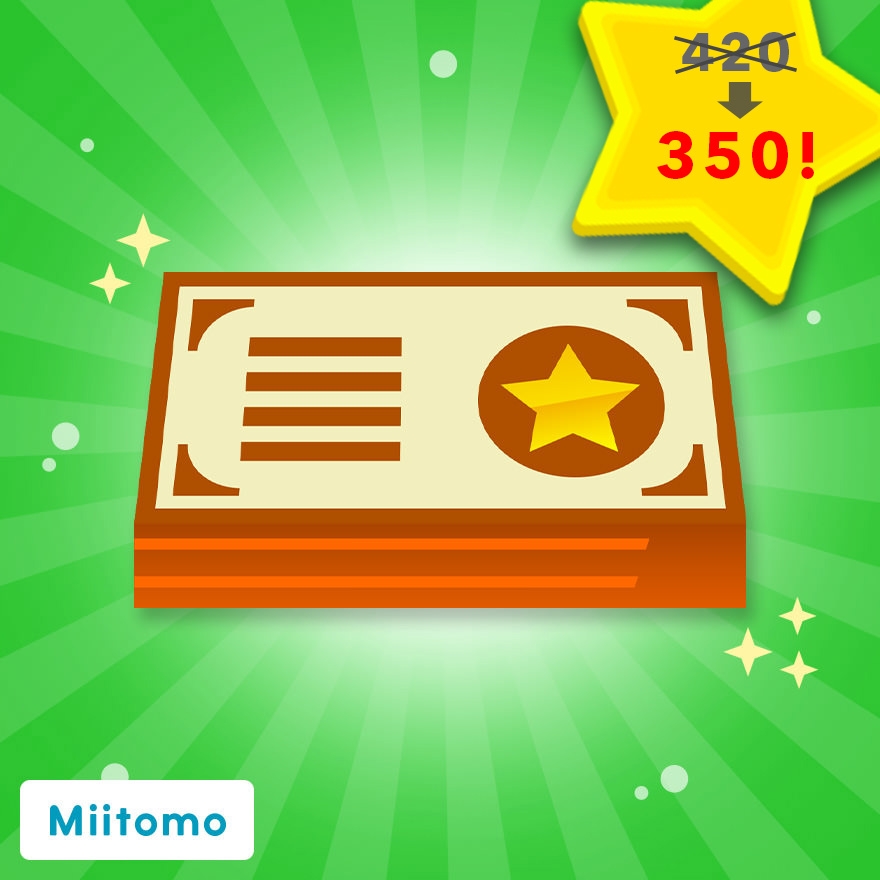 Over on My Nintendo, the pack of five Miitomo game tickets has been discounted. It's been reduced from 420 Platinum / Miitomo points to 350.
You can see the offer on My Nintendo right here. It'll last until June 20.