Tomb Raider Underworld (Wii) – 8
Animal Crossing: Let's Go to the City (Wii) – 9
Guitar Hero World Tour (Wii) – 9
Wii Music (Wii) – 8
Rayman Raving Rabbids TV Party (Wii) – 9
My Sims Kingdom (Wii) – 8
Crash Bandicoot: Mind Over Mutant (Wii) – 8
Need for Speed Undercover (Wii) – 7
Final Fantasy Fables: Chocobo's Dungeon (Wii) – 7
WWE SmackDown vs. Raw (Wii) – 8
FaceBreaker KO Party (Wii) – 8
Shaun White Snowboarding: Road Trip (Wii) – 7
Mushroom Men: The Spore Wars (Wii) – 8
Last King of Africa (DS) – 6
Exit DS (DS) – 7
Zubo (DS) – 9
Mechanic Master (DS) – 9
More Touchmaster (DS) – 7
Ninjatown (DS) – 9
Professor Layton and the Curious Village (DS) – 9
Unsolved Crimes (DS) – 8
Crash Bandicoot: Mind Over Mutant (Wii) – 5
Thanks to Joclo for the news tip!

Cammie Dunaway, Nintendo executive vice president of sales and marketing, not only confirmed today that the system is still on track to release before the end of the holiday, but it will also be similar to Japan's setup. There will be mostly physical prizes up for grabs and will feature both Japanese and North American related items.
"It's weighted more toward physical goods. …When you purchase a Nintendo product, you go on and you say that you've purchased a Nintendo product, you get points for that. You also get points for filling out surveys to talk about your experience with the product. You actually get points before you purchase, if you indicate an interest in purchasing… So it really helps us to gauge marketplace demand. As you collect points — these are actually gold coins — you're able to trade them in for real merchandise."

While most of us have had the opportunity to sit down and guide Toku through the world of Mistralis for many months now, Japan has yet to see the game become available. However, this will change soon, as Square Enix has announced that they plan to publish the game in Land of the Rising Sun. The game will cost 1,000 Wii points and will be available in December.

NEW YORK, NY – November 14, 2008 – Atari, Inc. one of the world's most recognized video game publishers, today announced the development of a new and dramatically enhanced iteration of its equestrian title, My Horse & Me, for Wii™ and Nintendo DS™. Scheduled to release in March 2009, My Horse & Me: Riding for Gold, provides horse enthusiasts with one of the most authentic, compelling equine experiences ever seen in a video game.

With the exclusive license from the FEI (International Equestrian Federation), one of the world's foremost horse sports organization, My Horse & Me: Riding for Gold, features competitions and courses based in actual US and European locations, realistic riding animations and models, extensive training, grooming, and vet activities, as well as custom horse and rider modes. The game also includes beautifully detailed environments and an engrossing storyline that captures the spirit, excitement, and pressure of equine competition.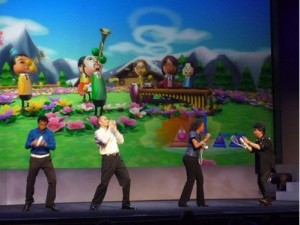 Wii Sports and Wii Fit have, for the most part, sold at astronomical rates. Though, the same cannot be said for the third brother in the family, Wii Music. Reported NPD numbers say that Wii Music sold more than 50,000 units, which isn't exactly terrible. However, compared to Wii Fit, Wii Music has garnered a less successful reception. Nintendo wholeheartedly believes in the game, however, and are more than willing to defend the game's sales.
"You'll see in [the NPD sales] that it did about somewhere [like] 65 or 66,000 based on our internal numbers for the two weeks that was reported…We're predicting that it's going to be an evergreen title. And if you look at titles like 'Brain Age,' it's about the same as what 'Brain Age' did during it's first few weeks and went on to sell 2.5 million copies. 'Wii Fit' certainly had a larger launch than that. But I think that people are starting to understand 'Wii Music.'" – Cammie Dunaway, Nintendo executive vice president of sales and marketing

Players Can Unleash Their Inner Rockstar Anytime, Anywhere As They Shred Through the Decades of Rock

Friday 14th November/… Following up Guitar Hero®: On Tour the groundbreaking and best-selling Nintendo DSTM game, fans can once again become traveling rock gods as Activision Publishing, Inc. (Nasdaq: ATVI) debuts Guitar Hero® On Tour: Decades™ in European retail outlets today and in North American stores on Sunday, November 16, 2008. The game leverages the technology of its predecessor and expands the experience with a new progression taking players on a musical journey from classics of the 1970s through today's greatest hits.

The game features a number of enhancements, including the ability to stream songs with the original Guitar Hero: On Tour to add yet another fun, social dimension to handheld gaming. Fans can play through any one of three different solo career paths, each with their own story: Lead Guitar, Bass Guitar, and Guitar Duel. Players can rock out to the largest set list in a handheld game to-date with 28 master tracks and more than 60 songs that can be streamed with owners of the original game.

Nintendo Wii
North America:
1. Wii Fit (Nintendo)
2. Mario Kart Wii (Nintendo)
3. Wii Play (Nintendo)
4. Wii Music (Nintendo)
5. Star Wars: The Force Unleashed (LucasArts)
Japan:
1. Wii Fit (Nintendo)
2. Shape Boxing: Wii de Enjoy Diet! (Rocket Company)
3. Family Ski: World Ski & Snowboard (Namco)
4. Mario Kart Wii (Nintendo)
5. Wii Music (Nintendo)
UK:
1. Mario Kart Wii (Nintendo)
2. Wii Play (Nintendo)
3. Mario & Sonic at the Olympic Games (Sega)
4. Wii Fit (Nintendo)
5. FIFA 09 All-Play (EA Sports)
Nintendo DS
North America:
1. Pokemon Ranger: Shadows of Almia (Nintendo)
2. Mario Kart DS (Nintendo)
3. New Super Mario Bros. (Nintendo)
4. Brain Age (Nintendo)
5. Mystery Case Files: MillionHeir (Nintendo)
Japan:
1. Tongari Boushi no Mahou no 365 Nichi (Konami)
2. Hoshi no Kirby: Ultra Super Deluxe (Nintendo)
3. Wagamama Fashion: Girls Mode (Nintendo)
4. Fushigi no Dungeon: Fuurai no Shiren DS 2 – Sabaku no Majou (Sega)
5. Pocket Monsters Platinum (Nintendo)
UK:
1. Professor Layton and the Curious Village (Nintendo)
2. Dr. Kawashima's Brain Training (Nintendo)
3. More Brain Training (Nintendo)
4. Cooking Guide (Nintendo)
5. Mario Kart DS (Nintendo)


Update: The numbers initially reported were incorrect. NPD has clarified that the Xbox 360 version of World Tour actually sold a bit more than the Wii edition.
NPD numbers last night showed that Guitar Hero World Tour failed to reach the top 10 software sales for October. There may be a bright spot for Activision, however, or at least as far as the Wii version goes. Even though the game sold 534,000 copies across all platforms – which is a respectable number in itself – 183,000 units of the Wii version were purchased by gamers. This figure is actually more than what the PS3 and 360 numbers of World Tour sold, which may give third-parties something to consider in the future.