Update: The numbers initially reported were incorrect. NPD has clarified that the Xbox 360 version of World Tour actually sold a bit more than the Wii edition.
NPD numbers last night showed that Guitar Hero World Tour failed to reach the top 10 software sales for October. There may be a bright spot for Activision, however, or at least as far as the Wii version goes. Even though the game sold 534,000 copies across all platforms – which is a respectable number in itself – 183,000 units of the Wii version were purchased by gamers. This figure is actually more than what the PS3 and 360 numbers of World Tour sold, which may give third-parties something to consider in the future.

Nintendo News

Malls Nationwide Feature Wii Music Street Performers

Live musical performances have always been a fun part of the holidays. This year, Nintendo will be making spirits bright at family destinations and retail locations across the country with bands of street performers demonstrating Wii Music™.

Now through the end of the month, the family trio of music-makers will entertain shoppers by turning the Wii console into a musical instrument with Wii Music, the new music game from Nintendo. Wii Music contains more than 50 songs and lets players use more than 60 different instruments to make their music, from melodic steel drums to soaring trumpets. To play, players simply use the Wii Remote™ and Nunchuk™ controllers to make the same motions they would with a real instrument: Strum a guitar or pound the keys of a piano. The game challenges players to transform improvised notes into great music, while enabling the freedom to customize your song, instrument, genre, tempo and stage.


The latest EDGE review scores are as follows:
Left 4 Dead – 9
Banjo-Kazooie: Nuts & Bolts – 7
Gears of War 2 – 9
Fallout 3 – 7
Call of Duty: World at War – 6
Resistance 2 – 6
Mirror's Edge – 5
Warhammer Online: Age of Reckoning – 7
007: Quantum of Solace – 5
Tomb Raider: Underworld – 8
Guitar Hero: World Tour – 7
Animal Crossing City Folk – 7
Ninjatown – 6
Command & Comnquer: Red Alert 3 – 7
Manhunt 2 – 4
Silent Hill: Homecoming – 6
Tom Clancy's Endwar – 8
Socom Confrontation – 5
Valkyria Chronicles – 7
Need for Speed Undercover – 3
Shaun White Snowboarding: Road Trip – 7

MTV Games and Harmonix give fans an early holiday present with new pricing for the #1 Best-Selling Title of 2008 [1] Making it Even Easier to Start a Band and Rock the WorldThis Holiday Season

CAMBRIDGE, MASS – November 13, 2008 – Just in time for the holidays, Harmonix, the world's leading developer of music-based games, MTV Games, a part of Viacom's MTV Networks (NYSE: VIA, VIA.B), and distribution partner Electronic Arts (NASDAQ: ERTS) today announced that the original Rock Band Special Edition Bundle is available for the PlayStation®2 computer entertainment system and Wii™ starting at $99.99. The Rock Band Special Edition Bundle is also available for the Xbox 360® video game and entertainment system from Microsoft and PLAYSTATION®3 computer entertainment system and starting at $139.99.

A must have-gift for any music or game fan, Rock Band is an all-new way for people to connect with the music they love in a social, interactive environment. The Rock Band Special Edition Bundle gives families and friends everything they need to start their own band – a microphone, Fender Stratocaster-modeled guitar controller and drum controller. Rock Band features an awe-inspiring line up of the most-loved rock music of all time – from classic rock and alternative to southern rock and metal including artists such as Rolling Stones, Metallica, The Police, The Clash, Foo Fighters, Radiohead and More.

It's Elise's way or the highway in this plucky adventure

IRVINE, Calif. – November 13, 2008
Atlus U.S.A., Inc., the publisher you all will love (or else), today announced the new world-crafting adventure My World, My Way for Nintendo DS™. After being turned down by her fated love, Princess Elise is determined to cast off her dress and fineries in exchange for a suit of armor and a weapon and prove that she too can lead a life of excitement. As Elise, the lands you explore are yours to transform as you see fit. If the bitter sting of rejection wasn't enough to stop you, how can a bunch of unruly monsters? It's your world, your way, and that's that!

My World, My Way is scheduled for release on February 3, 2009 with an MSRP of $29.99.

For more information about My World, My Way, visit the official website.

DSi 104,897
PSP 43,726
Wii 24,726
PS3 18,354
Xbox 360 12,759
DS Lite 8,381
PS2 5,743


Mini-update: Okay, here is the official description of the update from Nintendo…
"An update that provides a behind-the-scenes enhancement to the Nintendo Channel was made available."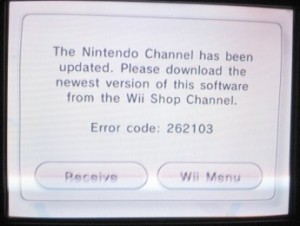 To be honest, I do not notice any significant changes other than the channel's slightly modified presence on the Wii Menu. As of now, there is no scrolling text to show some of the updates to the channel. Nintendo works in mysterious ways though, so perhaps they've added something that I may have missed. Keep in mind that this update is a mandatory download if you wish to access the Nintendo Channel from here on out. Oh, and no – There are no Wii demos on the channel. Sorry folks!

Nintendo News

Wii and Nintendo DS Top October U.S. Sales

Wii™ and Nintendo DS™ topped the U.S. sales charts and combined to sell more than 1.29 million units in October. Nintendo sold 803,210 Wii consoles and 491,176 Nintendo DS systems in October, according to the independent NPD Group, which tracks video game sales in the United States. These figures bring the lifetime U.S. sales for Wii to more than 13.35 million and Nintendo DS to more than 23.02 million, extending their leads as the best-selling hardware of this generation.