TITLE: Mushroom Men – Rise of the Fungi
PLATFORM: DS
DEVELOPER: Red Fly Studio
GENRE: Action Adventure
RELEASE DATE: October 2008

An ichorous green meteor plummets through the Earth's atmosphere, fracturing and showering the earth with glowing green space dust that affects all forms of life nearby. Some plant life – mushrooms and cacti – acquire sentience while, the meteor twists and mutates other life forms, transforming insects and animals into semi-intelligent, warlike communities.

The story of Mushroom Men is told in Acts, each Act occurring in a completely unique environment. Each version of the game (DS and Wii) tells different portions of the history of the Mushroom Men universe. The DS and Wii versions are completely different stories from one-another. The DS version, Mushroom Men – Rise of the Fungi, is the first release and shows the development of the Mushroom nations, starting very early in Mushroom Men history. The early days of the Mushroom Men were simpler times as the Mushroom Men were just learning to walk, communicate and interact with their world. As the Mushroom Men learn how their world works, they take the player with them, developing their skills, abilities and histories up to the start of the Spore Wars.

Mushroom Men – Rise of the Fungi throws gamers into the action at the point when the different Mushroom nations form, with each claiming a different part of the world as their exclusive territory. The Bolete Tribe and the Morels live in isolation and thrive for a time in peace and quiet. The Amanitas Empire considers themselves superior to the Bolete and the Morels and remains segregated from the other nations until they build forces strong enough to conquer everyone. The Mushroom Men face many threats in this hostile new world. Their size makes them targets for all manner of creatures: spiders, beetles, hornets, and other creatures that threaten to destroy their villages. The Amanitas therefore build their forces by consuming the prosperity of other groups. Raging territorial attacks lead to the terrible Spore Wars. The mysteries of the Mushrooms' origins fade completely into myth, a riddle that promises great knowledge and power to the one who can find its answer…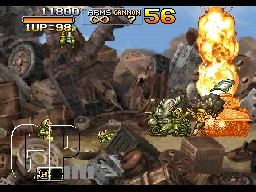 Glendale, CA – June 27, 2008 – Ignition Entertainment, a UTV Enterprise and worldwide publisher and developer of videogames, in conjunction with SNK Playmore announced today that Metal Slug 7 for Nintendo DS™ will be released this fall.

Developed by SNK Playmore Corporation and published by Ignition Entertainment, Metal Slug 7 follows in the footsteps of its predecessors by continuing to deliver the high-energy and frantic, fast-paced 2-D shooting action that the franchise has always been widely renowned for.

Players will join Marco, Tarma, Eri, Fiolina, Clark and Ralph as they prepare to take on Modern's Forces across 7 new missions that will bring them from Garbage Island to the Fortress of Ruins and beyond. Aside from featuring 7 brand new and fully detailed missions and six playable characters, Metal Slug 7 will also feature a host of new weapons, colossal new bosses, new Slugs to pilot and new gameplay modes for added replay value.

"Truth be told, I have a pink DS and was embarrassed to play it in public. Now with Metal Slug 7 loaded, I have no qualms," said Ajay Chadha, President of Ignition Entertainment. "Needless to say, and in all seriousness, we are very excited to announce our partnership with SNK Playmore USA to give both core and casual gamers a whole new insight into the unique, all-action, eye-popping world that is Metal Slug."

You want fireworks? Look no further than the Wii™ Shop Channel, where vibrant bursts of classic gaming action and fresh WiiWare™ content will help fill your living room with a flurry of ooohs and ahhhs. Puzzle-game mavens can enjoy a wild new addition to the WiiWare library, while the Virtual Console™ brings a truly classic fighting game to the fore. For an added holiday-week blast, fans of the WiiWare hit FINAL FANTASY® CRYSTAL CHRONICLES®: My Life as a King™ can enhance the action with new Add-On Content.

Nintendo adds new and classic games to the Wii Shop Channel at 9 a.m. Pacific time every Monday. Wii owners with a high-speed Internet connection can redeem Wii Points™ to download the games. Wii Points can be purchased in the Wii Shop Channel or at retail outlets. This week's new games are:

Readers
1) Earthbound
2) Mother
3) Mario RPG
4) Chrono Trigger
5) Smash Bros 64
Staff
1) Castlevania: Rondo of Blood
2) Mega Man: The Wily Wars
3) Terranigma
4) Mario All-Stars
5) Super Punch-Out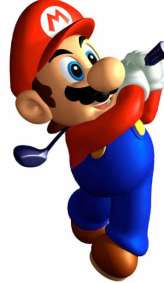 "It is not that we have not bothered with DS. As a fact Mario Golf and Mario Tennis on mobile game consoles are still popular and we have requests to make the sequels. It would be immense fun if there was a golf game that uses the touch screen, with scenario mode, some character growth system and if it was made by people other than us! To be honest this type of game is very difficult to make, since it is like making two games, a golf game and an RPG." – The Takahashi Brothers

Best Buy
Free Aerosmith Greatest Hits CD with purchase of any Guitar Hero: Aerosmith game/bundle
Free Wall-E movie cash with purchase of any Wall-E game
Circuit City
Free Guitar strap with purcahse of any Guitar Hero: Aerosmith game/bundle
Big Beach Sports – $26.99
Winter Sports: The Ultimate Challenge – $26.99
We Ski – $26.99
Free mini purse or traveler's case with purchase of any DS
2 games for $40 for the following games: Kung-Fu Panda, Dogs & Cats, Gourmet Chef, Zoo Tycoon DS 2, Super Mario DS, Pet Vet
LEGO Indiana Jones: The Original Adventures >>>> $42.49
Target
Free Aerosmith Greatest Hits CD with purchase of any Guitar Hero: Aerosmith game/bundle
2 guitar Wii Guitar Hero Aerosmith bundle pack with game and 2 wireless guitars – $149.99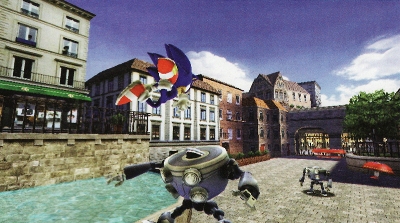 -2 goals: entertain with trademark spee and more-refined gameplay in 2D and 3D; new actions for Sonic
-Wii stages share the same themes with PS360 version, but different designs to take advantage of the remote. Helped by Sonic Advance 2 and Sonic Rush teams
-Same actions in different versions (I guess that means tackled on waggle): buttons for basic actions, certain actions involve motion control
-Interactive combat sequences using motion sensing in remote and nunchuk
-Quick Step (evade obstacles without slowing), Sonic Boosts (hyperaccelerate/blow up objects)
– Action-Chaining: earn more energy by stringing together actions leading to special moves and shortcuts
– QTE for branching paths like PS360
– No passage of time during levels – day and night cycles are fixed to certain events/locations
– Originally envisioned as Sonic Adventure 3
– No multiplayer or online modes

Update: Looks like this is nothing more than an old ESRB rating. If you do a search on the ESRB website for the "Online" platform, you can tell that "Zelda Universe" was rated around 2001, at about the same time Oracle of Ages/Oracle of Seasons were released. You may also remember the Zelda Universe interaction that once appeared on the official Zelda website. Back in the day, it seems that the ESRB sometimes rated some content with online website user interaction – as was the case for one ESRB pogo.com rating.
I'm sure everyone that is a true Zelda fan has considered the prospect of a Zelda online title at least once. The idea may be much more than a simple prospect in the future, however. There is a rating on the ESRB website that is for the "Online" platform and is titled Zelda Universe, published by Nintendo. Could this be Nintendo Power's surprise in their next issue?

Final Fantasy IV (DS) – 9.0
Harvest Moon: Island of Happiness (DS) – 7.0
Trauma Center: Under the Knife 2 (DS) – 8.5
We Love Golf! (Wi) – 8.5
Final Fantasy Fables: Chocobo's Dungeon (Wii) – 7.5
The Incredible Hulk (DS) – 7.5
Civilization Revolution (DS) – 7.5
Rock Band (Wii) – 8.0
Carnival Games (DS) – 4.5
The Incredible Hulk (Wii) – 3.5
Thanks to JonLy once again for the Nintendo Power tip.