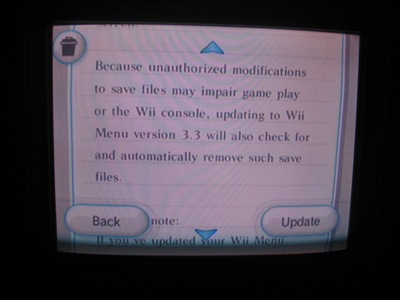 Word to the wise: It looks like if you update your Wii, the Twilight Princess save data will be deleted if it corrupted by the well-known exploit. A new update to the Wii system will "check for and automatically remove such save files" that are unauthorized save files. So, it looks like those who wish to update their Wii system will no longer be able to take advantage of the notorious Twilight Princess hack in the future.
Update: "With this update, you can now move a Mii from the Mii plaza to the Mii parade in the Mii Channel. To do this, simply pick up a Mii using the A and B buttons and then release it over the Mii Parade icon in the upper right corner of the screen." – Nintendo Wii email
Update 2: Reports are coming in that the Wii Freeloader no longer works with this new update. Also, most have been able to use the homebrew channel, but if it was not installed before the update, it still seems that you will be unable to install it after the update.

Warning: There are spoilers in this video

"Our current game uses the Balance Board actually, and it's due out in September on WiiWare. So yes, much like Theta we came up with several prototypes of games and picked one that we thought was the most uniquely suited to the interface. The interesting thing is that the games you would think would work well with the Balance Board actually don't. So it should be interesting to see what kind of stuff gets made for it." – Giles Goddard, 1080 developer
It's very possible that this title will be showed off. Perhaps the balance board game is more of the "core" titles that will be shown off at E3.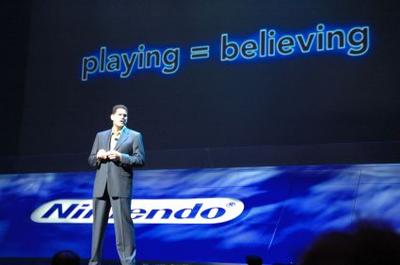 Considering Nintendo's limited upcoming lineup, gamers have known that Nintendo must have something big in store for this year's E3. Fans were teased with a plan to announce a "gamer's game" at E3, but much more can be expected at this year's E3. Nintendo's Marc Franklin has confirmed that "will be announcing several new titles that core gamers will be interested in around the time of E3." Mr. Franklin also addressed the current third-party situation, noting, "Look at the plans being made by third-party publishers. They realize that Wii is the current platform of choice in this generation, and their bottom lines depend on appealing to the largest base."
So, will we begin to start seeing less of titles such as Carnival Games and more of titles such as Okami?

The Nintendo Channel has been updated which allows you to view tons of stats. When you view a game page, you can check to see whether a game is for gamers or anyone, the vibe of the game is hardcore or casual, and whether or not the game is best played alone or with a friend. Surprisingly, the population of Super Smash Bros. Brawl owners are split dead even in regards to game is for, and only 35% of Super Mario Galaxy owners believe that the game is hardcore.
Battalion Wars 2
74% gamers 26% anyone
67% hardcore 33% casual
64% alone 36% friends
Big Brain Academy
3% gamers 97% anyone
94% casual 6% hardcore
19% alone 81% with friends
Donkey Kong Barrel Blast
73% anyone 27% gamers
76% casual 24% hardcore
84% with friends 16% alone
Endless Ocean
96% anyone 4% gamers
97% casual 3% hardcore
77% alone 23% friends
Excite Truck
71% anyone 29% gamers
66% casual 34% hardcore
29% alone 71% with friends

Developer's Voice -Guitar Hero: On Tour
Block Breaker Delux Gameplay Trailer
Cocoto Fishing Master
Guitar Hero: Aerosmith
Samba de Amigo
Digest Video
Demos
Crosswords DS-Wordsearch Demo (Expires 6/24)
The other demos are mostly recycled, but at least you can get another chance to play Arkanoid!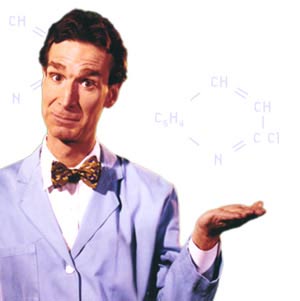 Man, Bill Nye? I never thought I'd hear about this guy again. Some of you may remember the popular TV show from a few years back. Bill Nye is being revived with a new game for the Wii. Similar to the leaked information yesterday, this news comes from the same source.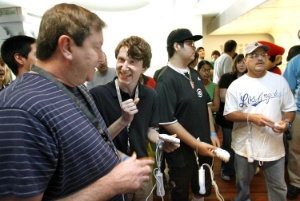 Over 35 parent/child pairs entered, but only two could emerge victorious. Michael,15, and his father, Dennis defeated all in the Super
Smash Bros.® Brawl Wii Father's Day Tournament on June 15 at the Nintendo World store in New York. The pair won one Wii™ system, one copy of Super Smash Bros. Brawl and a commemorative trophy.

Contenders at the bracket-style Father's Day Tournament competed in battles pitting two teams of two players against one another in a brawl to see who would be the last ones standing.

Dennis Tighe and son Michael beat out more than 35 parent/child teams competing in this action-packed fighting game, which features a multitude of Nintendo characters, from Mario™ to Link™ to Pikachu®…to Solid Snake and Sonic the Hedgehog. The game, which has sold more than 3 million in the United States alone, includes new moves, new options and online multiplayer battles.
Source: Nintendo PR email