Pokémon HeartGold Version and Pokémon SoulSilver Version to Hit United States and Europe in Spring 2010

In Tribute to Legions of Pokémon Fans Worldwide, Announcement Kicked Off Pokémon World Championships

SAN DIEGO–(BUSINESS WIRE)– The Pokémon Company International and Nintendo of America Inc. revealed today that Pokémon™ HeartGold Version and Pokémon™ SoulSilver Version for the Nintendo DS™ and Nintendo DSi™ systems will be released in spring 2010 in the United States and Europe. These newest entries for the best-selling video game franchise were announced amid the biggest Pokémon video game event of the year and in front of the top Pokémon video game and trading card game players in the world at the 2009 Pokémon World Championships.

Pokémon HeartGold Version and Pokémon SoulSilver Version return players to the scenic Johto region first introduced in the beloved original Pokémon Gold and Pokémon Silver games nearly a decade ago. The richly detailed adventure of Pokémon Gold and Pokémon Silver is now enhanced for the Nintendo DS and Nintendo DSi systems with updated graphics and sound, as well as new touch-screen features and a host of surprises. Pokémon HeartGold Version and Pokémon SoulSilver Version bring dozens of Pokémon characters back into the limelight for a new Pokémon generation – and longtime fans – to catch, train and battle.

"Announcing these much-anticipated game launches at The Pokémon World Championships allows us to give the news directly to the legions of fans who represent the true heart and soul of Pokémon," said J.C. Smith, The Pokémon Company International's director of marketing, who made the announcement on stage to kick off the 2009 Pokémon World Championships. "We want to thank these loyal fans by revealing the details to them first."

The launch of Pokémon HeartGold Version and Pokémon SoulSilver Version follows the incredible launch of Pokémon Platinum Version, which has sold more than 5.66 million copies worldwide to date.

Pokémon is one of the top children's franchises in history. The Pokémon video game series has sold more than 193 million units worldwide since its inception 13 years ago. Additionally, Pokémon is the No. 1 collectible trading card game of all time and has shown no sign of slowing down. It boasts 374 percent sales growth in the United States alone since 2005, and is sold in more than 30 countries across the globe. Other extensions of the property include 12 seasons of the animated television series, which in 2009 will be broadcast in as many as 153 countries in more than 25 languages. Pokémon films and DVDs continue to reach fans in amazing numbers, ranking at the top of the box office in Japan.

For more information about Pokémon HeartGold Version and Pokémon SoulSilver Version, visit www.Pokemon.com.

About Pokémon

The Pokémon Company International, a subsidiary of The Pokémon Company in Japan, manages the property outside of Asia and is responsible for brand management, licensing, marketing, the Pokémon Trading Card Game, the animated TV series, home entertainment, and the official Pokémon website. Pokémon was launched in Japan in 1996 and today is one of the most popular children's entertainment properties in the world. For more information, visit www.pokemon.com.

About Nintendo

The worldwide pioneer in the creation of interactive entertainment, Nintendo Co., Ltd., of Kyoto, Japan, manufactures and markets hardware and software for its Wii™, Nintendo DS™ and Nintendo DSi™ systems. Since 1983, when it launched the Nintendo Entertainment System™, Nintendo has sold more than 3.1 billion video games and more than 526 million hardware units globally, including the current-generation Wii, Nintendo DS and Nintendo DSi, as well as the Game Boy™, Game Boy Advance, Super NES™, Nintendo 64™ and Nintendo GameCube™ systems. It has also created industry icons that have become well-known, household names such as Mario™, Donkey Kong™, Metroid™, Zelda™ and Pokémon™. A wholly owned subsidiary, Nintendo of America Inc., based in Redmond, Wash., serves as headquarters for Nintendo's operations in the Western Hemisphere. For more information about Nintendo, visit the company's Web site at www.Nintendo.com.

Note to editors: Nintendo press materials are available at press.nintendo.com, a password-protected site. To obtain a login, please contact Deanna Talamantez at 213-438-8742 or [email protected] Users can receive instant Nintendo information by subscribing to the site's RSS feed.

Photos/Multimedia Gallery Available: http://www.businesswire.com/cgi-bin/mmg.cgi?eid=6029725&lang=en
Renowned Video Game Football Franchise Released to Critical Acclaim
Redwood City, Calif., August 14, 2009 – Electronic Arts Inc. (NASDAQ: ERTS) announced today the release of Madden NFL 10 to retail stores across North America. Hailed as, "the best Madden in this generation of consoles" by Game Informer Magazine, Madden NFL 10 captures the authenticity and emotion of the NFL like never before.

"Every summer culminates in the release of Madden NFL and it has become an annual holiday for millions of football fans," said Nathan Stewart, marketing director at EA SPORTS™. "No matter if you're looking for a realistic football simulation, or a family-friendly NFL experience, Madden NFL 10 represents the best of the award-winning franchise."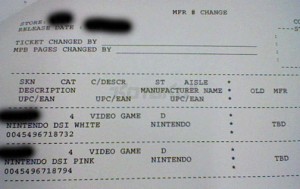 It looks as though the white and pink DSi handhelds are one step closer to being confirmed for North America. The two color variations have been spotted on a Toys 'R' Us database listing, albeit without any release date. However, It wouldn't be surprising if the white and pink DSi systems will be launching in the next few months. Nintendo provided a statement about the Toys 'R' Us listing, but simply said, "we don't comment on rumours & speculation."
EA Public Booth
* Battlefield: Bad Company 2
* Brütal Legend
* Dante's Inferno
* Dead Space: Extraction
* Dragon Age: Origins
* FIGHT NIGHT Round 4
* FIFA 10
* FIFA Manager 10
* GI JOE The Rise of the Cobra
* HASBRO FAMILY GAME NIGHT 2
* LITTLEST PET SHOP Beach Friends
* LITTLEST PET SHOP City Friends
* LITTLEST PET SHOP Country Friends
* Mass Effect 2
* MySims Agents
* NBA Live 10
* Need For Speed Nitro
* Need For Speed Shift
* NHL 10
* SimAnimals Africa
* The Sims 3
* Spore Hero
* Spore Hero Arena
* Tiger Woods PGA TOUR 10
EA Mobile
* Bubble Bobble Evolution
* Command & Conquer Red Alert
* FIFA 10
* GI JOE
* Need for Speed Shift
* GAME OF LIFE
* MONOPOLY Classic
* Tetris
* TRIVIAL PURSUIT
* The Sims 3
Behind Closed Doors
* All Points Bulletin
* Army of Two: The 40th Day
* Battlefield: Bad Company 2
* Brütal Legend
* Command & Conquer 4 (working title)
* Dante's Inferno
* Dead Space Extraction
* Dragon Age: Origins
* EA SPORTS Active: Personal Trainer
* FIFA 10
* FIFA Manager 10
* HASBRO FAMILY GAME NIGHT 2
* Mass Effect 2
* Need for Speed Nitro
* Need for Speed Shift
* NHL 10
* Rage
* RockBand: The Beatles
* The Sims 3 World Adventures
* MySims Agents
* The Saboteur
* Tiger Woods PGA TOUR Online
Singles
I Want To Hold Your Hand
I Feel Fine
Day Tripper
Paperback Writer
Revolution
Don't Let Me Down
Please Please Me (1963)
I Saw Her Standing There
Boys
Do You Want To Know A Secret
Twist and Shout
With the Beatles (1963)
I Wanna Be Your Man
A Hard Day's Night (1964)
A Hard Day's Night
Can't Buy Me Love
Beatles For Sale (1964)
Eight Days a Week
Help! (1965)
Ticket To Ride
Rubber Soul (1965)
Drive My Car
I'm Looking Through You
If I Needed Someone
Revolver (1966)
Taxman
Yellow Submarine
And Your Bird Can Sing
Sgt. Pepper's Lonely Hearts Club Band (1967)
Sgt. Pepper's Lonely Hearts Club Band/With a Little Help From My Friends
Lucy In The Sky With Diamonds
Getting Better
Good Morning Good Morning
Magical Mystery Tour (1967)
I Am The Walrus
Hello Goodbye
The Beatles (White Album) (1968)
Dear Prudence
Back In the U.S.S.R.
While My Guitar Gently Weeps
Birthday
Helter Skelter
Yellow Submarine (1969)
Hey Bulldog
Abbey Road (1969)
Come Together
Something
Octopus's Garden
I Want You (She's So Heavy)
Here Comes the Sun
Let It Be (1970)
Dig a Pony
I Me Mine
I Got a Feeling
Get Back
Love (2006)
Within You Without You/ Tomorrow Never Knows
SYDNEY, Australia – August 14, 2009 – Home Entertainment Suppliers Pty Ltd (HES) today announced the development of Rugby League 3 for Nintendo Wii™, by leading games developer Sidhe. The game continues the highly successful "Rugby League" franchise, which is amongst the highest selling franchises of all time in Australasia.

"We are extremely pleased to be publishing a new Rugby League title with such fresh features, content, and innovations across the board," said David Robles, Business Development Manager for HES. "Rugby League 3 is a significant and worthy addition to the franchise."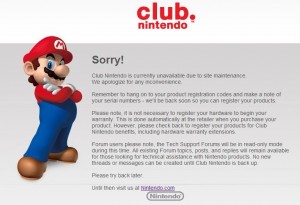 Perhaps Nintendo of America is readying so new Club Nintendo prizes? I certainly hope so! Make sure you keep an eye out on the website!
Thanks to Blue paratroopa for the news tip!
Media Create has published the latest hardware sales figures from Japan. The results are below.
DSi – 70,066
Wii – 47,140
PSP – 33,893
DS Lite – 8,699
PS3 – 5,826
Xbox 360 – 5,436
PS2 – 4,601
For comparison's sake, here are the numbers from the week of July 20th (last week).
Wii – 95,357
DSi – 73,710
PSP – 33,049
DS Lite – 12,027
PS3 – 8,760
PS2 – 3,617
Xbox 360 – 3,552