"I would change the Iron Boots from equipment to an item. If they could be turned on or off at the touch of a button, the Water Temple would be more fun. I wish I could travel back via time warp and fix that." – Eiji Aonuma
I completely agree with Mr. Aonuma. Most who have played Ocarina of Time say that the Water Temple itself was confusing, but if you ask me, if was more annoying that you needed to keep bringing up the menu to switch between boots.
Mini-update: I accidentally wrote down that Circuit City is selling certain Wii games for 20% off. This is incorrect – Circuit City is allowing 15% off those Wii games.
Best Buy
Ultimate Band (DS) – Free Best Buy Digital Music Download Card with purchase
Dance Dance Revolution: Hottest Party 2 (Wii) – Free Second Dance Mat with purchase
PopStar Guitar (Wii) – Free Popstar air guitar controller bag with purchase
Circuit City
Sonic Unleashed (Wii) – $39.99
15% off Wii games
-Animal Crossing: City Folk
-LEGO Batman: The Videogame
-Mario Party 8
-Rayman: Raving Rabbids TV Party
-Shaun White Snowboarding: Road Trip
-Skate It
-SmackDown vs. Raw 2009
-Star Wars The Clone Wars: Lightsaber Duels
-Kung Fu Panda
-Rapala Fishing Frenzy
-Tiger Woods PGA Tour '09: All Play
-Madden NFL '09: All Play
-Littlest Pet Shop
-Wii Music
-Mario Super Sluggers
-Wii Play
-FaceBreaker K.O. Party
-Imagine: Party Babyz
NYKO Charge Station for Wii Remote – $24.99
PSYCLONE 3 Pack Racing Wheel – $15.99
NYKO Perfect Shot for Wii – $12.99
PELICAN Nerf Sports Pack – $29.99
Buy 1, get 1 half off
-Yoshi's Island DS
-LEGO Batman: The Videogame
-Drawn To Life: Spongebob Squarepants Edition
-Spore Creatures
-Imagine: Teacher
-LEGO Indiana Jones: The Original Adventures
-Carnival Games
-Imagine: Babyz
-Mario Party DS
-Super Mario DS
-Barbie Fashion Show
Target
$25 DS games
-Club Penguin: Elite Penguin Force
-Sonic Chronicles: The Dark Brotherhood
-Drawn To Life: Spongebob Squarepants Edition
-My Sims: Kingdom
-Mario Kart DS
-Mario Party DS
Guitar Hero Box Set (DS) – $74
Pop Star (Wii) – Free $10 gift card with purchase
Star Wars The Clone Wars: Lightsaber Duels (Wii) – Free $5 gift card with purchase
Petz: Monkeyz House (DS) – Free $5 gift card with purchase
Spectrobes: Beyond The Portals (DS) – Free $5 gift card with purchase
"Here, let me give the official rumor quote that all businesspeople have memorized: "I can neither confirm nor deny rumors." That being said, you've already seen us bring back a few of our popular series. We get requests every day to bring back all sorts of series, like Adventure Island, Military Madness, Bonk, and so on. Let me say this: I think we'd be crazy not to bring some of our classic brands back." – Amar Gavhane, Hudson's Associate Brand Manager
Adventure Island, Military Madness, and Bonk all seem like perfect games to bring back if you ask me. Although, out of those three, I'd love to see Adventure Island reborn the most. What about you guys?
MEDIA ALERT: BUSKERS MAKING NEW YORK HOLIDAY SHOPPING MORE FUN WITH WII MUSIC PERFORMANCES

Creative, Wildly Interactive Game To Make Beautiful Music Nov. 22-23

WHAT:
Live musical performances have always been a fun part of the holidays. This year, Nintendo will be making spirits bright by bringing Wii Music to your neighborhood. This weekend, Nov. 22-23 between 11 a.m. and 5 p.m. at the Staten Island Mall in Staten Island, NY, holiday shoppers will be able to see first-hand how Wii can be turned into a musical instrument with Wii Music. A family of street musicians will be on hand with Wii Music to demonstrate the 50 different tunes and more than 60 instruments available in the game, from melodic steel drums to soaring trumpets.
"At the time we were developing Ocarina of Time, not many games had both day and night. In order to heighten the sense of reality within the game, we thought changing from day to night would be important, so we set some events to happen during the day and others to happen at night.
In the game, we were only able to completely differentiate day and night, and there was no in-between. But in planning these events to occur at different times of the day, we learned how to control the characters' actions in real time as measured within the game. Afterward we wondered if other types of gameplay would be possible using that system, and the result was the three-day cycle in Majora's Mask." – Eiji Aonuma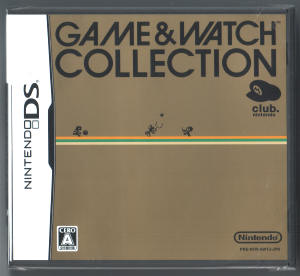 Although Nintendo has yet to launch Club Nintendo in North America, one of the first giveaways may have been revealed. The ESRB has rated a particular item for the Nintendo DS that was once available in Japan. If the ESRB rating is any indication, the Game & Watch Collection for DS will be coming stateside. The title features three games: Donkey Kong, Oil Panic and Green House. Club Nintendo will be launching sometime later this year.
TrackMania DS, the eagerly anticipated and most exciting racing game available on Nintendo DS, is released today.

TrackMania DS allows players to drive at mind-blowing speeds in hi-octane racers on incredible tracks made of jumps, loops and turbo boost pads as they bid to become the fastest driver on the planet. View the extreme gameplay on the latest TrackMania DS trailer: www.youtube.com/mediasafari