Have you ever wanted to just sit on your couch and watch YouTube on your TV? Well, now that's possible via YouTube for Television, initially available through the Sony PS3 and Nintendo Wii game consoles at www.youtube.com/tv. Currently in beta, the TV Website offers a dynamic, lean-back, 10-foot television viewing experience through a streamlined interface that enables you to discover, watch and share YouTube videos on any TV screen with just a few quick clicks of your remote control. With enlarged text and simplified navigation, it makes watching YouTube on your TV as easy and intuitive as possible. Optional auto-play capability enables users to view related videos sequentially, emulating a traditional television experience. The TV Website is available internationally across 22 geographies and in over 12 languages.

As previously blogged, YouTube has partnered directly with major TV and set-top box manufacturers to bring YouTube into the living room. Still, very few such devices today contain a Web browser or provide access to YouTube. Our hope is that this site may help to accelerate an industry evolution towards open television access to Web video. Over time, we plan to add support for additional TV devices that provide Web browsers.

So grab some popcorn, gather your friends and sit back and enjoy the YouTube TV Website.
15th January 2009. Continued strong demand for Wii and Nintendo DS in 2008 has resulted in record sales for both consoles in Europe.

Sales of Wii continued on their upward trajectory – with over 8.3 million units sold in 2008 alone, a 58% increase on 2007 and the largest annual sales of home consoles in European gaming history. These sales take the total installed base of Wii in Europe to more than 14.2 million.

In its third year on the market, Nintendo DS continues to break all previous sales records. In 2008 over 11.2 million Nintendo DS consoles were sold – which is the largest ever annual sales of a gaming console in European history. This takes the total number of Nintendo DS consoles now sold to European consumers to over 31 million.

"The sales trend on both Wii and Nintendo DS, hardware and software during 2008 shows that more and more people in Europe are enjoying video games as part of their daily lives. This proves that Nintendo's wish to expand the gaming population has strong potential in Europe," said Laurent Fischer, Managing Director, Marketing & PR, Nintendo of Europe.
It's been known for awhile now that SEGA's upcoming Sonic and the Black Knight will feature some sort of Wi-Fi Connection support. Information about the game's online support has been found thanks to a listing at Rakuten. Basically, you will be able to connect to Wi-Fi for item trading and ranking features. It is unclear, however, what data will be recorded for rankings. Sonic and the Black Knight is only a few months away from release, so chances are more information about that aspect will be discussed in the coming weeks.
The PC and DS versions of Spore were released last year, but there hasn't been a ton of news about the Wii version. It was a few months ago that Spore was confirmed to be Wii-bound, though now there are the first alleged details about the game. According to GamePro's German website, Spore on Wii will be given the title "Spore Heroes." The game won't be a port, but a new entry in the franchise. A few members of the press were allowed to see a sneak-peak of the game in the form of a trailer. Good news for fans – he trailer will apparently become available to the public soon.
Also coming from the GamePro, the site claims that another game for the DS is in development, named Spore Hero Arena. More details on both Spore Heroes and Spore Hero Arena should be on the way in the near future.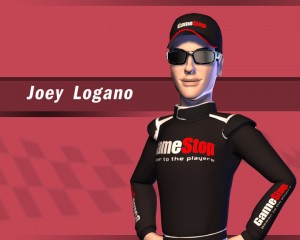 Purchases at GameStop Include Exclusive Code to Unlock Joey Logano and the GameStop Car

January 15, 2009—Joey Logano, the youngest driver in history to win a Nationwide Series, is one of two unlockable drivers in NASCAR Kart Racing, which ships to North American retailers on February 10th. Logano drives the #20 GameStop Toyota Camry in the Nationwide Series for Joe Gibbs Racing. Purchases of NASCAR Kart Racing through GameStop online or at GameStop retailers will include game packaging that contains the exclusive code to unlock Joey Logano and the #20 GameStop car.

NASCAR Kart Racing, the first and only NASCAR racing title available for the Wii, will ship to retailers in North America on February 10, 2009, just in time for the Daytona 500 and the official start of the 2009 NASCAR season. Designed exclusively for the Wii, NASCAR Kart Racing enables players to grab the steering wheel as a famed NASCAR Sprint Cup Series driver and speed through treacherous landscapes, wind around rocky cliffs, jump rivers and dodge falling boulders. Up to four players can go head-to-head, via split screen, in a mad dash to the checkered flag, making NASCAR Kart Racing an ideal game to play with family and friends.
EDISON, N.J., January 15, 2009 – Dive into life as a Puffin as Majesco Entertainment Company (NASDAQ: COOL), an innovative provider of video games for the mass market, today announced Puffins: Island Adventure for Nintendo DS™. Developed by Other Ocean Interactive, Puffins: Island Adventure is an adventure simulation that lets players experience what it's like to be one of Nature's most unusual and endearing seabirds.

In Puffins: Island Adventure, players become part of a Puffin flock and experience their arduous, but rewarding, existence as they learn to fly, dive, start a family and more. While navigating through the island, they will interact with other Puffins, play games to earn the favor of their peers and raise a family to carry on their legacy. Puffins: Island Adventure features mini-games that relate to real-life Puffin activities underwater, in air and on land. By mastering the Puffin 500, Puffin Plummet and Tide Pool Fishing, players earn reputation points that unlock pictures and videos of real Puffins in their natural Canadian locales. If players make it far enough, they will unlock new levels and even their very own Puffin burrow. Gameplay through the untamed wilderness is accompanied by traditionally-styled Atlantic Canadian music composed of exotic instruments including the tin whistle, fiddle and bodhran. Music composition features the talent of one of Canada's most popular artists, Alan Doyle, frontman for the world renowned band Great Big Sea. In addition, Puffins: Island Adventure also features 4 player local and 2 player Nintendo Wi-Fi Connection multiplayer modes.