– Called Phantasy Star Zero Mini
– Score attack
– Choose from 3 characters – defeat Raven
– Supports four player wireless play
– Has visual chat drawing
– Will cost 200 points
The latest Famitsu review scores are as follows:
Gaitame Baibai Trainer: Kabutore FX (NDS, Konami): 7 / 7 / 7 / 7 – (28/40)
Inu Kaisha DS (NDS, CyberFront): 6 / 6 / 7 / 7 – (26/40)
Metal Fight Beyblade DS (NDS, Hudson): 5 / 7 / 5 / 6 – (23/40)
Keitai Sousakan 7 DS: Buddy Sequence (NDS, 5pb): 6 / 5 / 6 / 5 – (22/40)
Toudou Ryuunosuke Tantei Nikki: Aen no Koufune (NDS, fonfun): 6 / 6 / 6 / 5 – (23/40)
Nintama Rantarou: Nintama no Tame no Ninjutsu Training (NDS, Russel): 5 / 6 / 5 / 6 – (22/40)
Sengoku Tenka Touitsu (PS2, SystemSoft): 5 / 6 / 4 / 5 – (20/40)
Sengoku Tenka Touitsu (PSP, SystemSoft): 5 / 6 / 5 / 5 – (21/40)
Kidou Senshi Gundam: Senjou no Kizuna Portable (PSP, Bandai Namco): 9 / 8 / 8 / 8 – (33/40)
Yu-Gi-Oh! 5D's Stardust Accelerator: World Championship 2009 (NDS, Konami): 8 / 8 / 7 / 6 – (29/40)
007: Nagusame no Houshuu (Wii, Square Enix): 6 / 7 / 5 / 6 – (24/40)
007: Nagusame no Houshuu (PS3/Xbox 360, Square Enix): 7 / 8 / 7 / 7 – (29/40)
007: Nagusame no Houshuu (PS2, Square Enix): 7 / 7 / 7 / 7 – (28/40)
NBA 2K9 (PS3/Xbox 360, Spike): 7 / 7 / 7 / 6 – (27/40)
NBA 2K9 (PS2, Spike): 6 / 6 / 7 / 5 – (24/40)
Vitamin Z (PS2, D3): 6 / 7 / 7 / 7 – (27/40)
– Return of Best-Selling Franchise with Huge Roster of Celebrity-Inspired Parodies, Available in Stores Now –

NEW YORK, NY – March 17, 2009 – "Let's Get Ready To Rumble®" again! Atari announces that the hilarious Ready 2 Rumble: Revolution is fighting its way onto store shelves today. The game packs a serious punch with its star-studded roster of wild and outrageous celebrity parodies who players can take into the ring for over-the-top fist-fuelled duels.

Bringing the beloved franchises to Wii™ for the first time, Ready 2 Rumble: Revolution represents the perfect pick-up-and-play game for any party or social get together. The game retains all the hit features of best-sellers Ready 2 Rumble Boxing Round 1 and Round 2, while delivering a knockout punch of style and attitude, with ludicrous special moves, droll taunts and massive-scale arenas. Tailored to take advantage of the motion-controlled realism of Wii, Ready 2 Rumble: Revolution lands its powerful fun-packed punch at retailers across North America.
Cambridge, Mass. – March 17, 2009 – Harmonix and MTV Games announced today the addition of 11 tracks to the Rock Band® Music Store catalogue of downloadable content for Wii™ home videogame console from Nintendo, including three live recordings from iconic classic rock band The Who. The lineup also features music from funk artists Average White Band, Earth, Wind & Fire and the legendary Godfather of Soul James Brown, in addition to songs from rock bands Against Me!, The New Pornographers and Papa Roach.

This content update to the Rock Band Wii Music Store delivers the famous live recordings of "My Generation," "Summertime Blues" and "Young Man Blues" from The Who's 1970 album Live at Leeds. The tracks come from the back catalogue of Rock Band music already released to owners of Xbox 360® video game and entertainment system from Microsoft and PLAYSTATION®3 computer entertainment system. Wii fans can expect a rollout of previously released downloadable Rock Band content until the entire back catalogue of more than 590 songs is available.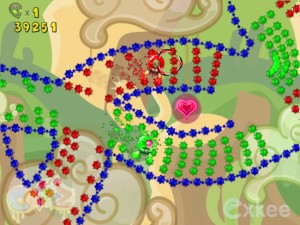 – Action/puzzle game
– Takes place in an alternative world
– Has round + colorful elements
– Terrible event has disturbed the citizens
– Virus polluted universe, created thousands of Microbes
– Drive UFO to clean different planets
1. Mario Kart w/ Wheel (Wii)
2. Wii Fit w/ Balance Board (Wii)
3. Wii Play w/ Remote (Wii)
4. Super Smash Bros: Brawl (Wii)
5. Grand Theft Auto IV (Xbox 360)
6. Grand Theft Auto IV (PS3)
7. Call of Duty: World at War (Xbox 360)
8. Brain Age 2: More Training in Minutes a Day (DS)
9. NHL 09 (Xbox 360)
10. Gears of War 2 (Xbox 360)
Summary:
Grand Theft Auto: Chinatown Wars is in stores now exclusively for Nintendo DS™ and with it comes the opening of the Chinatown Wars area at Rockstar Games Social Club.
Social Club members who own Chinatown Wars will be able to track detailed game stats and compare them with their Friends on Social Club. Also exclusive to Social Club members are hidden missions waiting for the player to unlock. Find the two missing Guardian Lion statues in the game to gain access to this secret content via Rockstar Games Social Club. More secret in-game unlockables will be announced soon, exclusively accessible to Social Club members.
Getting Started:
To gain entry to the special features for Chinatown Wars, you will first want to obtain a Friends Code and link your account. This will allow you to connect your game to the Social Club and enable future stats syncing. Detailed instructions can be found at the new Chinatown Wars Account Linking tool in your member Profile settings – click here to access (must be registered, logged-in member).
Nintendo Invites Fans to Play, Purchase or Have a Chance to Win the Anticipated Pokémon Platinum Version Game before Official Release Date

–(BUSINESS WIRE)– Nintendo:

WHAT:
To mark the much-anticipated release of the Pokémon™ Platinum Version video game for the Nintendo DS™ system, Nintendo is pulling out all the stops for an unforgettable launch! Eager consumers will have the chance to purchase Pokémon Platinum Version in advance of its official March 22 release date, and some of the first consumers in line will be randomly selected to receive a copy of the game autographed by Game Producer Junichi Masuda and Game Director Takeshi Kawachimaru.

Rockefeller Plaza will become a Pokémon paradise with interactive game demonstrations, costumed character photo opportunities, great giveaways and showings of the newest Pokémon Movie, Pokémon: Giratina and the Sky Warrior. Among the new game's new features is the Wi-Fi Plaza, a virtual Pokémon amusement park where players can connect online with fellow fans around the world and compete in fun mini-games. Nintendo encourages fans to come dressed as their favorite Pokémon characters. Costumed Pokémon fans may qualify to participate in the "Pokémon Platinum Plunge" challenge, where brave consumers and Pokémon fans can dive into a 10 foot vat of colorful balls for Pokémon Platinum Version games and exclusive Giratina™-branded Nintendo DS systems.