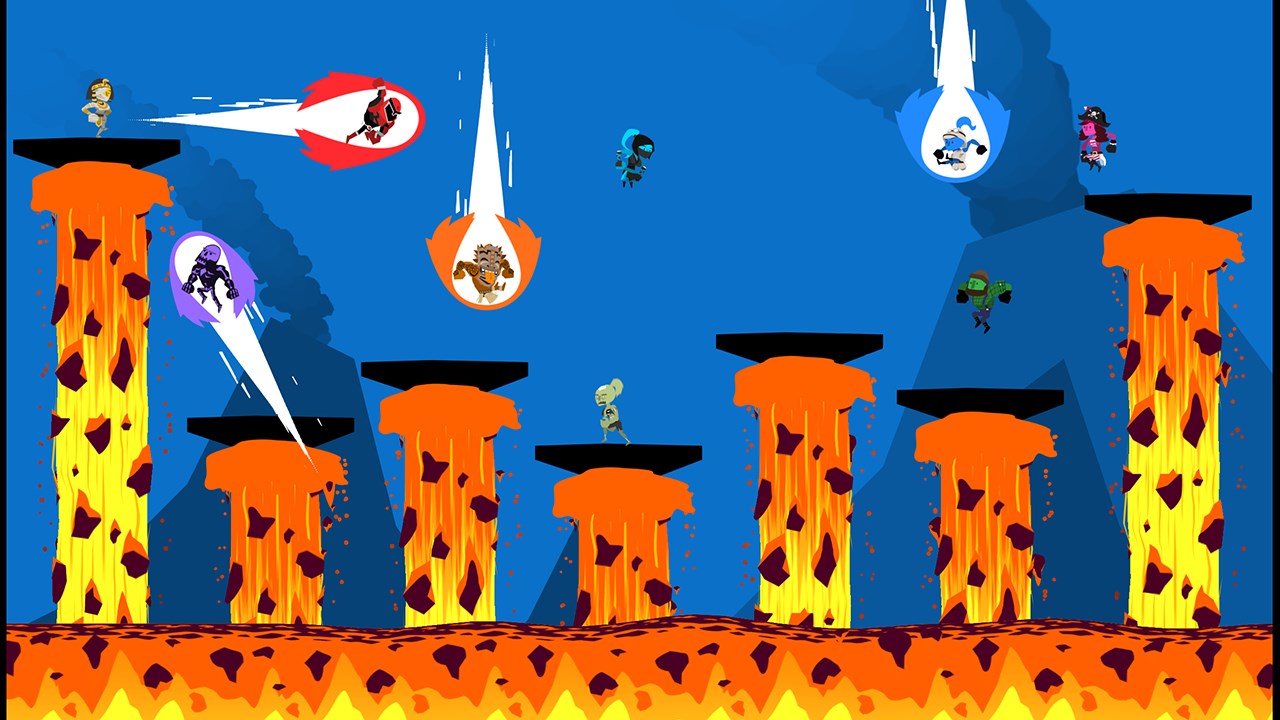 Runbow is going to end up supporting a whole bunch of controllers. You'll be able to use the GamePad, Wii U Pro Controller, Wii Classic Controller, Wiimote, and nunchuck.
13AM Games producer Dave Proctor told Shacknews that the team also looked into GameCube controller support as well. Sadly, it's unlikely to be supported because it's being branded as a Smash Bros. peripheral.
Proctor said:
We have looked into it. It is currently only branded as a "Smash Bros. periperal," so unfortunately, we can't get access to that. We do have support for Wii U Pro Controllers, we are working on a patch to plug in seven Wii Remotes, we have support for the Wii Classic Controller, as you've seen, and we've also added support for the Nunchuk. Worst case scenario, someone's got a Nunchuk, they can use half the controller. It's got all the buttons you need. We just want everybody to get the biggest experience they can.
Developer: 13AM Games (based in Toronto)
Genre: Party / Action / Platformer
Release Date: 2015
Platform: Wii U/Nintendo eShop
Players: 1-9 local
Website: http://runbowgame.com
ESRB: E (Predicted)
Price: TBD

Description:
Runbow is a fast-paced, action party game with a never-before seen color mechanic: Up-to nine players race against each other as platforms and obstacles appear and disappear when the background changes vibrant colors. Players can sprint against each other in Run, or go head-to-head in one of Runbow's six additional modes, including Arena, King of the Hill, ColourMaster and The Bowhemoth.

FEATURES
· Local Nine-player Multiplayer – The biggest couch-multiplayer experience to come to Wii U, ever!
· If You Can't See It, It Doesn't Exist! – Players must think fast as obstacles appear and disappear with the changing backgrounds.
· '60s Poster Art Aesthetic – Using the unique art style of Saul Bass and the Czechoslovakian New Wave, Runbow is not only fun to play, it's fun to look at.
· Hundreds of Challenges – Runbow's packed to the brim with challenging levels and endless permutations of color transitions and obstacles!
· Seven Great Game Modes – Challenge friends in King of the Hill, Arena, Run, Online, Bowhemoth, Adventure or become the ColourMaster and dominate Runbow's colorful world.
· One Master to Rule Them All – Play against friends in ColourMaster mode, where challengers race against one malevolent ColourMaster who controls the colors and obstacles in the level.
· Master The Bowhemoth – Runbow's toughest game mode, The Bowhemoth, has racers tackle more than 30 minutes of platforming challenges that will put the patience and skill of even the toughest players to the test.
· Tons of Unlockable Costumes – From Pirate to Zombie to Ninja, players can pick the runner that's right for them.
· Challenges, Achievements, and More – Hours of replayability and unlockable content will keep gamers running back for more.
· Special Guests! (Announcing Soon) – What special guest characters will challenge Hue and Val in a race for glory? Find out next time on Runbow!
This is another Twitch recording, meaning you'll need to head past the break for the video. Darn you, auto-play!
Runbow is probably going to end up supporting a whole bunch of control inputs. On Twitter, developer 13AM Games stated that the team intends to "use every kind of controller we can get the API for." That could even mean support for GameCube controllers!
@jimmyelgringito were planning to use every kind of controller we can get the API for.

— 13AM Games (@13amgames) October 29, 2014